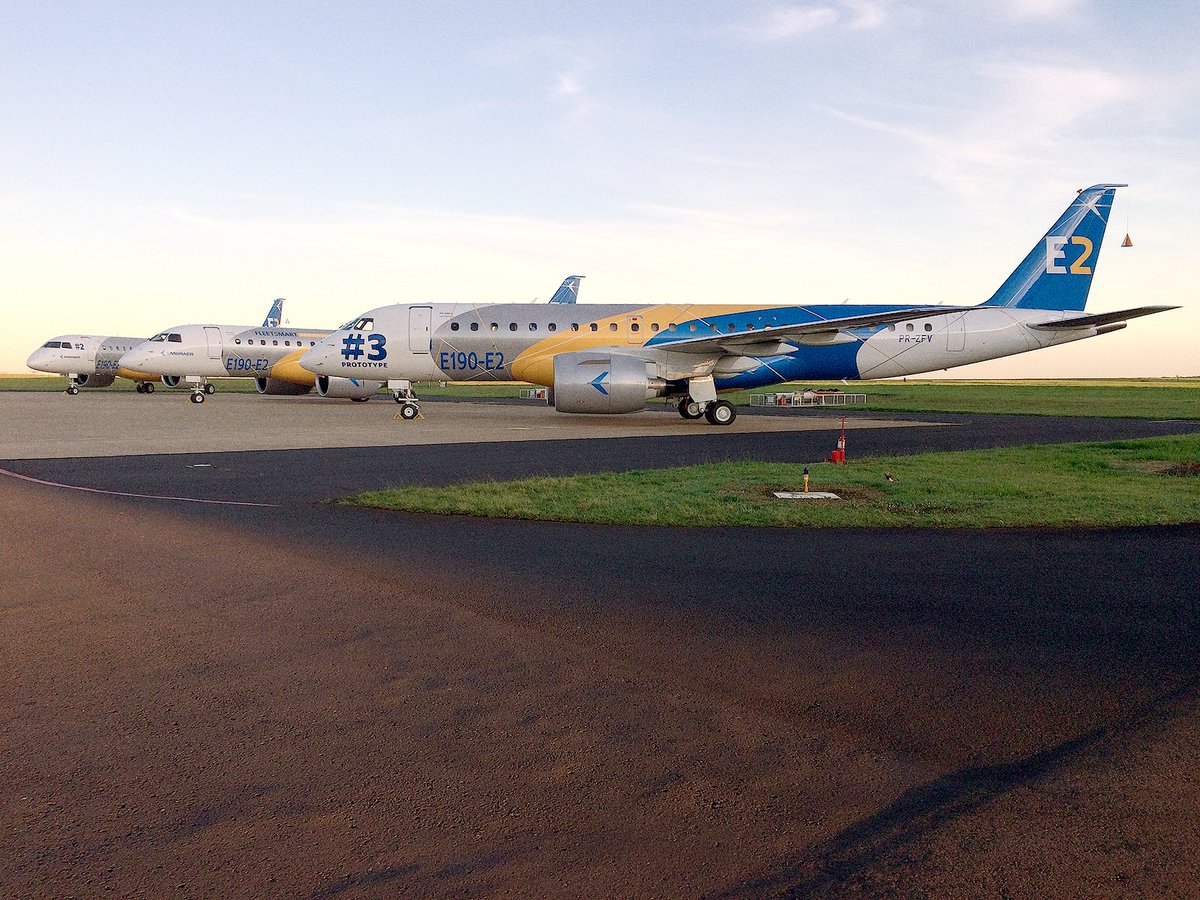 AW | 2018 03 30 15:54 | INDUSTRY
Banco Nacional de Desarrollo Económico y Social (BNDES) aprueba crédito por US$85 millones dólares a Embraer para exportar aeronaves
El banco de fomento del Gobierno brasileño anunció hoy un crédito por U$S 85 millones de dólares destinado a la aerolínea noruega Widerøe y que busca financiar la primera exportación de los E190-E2, los nuevos modelos de aviones comerciales fabricados por la brasileña Embraer.
El banco hizo el anuncio del crédito a solo cinco días de la ceremonia en la que Embraer, tercer mayor fabricante de aviones del mundo, tiene previsto hacerle entrega a Widerøe de la primera de las quince aeronaves del nuevo modelo que encomendó.
El estatal Banco Nacional de Desarrollo Económico y Social (BNDES) de Brasil anunció este jueves que aprobó un crédito por US$85 millones a la fabricante de aviones Embraer para exportar hasta 15 aviones del nuevo modelo E-190-E2 a la noruega Wideroe.
Wideroe es la mayor aerolínea regional de Escandinavia y será la primera compañía aérea del mundo en recibir el nuevo modelo de Embraer. La compañía noruega adquirió tres modelos y se guardó otras 12 opciones de compra; el primer vuelo comercial está previsto para el próximo 24 de abril en Noruega.
Según el BNDES, la compra de los primeros E-190-E2 por parte de la aerolínea nórdica "comprueba el producto como el más ambientalmente amigable en su categoría", debido a que Noruega es uno de los países más ecológicos del mundo y el principal donador de recursos al Fondo Amazonia, del que el BNDES es gestor.
El modelo E-190-E2 será el segundo mayor avión de Embraer, con 36,2 metros de extensión y tendrá una capacidad para transportar hasta 114 pasajeros. La principal novedad de la aeronave brasileña es que puede alcanzar más velocidad y distancia, además de una elevada eficiencia en cuanto al consumo de combustible gracias a sus motores, que permitirán un ahorro del 17% en combustible, por lo que contaminarán menos.
El BNDES recordó que además de financiar la primera exportación del nuevo modelo, también financió su desarrollo, con créditos por 1.200 millones de reales (unos US$363,6 millones) desembolsados entre 2014 y 2015, dentro de su estrategia de apoyar inversiones en innovación. Embraer es la tercera mayor fabricante de aviones del mundo, tras Boeing y Airbus, y líder en el segmento de la aviación regional.  
BNDES will finance export to Embraer
National Bank of Economic and Social Development (BNDES) approves credit for US $ 85 million dollars to Embraer to export aircraft
The Brazilian government development bank today announced a US $ 85 million loan to the Norwegian airline Widerøe, which seeks to finance the first export of the E190-E2, the new commercial aircraft models manufactured by Brazil's Embraer.
The bank made the announcement of the loan just five days after the ceremony at which Embraer, the world's third-largest aircraft manufacturer, plans to deliver to Widerøe the first of fifteen aircraft of the new model it entrusted.
The Brazilian National Economic and Social Development Bank (BNDES) announced on Thursday that it approved a US $ 85 million loan to the aircraft manufacturer Embraer to export up to 15 aircraft of the new model E-190-E2 to the Norwegian Wideroe.
Wideroe is the largest regional airline in Scandinavia and will be the first airline in the world to receive the new Embraer model. The Norwegian company acquired three models and saved 12 other purchase options; the first commercial flight is scheduled for next April 24 in Norway.
According to the BNDES, the purchase of the first E-190-E2 by the Nordic airline "proves the product as the most environmentally friendly in its category", because Norway is one of the greenest countries in the world and the main donor of resources to the Amazon Fund, of which BNDES is the manager.
The model E-190-E2 will be the second largest plane of Embraer, with 36.2 meters in length and will have a capacity to carry up to 114 passengers. The main novelty of the Brazilian aircraft is that it can achieve more speed and distance, in addition to a high efficiency in terms of fuel consumption thanks to its engines, which will allow a 17% savings in fuel, so they will pollute less.
The BNDES recalled that in addition to financing the first export of the new model, it also financed its development, with credits for 1,200 million reais (some US $ 363.6 million) disbursed between 2014 and 2015, within its strategy of supporting investments in innovation. Embraer is the third largest aircraft manufacturer in the world, after Boeing and Airbus, and a leader in the regional aviation segment.  A \ W
BNDES financiará exportação para a Embraer
Banco Nacional do Desenvolvimento Econômico e Social (BNDES) aprova crédito de US $ 85 milhões de dólares para a Embraer exportar aeronaves
O banco de desenvolvimento do governo brasileiro anunciou hoje um empréstimo de US $ 85 milhões para a companhia aérea norueguesa Widerøe, que visa financiar a primeira exportação do E190-E2, os novos modelos de aeronaves comerciais fabricados pela brasileira Embraer.
O banco fez o anúncio do empréstimo apenas cinco dias depois da cerimônia em que a Embraer, a terceira maior fabricante de aeronaves do mundo, planeja entregar a Widerøe a primeira das quinze aeronaves do novo modelo que confiou.
O Banco Nacional de Desenvolvimento Econômico e Social (BNDES) anunciou na quinta-feira que aprovou um empréstimo de US$ 85 milhões para a Embraer, fabricante de aeronaves, para exportar até 15 aeronaves do novo modelo E-190-E2 para a norueguesa Wideroe.
A Wideroe é a maior companhia aérea regional da Escandinávia e será a primeira companhia aérea do mundo a receber o novo modelo da Embraer. A empresa norueguesa adquiriu três modelos e economizou 12 outras opções de compra; o primeiro voo comercial está marcado para o próximo dia 24 de abril na Noruega.
Segundo o BNDES, a compra do primeiro E-190-E2 pela companhia nórdica "prova que o produto é o mais ecologicamente correto em sua categoria", porque a Noruega é um dos países mais verdes do mundo e o principal doador de recursos para o Fundo Amazônia, do qual o BNDES é o gestor.
O modelo E-190-E2 será o segundo maior avião da Embraer, com 36,2 metros de comprimento e capacidade para transportar até 114 passageiros. A principal novidade da aeronave brasileira é que ela pode atingir mais velocidade e distância, além de uma alta eficiência em termos de consumo de combustível graças aos seus motores, o que permitirá uma economia de 17% em combustível, para que eles poluam menos.
BNDES lembrou que, além de financiar a primeira exportação do novo modelo, também financiou o seu desenvolvimento, com crédito para 1.200 milhões de reais (US $ 363,6 milhões, aproximadamente) desembolsados ​​entre 2014 e 2015, parte de sua estratégia para apoiar investimentos em inovação. A Embraer é a terceira maior fabricante de aeronaves do mundo, depois da Boeing e da Airbus, e líder no segmento de aviação regional. A \ W
Ξ A I R G W A Y S Ξ
SOURCE:  Airgways.com
DBk: Embraer.com / Airgways.com
AW-POST: 201803301554AR
A\W   A I R G W A Y S ®