AW | 2018 10 07 18:51 | AIRLINES
Delta Air Lines se convierte es el primer operador en EEUU del Airbus A220-100
El primer Airbus A220-100 de Delta Air Lines despegó en su primer vuelo desde el Aeropuerto de Mirabel, Quebec, a las 02:02 p.m. hora local de Canadá. El avión fue tripulado por pilotos de prueba del programa A220. Durante el exitoso vuelo de 2 horas y 53 minutos, la tripulación verificó los sistemas principales de la aeronave y aterrizó en Mirabel a las 04:55 p.m. El vuelo tuvo lugar unos días después de que el avión saliera del taller de pintura. A continuación, la aeronave continuará con las pruebas y el ensamblaje previos a la entrega, ya que elementos de su interior de vanguardia se unen en la línea de ensamblaje A220. El primer A220 de Delta está programado para comenzar el servicio a principios de 2019.
Delta Air Lines de la mano de Delta Connection será la primera aerolínea de Estados Unidos en entrar en operaciones el nuevo avión regional A220, al mismo tiempo que se convertirá en el cuarto operador A220, después de Swiss International Air Lines, airBaltic y Korean Air.
Delta es el mayor cliente A220-100, con un pedido en firme de 75 aviones. Después de los problemas a los que se ha enfrentado Delta Inc. con la Ley de Cláusula de Alcance en los Estados Unidos, ha logrado con éxito introducir la nueva aeronave comercial afectada al mercado regional.
Delta Air Lines introduce una nueva era de aeronaves regionales por parte del consorcio Airbus-Bombardier con el A220-100 en el mercado regional de Estados Unidos, un cliente muy importante a la hora de decidir por escoger nuevos operadores en materia de vuelos domésticos.
Prestaciones A220
El A220-100 ofrece una eficiencia de combustible inmejorable. Reúne aerodinámica de vanguardia, materiales avanzados y los motores de turbofan adaptados PW1500G de última generación de Pratt & Whitney para ofrecer al menos un 20% menos de combustible por asiento en comparación con los aviones de la generación anterior.
El nuevo avión regional A220 tiene una cartera de pedidos de 400 aviones hasta la fecha, el A220 tiene todas las credenciales para ganar la mayor parte del mercado de aviones de 100 a 150 asientos, que se estima representan al menos 7,000 aviones en los próximos 20 años.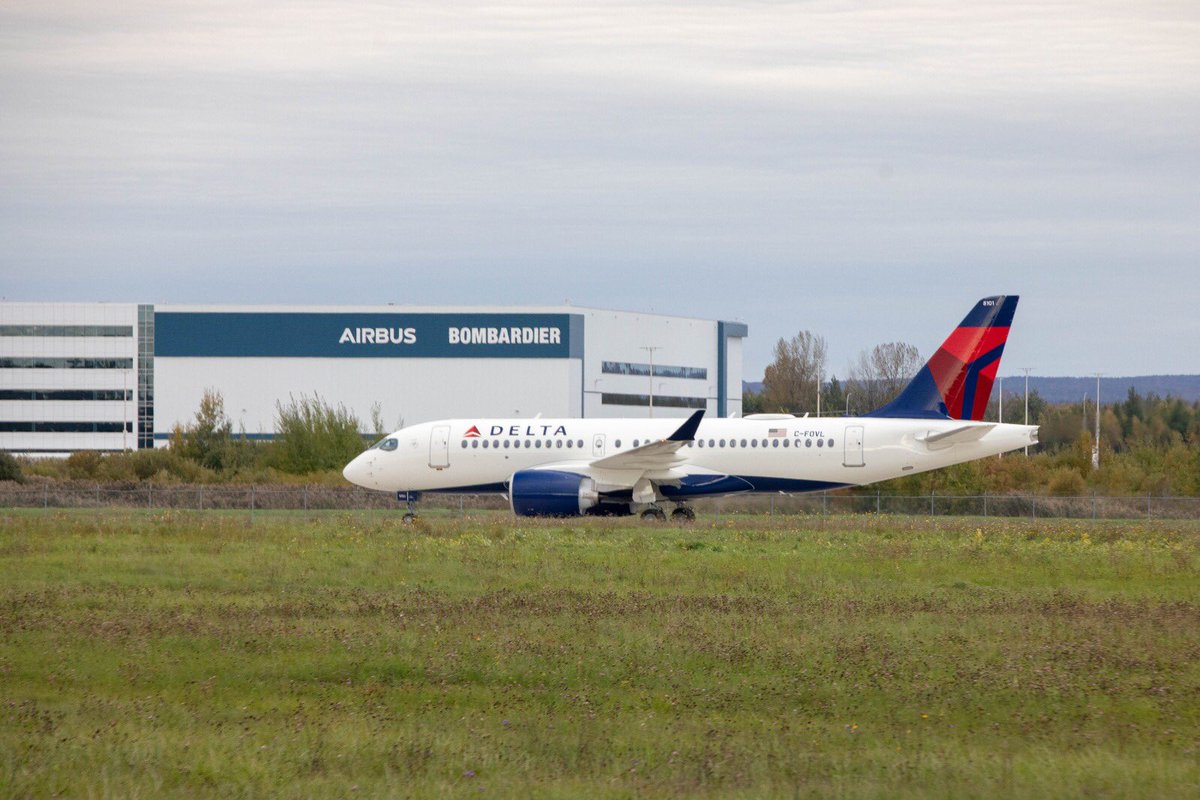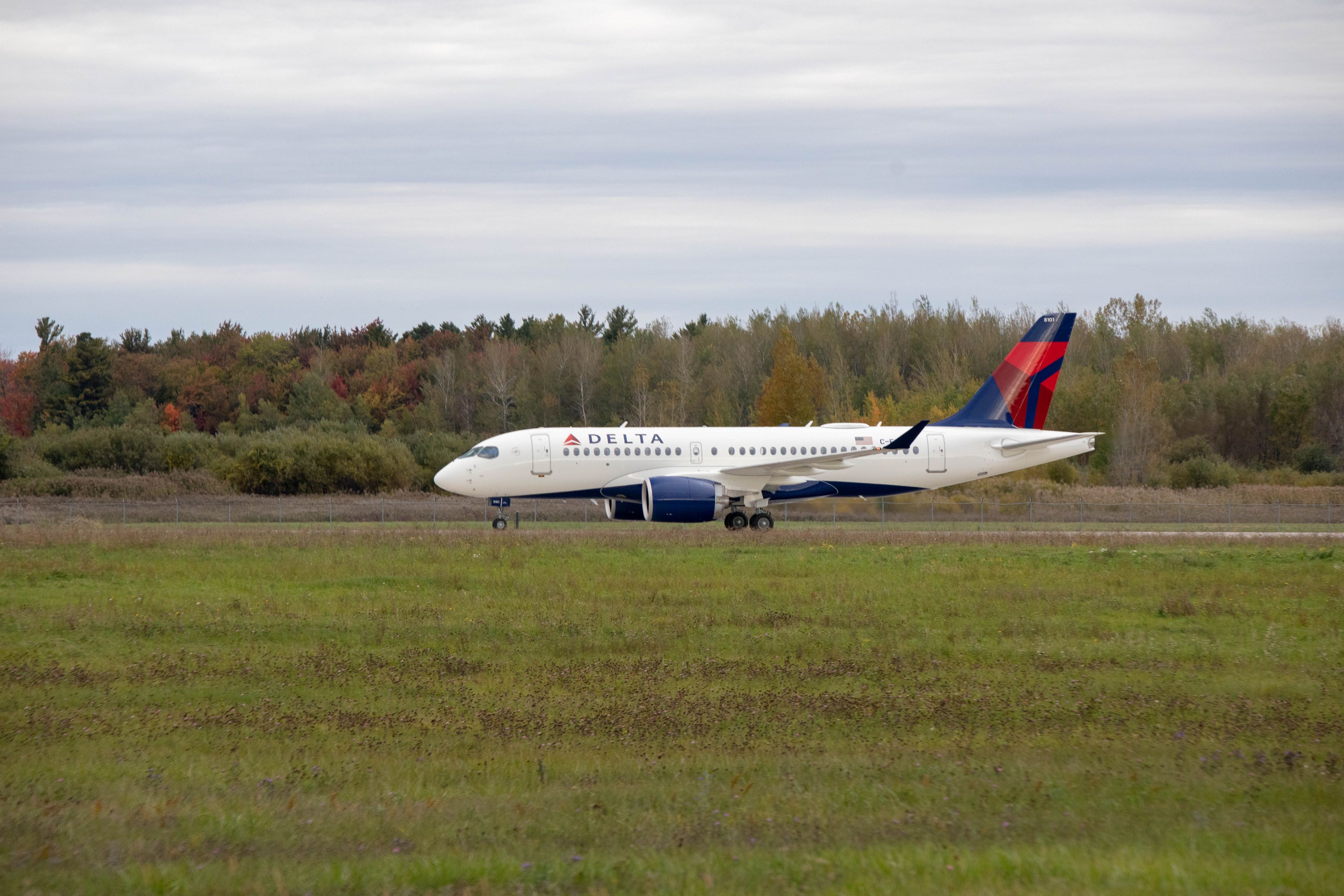 First flight A220 Delta Connection
Delta Air Lines becomes the first US operator of the Airbus A220-100
The first Airbus A220-100 of Delta Air Lines took off on its first flight from Mirabel Airport, Quebec, at 02:02 p.m. local time in Canada. The aircraft was manned by test pilots of the A220 program. During the successful flight of 2 hours and 53 minutes, the crew checked the main systems of the aircraft and landed at Mirabel at 04:55 p.m. The flight took place a few days after the plane left the paint shop. Next, the aircraft will continue with the tests and assembly prior to delivery, as elements of its cutting-edge interior join in the A220 assembly line. Delta's first A220 is scheduled to begin service in early 2019.
Delta Air Lines in the hands of Delta Connection will be the first airline in the United States to start operations of the new A220 regional aircraft, at the same time it will become the fourth A220 operator, after Swiss International Air Lines, airBaltic and Korean Air.
Delta is the largest customer A220-100, with a firm order of 75 aircraft. After the problems that Delta Inc. has faced with the Scope Clause Act in the United States, it has successfully managed to introduce the new commercial aircraft affected to the regional market.
Delta Air Lines introduces a new era of regional aircraft by the Airbus-Bombardier consortium with the A220-100 in the regional market of the United States, a very important customer when deciding to choose new operators for domestic flights.
Benefits A220
The A220-100 offers unbeatable fuel efficiency. It brings together state-of-the-art aerodynamics, advanced materials and Pratt & Whitney's latest generation PW1500G turbofan engines to offer at least 20% less fuel per seat compared to previous generation aircraft.
The new A220 regional aircraft has an order book of 400 aircraft to date, the A220 has all the credentials to win the bulk of the aircraft market from 100 to 150 seats, which is estimated to represent at least 7,000 aircraft in the next 20 years. A \ W
Ξ A I R G W A Y S Ξ
SOURCE: Airgways.com
DBk: Airbus.com / Delta.com / Airgways.com
AW-POST: 201810071851AR
A\W   A I R G W A Y S ®