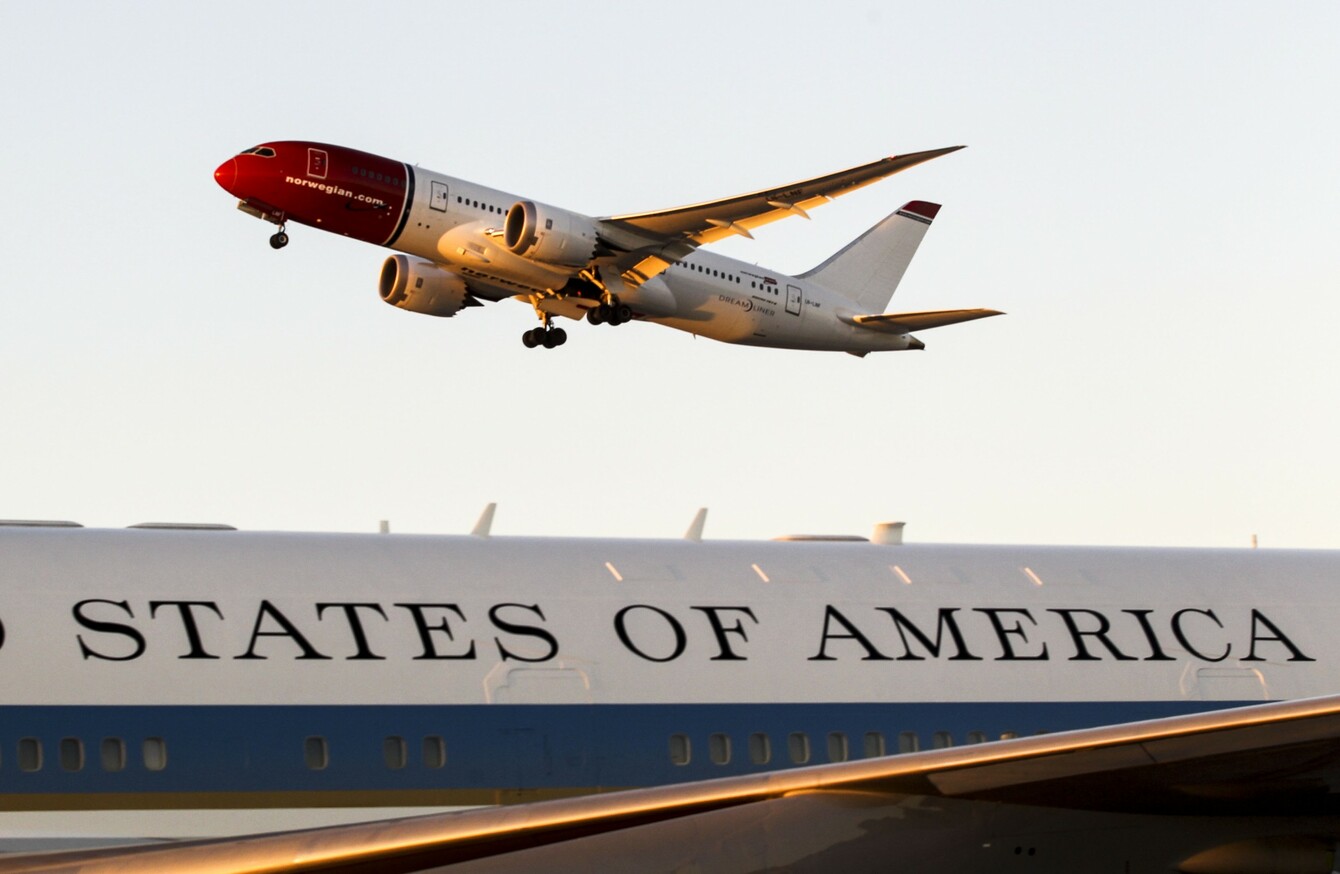 AW | 2018 10 10 09:46 | AIRLINES MARKET
Norwegian Air es la aerolínea no estadounidense que lidera en el mercado de vuelos transatlánticos
Norwegian Air Shuttle ASA ha superado a British Airways (BA) como la mayor aerolínea no estadounidense en las rutas transatlánticas desde y hacia el área de Nueva York. Los esfuerzos por conquistar las rutas más transitadas del planeta para expandir su red de larga distancia a un costo altísimo, ha servido para debilitar su balance financiero con un nivel de deuda insostenible. Norwegian Air transportó a 1.67 millones de pasajeros hacia o desde los aeropuertos en el área de Nueva York en los 12 meses hasta fines de julio, superando a British Airways con 1.63 millones, según datos publicados por la Autoridad Portuaria de Nueva York y Nueva Jersey (PANYNJ). Los datos incluyeron el tráfico en los aeropuertos de John F. Kennedy, Newark Liberty, La Guardia, Stewart y Teterboro, aunque este último aeropuerto no tiene servicio de aerolíneas comerciales. Además de superar a BA, Norwegian también derrotó a Emirates y sus rivales europeos Lufthansa, Air France y Virgin Atlantic para alcanzar el primer puesto.
Red servicios
Norwegian Air actualmente opera 16 rutas desde tres aeropuertos en el área de la ciudad de Nueva York: John F. Kennedy International, Newark Liberty International y Stewart International, hacia Amsterdam, Barcelona, ​​Belfast, Bergen, Copenhague, Dublín, Edimburgo, Guadalupe, Londres Gatwick, Madrid, Martinica, Oslo, París, Roma, Shannon y Estocolmo.
Norwegian Air lanzó su primera ruta a Nueva York el 30 Mayo 2013 desde Oslo y Estocolmo el 31 Mayo 2013, y tuvo que esperar años antes de recibir un permiso de aerolínea extranjera del Departamento de Transporte de los Estados Unidos (DOT) para sus ssucursales en Irlanda, Norwegian Air International (NAI) y Reino Unido, Norwegian Air UK (NUK), ambas subsidiarias de Norwegian Air Shuttle ASA.
Conquista transatlántica
Su solicitud para un permiso de aerolínea extranjera en virtud del acuerdo de cielos abiertos entre la UE y los Estados Unidos encontró con una feroz oposición de varias aerolíneas estadounidenses y de la UE, así como de grupos laborales, que acusaron a Noruega de operar un modelo de bandera de conveniencia. La demora procesal en la aprobación del permiso de la aerolínea extranjera de NAI llevó a la Comisión Europea a realizar una solicitud de arbitraje sobre el asunto. La salida pendiente del Reino Unido de la UE podría ser difícil para NUK, que posee una licencia de operación en el Reino Unido pero es propiedad mayoritaria y está controlada por los intereses noruegos. Sin embargo, Kjos le dijo a AIN en una entrevista reciente que no siente preocupación por que NUK haya perdido sus derechos de tráfico del Reino Unido a los Estados Unidos.
La rápida expansión de Norwegian Air en el mercado transatlántico ha llevado a la empresa matriz de BA, International Airlines Group, a adquirir una participación cercana al 5%. Los dos enfoques de IAG para comprar la junta del grupo con sede en Oslo se encontraron con un rechazo, aunque Kjos ha dicho que vendería su participación si la mayoría de los accionistas optarían por vender sus acciones. Para fortalecer su posición financiera, Norwegian Air ahora está tratando de vender su división de arrendamiento irlandesa y hasta 140 aviones.
La entrada de Norwegian Air en el mercado transatlántico ha llevado a las compañías aéreas llegadas de Europa a aventurarse también en el mercado de bajo costo y larga distancia; IAG lanzó Level Airlines, Air France creó Joon y Lufthansa ha comenzado a expandir Eurowings.
Las principales aerolíneas low cost de Estados Unidos no se atrevieron a lanzarse a la conquista de las rutas transatlánticas. Los datos de PANYNJ informaron que United airlines, Delta Air Lines, JetBlue Airways y American Airlines se clasifican como las mayores aerolíneas de pasajeros internacionales fuera de los principales aeropuertos del área de Nueva York, transportando 26,1 millones de pasajeros en los 12 meses, un mercado muy importante para la aviación comercial.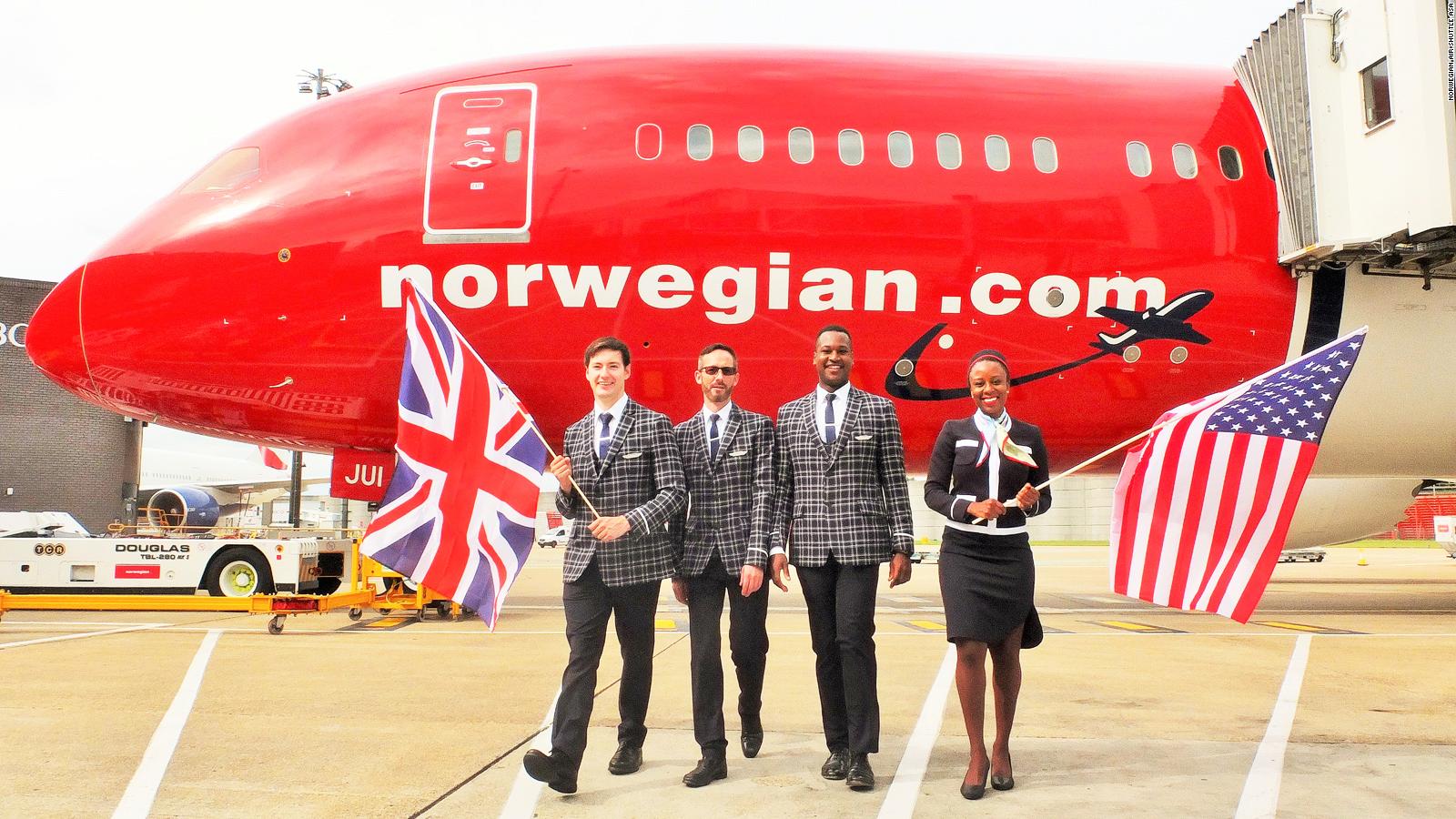 Norwegian Air leads transatlantic flights
Norwegian Air is the non-US airline that leads the transatlantic flights market
Norwegian Air Shuttle ASA has overtaken British Airways (BA) as the largest non-US airline on transatlantic routes to and from the New York area. The efforts to conquer the busiest routes on the planet to expand its long distance network at a very high cost has served to weaken its financial balance with an unsustainable level of debt. Norwegian Air transported 1.67 million passengers to or from airports in the New York area in the 12 months to the end of July, surpassing British Airways with 1.63 million, according to data published by the Port Authority of New York and New Jersey ( PANYNJ). The data included traffic at the airports of John F. Kennedy, Newark Liberty, LaGuardia, Stewart and Teterboro, although the latter airport does not have commercial airline service. In addition to overtaking BA, Norwegian also defeated Emirates and its European rivals Lufthansa, Air France and Virgin Atlantic to reach the top spot.
Network services
Norwegian Air currently operates 16 routes from three airports in the New York City area: John F. Kennedy International, Newark Liberty International and Stewart International, to Amsterdam, Barcelona, ​​Belfast, Bergen, Copenhagen, Dublin, Edinburgh, Guadeloupe , London Gatwick, Madrid, Martinique, Oslo, Paris, Rome, Shannon and Stockholm.
Norwegian Air launched its first route to New York on May 30, 2013 from Oslo and Stockholm on May 31, 2013, and had to wait years before receiving a foreign airline permit from the United States Department of Transportation (DOT) for its services at Ireland, Norwegian Air International (NAI) and the United Kingdom, Norwegian Air UK (NUK), both subsidiaries of Norwegian Air Shuttle ASA.
Transatlantic conquest
His request for a foreign airline permit under the open skies agreement between the EU and the United States met with fierce opposition from several US and EU airlines, as well as labor groups, which accused Norway of operating a model of convenience flag. The procedural delay in the approval of the permit of the foreign airline of NAI led the European Commission to make a request for arbitration on the matter. The pending United Kingdom departure from the EU could be difficult for NUK, which holds an operating license in the United Kingdom but is majority owned and controlled by Norwegian interests. However, Kjos told AIN in a recent interview that he is not concerned that NUK has lost its UK traffic rights to the United States.
The rapid expansion of Norwegian Air in the transatlantic market has led BA's parent company, International Airlines Group, to acquire a share of close to 5%. IAG's two approaches to buying the Oslo-based group's board met with rejection, although Kjos has said it would sell its stake if the majority of shareholders would choose to sell their shares. To strengthen its financial position, Norwegian Air is now trying to sell its Irish leasing division and up to 140 aircraft.
The entry of Norwegian Air into the transatlantic market has led the legacy airlines of Europe to also venture into the low-cost and long-distance market; IAG launched Level Airlines, Air France created Joon and Lufthansa has started to expand Eurowings.
The main low cost airlines of the United States did not dare to embark on the conquest of the transatlantic routes. The PANYNJ data reported that United airlines, Delta Air Lines, JetBlue Airways and American Airlines are ranked as the largest international passenger airlines outside the main airports in the New York area, transporting 26.1 million passengers in the 12 months, a very important market for commercial aviation. A \ W
Ξ A I R G W A Y S Ξ
SOURCE: Airgways.com
DBk: Norwegian.com / Thejournal.ie / Cnn.com
AW-POST: 201810100946AR
A\W   A I R G W A Y S ®