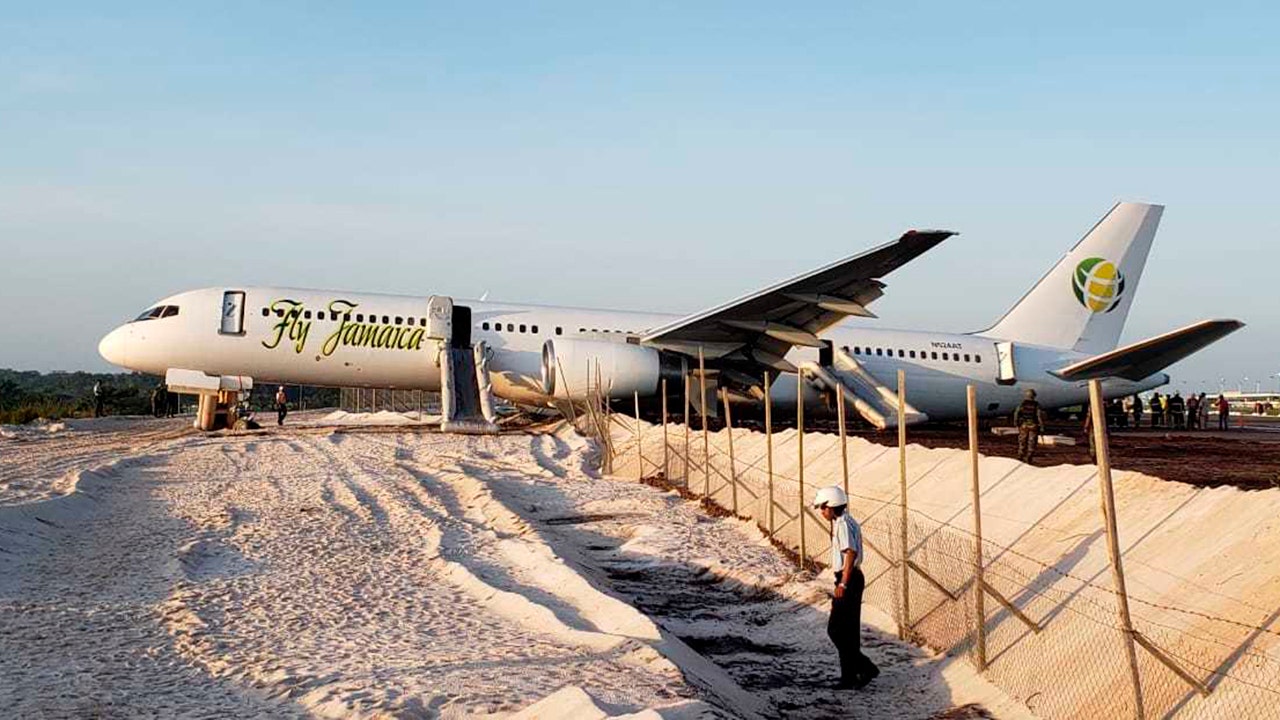 AW | 2018 11 09 17:39 | AIR INVESTIGATION / AVIATION SAFETY
Un Boeing 757-200 de Fly Jamaica Airways efectúa aterrizaje forzoso en Georgetown
El 9 Noviembre 2018, un Boeing 757-200 de Fly Jamaica Airways efectúa un aterrizaje forzoso en el Aeropuerto Internacional de Georgetown, República de Guyana, a raíz de una falla hidráulica fue la causa una excursión en la pista en el aterrizaje.
Un Boeing 757-200 de Fly Jamaica Airways, con registro N524AT que realizaba el vuelo OJ-256 desde Georgetown (Guyana) a Toronto (Canadá) con 120 pasajeros y 8 tripulantes, estaba saliendo de Georgetown cuando la tripulación detuvo el ascenso en FL200 debido a Una falla hidráulica y decidió regresar a Georgetown. El avión aterrizó en la pista 06 de Georgetown a las 02: 53L (06: 53Z), pero viró a la derecha de la pista y se detuvo a la derecha de la pista justo antes del final de la pista. El avión fue evacuado a través de toboganes. Hubo seis lesiones menores, la aeronave sufrió daños sustanciales con el engranaje principal derecho colapsado, el motor derecho separado del ala y el daño del ala derecha. Los heridos fueron trasladados a un hospital.
El ministro de infraestructura pública de Guyana informó que la aeronave transportaba a 118 pasajeros, dos bebés y 8 tripulantes. La tripulación se declaró de emergencia y regresó a Georgetown. 6 personas recibieron heridas leves y fueron trasladadas al hospital local. La aerolínea informó que el avión regresó a Georgetown con un problema técnico y sufrió un accidente al aterrizar.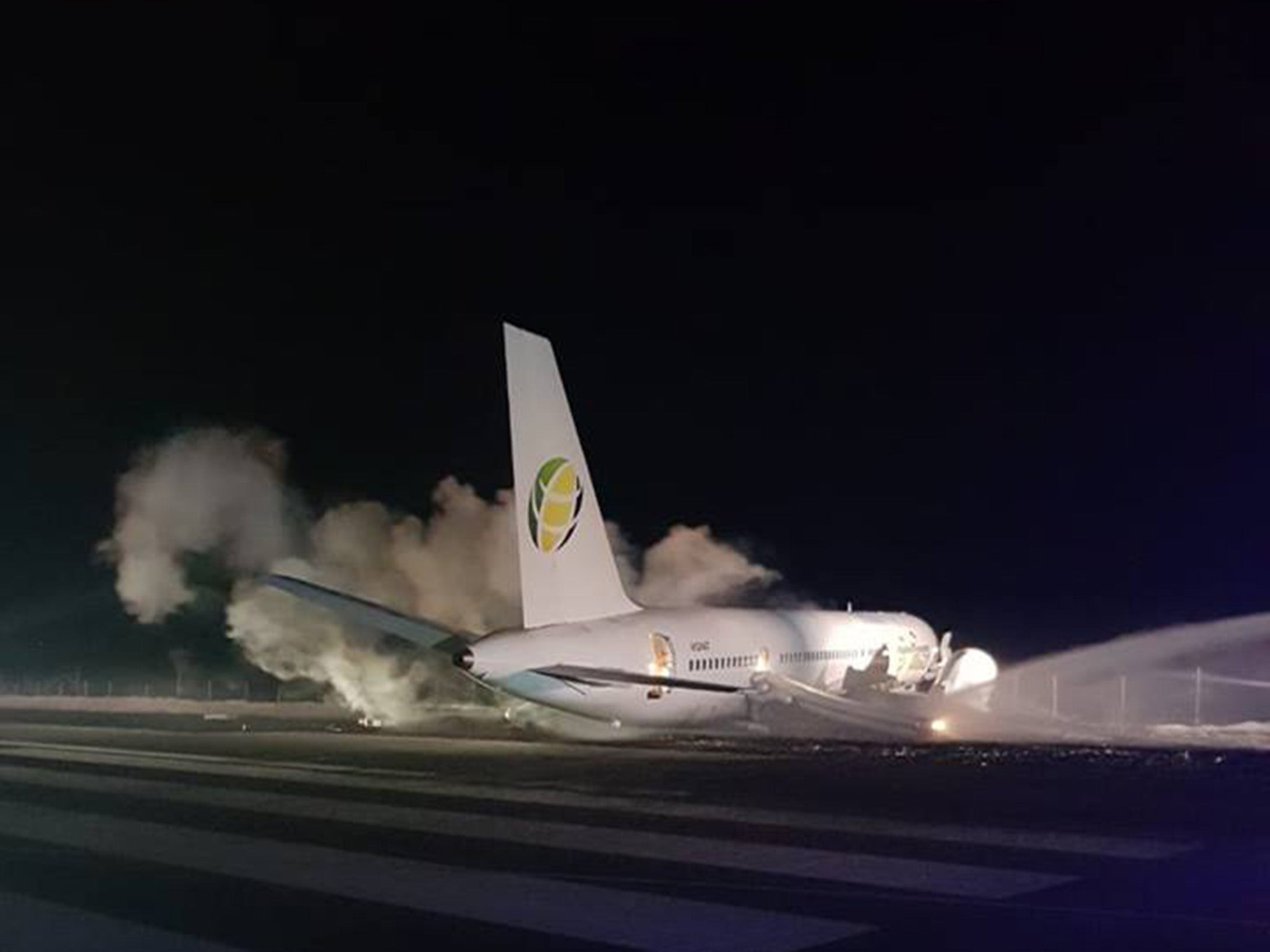 Accident Boeing 757 Fly Jamaica
A Boeing 757-200 of Fly Jamaica Airways affects crash landing  in Georgetown
On November 9, 2018, a Boeing 757-200 from Fly Jamaica Airways made a forced landing at the international airport in Georgetown, Republic of Guyana, following a hydraulic failure was the cause of a runway excursion at the landing.
A Boeing 757-200 from Fly Jamaica Airways, with registration N524AT that was flying OJ-256 from Georgetown (Guyana) to Toronto (Canada) with 120 passengers and 8 crew members, was leaving Georgetown when the crew stopped the climb at FL200 due to a Hydraulic failure and decided to return to Georgetown. The plane landed on runway 06 of Georgetown at 02:53 L (06:53Z), but it veered to the right of the runway and stopped to the right of the runway just before the end of the runway. The plane was evacuated through slides. There were six minor injuries, the aircraft suffered substantial damage with the collapsed right main gear, the right engine separated from the wing and the right wing damage. The wounded were taken to a hospital.
The Minister of Public Infrastructure of Guyana reported that the aircraft was carrying 118 passengers, two babies and 8 crew members. The crew declared an emergency and returned to Georgetown. 6 people received minor injuries and were transferred to the local hospital. The airline reported that the plane returned to Georgetown with a technical problem and suffered an accident upon landing. A\W
DATA: La información procesada puede actualizarse debido al tipo de datos cambiantes, por lo que le sugerimos consultar periódicamente esta información.
DATA: The processed information can be updated due to the type of changing data, so we suggest you consult this information periodically.
Ξ A I R G W A Y S Ξ
SOURCE: Airgways.com
DBk: Av-herald.com / Independent.co.uk / Foxbusiness.com / Dpi.gov.gy / Newsinflight.com
AW-POST: 201811091739AR
A\W   A I R G W A Y S ®