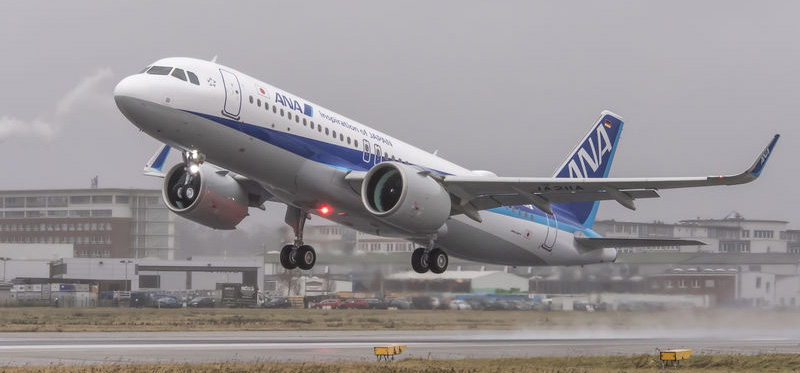 AW | 2019 01 29 09:54 | INDUSTRY / AIRLINES / AIRLINES ALLIANCE
ANA Airways encargará 30 Boeing y 18 Airbus
El operador de Japón All Nippon Airways ha comunicado este Martes 29 Enero 2019 que decidió ordenar un total de 48 aviones de los constructores Boeing y Airbus para realizar entregas a partir del 2021 hasta 2025.
ANA Holdings, empresa matriz de ANA Airways ha solicitado una orden conjunta compuesta por 30 aviones Boeing 737-8 MAX y 18 Airbus A320NEO, observando la creciente demanda en la región y el aumento del turismo receptivo hacia Japón.
La compañía dijo que los 30 aviones Boeing 737-8 MAX tendrían un precio de catálogo de ¥ 383 mil millones, US$ 3,5 mil millones, y agregó que la firma ha confirmado hasta ahora los pedidos de 20 unidades, con la opción de comprar 10 más. Los 18 pedidos de Airbus A320NEO están todos confirmados, pero el fabricante de los motores aún no se ha decidido, dijo la compañía. Por ahora, el acuerdo de Airbus tiene un precio de catálogo de 166 mil millones de yenes, dijo ANA Holdings.
El acuerdo convierte a ANA Airways en el primer comprador japonés del modelo Boeing 737 MAX, mientras que el Airbus A320NEO ya sirve a las rutas internacionales de la aerolínea nipona. La compañía elogió la eficiencia de combustible de los dos modelos.
ANA adquirirá Philippine Airlines
La aerolínea tendrá un gasto de US$ 95 millones para comprar el 9,5% de PAL Holdings, que opera la aerolínea de bandera Philippine Airlines. "Asia es un mercado clave en crecimiento y creemos que Philippine Airlines está en una excelente posición operativa para capitalizar tanto el fuerte aumento en el crecimiento del tráfico aéreo como la vibrante y creciente economía de Filipinas", dijo el presidente de ANA Holdings, Shinya Katanozaka, en un comunicado.
Durante nueve meses a diciembre, ANA Holdings dijo que su beneficio neto cayó un 30,2% a ¥ 106,8 mil millones. La caída se debió en parte a los efectos de comparación, ya que el año anterior vio ingresos especiales relacionados con la fabricación de la aerolínea de bajo costo Peach Aviation como su subsidiaria.
La compañía también pagó US$ 58 millones para resolver una demanda colectiva en los Estados Unidos relacionada con una acusación antimonopolio. La utilidad operativa de nueve meses de la empresa cayó un 5,6% a ¥ 156,6 mil millones, mientras que las ventas generales aumentaron un 5,2% a ¥ 1,568 mil millones.
Los graves desastres naturales en Japón, así como el aumento de los precios del combustible también afectaron los resultados de la empresa. Pero, en general, la fuerte demanda de viajes aéreos nacionales e internacionales estaba apoyando el desempeño financiero de la empresa, dijo la compañía. La firma mantuvo sus pronósticos anuales de un beneficio neto de 102 mil millones de yenes y un beneficio operativo de 165 mil millones de yenes por ventas de 2,04 billones de yenes.
ANA Airways orders orders from Boeing and Airbus
ANA Airways will commission 30 Boeing and 18 Airbus
The operator of Japan All Nippon Airways has announced this Tuesday January 29, 2019 that decided to order a total of 48 aircraft from the Boeing and Airbus constructors to make deliveries from 2021 to 2025.
ANA Holdings, parent company of ANA Airways has requested a joint order consisting of 30 Boeing 737-8 MAX aircraft and 18 Airbus A320NEO, observing the growing demand in the region and the increase of receptive tourism to Japan.
The company said the 30 Boeing 737-8 MAX aircraft would have a list price of ¥ 383 billion, US$ 3.5 billion, adding that the firm has so far confirmed orders of 20 units, with the option of buy 10 more. The 18 orders of Airbus A320NEO are all confirmed, but the manufacturer of the engines has not yet been decided, the company said. For now, the Airbus agreement has a list price of 166 billion yen, said ANA Holdings.
The agreement makes ANA Airways the first Japanese buyer of the Boeing 737 MAX model, while the Airbus A320NEO already serves the international routes of the Japanese airline. The company praised the fuel efficiency of the two models.
ANA will acquire Philippine Airlines
The airline will have an expense of US $ 95 million to buy 9.5% of PAL Holdings, which operates the Philippine Airlines flag carrier. "Asia is a key growth market and we believe that Philippine Airlines is in an excellent operating position to capitalize on both the strong growth in air traffic growth and the vibrant and growing economy of the Philippines", said ANA Holdings President Shinya Katanozaka , it's a statement.
For nine months to December, ANA Holdings said its net profit fell 30.2% to ¥ 106.8 billion. The fall was partly due to the effects of comparison, since the previous year saw special revenues related to the manufacturing of the low-cost airline Peach Aviation as its subsidiary.
The company also paid $ 58 million to settle a class action lawsuit in the United States related to an antitrust prosecution. The company's nine-month operating profit fell 5.6% to ¥ 156.6 billion, while overall sales increased by 5.2% to ¥ 1.568 billion.
The severe natural disasters in Japan, as well as the increase in fuel prices also affected the company's results. But overall, the strong demand for domestic and international air travel was supporting the company's financial performance, the company said. The firm maintained its annual forecasts of a net profit of 102 billion yen and an operating profit of 165 billion yen for sales of 2.04 trillion yen. A \ W
ANAエアウェイズ、ボーイングとエアバスに受注
ANAエアウェイズは30ボーイングと18エアバスを委託する
Japan All Nippon Airwaysの運航会社は、2019年1月29日火曜日、ボーイングとエアバスの建設会社に合計48機の航空機を発注し、2021年から2025年の間に配達することを発表しました。
ANAエアウェイズの親会社であるANAホールディングスは、ボーイング737-8 MAX 30機とエアバスA320NEO 18機の共同発注を要請しました。この地域での需要の増加と日本への受容的観光の増加を見ています。
同社は、30ボーイング737-8 MAX機の定価は3億8,300万円(35億米ドル)で、これまでに20基の注文を確認していると語った。さらに10個買う。 Airbus A320NEOの18件の注文はすべて確認されているが、エンジンの製造元はまだ決まっていない、と同社は述べた。 ANAホールディングスによると、当面のところ、エアバス協定の定価は1,660億円である。
この合意により、ANAエアウェイズはボーイング737 MAXモデルの最初の日本の購入者となり、エアバスA320NEOはすでに日本の航空会社の国際線を運航しています。同社は2つのモデルの燃費を称賛した。
ANAがフィリピン航空を買収
この航空会社は、フィリピン航空の旗艦会社であるPAL Holdingsの9.5%を購入するために9,500万米ドルの費用を負担します。 「アジアは重要な成長市場であり、航空会社の成長の力強い成長とフィリピンの活気に満ちた成長する経済の両方を利用するために、フィリピン航空は優れた経営地位にあると確信しています。」文の中で。
12月までの9ヶ月間の純利益は1,068億円(同30.2%減)となった。前年度は低コスト航空会社Peach Aviationの製造に関連する特別収益が子会社として発生したため、この減少は一部は比較の影響によるものです。
同社はまた、反トラスト訴訟に関連した米国での集団訴訟の訴訟を解決するために5800万ドルを支払いました。 9ヶ月累計営業利益は前年同期比5.6%減の1,566億円、売上高は同5.2%増の15億6800万円となりました。
日本の深刻な自然災害、そして燃料価格の高騰も当社の業績に影響を及ぼしました。しかし、全体的に見て、国内外の航空旅行への強い需要が同社の財務実績を支えていた、と同社は述べた。売上高2兆4兆円に対し、当期純利益は1,020億円、営業利益は1,650億円を見込んでいます。A \ W
Ξ A I R G W A Y S Ξ
SOURCE: Airgways.com
DBk: Ana.co.jp / Flickr.com / Aviationvoice.com
AW-POST: 201901290954AR
A\W   A I R G W A Y S ®