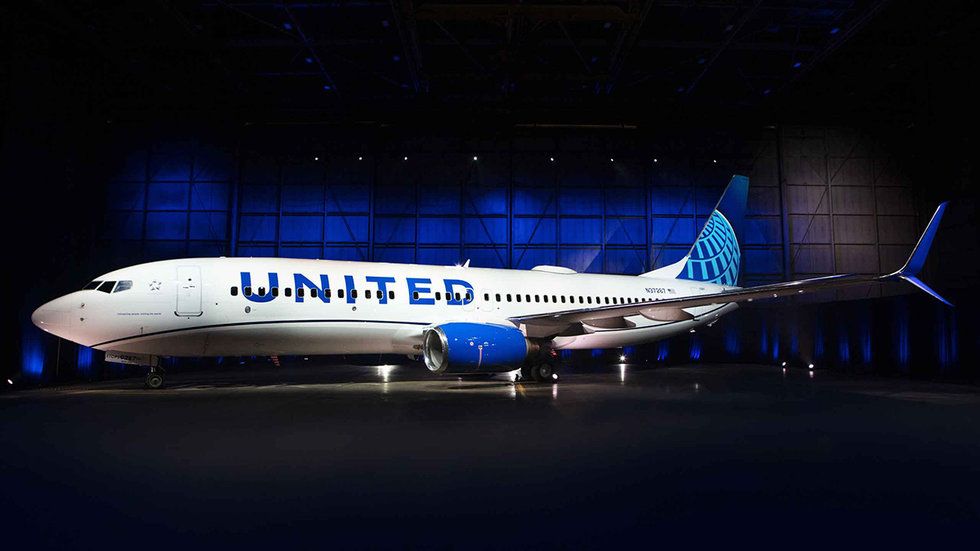 AW | 2019 05 10 19:40 | AIRLINES
United Airlines comienza con la renovación de la imagen corporativa
United Airlines presentó el nuevo diseño de librea que irá aplicando gradualmente a su flota como un paso más en la evolución de la marca. United Airlines presentó la nueva imagen que lucirá la totalidad dela flota aérea. Si bien se mantendrá el azul como color principal, se desplegarán diversas tonalidades para dar un toque más moderno.
United Airlines presenta a sus clientes y empleados una librea de aeronave modernizada, que brindará un aspecto renovado a su flota. El diseño es una representación visual de la evolución continua de la marca United, al tiempo que se mantiene fiel a la historia que ha desarrollado durante los últimos 93 años de servicio orgulloso a clientes en todo el mundo.
Introduciendo cambios imagen
En un cambio de imagen renovada, United Airlines deja atrás los trazos dorados, conservará el globo terráqueo en la cola de sus aeronaves en donde lucirá una imagen con tres tonos de azul, mientras que el logo lo hará en tono Sky Blue. El renovado diseño será implementado primeramente en el Boeing 737-800 y se caracterizará por el empleo de tres tonalidades de azul: Rhapsody Blue, United Blue y Sky Blue, dotando a la marca de una imagen más moderna, pero manteniendo la esencia de la compañía. Por otro lado, las turbinas y las puntas de las alas tendrán la tonalidad United Blue, el listón en el fuselaje se destacará por el Rhapsody Blue y el nombre de United será más grande. Asimismo, la mitad inferior estará pintada en gris claro y cerca de las puertas se leerá la leyenda: "Conectando a las personas. Uniendo al mundo".
"Este diseño modernizado, especialmente en lo que respecta a nuestro icónico globo terráqueo, realza lo mejor de la imagen y los valores de United al mismo tiempo que anuncia la dirección hacia la que nos dirigimos con respecto a los servicios que les ofrecemos a nuestros a clientes", señaló a la prensa internacional Oscar Muñoz, CEO de United Airlines.
El nuevo diseño presenta los colores principales de la paleta actualizada de la marca United, que se presentó el año pasado como un paso hacia la actualización de la identidad visual de la marca. El azul sigue siendo el color primario de la aerolínea, con varios tonos que crean más profundidad y reflejan los colores que los clientes y empleados ven cuando miran por la ventana del avión hacia el cielo. La nueva paleta de colores de la aerolínea también incluye tonos de púrpura, que es más reconocible ya que el color de los nuevos asientos United Premium Plus se agrega a la flota. Cuando se combinan, los tonos púrpura y azul crean un ambiente relajante y una experiencia de viaje más relajada. Al actualizar sus colores, United está reduciendo el uso del oro, que se agregó a la paleta de la marca hace casi 30 años. 
En promedio, los aviones de United reciben nuevos trabajos de pintura cada siete años. El primer avión pintado con el nuevo diseño es un Boeing 737-800, al que se unirá una mezcla de aviones de fuselaje estrecho, ancho y regional con la librea actualizada durante todo el año. Para obtener más información, visite united.com/brandevolution.
Además del nuevo diseño, United Airlines destacó su millonaria inversión para mejorar el sistema de entretenimiento a bordo. Recientemente, lanzó una nueva versión de su aplicación para ofrecer DIRECTV gratis a todos los pasajeros en 211 aviones, con más de 100 canales en más de 30.000 pantallas personales.
En 2019, United se está enfocando más que nunca en su compromiso con sus clientes, analizando cada aspecto de su negocio para garantizar que el operador mantenga los mejores intereses de los clientes en el centro de su servicio.
United Airlines starts image renewal
United Airlines begins with the renewal of the corporate image
United Airlines presented the new livery design that will be gradually applied to its fleet as a step in the evolution of the brand. United Airlines presented the new image that will show the entire air fleet. While blue will remain as the main color, various shades will be displayed to give a more modern touch.
United Airlines is introducing customers and employees to a modernized aircraft livery, which will bring a refreshed look to its fleet. The design is a visual representation of United's ongoing brand evolution while staying true to the history it has developed over the past 93 years of proudly serving customers around the world.
Introducing image changes
In a renewed change of image, United Airlines leaves behind the golden strokes, will keep the globe in the tail of its aircraft where it will show an image with three shades of blue, while the logo will do it in Sky Blue tone. On the other hand, the turbines and the tips of the wings will have the tonality United Blue, the strip in the fuselage will be highlighted by the Rhapsody Blue and the name of United will be bigger. The renewed design will be implemented first in the Boeing 737-800 and will be characterized by the use of three shades of blue: Rhapsody Blue, United Blue and Sky Blue, giving the brand a more modern image, but maintaining the essence of the company. Also, the lower half will be painted in light gray and near the doors will read the legend: «Connecting people. Uniting the world».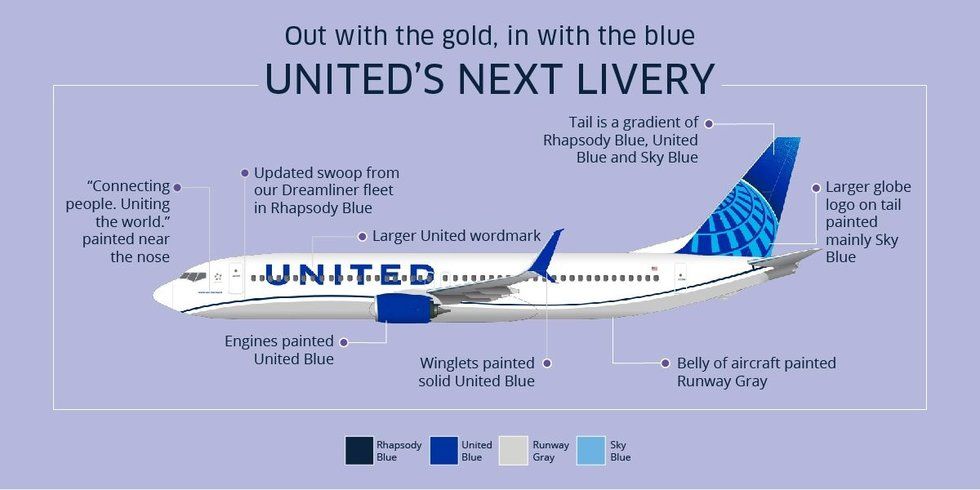 «This modernized design, especially as it relates to our iconic globe, enhances the best of United's image and values ​​while also announcing the direction we are heading in respect to the services we offer our clients. customers», Oscar Muñoz, CEO of United Airlines, told international press.
The new design features core colors from United's updated brand palette, which was introduced last year as a step toward updating the brand's visual identity. Blue continues to be the airline's primary color, with various tones creating more depth and reflecting the colors customers and employees see when they look out the plane window at the sky. The airline's new color palette also includes shades of purple, which is most recognizable as the color of the new United Premium Plus seats are being added to the fleet. When combined, the purple and blue tones create a soothing environment and a more relaxed travel experience. In updating its colors, United is reducing the use of gold, which was added to the brand palette almost 30 years ago.
NEW LIVERY OF THE UNITED AIRLINES
On average, United aircraft receive new paint jobs every seven years. The first aircraft painted with the new design is a Boeing 737-800, which will be joined by a mix of narrowbody, widebody and regional aircraft with the updated livery throughout the year. For more information visit united.com/brandevolution.
In addition to the new design, United highlighted its million-dollar investment to improve the on-board entertainment system. Recently, it launched a new version of its application to offer free DIRECTV to all passengers on 211 aircraft, with more than 100 channels on more than 30,000 personal screens.
In 2019, United is focusing more than ever on its commitment to its customers, looking at every aspect of its business to ensure that the carrier keeps customers' best interests at the heart of its service.  A \ W
Ξ A I R G W A Y S Ξ
SOURCE: Airgways.com
DBk: United.com / Airgways.com
AW-POST: 201905101940AR
A\W   A I R G W A Y S ®