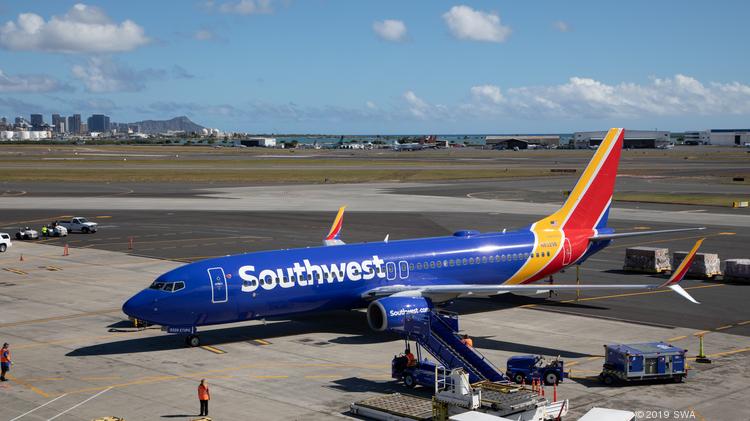 AW | 2019 05 13 18:25 | AIRLINES ROUTES
Southwest Airlines inicia vuelos interislas en el Estado de Hawaii
Southwest Airlines ha inaugurado una nueva ruta en las islas hawaianas. La aerolínea comenzó el servicio entre Honolulu en Oahu y Kona en la isla de Hawaii el Domingo 12 Mayo 2019.
Además, Southwest planea ofrecer cuatro frecuencias diarias entre Honolulu e Hilo en la Isla Hawai'i a fines de 2019 o principios de 2020, dijeron los funcionarios. El servicio de Hilo agregaría 1.400 asientos más cada día al mercado internacional, donde Southwest vuela 175 aviones Boeing 737-800. Con la adición de Kona, Southwest tiene 16 vuelos interislas en Hawaii, con una disponibilidad de 1.800 asientos diarios.
Southwest ingresó al mercado de Hawaii en Marzo 20109 cuando inició el servicio entre Honolulu y Oakland, California. La aerolínea con sede en Dallas ha agregado 2.100 asientos diarios a través de los 12 vuelos transpacíficos diarios que ofrece desde y hacia Hawaii, dijeron los funcionarios.
Más servicios transpacífico
Southwest también espera anunciar el próximo servicio en Hawaii desde San Diego y Sacramento, California. Southwest está planeando una mayor expansión en Hawaii basada en lo que cree que es una fuerte demanda de servicios a las islas del Pacífico desde casi todas las ciudades de California, así como también a Arizona, Nevada y Colorado, dijo Andrew Watterson, vicepresidente ejecutivo y director de ingresos de Southwest.
Southwest inaugurates interisland flights in Hawaii
Southwest Airlines starts inter-island flights in the State of Hawaii
Southwest Airlines has inaugurated a new route in the Hawaiian Islands. The airline began service between Honolulu on Oahu and Kona on the island of Hawaii on Sunday 12 May 2019.
In addition, Southwest plans to offer four daily frequencies between Honolulu and Hilo on Hawai'i Island in late 2019 or early 2020, officials said. The Hilo service would add 1,400 more seats each day to the international market, where Southwest flies 175 Boeing 737-800 aircraft. With the addition of Kona, Southwest has 16 inter-island flights in Hawaii, with an availability of 1,800 seats per day.
Southwest entered the Hawaii market in March 20109 when it began service between Honolulu and Oakland, California. The Dallas-based airline has added 2,100 seats per day through the 12 daily transpacific flights offered to and from Hawaii, officials said.
More transpacific services
Southwest also hopes to announce the next service in Hawaii from San Diego and Sacramento, California. Southwest is planning further expansion in Hawaii based on what it believes is a strong demand for services to the Pacific Islands from almost every city in California, as well as Arizona, Nevada and Colorado, said Andrew Watterson, executive vice president and Southwest revenue director. A \ W
Ξ A I R G W A Y S Ξ
SOURCE: Airgways.com
DBk: Southwest.com / Airgways.com / Forbes.com / Bizjournals.com
AW-POST: 201905131825AR
A\W   A I R G W A Y S ®