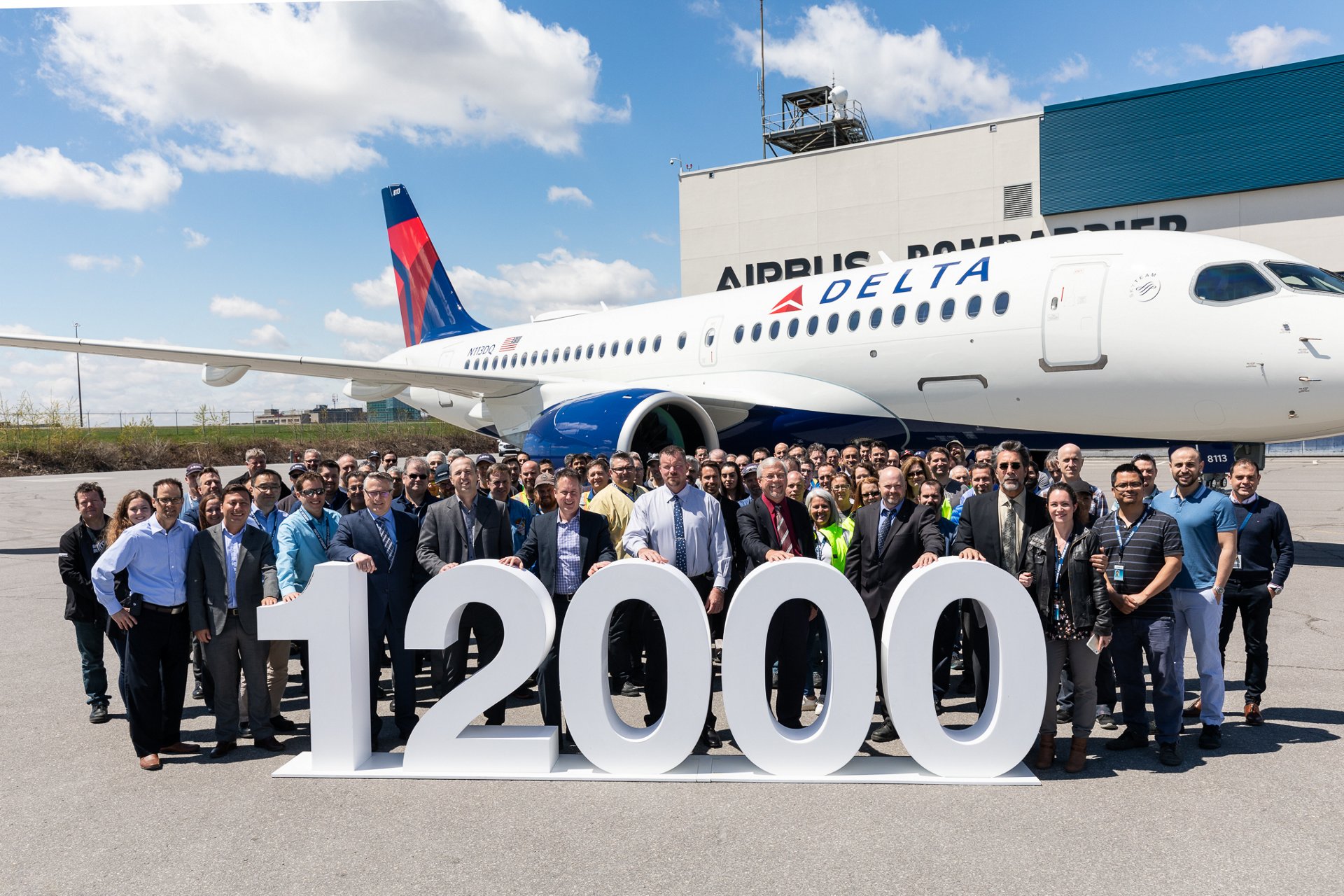 AW | 2019 05 20 17:20 | INDUSTRY
Airbus celebra entrega de 12.000 aeronaves comerciales
Airbus SE ha celebrado la entrega de la aeronave número 12.000 a su vez marcando sus próximos 50º aniversarios para 2020. El avión número 12.000, un Airbus A220-100 es entregado en Mirabel, Canadá para la aerolínea estadounidense Delta Air Lines.
Delta Air Lines ha tomado posesión de su aeronave número 12 de los A220 entregado hasta la fecha. Recibió su primer A220 en Octubre 2018. El A220 comenzó el servicio programado con Delta en Febrero 2019. Delta es la primera compañía aérea de Estados Unidos en operar el A220 y es el más grande cliente A220, con un pedido en firme de 90 aviones. Airbus dice que la cifra hito se alcanzó oficialmente el 20 Mayo 2019 con la entrega de un 12º A220 a Delta, que tiene 40 A220-100s y 50 A220-300s en orden.
Logros de Airbus
Airbus entregó su primer avión, un A300B2 a Air France, en 1974. Un avance rápido hasta 2010, Airbus entregó 36 años después, su aeronave número 6.000. El ritmo continuó incrementándose, teniendo Airbus sólo nueve años para duplicar ese número, llegando a 12.000 unidades entrega hasta el 20 Mayo 2019. Con la entrega de la aeronave 12º aeronave A220-100 a Delta Air Lines, Airbus SE marca un hito impresionante en la historia de la aviación comercial.
Además el fabricante europeo se acerca a su 20.000º orden global. Airbus había alcanzado 19.282 pedidos totales a fines de Abril 2019, ayudado por la absorción del año pasado de un poco más de 400 pedidos anteriores del Programa CSeries de Bombardier.
Airbus ha recibido pedidos de 8.135 de la familia A320CEO y 6.504 para la familia A320NEO actualizada. El total de su pedido también incluye A300/310 (816), A330/A340 (2.108), A350 (893) y A380 (290), aunque varios A380 deben aparecer como cancelados. Airbus ha marcado el hito histórico de 12.000 entregas con el último avión A220-100 al operador estadounidense Delta Air Lines, percibiendo un futuro prometedor.
Airbus celebrates 12,000 aircraft
Airbus celebrates delivery of 12,000 commercial aircraft
Airbus SE has celebrated the delivery of the 12,000th aircraft in turn marking its next 50th anniversaries by 2020. The 12,000th aircraft, an Airbus A220-100 is delivered in Mirabel, Canada to the US airline Delta Air Lines.
Delta Air Lines has taken possession of its 12th aircraft of the A220 delivered to date. It received its first A220 in October 2018. The A220 began scheduled service with Delta in February 2019. Delta is the first US airline to operate the A220 and is the largest A220 customer, with a firm order of 90 aircraft. Airbus says that the landmark figure was officially reached on May 20, 2019 with the delivery of a 12th A220 to Delta, which has 40 A220-100s and 50 A220-300s in order.
Achievements of Airbus
Airbus delivered its first aircraft, an A300B2 to Air France, in 1974. Fast forward to 2010, Airbus delivered 36 years later, its 6,000th aircraft. The pace continued to increase, with Airbus only nine years to double that number, reaching 12,000 units delivered until May 20, 2019. With the delivery of the aircraft 12th aircraft A220-100 to Delta Air Lines, Airbus SE marks an impressive milestone in the history of commercial aviation.
In addition, the European manufacturer is approaching its 20,000th global order. Airbus had reached 19,282 total orders at the end of April 2019, helped by last year's takeover of just over 400 previous orders from Bombardier's CSeries Program.
Airbus has received orders for 8,135 of the A320CEO family and 6,504 for the updated A320NEO family. The total of your order also includes A300/310 (816), A330/A340 (2.108), A350 (893) and A380 (290), although several A380 must appear as canceled. Airbus has marked the historic milestone of 12,000 deliveries with the latest A220-100 aircraft to the US operator Delta Air Lines, which has a promising future. A \ W
Ξ A I R G W A Y S Ξ
SOURCE: Airgways.com
DBk: Airbus.com / Airgways.com
AW-POST: 201905201720AR
A\W   A I R G W A Y S ®