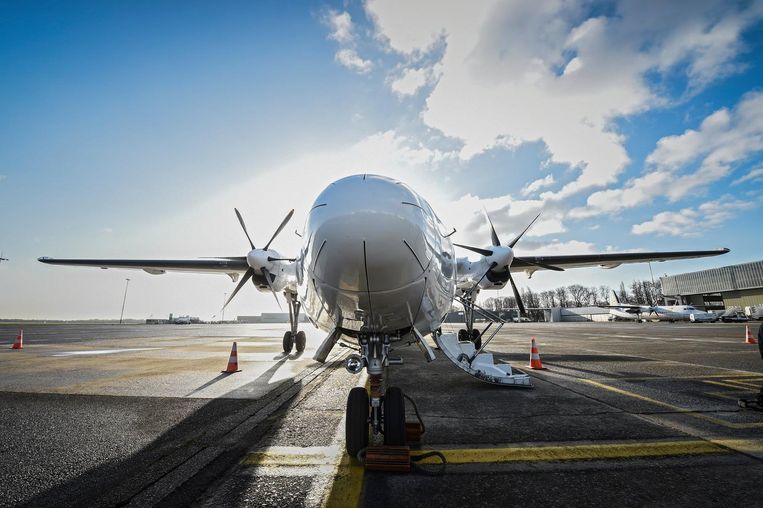 AW | 2019 05 20 05:43 | AIRLINES
Air Antwerp iniciará operaciones de la mano de KLM e Irish CityJet
El Boletín Oficial Belga publicó recientemente el nacimiento de una nueva aerolínea, Air Antwerp. Los accionistas son KLM y el Irish CityJet. Recaudaron un capital inicial de 61.500 euros, un tercio por KLM y los otros dos tercios por CityJet con sede en Dublín. Los directores de la nueva empresa son el holandés Willem Alexander Hondius (en nombre de KLM) y el belga Johan Maertens, quien también fue el último jefe del VLM liquidado hasta fines del año pasado.
Red servicios
En la primera fase, la compañía quiere conectar Amberes con tres destinos, incluido el Aeropuerto de London City. Esa conexión fue operada por VLM Airlines durante años, pero esa compañía entró en liquidación a fines del verano pasado después de problemas financieros, después de que no se encontró a ningún adquirente.
Air Antwerp espera poder comenzar en el 3Q2019 con un Fokker 50, aeronave turbohélice regional para cincuenta pasajeros que VLM Airlines también usaba en ese momento. Se está enviando una solicitud de permiso de vuelo (AOC) a la Movilidad FPS. La sociedad necesita esto para organizar vuelos comerciales.
Empleados de VLM
La nueva aerolínea regional también espera atraer a varios ex-empleados de VLM Airlines. Esa compañía entró en liquidación después de que no se encontró ningún comprador.
Air Antwerp is born in Belgium
Air Antwerp will start operations with the help of KLM and Irish CityJet
The Belgian Official Gazette recently published the birth of a new airline, Air Antwerp. The shareholders are KLM and the Irish CityJet. They raised an initial capital of 61,500 euros, one third for KLM and the other two thirds for CityJet based in Dublin. The directors of the new company are the Dutchman Willem Alexander Hondius (on behalf of KLM) and the Belgian Johan Maertens, who was also the last head of the VLM liquidated until the end of last year.
Network services
In the first phase, the company wants to connect Antwerp with three destinations, including the London City Airport. That connection was operated by VLM Airlines for years, but that company went into liquidation late last summer after financial problems, after no acquirer was found.
Air Antwerp expects to start at 3Q2019 with a Fokker 50, a regional turboprop aircraft for fifty passengers that VLM Airlines also used at that time. An application for a flight permit (AOC) is being sent to the FPS Mobility. Society needs this to organize commercial flights.
Employees of VLM
The new regional airline also hopes to attract several former employees of VLM Airlines. That company went into liquidation after no buyer was found. A \ W
Air Antwerp wordt geboren in België
Air Antwerp zal operaties starten met de hulp van KLM en Irish CityJet
Het Belgisch Staatsblad publiceerde onlangs de geboorte van een nieuwe luchtvaartmaatschappij, Air Antwerpen. De aandeelhouders zijn KLM en de Ierse CityJet. Ze haalden een startkapitaal van 61.500 euro, een derde voor KLM en de andere twee derden voor CityJet uit Dublin. De bestuurders van de nieuwe onderneming zijn de Nederlander Willem Alexander Hondius (in opdracht van KLM) en de Belg Johan Maertens, die ook de laatste hoofd van VLM geliquideerd tot eind vorig jaar was.
Netwerkdiensten
In de eerste fase wil het bedrijf Antwerpen verbinden met drie bestemmingen, waaronder de London City Airport. Die verbinding werd bediend door VLM Airlines al jaren, maar dat bedrijf failliet ging eind vorige zomer na financiële problemen na een overnemende partij niet is gevonden.
Air Antwerpen hoopt om te beginnen in 3Q2019 met een Fokker 50 turboprop vliegtuigen voor regionaal verkeer voor vijftig passagiers VLM Airlines ook gebruikt op dat moment. Een aanvraag voor een vliegvergunning (AOC) wordt verzonden naar de FOD Mobiliteit. De maatschappij heeft dit nodig om commerciële vluchten te organiseren.
Medewerkers van VLM
De nieuwe regionale luchtvaartmaatschappij hoopt ook diverse voormalige werknemers van VLM Airlines aan te trekken. Dat bedrijf ging failliet nadat er geen koper was gevonden. A \ W
Ξ A I R G W A Y S Ξ
SOURCE: Airgways.com
DBk: Nbb.be / Hln.be / Gva.be / Wikimedia.org
AW-POST: 201905200543AR
A\W   A I R G W A Y S ®