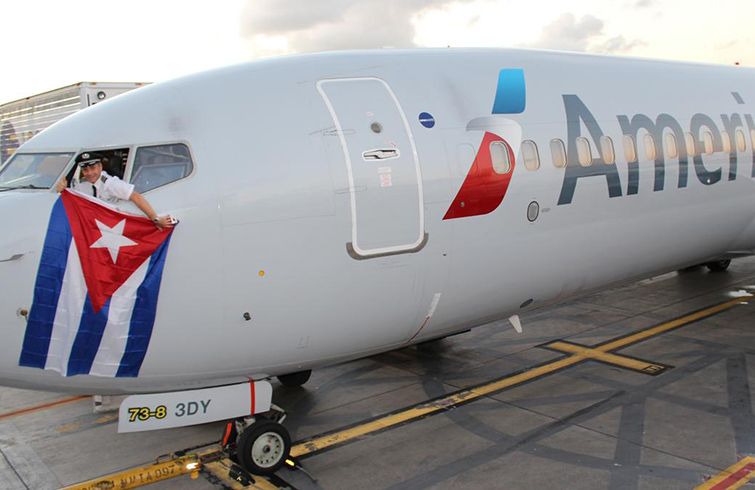 AW | 2019 05 23 12:14 | AIRLINES ROUTES
American Airlines podría ampliar sus vuelos a la República de Cuba pese a las sanciones de Estados Unidos
El Director de Operaciones de American Airlines en Cuba, Ramón Jiménez ha expresado las intensiones de ampliar las frecuencias hacia Cuba. La compañía aérea estadounidense reafirmó este Miércoles 22 Mayo 2019 sus intenciones de seguir ampliando los vuelos a Cuba, a pesar del recrudecimiento de las sanciones económicas contra ese país por parte del Gobierno de Donald Trump.
Así lo reconoció el Gerente de Operaciones de la firma en Cuba, Ramón Jiménez, al asegurar que merican tiene una estrategia a largo plazo para expandir sus conexiones con la isla centroamericana.
En el marco de la celebración del Día de la Aviación en Cuba, durante un encuentro de la Asociación Internacional del Transporte Aéreo, celebrado en la Habana, Jiménez dijo: "Estamos muy optimistas sobre el futuro de nuestros vínculos con esta nación, porque hasta ahora el mercado respondió satisfactoriamente. En julio planificamos iniciar el sexto vuelo diario entre La Habana y Miami, en el estado norteamericano de Florida, y este mes conectamos a esa urbe con Santiago de Cuba". Según el ejecutivo, en la actualidad American Airlines es la aerolínea con más vuelos entre Cuba y EE.UU. ya que ofrece vuelos a seis ciudades: La Habana, Varadero, Santa Clara, Camagüey, Holguín y Santiago de Cuba.
Ley Helms-Burton
El Secretario de Estado de Estados Unidos, Mike Pompeo ha expresado en Varsovia (Polonía) el 14 Febrero 2019: "No podemos emitir un juicio sobre algo que no conocemos específicamente, aunque en estos momentos nuestro enfoque es apostar al mercado cubano a largo plazo y continuar nuestras operaciones aquí", manifestó.
La Ley de Libertad y Solidaridad Democrática de Cuba (Libertad) de 1996, ley Helms-Burton es una ley federal de los Estados Unidos que fortalece y continúa el embargo de Estados Unidos contra Cuba. La ley extendió la aplicación territorial del embargo inicial para aplicar a las empresas extranjeras que comercian con Cuba, y penalizó a las compañías extranjeras que supuestamente traficaron en propiedades que antes eran propiedad de ciudadanos estadounidenses pero fueron confiscadas por Cuba después de la revolución cubana. La ley también cubre las propiedades que antes pertenecían a los cubanos que se han convertido en ciudadanos estadounidenses.
A principios de Marzo 2019, el Departamento de Estado de EE.UU. anunció que, a partir del día 19 del mismo mes, estará permitido presentar demandas judiciales en tribunales estadounidenses contra las empresas cubanas incluidas en la llamada 'Lista de Entidades Cubanas Restringidas', que incluye compañías e instituciones que, desde el punto de vista estadounidense, se benefician de bienes incautados por el Gobierno cubano tras la Revolución de 1959.
American would expand frequencies to Cuba
American Airlines could expand its flights to the Republic of Cuba despite US sanctions
The Director of Operations of American Airlines in Cuba, Ramón Jiménez, has expressed the intentions of expanding the frequencies to Cuba. The US airline reaffirmed this Wednesday 22 May 2019 its intentions to continue expanding flights to Cuba, despite the intensification of economic sanctions against that country by the Government of Donald Trump.
This was acknowledged by the Operations Manager of the firm in Cuba, Ramón Jiménez, by ensuring that merican has a long-term strategy to expand its connections with the Central American island.
As part of the celebration of Aviation Day in Cuba, during a meeting of the International Air Transport Association, held in Havana, Jiménez said: "We are very optimistic about the future of our ties with this nation, because so far The market responded satisfactorily In July we plan to start the sixth daily flight between Havana and Miami, in the US state of Florida, and this month we connect that city with Santiago de Cuba. " According to the executive, American Airlines is currently the airline with the most flights between Cuba and the United States. since it offers flights to six cities: Havana, Varadero, Santa Clara, Camagüey, Holguín and Santiago de Cuba.
Helms-Burton Law
The Secretary of State of the United States, Mike Pompeo has expressed in Warsaw (Polonia) on February 14, 2019: "We can not pass judgment on something that we do not know specifically, although at this moment our focus is to bet on the Cuban market in the long term and continue our operations here", he said.
The Law of Freedom and Democratic Solidarity of Cuba (Libertad) of 1996, Helms-Burton Act is a federal law of the United States that strengthens and continues the US embargo against Cuba. The law extended the territorial application of the initial embargo to apply to foreign companies that trade with Cuba, and penalized foreign companies that allegedly trafficked in properties that were previously owned by US citizens but were confiscated by Cuba after the Cuban revolution. The law also covers properties that once belonged to Cubans who have become US citizens.
At the beginning of March 2019, the US Department of State announced that, starting on the 19th of the same month, it will be allowed to file lawsuits in US courts against Cuban companies included in the so-called 'List of Restricted Cuban Entities', which includes companies and institutions that, from the American point of view, they benefit from assets seized by the Cuban government after the 1959 Revolution. A \ W
Ξ A I R G W A Y S Ξ
SOURCE: Airgways.com
DBk: State.gov/secretary / Aa.com / Oncubanews.com
AW-POST: 201905231214AR
A\W   A I R G W A Y S ®