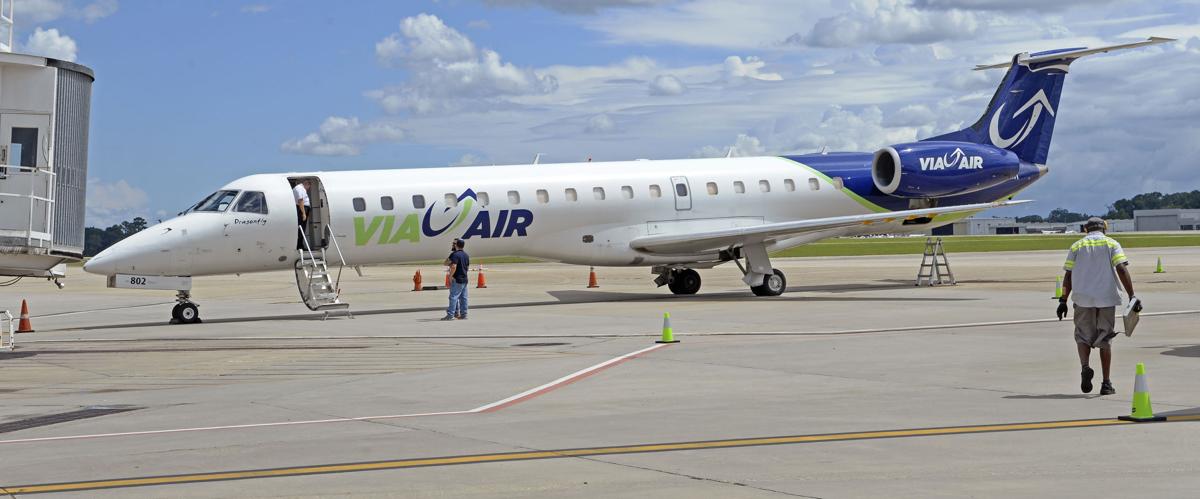 AW | 2019 05 24 10:43 | AIRLINES
Via Airlines suspende todos los servicios operativos
Via Airlines ha suspendido todos sus vuelos en Aeropuerto Internacional Pittsburgh. Seis semanas después de iniciar el servicio en el Aeropuerto Internacional de Pittsburgh, la pequeña aerolínea con sede en Florida anunció el jueves que suspendía todos los vuelos, con efecto inmediato.
Donald Bowman, Vicepresidente de Desarrollo y Distribución de Negocios de Via Airlines, culpó a la decisión de los "desafíos continuos de la aerolínea en el reclutamiento, entrenamiento y retención de un nivel adecuado de tripulaciones calificadas. La junta directiva de Via Airlines ha tomado la difícil decisión de suspender todos los vuelos hacia/desde el Aeropuerto Internacional de Pittsburgh con vigencia inmediata".
El Sr. Bowman dijo que todos los viajeros con reservas confirmadas y pagadas recibirán un reembolso completo: "Via Airlines desea agradecer al equipo de administración del Aeropuerto Internacional de Pittsburgh por su apoyo hasta la fecha, y lamenta esta decisión dolorosa pero necesaria, que creemos que es lo mejor para la comunidad en este momento".
La aerolínea también ha suspendido el servicio a todos los demás mercados a los que presta servicios, excepto en los vuelos entre Orlando, Florida y Jackson, Mississippi, dijo Bowman. Via Airlines es la cuarta aerolínea en el último año en interrumpir el servicio de Pittsburgh International. OneJet, el operador comercial regional en quiebra, dejó de volar en agosto pasado. Delta Air Lines terminó sin escalas a París en septiembre pasado después de una carrera de 10 años, y Wow Air, enfrentado a problemas financieros, dejó su vuelo a Islandia en Enero 2019.
Via Airlines hizo su debut en Pittsburgh se estableció el 27 Marzo 1997 efectuando el 11 Abril 1997 servicio inaugural cuatro veces por semana Pittsburgh-Birmingham. Via había programado comenzar el servicio cuatro veces por semana a Memphis, Tennessee y Austin, Texas, Desde Pittsburgh el 25 Junio y a Hartford, Connecticut, El 22 Julio.
Suspensión operaciones
Via Airlines aún espera reanudar el servicio en Pittsburgh en algún momento pero no hay planes ni plazos concretos para una devolución. "Creemos que hay un gran potencial en el PIT, pero debemos resolver nuestros problemas de tripulación antes de hacer un segundo intento en el PIT en algún momento en el futuro", expresó Donald Bowman.
La aerolínea entró en la región con grandes ambiciones. Al anunciar el servicio en enero pasado, declaró que esperaba hacer de Pittsburgh una ciudad de enfoque, con planes de agregar cuatro o cinco vuelos más además de los que estaba comenzando.
Via Airlines comenzó en 1997 como una compañía de vuelos chárter y recibió la aprobación federal para operar como una línea aérea nacional en 2016. Hasta hace poco, la mayor parte de su servicio se había establecido en la parte sureste de Estados Unidos.
Ops suspension Via Airlines
Via Airlines suspends all operational services
Via Airlines has suspended all flights at Pittsburgh International Airport. Six weeks after starting service at Pittsburgh International Airport, the small Florida-based airline announced on Thursday that it was suspending all flights, effective immediately.
Donald Bowman, Vice President of Business Development and Distribution for Via Airlines, blamed the decision on "the airline's continuing challenges in recruiting, training and retaining an adequate level of qualified crews." Via Airlines board of directors has taken the difficult decision to suspend all flights to/from Pittsburgh International Airport with immediate effect".
Mr. Bowman said that all travelers with confirmed and paid reservations will receive a full refund: "Via Airlines would like to thank the management team of Pittsburgh International Airport for their support to date, and regrets this painful but necessary decision, which we believe what is best for the community at this time".
The airline has also suspended service to all other markets it serves, except for flights between Orlando, Florida and Jackson, Mississippi, Bowman said. Via is the fourth airline in the last year to interrupt Pittsburgh International's service. OneJet, the bankrupt regional commercial operator, stopped flying last August. Delta Air Lines ended nonstop to Paris last September after a 10-year run, and Wow Air, faced with financial problems, left its flight to Iceland in January 2019.
Via Airlines made its debut in Pittsburgh it was established on March 27, 1997 performing on April 11, 1997 inaugural service four times a week Pittsburgh-Birmingham. Via had scheduled service four times a week to Memphis, Tennessee and Austin, Texas, from Pittsburgh on June 25 and Hartford, Connecticut, on July 22.
Operations suspension
Via Airlines still expects to resume service in Pittsburgh at some point but there are no plans or specific deadlines for a return. "We believe that there is great potential in the PIT, but we must solve our crew problems before making a second attempt at the PIT at some point in the future", said Donald Bowman.
The airline entered the region with great ambitions. In announcing the service last January, he said he hoped to make Pittsburgh a focus city, with plans to add four or five more flights in addition to the ones it was starting.
Via Airlines began in 1997 as a charter company and received federal approval to operate as a national airline in 2016. Until recently, most of its service had been established in the southeastern part of the United States. A \ W
Ξ A I R G W A Y S Ξ
SOURCE: Airgways.com
DBk: Post-gazette.com / Theadvocate.com / Airgways.com
AW-POST: 201905241043AR
A\W   A I R G W A Y S ®