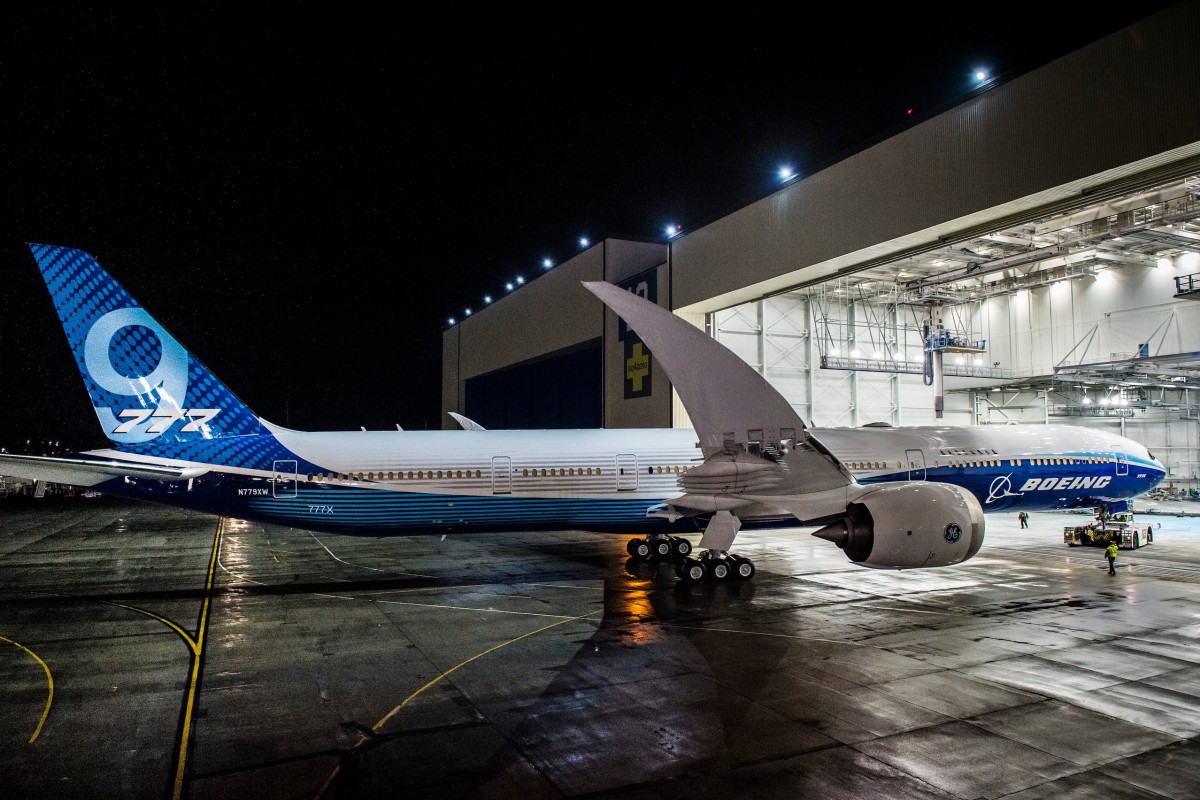 AW | 2019 07 27 16:44 | INDUSTRY
En medio de la crisis que involucra a la línea de ensamblaje de los 737 MAX, el Programa 777X continúa demorado por dificultades en ingeniería
The Boeing Company informó que su Programa 777X que incluyen las aeronaves 777-8 y 777-9 de amplia autonomía se someterían a nuevos estudios. El Boeing 777-9 no realizará vuelos de pruebas en los próximos noventa días. Un ejecutivo del directorio confirmó que este avión de doble pasillo recién podría comenzar a volar tentativamente el primer semestre de 2020. La causa reside en los problemas que acarrean las unidades motrices General Electric GE9X, que actualmente son las turbinas más potentes del mercado aerocomercial, diseñadas especialmente para impulsar a este futuro avión que será el bimotor más grande del mundo. En un nuevo retraso en la hoja de ruta del Programa 777X, la idea inicial del fabricante era que los vuelos de prueba se realicen en el 2018 y que entraran en operaciones en 2020. Boeing confiaba en que este problema se resolviera pronto, todo el calendario se posterga varios meses.
A principios de 2019 Boeing trató de acelerar los tiempos con la presentación en sociedad de este modelo, pero los problemas relacionados con los Boeing 737 MAX desató una crisis que obligó a cancelar el roll out, mientras que General Electric reconocía que había varios detalles técnicos que resolver en los motores antes de iniciar los vuelos de prueba. Hace un mes el Director Ejecutivo de General Electric, David Joyce, informó que "un componente en la turbina que presenta un desgaste mayor al esperado. Hemos tenido que apretar el botón de pausa con Boeing".
En la presentación de resultados trimestrales el constructor americano informó que si bien esperan entregar el primer Boeing 777-9, los vuelos se demorarán hasta el 2020 por retrasos relacionados con los motores de General Electric.
Fechas de entrega
Boeing no informa fechas de entrega a las aerolíneas que se comprometieron a incorporar a este nuevo avión. La aerolínea alemana Lufthansa dijo que podría esperar a recibirlo a fines del 2020 y Emirates en Enero 2021.
Los dos modelos Boeing 777-8 y el Boeing 777-9 tienen 325 órdenes de compra por parte de ocho aerolíneas. Además se encuentran en lista de espera Qatar Airways, British Airways, Cathay Pacific, Singapore Airlines, All Nippon Airways, Etihad y un cliente sin identificar.
Boeing postpones 777X Program
Amid the crisis involving the 737 MAX assembly line, the 777X Program continues to be delayed due to engineering difficulties
The Boeing Company reported that its 777X Program that includes the 777-8 and 777-9 aircraft of wide autonomy would undergo further studies. The Boeing 777-9 will not conduct test flights in the next ninety days. An executive of the board confirmed that this double-aisle aircraft could just begin to fly tentatively in the first half of 2020. The cause lies in the problems caused by the General Electric GE9X driving units, which are currently the most powerful turbines on the airport, designed especially to boost this future plane that will be the world's largest twin-engine. In a further delay in the 777X Program roadmap, the manufacturer's initial idea was for test flights to take place in 2018 and to go into operation in 2020. Boeing hoped that this problem would be resolved soon, the entire calendar It is delayed for several months.
At the beginning of 2019 Boeing tried to accelerate the times with the presentation in society of this model, but the problems related to the Boeing 737 MAX unleashed a crisis that forced to cancel the roll out, while General Electric recognized that there were several technical details that resolve on engines before starting test flights. A month ago, the Executive Director of General Electric, David Joyce, reported that "a component in the turbine that shows greater than expected wear. We had to press the pause button with Boeing".
In the presentation of quarterly results, the American builder informed that although they expect to deliver the first Boeing 777-9, flights will be delayed until 2020 due to delays related to General Electric's engines.
Delivery Dates
Boeing does not report delivery dates to airlines that promised to incorporate this new aircraft. The German airline Lufthansa said it could wait to receive it at the end of 2020 and Emirates in January 2021.
The two Boeing 777-8 and the Boeing 777-9 models have 325 purchase orders from eight airlines. In addition, Qatar Airways, British Airways, Cathay Pacific, Singapore Airlines, All Nippon Airways, Etihad and an unidentified customer are on the waiting list. A \ W
Ξ A I R G W A Y S Ξ
SOURCE: Airgways.com
DBk: Boeing.com / Scmp.com / Wikimedia.org / Airgways.com
AW-POST: 201907271644AR
A\W   A I R G W A Y S ®