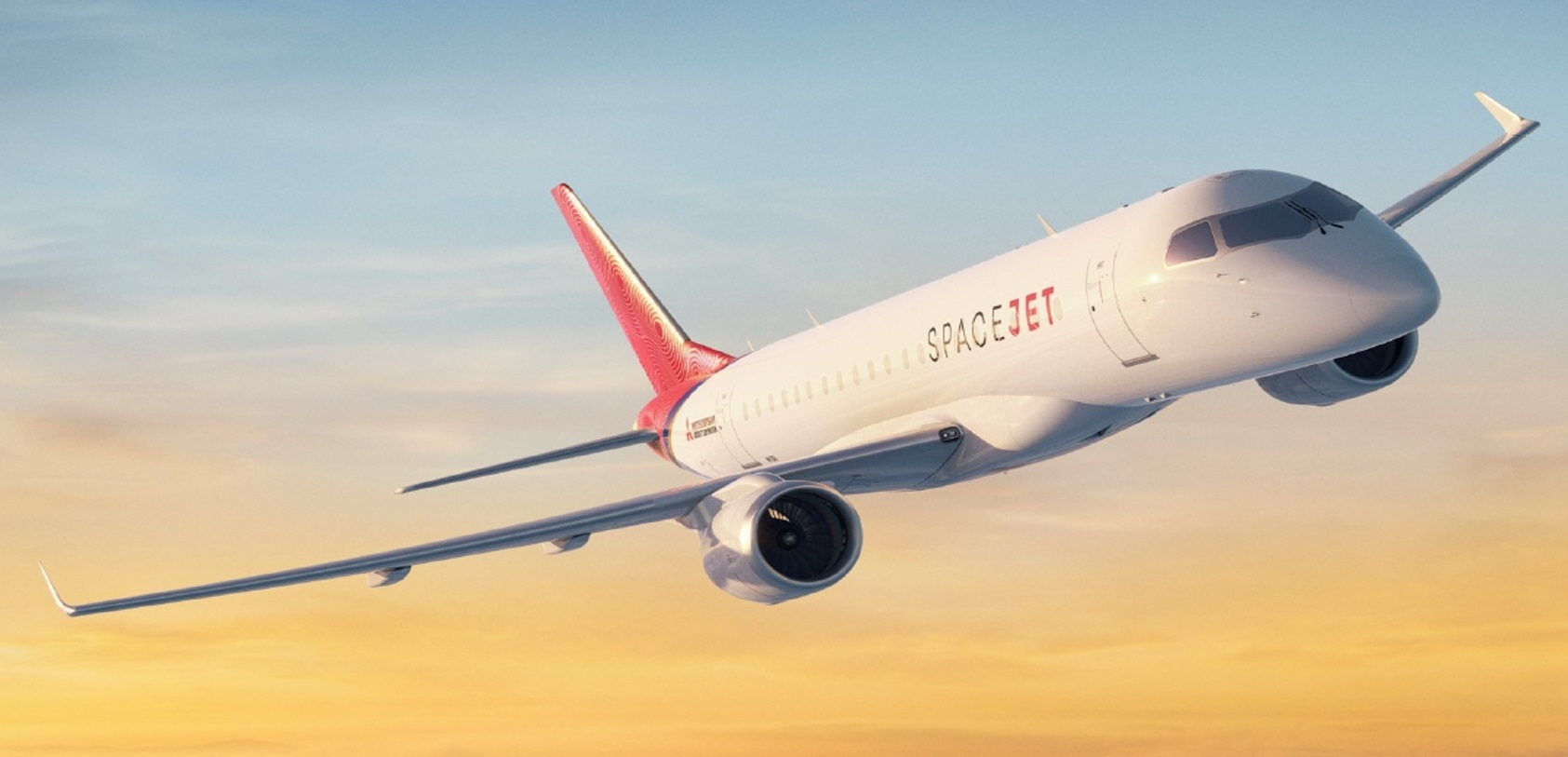 AW | 2019 09 06 11:39 | AIRLINES / INDUSTRY
Mesa Airlines acuerda comprar hasta 100 SpaceJet M100
La aerolínea estadounidense Mesa Airlines y Mitsubishi Aircraft Corporation han firmado una carta de intenciones por 100 SpaceJet M100. La aerolínea regional estadounidense Mesa Airlines ha firmado un Memorando de Entendimiento (MoU) para ordenar hasta 100 de los aviones regionales SpaceJet M100 de 76 asientos de Mitsubishi Aircraft.
Mesa Airlines opera con una flota de aviones regionales como compañía feeder para las principales aerolíneas de Estados Unidos, las cuales tienen firmado con sus pilotos acuerdos de Clausulas de Alcance que limitan el número y tamaño de esos aviones regionales. El acuerdo entre ambas partes señala que las entregas de los aviones comenzaría en 2024.
El memorando de entendimiento exige que Mesa y Mitsubishi Aircraft "comiencen las negociaciones formales para la compra" de 100 M100, según un comunicado de prensa de Mitsubishi Aircraft. El acuerdo establece a Mesa Airlines realizar 50 pedidos en firme y tomar los derechos de compra de otros 50, con entregas a partir de 2024. El avión estará propulsado por turbofans con engranajes Pratt & Whitney PW1200.
El mercado del SpaceJet M100 está desarrollando con estos acuerdos en mente, con una capacidad de 76 plazas, en clase única podrá equiparse con hasta 88 asientos. Se trata de una variante que intermedia entre el SpaceJet M90, de 90 plazas, y el MRJ70, de 70, cuyo desarrollo se ha cancelado en favor del M100. El anterior MRJ70 de 70 asientos tenía menos asientos que los aviones de la competencia como el Embraer 175. Mitsubishi Aircraft continúa desarrollando el M90 más grande de 88 asientos junto con el M100. Espera comenzar a entregar el M90 en 2020. La compañía también adquirió recientemente el programa CRJ de Bombardier, dándole una sólida red global de soporte de aeronaves.
"La selección de Mesa Airlines del SpaceJet M100 confirma que nuestro avión satisface las necesidades actuales y futuras en esta industria, y que las aerolíneas están listas para avanzar en nuestras discusiones", dice el Presidente de Mitsubishi Aircraft, Hisakazu Mizutani, en un comunicado de prensa.
"Con su gran cabina, comodidad, nueva tecnología y bajos costos de operación, el Mitsubishi SpaceJet M100 puede ofrecer esta experiencia premium dentro de la cláusula de alcance de los Estados Unidos", dice el director ejecutivo de Mesa, Jonathan Ornstein.
El SpaceJet era denominado anteriormente MRJ (Mitusbishi Regional Jet), pero en el pasado Salón de Le Bourget se anunció el cambio de denominación.
Mesa Airlines orders 100 SpaceJet M100
Mesa Airlines agrees to buy up to 100 SpaceJet M100
The American airline Mesa Airlines and Mitsubishi Aircraft Corporation have signed a letter of intent for 100 SpaceJet M100. The American regional airline Mesa Airlines has signed a Memorandum of Understanding (MoU) to order up to 100 of the 76-seat SpaceJet M100 regional aircraft from Mitsubishi Aircraft.
Mesa Airlines operates with a fleet of regional airplanes as a feeder company for the main US airlines, which have signed with their pilots Scope Clauses agreements that limit the number and size of those regional airplanes. The agreement between both parties indicates that aircraft deliveries would begin in 2024.
The memorandum of understanding requires that Mesa and Mitsubishi Aircraft begin formal negotiations for the purchase of 100 M100, according to a press release from Mitsubishi Aircraft. The agreement establishes Mesa Airlines to make 50 firm orders and take the purchase rights of another 50, with deliveries from 2024. The aircraft will be powered by turbofans with Pratt & Whitney PW1200 gears.
The SpaceJet M100 market is developing with these agreements in mind, with a capacity of 76 seats, in a single class it can be equipped with up to 88 seats. It is a variant that intermediates between the SpaceJet M90, 90 seats, and the MRJ70, 70, whose development has been canceled in favor of the M100. The previous 70-seat MRJ70 had fewer seats than competing aircraft like the Embraer 175. Mitsubishi Aircraft continues to develop the largest M90 of 88 seats along with the M100. He expects to start delivering the M90 ​​in 2020. The company also recently acquired the Bombardier CRJ program, giving it a strong global aircraft support network.
"The Mesa Airlines selection of the SpaceJet M100 confirms that our aircraft meets current and future needs in this industry and that the airlines are ready to move forward in our discussions", says Mitsubishi Aircraft President Hisakazu Mizutani, in a statement from the press.
"With its large cab, comfort, new technology, and low operating costs, the Mitsubishi SpaceJet M100 can offer this premium experience within the scope of the United States", says Mesa chief executive Jonathan Ornstein.
The SpaceJet was previously called MRJ (Mitsubishi Regional Jet), but in the past Le Bourget Hall, the name change was announced. A \ W
Ξ A I R G W A Y S Ξ
SOURCE: Airgways.com
DBk: Theflymrj.com / Airgways.com
AW-POST: 201909061139AR
A\W   A I R G W A Y S ®