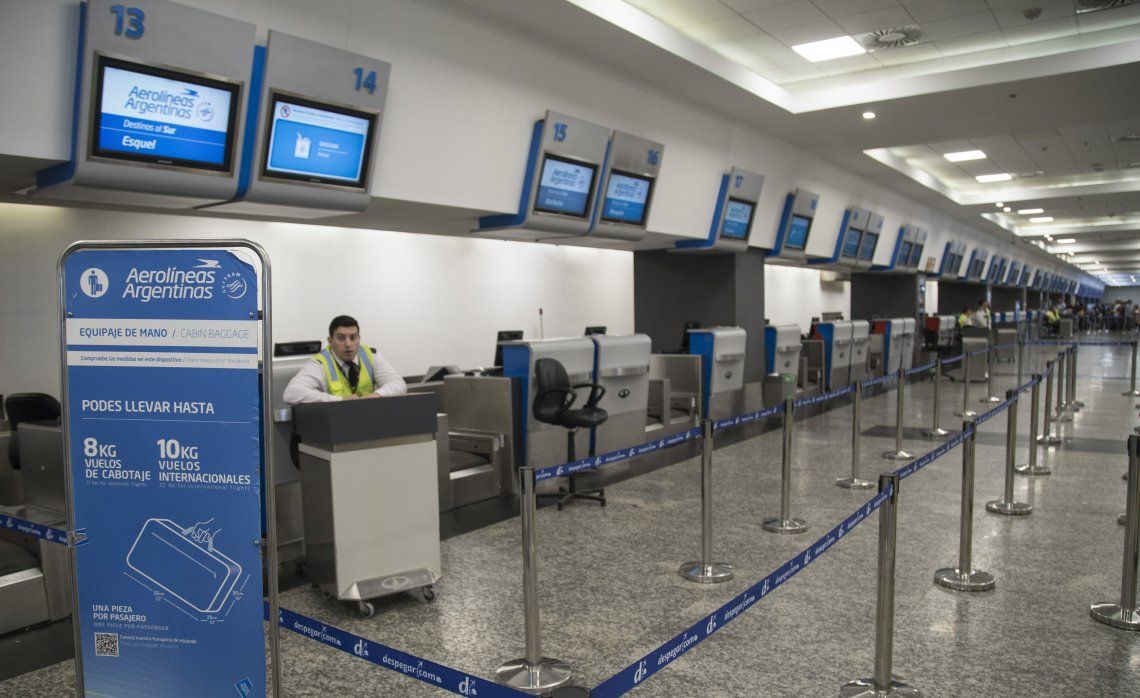 AW | 2019 09 223 20:26 | AIRLINES / AVIATION ORGANISMS
De manera sorpresiva levantan el paro que afectaría los vuelos por 24 horas
El gremio aeronáutico de pilotos APLA de Argentina finalmente levantaron el paro de aviones que estaba previsto para hoy Lunes 23 Septiembre 2019, desde las 20:00 hs por el lapso de 24 horas, pero aseguran que continuarán las negociaciones con el Gobierno Argentina para llegar a un acuerdo.
La medida de fuerza estaba establecida pero luego de unas horas el delegado, Juan Pablo Armanino, reconoció que las negociaciones avanzaron y el paro de pilotos quedó suspendido. De todas maneras, el sindicato de pilotos quedó fracturado. El poderoso sindicato de APLA quedó prácticamente dividido después de la asamblea extraordinaria que estaba convocada para hoy. La gran mayoría de los comandantes de Latam Airlines Argentina renunciaron al gremio que conduce Pablo Biró para iniciar formalmente la creación de una nueva asociación. De ahora en adelante, los aproximadamente 1200 pilotos nucleados en Aerolíneas/Austral permanecerán en la filiación, mientras que más de 200 pilotos de Latam Airlines Argentina conformarán otra entidad sindical que los represente.
Asoma nuevo gremio, UPAL
El conflicto entre ambas facciones del gremio estalló a mediados de Junio 2019. Entonces, los pilotos de Latam Argentina presentaron un pedido al gremio con dos solicitudes para tratar. La primera, la utilización de aviones con matrícula extranjera pero que utilicen mantenimiento y tripulación argentina, una modalidad llamada interchange, y la independencia para las decisiones de los pilotos que afecten a Latam Airlines Argentina. Pero no hubo acuerdo, generando diferencias antagónicas. A las 07:05 hs de hoy, un vuelo procedente de Miami con matrícula chilena fue el inicio de esta modalidad. Por la tarde, la fractura gremial quedó expuesta. Los pilotos de Latam empezaron a renunciar. Facultaron a la comisión directiva para "dar curso al procedimiento administrativo estatutario que juzgue la conducta de aquellos asociados que conformaron un sindicato de pilotos impulsado por la empresa Latam Argentina, atentando contra la unidad de los pilotos argentinos, a efectos de su expulsión". Cartas documentos partieron a los domicilios de los colegas para expulsarlos del sindicato.
La lucha interna en el seno del sindicalismo continua. Los pilotos de Latam Argentina intentarán la formación de la nueva fuerza gremial denominada Unión de Pilotos Aviadores de Latam (UPAL).
They strike aeronautical in Argentina
Surprisingly raise unemployment that would affect flights for 24 hours
The APLA pilot aeronautical guild of Argentina finally lifted the aircraft stoppage that was scheduled for today Monday, September 23, 2019, from 8:00 p.m. for the 24-hour period, but they assure that negotiations with the Argentine Government will continue to reach an agreement.
The force measure was established but after a few hours the delegate, Juan Pablo Armanino, acknowledged that the negotiations advanced and the pilot's strike was suspended. In any case, the pilot's union was fractured. The powerful union of APLA was practically divided after the extraordinary assembly that was convened for today. The vast majority of the commanders of Latam Airlines Argentina resigned from the guild led by Pablo Biró to formally initiate the creation of a new association. From now on, the approximately 1200 pilots nucleated in Aerolíneas/Austral will remain in the affiliation, while more than 200 pilots of Latam Airlines Argentina will form another union entity that represents them.
New guild appears, UPAL
The conflict between the two factions of the guild broke out in mid-June 2019. Then, the pilots of Latam Argentina submitted an order to the guild with two requests to deal with. The first, the use of aircraft with foreign registration but that use Argentine maintenance and crew, a modality called interchange and the independence for the decisions of the pilots that affect Latam Airlines Argentina. But there was no agreement, generating antagonistic differences. At 07:05 today, a flight from Miami with Chilean registration was the beginning of this modality. In the afternoon, the union fracture was exposed. Latam pilots began to resign. They empowered the board of directors to "carry out the statutory administrative procedure that judges the conduct of those associates who formed a pilot's union promoted by the Latam Argentina company, undermining the unity of the Argentine pilots, for the purpose of their expulsion". Letters documents went to the homes of colleagues to expel them from the union.
The internal struggle within trade unionism continues. The pilots of Latam Argentina will try the formation of the new guild force called Union of Pilot Aviators of Latam (UPAL). A \ W
Ξ A I R G W A Y S Ξ
SOURCE: Airgways.com
DBk: Lanacion.com.ar / Apla.org / Airgways.com
AW-POST: 201909232026AR
A\W   A I R G W A Y S ®