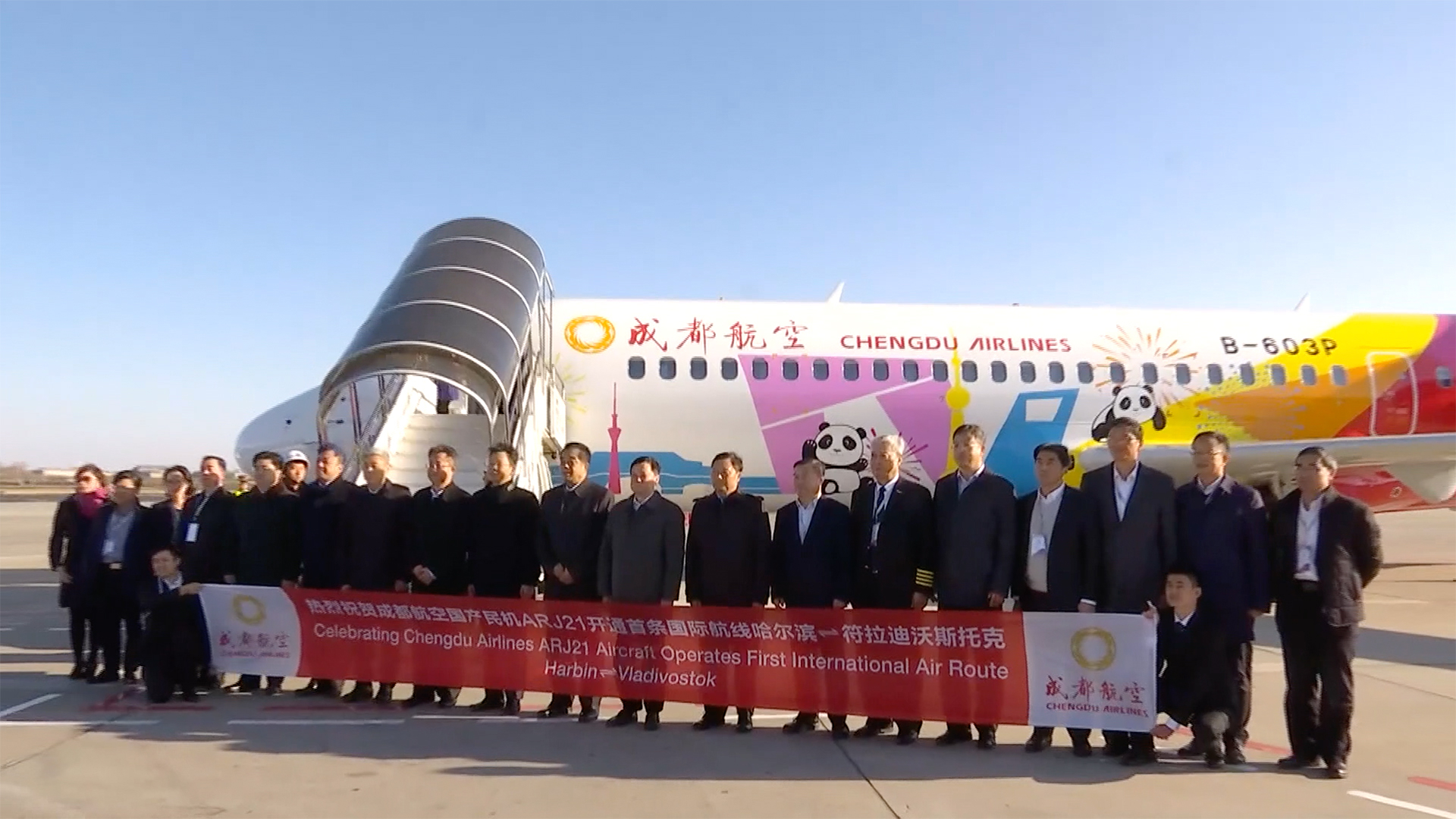 AW | 2019 11 01 14:03 | AIRLINES ROUTES
El COMAC ARJ21 realizó su primer vuelo internacional
El COMAC ARJ21 de Chengdu Airlines con rfegistro B-603P ha realizado el primer vuelo internacional con la nueva ruta entre Harbin (China) y Vladivostok (Rusia). La aeronave regional volará esta ruta dos veces por semana, Lunes y Viernes, durante el invierno boreal de 2019-2020.
El avión despegó del Aeropuerto Internacional de Harbin/Taiping y aterrizó en Vladivostok con un tiempo de duración de 01:03 hr. El vuelo despegá a las 18:50 hs y llegará a las 20:00 hs. El regreso despega a las 21:00 hs y llega a las 22:25 hs (hora de Beijing).
Vladivostok y Harbin establecieron una relación amistosa con la economía, el comercio, la educación y el turismo de China. Abrir esta ruta fortalecerá aún más los lazos entre ciudades, los intercambios económicos y comerciales, y los intercambios de personal entre las dos ciudades y profundizará la cooperación amistosa para agregar un puente aéreo conveniente.
El ARJ 21-700 es el primer avión comercial desarrollado por China. La aeronave es un híbrido del McDonnell Douglas MD-80/90 aunque no es un avión derivado de la factoría de Long Beach, California.
El desarrollo del Programa ARJ 21 comenzó en Marzo 2002 y fue liderado por el consorcio estatal ACAC. El primer vuelo del ARJ21 se planeó inicialmente en 2005 y el servicio comercial comenzaría 18 meses después. El programa se retrasó ocho años. El trabajo de diseño se retrasó y la etapa final de producción de prueba no comenzó hasta Junio 2006 con el operador de lanzamiento Chengdu Airlines.
El ARJ21 puede transportar un máximo de 90 pasajeros. El jet regional de COMAC está destinado principalmente a destinos remotos en el norte y oeste de China. Hasta la fecha, COMAC ha entregado 19 aviones ARJ21, que actualmente vuelan a Chengdu Airlines. Otras aerolíneas que ordenaron el avión son China Eastern Airlines, Air China, Gengis Khan Airlines, Urumqi Airlines y Jiangxi Air, respectivamente. Desde el primer viaje comercial de ARJ21, Chengdu Airlines ha transportado a más de 540.000 pasajeros y ha servido a 28 ciudades.
ARJ21 makes its first international flight
COMAC ARJ21 made its first international flight
The COMAC ARJ21 of Chengdu Airlines with registration B-603P has made the first international flight with the new route between Harbin (China) and Vladivostok (Russia). The regional aircraft will fly this route twice a week, Monday and Friday, during the boreal winter of 2019-2020.
The plane took off from Harbin/Taiping International Airport and landed in Vladivostok with a duration of 01:03 hr. The flight takes off at 6:50 p.m. and will arrive at 8:00 p.m. The return takes off at 9:00 p.m. and arrives at 10:25 p.m. (Beijing time).
Vladivostok and Harbin established a friendly relationship with China's economy, commerce, education, and tourism. Opening this route will further strengthen ties between cities, economic and commercial exchanges, and personnel exchanges between the two cities and deepen friendly cooperation to add a convenient airlift.
The ARJ 21-700 is the first commercial aircraft developed by China. The aircraft is a hybrid of McDonnell Douglas MD-80/90 although it is not an airplane derived from the Long Beach, California factory.
The development of the ARJ 21 Program began in March 2002 and was led by the state consortium ACAC. The first flight of the ARJ21 was initially planned in 2005 and commercial service would begin 18 months later. The program was delayed for eight years. The design work was delayed and the final stage of test production did not begin until June 2006 with the launch operator Chengdu Airlines.
The ARJ21 can carry a maximum of 90 passengers. The regional COMAC jet is primarily destined for remote destinations in northern and western China. To date, COMAC has delivered 19 ARJ21 aircraft, which currently fly to Chengdu Airlines. Other airlines that ordered the plane are China Eastern Airlines, Air China, Genghis Khan Airlines, Urumqi Airlines, and Jiangxi Air, respectively. Since the first commercial trip of ARJ21, Chengdu Airlines has transported more than 540,000 passengers and has served 28 cities.
ARJ21首次國際飛行
中國商飛ARJ21首次國際飛行
成都航空的COMAC ARJ21航班B-603P,首次開通了從哈爾濱(中國)到符拉迪沃斯托克(俄羅斯)的新航線。在2019-2020年的寒冬期間,支線飛機將每週兩次(週一和周五)飛行這條航線。
飛機從哈爾濱/太平國際機場起飛,降落在符拉迪沃斯托克,時間為01:03 hr。航班於下午6:50起飛,並將於下午8:00到達。回程時間為晚上9:00下午10:25(北京時間)。
海參div與哈爾濱市與中國的經濟,商業,教育和旅遊業建立了友好關係。開放這條路線將進一步加強城市之間的聯繫,經貿往來以及兩市人員往來,加深友好合作,為空運增添便利。
ARJ 21-700是中國研發的第一架商用飛機。該飛機不是麥道公司的麥克唐納MD-80 / 90的混合動力飛機,儘管它不是加州長灘工廠生產的飛機。
ARJ 21計劃的開發始於2002年3月,由國家財團ACAC領導。 ARJ21的首次飛行最初計劃於2005年進行,商業服務將在18個月後開始。該計劃被推遲了八年。設計工作被推遲,直到2006年6月,與發射運營商成都航空合作,測試生產的最後階段才開始。
ARJ21最多可搭載90位乘客。支線商務飛機主要用於中國北方和西部的偏遠地區。迄今為止,中國商飛已經交付了19架ARJ21飛機,目前飛往成都航空。其他訂購飛機的航空公司分別是中國東方航空,中國國際航空,成吉思汗航空,烏魯木齊航空和江西航空。自從ARJ21的首次商業旅行以來,成都航空已經運送了超過54萬名乘客,並服務了28個城市。
Ξ A I R G W A Y S Ξ
SOURCE: Airgways.com
DBk: Comac.cc / Cdal.com.cn / Vostokmedia.com / Chinadaily.com.cn / Airgways.com
AW-POST: 201911011403AR
A\W   A I R G W A Y S ®