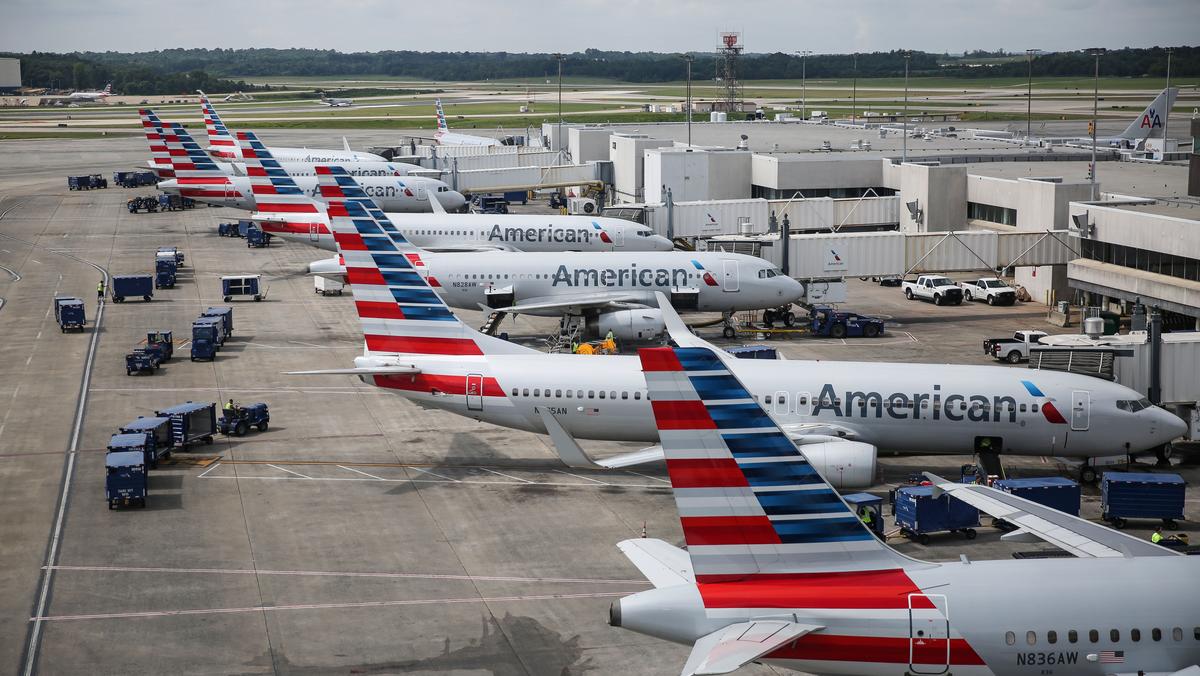 AW | 2019 11 19 16:05 | AIRLINES / AIRPORTS
American Airlines expande centro Charlotte
American Airlines ha comenzado la expansión del Hub de Charlotte en el estado de Carolina del Note para 2020 que ha citado como un componente clave de su esfuerzo para superar su red de servicios en Estados Unidos. La aerolínea más grande del mundo está incorporando en el Aeropuerto Internacional Charlotte Douglas, American está agregando slots, aumentando la cantidad de salidas diarias y reconfiguraciones de los vuelos reemplazando aviones de menor tamaño por aviones de mayor enveregadura, proyectando un promedio de 700 vuelos diarios.
En términos de salidas diarias, el hub de American en Charlotte ya es el tercer hub más grande después del hub de Delta Air Lines en Atlanta con aproximadamente 1.000 salidas diarias y el hub de American en Dallas con aproximadamente 900 despegues diarios.
American esfuerza expansión
En la llamada de ganancias de la aerolínea en Octubre 2019, el Presidente y CEO de American Airlines, Robert Isom, dijo que un esfuerzo para expandir los centros existentes comenzó en Mayo 2019, cuando la aerolínea agregó 100 salidas diarias en DFW, lo que permitió un aumento de capacidad del aeropuerto del 9% y un crecimiento de los ingresos por unidad aeroportuaria del 3,5%, en comparación con Sistema de crecimiento de los ingresos del 1,5%. La medida «preparó el escenario para una expansión planificada adicional el próximo año en Charlotte», dijo Isom.
El crecimiento de la aerolínea en Charlotte se produce cuando el aeropuerto está acelerando un proyecto de mejora de US$ 3 mil millones, que la semana pasada agregó un nuevo patio de restaurantes y el próximo mes comenzará la construcción de cuatro años de una nueva terminal principal de US$ 600 millones, reemplazando una estructura que ha estado en lugar desde 1982. El proyecto incluye mejoras en el vestíbulo, algunas ya completadas, y una cuarta pista paralela planificada de US$ 422 millones.
American ahora ocupa 95 de las 114 puertas del Aeropuerto Charlotte, con 51 de sus puertas lo suficientemente grandes para las salidas de la línea principal. Hub Charlotte produce el segundo margen de beneficio más alto de los centros estadounidenses, después del Washington National, dijo Vasu Raja, vicepresidente senior de estrategia de redes de Estados Unidos, en una entrevista. Las nuevas puertas deberían producir una mejora similar a lo que ocurrió en DFW, dijo. «Estas nuevas puertas nos permiten hacer un par de cosas. Podemos traer más vuelos a Charlotte, donde estamos limitados de muchas maneras, en puertas y calles de rodaje. Este es un comienzo para que sigamos aumentando las salidas de Charlotte con el tiempo. Agregar salidas es importante, pero aún más importante es calibrar a Charlotte reemplazando los aviones particularmente los aviones regionales, por aviones más grandes», dijo Vasu Raja. Charlotte no es solo el segundo centro de mayor margen, dijo Raja; También es uno de los centros de mayor factor de carga de los estadounidenses, lo que significa que se deben llenar aviones más grandes. «El próximo año, Charlotte tendrá un crecimiento significativamente más importante que el crecimiento regional», dijo.
Charlotte, principalmente atendida por aviones Airbus debido a su legado de US Airways, verá más Boeing 737, dijo Vasu Raja. Ganará más asientos para Florida y Nueva York. Además, tener más puertas «nos dará más flexibilidad para crear más resiliencia a partir de eventos climáticos y hacer que Charlotte sea más confiable durante todo el año». En particular, dos de las nuevas puertas del Concourse A se han ampliado para acomodar aviones de fuselaje ancho. Debido a que el tráfico de Charlotte en American tiene una conexión de aproximadamente el 80%, la mayor parte de cualquiera de sus centros, la confiabilidad operativa es particularmente importante: sin ella, las personas no pueden hacer conexiones y quedan atrapadas en el aeropuerto. «Es imperativo que manejemos el aeropuerto de la manera más confiable posible», dijo Raja.
Las futuras entregas de aviones Airbus A 321XLR a American Airlines, programadas para comenzar en 2023, permitirán un mayor servicio internacional desde Charlotte. El A321XLR será el avión de cuerpo estrecho de mayor alcance, utilizable en rutas de largo recorrido que pueden no tener suficiente tráfico para llenar aviones más grandes. «Es difícil para nosotros encajar más cuerpos anchos en Charlotte sin bloquear puertas y obstruir las aduanas. Con el 321NEO XLR podemos crecer internacionalmente y usar las mismas puertas que un A321CEO. En Charlotte, muchas puertas son específicas para los tipos de flota más pequeños", expresó Raja.
Una ruta internacional a la que se dirige American es Charlotte-Madrid, que actualmente tiene un servicio de verano estacional pero puede ir durante todo el año con el 321XLR. En cuanto a las salidas diarias de Charlotte, el promedio diario actual de American es de 682. Eso aumentará a 700 el 18 Diciembre 2019. En algunos días muy transitados durante el período de viaje de fin de año, llegará a 730.
Charlotte expande servicios
La semana pasada, el Aeropuerto Charlotte abrió un nuevo patio de comidas de 51.000 pies cuadrados que incluía una tienda de hamburguesas Shake Shack, una segunda tienda para Bojangles con sede en Charlotte y otras tiendas. El patio de comidas está estratégicamente ubicado entre el vestíbulo D y el vestíbulo E, que alberga las 44 puertas regionales de American. El Director de Aviación, Brent Cagle, dijo que «el 50% de los pasajeros del aeropuerto usan el E Concourse es tan grande o más grande que muchos aeropuertos».
American bets on Hub Charlotte
American Airlines expands downtown Charlotte Airport
American Airlines has begun the expansion of the Charlotte Hub in the state of Carolina del Note by 2020, which it has cited as a key component of its effort to overcome its service network in the United States. The world's largest airline is incorporating at Charlotte Douglas International Airport, American is adding slots, increasing the number of daily departures and reconfigurations of flights replacing smaller aircraft with larger planes, projecting an average of 700 daily flights.
In terms of daily departures, the American hub in Charlotte is already the third-largest hub after the Delta Air Lines hub in Atlanta with approximately 1,000 daily departures and the American hub in Dallas with approximately 900 daily departures.
American strives for expansion
In the airline's earnings call in October 2019, American Airlines President and CEO Robert Isom said an effort to expand existing centers began in May 2019, when the airline added 100 daily departures in DFW, which allowed an increase in airport capacity of 9% and an increase in revenue per airport unit of 3.5%, compared to the 1.5% revenue growth system. The measure «set the stage for an additional planned expansion next year in Charlotte», Isom said.
The growth of the airline in Charlotte occurs when the airport is accelerating a US$ 3 billion improvement project, which last week added a new restaurant patio and next month will begin the construction of four years of a new main terminal of US$ 600 million, replacing a structure that has been in place since 1982. The project includes improvements to the lobby, some already completed, and a planned fourth parallel runway of US$ 422 million.
American now occupies 95 of the 114 doors of Charlotte Airport, with 51 of its doors large enough for the mainline exits. Hub Charlotte produces the second-highest profit margin of US centers, after the Washington National, said Vasu Raja, senior vice president of US network strategy, in an interview. The new doors should produce an improvement similar to what happened in DFW, he said. «These new doors allow us to do a couple of things. We can bring more flights to Charlotte, where we are limited in many ways, on doors and taxiways. This is a start for us to continue increasing Charlotte's departures over time. Add Departures is important, but even more important is to calibrate Charlotte by replacing airplanes, particularly regional airplanes, with larger ones», said Vasu Raja. Charlotte is not only the second center with the greatest margin, Raja said; It is also one of the centers with the highest load factor for Americans, which means that larger planes must be filled. «Next year, Charlotte will have significantly more important growth than regional growth»,  he said.
Charlotte, primarily serviced by Airbus aircraft due to its legacy of US Airways, will see more Boeing 737, Vasu Raja said. He will win more seats for Florida and New York. In addition, having more doors «will give us more flexibility to create more resilience from weather events and make Charlotte more reliable throughout the year». In particular, two of the new doors of Concourse A have been expanded to accommodate wide-body aircraft. Because Charlotte's traffic in American has a connection of approximately 80%, most of its centers, operational reliability is particularly important: without it, people cannot make connections and get stuck at the airport. «It is imperative that we drive the airport in the most reliable way possible», Raja said.
Future deliveries of Airbus A321XLR aircraft to American Airlines, scheduled to begin in 2023, will allow for greater international service from Charlotte. The A321XLR will be the largest narrow-body aircraft, usable on long-haul routes that may not have enough traffic to fill larger aircraft. «It is difficult for us to fit more widebodies in Charlotte without blocking doors and obstructing customs. With the 321NEO XLR, we can grow internationally and use the same doors as an A321CEO. In Charlotte, many doors are specific to smaller fleet types», Raja said.
An international route that American is heading to is Charlotte-Madrid, which currently has a seasonal summer service but can go year-round with the 321XLR. As for Charlotte's daily departures, American's current daily average is 682. That will increase to 700 on December 18, 2019. On some busy days during the year-end travel period, it will reach 730.
Charlotte expands services
Last week, Charlotte Airport opened a new 51,000-square-foot food court that included a Shake Shack burger shop, a second Charlotte-based Bojangles store and other stores. The food court is strategically located between lobby D and lobby E, which houses the 44 American regional doors. Aviation Director Brent Cagle said that «50% of airport passengers use the E Concourse is as large or larger than many airports».
Ξ A I R G W A Y S Ξ
SOURCE: Airgways.com
DBk: Aa.com / Forbes.com / Bizjournals.com / Airgways.com
AW-POST: 201911191605AR
A\W   A I R G W A Y S ®