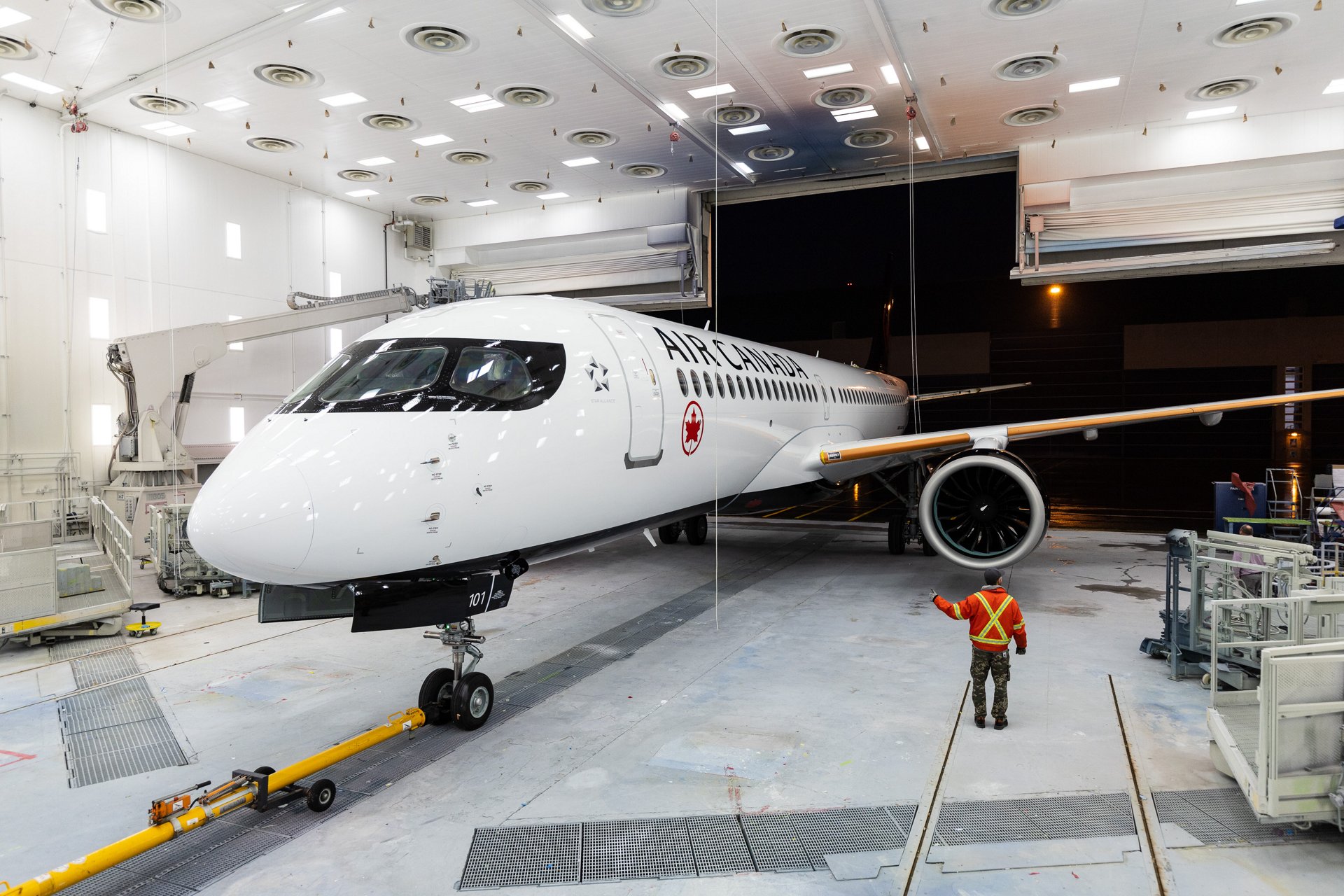 AW | 2019 11 09 08:42 | INDUSTRY / AIRLINES
Airbus presenta el primer A220 para Air Canada
Airbus Group ha presentado el primer Airbus A220-300 pintado con los colores de Air Canada, marcando un hito
que se adelanta a la primera entrega del avión regional en Diciembre 2019.
La primer aeronave con registro C-GROV está pintado con la librea que Air Canada presentó en 2017. Tiene un fuselaje blanco por arriba y azul intenso por debajo, el timón dfe dirección azul intenso con el isogotipo rojo de hoja de arce y góndolas del motor también de color azul oscuro.
Air Canada, con sede en Montreal, la única aerolínea canadiense que ordenó el avión fabricado en Canadá, tiene pedidos por 45 A220 y opciones para otros 30. Ha dicho que tiene la intención de usarlos para reemplazar a Embraer 190. Los A220-300 tndrán una configuración para 137 asientos, 125 asientos clase económica y 12 asientos de primera clase. El A220 presenta un diseño innovador de cabina, así como emisiones significativamente más bajas y una huella de ruido reducida.
El A220-300 para Air Canada proporcionará a los pasajeros una comodidad superior en un diseño de cabina. Los nuevos A220-300 de Air Canada reemplazarán la flota principal existente de la aerolínea de bandera de aviones más pequeños y antiguos de cuerpo estrecho y respaldarán el crecimiento de la red y el centro de la aerolínea, creando una de las flotas más jóvenes y más eficientes en combustible del mundo.
Acerca A220
Airbus adquirió el Programa A220 de Bombardier Inc. a mediados de 2018. La flota en servicio es de 94 aviones, que son operados por transportistas que incluyen Air Baltic, Air Tanzania, Delta Air Lines, Egyptair Express, Korean Air, Lufthansa y Swiss, según Airbus y Cirium. La aeronave regional tiene pedidos pendientes en firme para otros 436 A220, según muestran los datos.
Airbus presents 1st A220 Air Canada
Airbus presents the first A220 for Air Canada
Airbus Group has presented the first Airbus A220-300 painted with the colors of Air Canada, marking a milestone ahead of the first delivery of the regional aircraft in December 2019.
The first aircraft with C-GROV registration is painted with the livery that Air Canada presented in 2017. It has a white fuselage above and deep blue below, the rudder of blue direction with the red maple leaf isogotype and engine gondolas also dark blue.
Montreal-based Air Canada, the only Canadian airline that ordered the aircraft manufactured in Canada, has orders for 45 A220 and options for another 30. He has said he intends to use them to replace Embraer 190. The A220-300 will have a configuration for 137 seats, 125 economy class seats and 12 first class seats. The A220 features an innovative cab design, as well as significantly lower emissions and a reduced noise footprint.
The A220-300 for Air Canada will provide passengers with superior comfort in cabin design. The new Air Canada A220-300 will replace the existing main fleet of the smaller and older narrow-body aircraft flag carrier and will support the growth of the airline's network and center, creating one of the youngest and most fleets fuel-efficient in the world.
About A220
Airbus acquired the A220 Program from Bombardier Inc. in mid-2018. The fleet in service is 94 aircraft, which are operated by carriers that include Air Baltic, Air Tanzania, Delta Air Lines, Egyptair Express, Korean Air, Lufthansa, and Swiss, according to Airbus and Cirium. The regional aircraft has firm pending orders for another 436 A220, according to the data. 
Airbus présente 1ère A220 d'Air Canada
Airbus présente le premier A220 pour Air Canada
Airbus Group a présenté le premier Airbus A220-300 peint aux couleurs d'Air Canada, marquant une étape importante avant la première livraison de l'avion régional en décembre 2019.
Le premier avion immatriculé C-GROV porte la livrée présentée par Air Canada en 2017. Il est doté d'un fuselage blanc au-dessus et d'un bleu profond, du gouvernail de direction bleu avec l'isogotype de la feuille d'érable rouge et des gondoles à moteur. aussi bleu foncé.
La compagnie montréalaise Air Canada, la seule compagnie aérienne canadienne à avoir commandé l'avion fabriqué au Canada, a commandé 45 appareils A220 et en a acheté 30 autres. Il a annoncé son intention de les utiliser pour remplacer Embraer 190. Les A220-300 une configuration pour 137 sièges, 125 sièges en classe économique et 12 sièges en première classe. La A220 présente une conception de cabine innovante, ainsi que des émissions considérablement réduites et une empreinte sonore réduite.
La A220-300 d'Air Canada offrira aux passagers un confort supérieur dans un design de cabine. Le nouvel Air Canada A220-300 remplacera la flotte principale existante de la compagnie aérienne d'avions à fuselage étroit, plus ancienne et plus petite, et soutiendra la croissance du réseau et du centre de la compagnie aérienne, créant ainsi l'une des flottes les plus jeunes et les plus nombreuses. économe en carburant dans le monde.
À propos du A220
Airbus a acquis le programme A220 auprès de Bombardier Inc. au milieu de 2018. La flotte en service compte 94 appareils, exploités par des transporteurs tels qu'Air Baltic, Air Tanzania, Delta Air Lines, Egyptair Express, Korean Air, Lufthansa et Swiss. selon Airbus et Cirium. Selon les données, l'avion de transport régional a passé des commandes fermes avec 436 A220 supplémentaires.
Ξ A I R G W A Y S Ξ
SOURCE: Airgways.com
DBk: Airbus.com / Aircanada.com / Cirium.com / Airgways.com
AW-POST: 201911090842AR
A\W   A I R G W A Y S ®