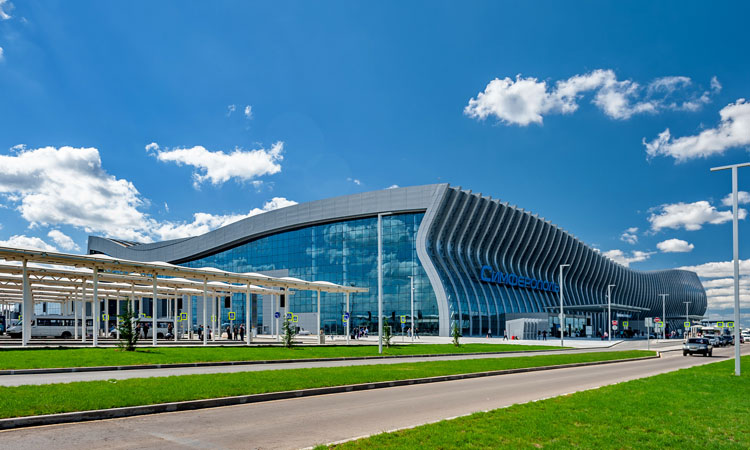 AW | 2019 11 25 14:15 | AIRPORTS
El Aeropuerto de Simferopol diseñado en forma de ola marina
El Aeropuerto Internacional Simferopol se desarrolló teniendo en cuenta la experiencia de los pasajeros, la capacidad de la terminal, el impacto ecológico y el crecimiento económico. Durante varios años, el Aeropuerto Simferopol se ha clasificado entre los 10 principales aeropuertos rusos en términos de tráfico de pasajeros, y es uno de los más grandes del sur del país. Desde 2015, con la red de rutas domésticas más desarrollada, el aeropuerto sirve anualmente a más de cinco millones de pasajeros. En la temporada de verano de 2019, 19 aerolíneas operaron vuelos desde Simferopol a 56 destinos. En el pico de la temporada alta, el aeropuerto manejó más de 200 vuelos y recibió aproximadamente 34.000 pasajeros por día.
Desde el 16 Abril 2018, el Aeropuerto de Simferopol ha manejado todos sus vuelos en una infraestructura aeroportuaria ultramoderna , ubicada a solo 15 km del centro de la capital de Crimea. La parte principal del complejo es la nueva terminal de pasajeros, construida de acuerdo con un proyecto único con un área de 78.000 m2. La terminal, junto con una docena de instalaciones de oficinas cercanas, fue erigida en un campo limpio en 22 meses por la compañía rusa Acons Pro.
El nuevo complejo aeroportuario se basa en los principios de la asociación público-privada. Su valor ascendió a 32 mil millones de rublos, de los cuales el 30 por ciento son fondos de inversionistas y el 70 por ciento de préstamos bancarios con el RNKB y Rusia. El operador del aeropuerto es Simferopol International Airport LLC: la República de Crimea posee el 49% de la empresa, y el 51% pertenece a un grupo de inversores. La construcción del complejo aeroportuario se ha convertido en el mayor proyecto de inversión privada en la historia moderna de Crimea. El edificio de la terminal, ejecutado en un concepto arquitectónico de la Ola de Crimea, se convirtió inmediatamente en uno de los símbolos más populares del renacimiento de Crimea.
Diseño de arquitectura de 'Ola de Crimea'
La nueva terminal de pasajeros en el aeropuerto de Simferopol fue diseñada en forma de una ola marina por la compañía surcoreana, Samoo Architects & Engineer. La capacidad de la instalación es de 3.625 pasajeros por hora (6,5 millones de personas por año). Para crear una silueta única de la terminal, los constructores montaron más de 5.700 toneladas de estructura metálica y erigieron 136 columnas curvadas de hasta 35 m de altura. El acristalamiento de la nueva terminal también es único: en total, se instalaron 130 vidrieras, que constan de 9,000 paneles de doble acristalamiento.
La altura de la nueva terminal varía de 25 a 35 m en diferentes puntos. Ambas fachadas, terrestres y aéreas, son curvilíneas en todos los planos. El techo de la nueva terminal, con un área de 30.000 m2, también es curvo. Esto hace que la silueta ondulada de la terminal se note desde el aire. La plaza frente a la terminal contiene un parque paisajístico de 11 hectáreas, una fuente seca y un área de recreación. Los arbustos y flores de estepa también se plantan en forma de olas que cambian de color según la temporada. El efecto se logra con especies cuidadosamente seleccionadas que difieren en altura, color, floración y períodos de fructificación.
Brindando comodidad para todos en Simferopol
La terminal de pasajeros está equipada con 28 ascensores y 16 escaleras mecánicas, y el embarque y desembarque de pasajeros se realiza utilizando ocho puentes de pasajeros. La terminal del aeropuerto está totalmente adaptada a las necesidades de los visitantes que experimentan dificultades de movimiento; padres con cochecitos, pasajeros con movilidad reducida y personas mayores. Por primera vez en la historia rusa, todo el equipaje en Simferopol es atendido por un sistema complejo que está completamente diseñado y fabricado en Rusia. El sistema de manejo de equipaje incluye 55 mostradores de facturación, cinco carruseles de equipaje para reclamo de equipaje y equipo para el área de recolección y manejo. La capacidad del sistema es de 4.800 piezas de equipaje por hora, lo que permite la carga simultánea de hasta 25 vuelos y satisface completamente la necesidad del aeropuerto, incluso si el complejo se expande en el futuro.
Asegurando un oasis ecológico
El Aeropuerto Internacional de Simferopol es uno de los aeropuertos más ecológicos y ecológicos de Rusia. En la planta baja, dentro del complejo del aeropuerto, se encuentra el muro verde más grande de Europa. Consiste en plantas reales y artificiales con una altura total de 15 m y una longitud de 110 m. La sección 'real', de cinco metros de altura, consta de aproximadamente 30.000 plantas decorativas de hoja caduca y ampelosas, como helechos, arrurruces, filodendros y epipremnums. Las plantas ornamentales vivas se encuentran en diferentes rincones de la terminal y el área de espera. En la sala de llegadas, los pasajeros son recibidos por cubos de vidrio especiales con especies tropicales y subtropicales de plantas verdes. En la pared frente al área de reclamo de equipaje hay un mapa de 18 m2 de la península de Crimea, hecho de diferentes tipos de musgo.
El techo de la terminal está equipado con 14 luces de cielo y dos ventanas panorámicas (con un área total de más de 3,300 m2). No solo brindan comodidad a los pasajeros debido a la penetración de la luz solar en el edificio, sino que también aumentan la eficiencia energética y reducen el impacto ambiental. El complejo del aeropuerto está equipado con un sistema automatizado de gestión de edificios, que permite que los recursos energéticos se distribuyan económicamente. Los vehículos eléctricos, que se utilizan activamente en el Aeropuerto Simferopol, también reducen el nivel de dióxido de carbono emitido a la atmósfera. Todos los tractores involucrados en el movimiento de equipaje están equipados con motores eléctricos y el operador del aeropuerto también está explorando la posibilidad de usar autos eléctricos como vehículos.
El complejo aeroportuario del Aeropuerto Simferopol ofrece a sus visitantes no solo un alto nivel de servicio moderno, sino también la oportunidad de sumergirse en la belleza de la naturaleza de Crimea, que se muestra a los pasajeros en todo el aeropuerto hasta que aborden el avión. En el cuarto piso de la zona de seguridad del aeropuerto, hay una terraza abierta con una hermosa vista no solo de la pista y el avión, sino de uno de los símbolos naturales más famosos de Crimea: el Monte Chatyrdag; tentando a las personas a regresar a una de las penínsulas más bellas del mundo.

Redesign of Simferopol Airport
Simferopol Airport designed in the form of a marine wave
Simferopol International Airport was developed taking into account passenger experience, terminal capacity, ecological impact, and economic growth. For several years, Simferopol Airport has been ranked among the top 10 Russian airports in terms of passenger traffic and is one of the largest in the south of the country. Since 2015, with the most developed domestic route network, the airport serves more than five million passengers annually. In the summer season of 2019, 19 airlines operated flights from Simferopol to 56 destinations. At the peak of the high season, the airport handled more than 200 flights and received approximately 34,000 passengers per day.
Since April 16, 2018, Simferopol Airport has handled all its flights in an ultramodern airport infrastructure, located just 15 km from the center of the capital of Crimea. The main part of the complex is the new passenger terminal, built according to a unique project with an area of ​​78,000 m2. The terminal, together with a dozen nearby office facilities, was erected in a clean field in 22 months by the Russian company Acons Pro.
The new airport complex is based on the principles of public-private partnership. Its value amounted to 32 billion rubles, of which 30 percent are funded from investors and 70 percent from bank loans with the RNKB and Russia. The airport operator is Simferopol International Airport LLC: the Republic of Crimea owns 49% of the company, and 51% belongs to a group of investors. The construction of the airport complex has become the largest private investment project in the modern history of Crimea. The terminal building, executed in an architectural concept of the Crimean Wave, immediately became one of the most popular symbols of the Crimean renaissance.
Architecture design of 'Crimean Wave'
The new passenger terminal at Simferopol airport was designed in the form of a marine wave by the South Korean company, Samoo Architects & Engineers. The installation capacity is 3,625 passengers per hour (6.5 million people per year). To create a unique silhouette of the terminal, the builders mounted more than 5,700 tons of metal structure and erected 136 curved columns up to 35 m high. The glazing of the new terminal is also unique: in total, 130 stained glass windows were installed, consisting of 9,000 double glazed panels.
The height of the new terminal varies from 25 to 35 m at different points. Both facades, terrestrial and aerial, are curvilinear in all planes. The roof of the new terminal, with an area of ​​30,000 m2, is also curved. This makes the wavy silhouette of the terminal visible from the air. The square in front of the terminal contains a landscape park of 11 hectares, a dry fountain, and a recreation area. The bushes and steppe flowers are also planted in the form of waves that change color according to the season. The effect is achieved with carefully selected species that differ in height, color, flowering and fruiting periods.
Providing comfort for everyone in Simferopol
The passenger terminal is equipped with 28 elevators and 16 escalators, and passenger boarding and disembarkation is done using eight-passenger bridges. The airport terminal is fully adapted to the needs of visitors experiencing movement difficulties; Parents with strollers, passengers with reduced mobility and the elderly. For the first time in Russian history, all luggage in Simferopol is serviced by a complex system that is completely designed and manufactured in Russia. The baggage handling system includes 55 check-in counters, five baggage carousels for baggage claim and equipment for the collection and handling area. The capacity of the system is 4,800 pieces of luggage per hour, which allows simultaneous loading of up to 25 flights and fully satisfies the need of the airport, even if the complex expands in the future.
Ensuring an ecological oasis
Simferopol International Airport is one of the most ecological and ecological airports in Russia. On the ground floor, inside the airport complex, is the largest green wall in Europe. It consists of real and artificial plants with a total height of 15 m and a length of 110 m. The 'real' section, five meters high, consists of approximately 30,000 decorative deciduous plants and ampelosas, such as ferns, arrowroot, philodendrons, and epipremnums. Live ornamental plants are found in different corners of the terminal and the waiting area. In the arrivals hall, passengers are greeted by special glass cubes with tropical and subtropical species of green plants. On the wall in front of the baggage claim area, there is an 18 m2 map of Crimea, made of different types of moss.
The roof of the terminal is equipped with 14 skylights and two panoramic windows (with a total area of ​​more than 3,300 m2). They not only provide comfort to passengers due to the penetration of sunlight into the building but also increase energy efficiency and reduce environmental impact. The airport complex is equipped with an automated building management system, which allows energy resources to be distributed economically. Electric vehicles, which are actively used at Simferopol Airport, also reduce the level of carbon dioxide emitted into the atmosphere. All tractors involved in the movement of luggage are equipped with electric motors and the airport operator is also exploring the possibility of using electric cars as vehicles.
The Simferopol Airport airport complex offers its visitors not only a high level of modern service but also the opportunity to immerse yourself in the beauty of the Crimean nature, which is shown to passengers throughout the airport until they board the plane. On the fourth floor of the airport's security zone, there is an open terrace with a beautiful view not only of the runway and the plane but of one of Crimea's most famous natural symbols: Mount Chatyrdag; tempting people to return to one of the most beautiful peninsulas in the world.
Редизайн аэропорта Симферополя
Аэропорт Симферополь выполнен в виде морской волны
Международный аэропорт Симферополь был разработан с учетом опыта пассажиров, пропускной способности терминала, воздействия на окружающую среду и экономического роста. В течение нескольких лет аэропорт Симферополя входит в десятку крупнейших аэропортов России по пассажиропотоку и является одним из крупнейших на юге страны. С 2015 года, благодаря самой развитой внутренней маршрутной сети, аэропорт обслуживает более пяти миллионов пассажиров ежегодно. В летний сезон 2019 года 19 авиакомпаний выполняли рейсы из Симферополя по 56 направлениям. В разгар сезона, аэропорт обслуживал более 200 рейсов и принимал около 34 000 пассажиров в день.
С 16 апреля 2018 года аэропорт Симферополя выполняет все свои рейсы в ультрасовременной инфраструктуре аэропорта, расположенной всего в 15 км от центра столицы Крыма. Основной частью комплекса является новый пассажирский терминал, построенный по уникальному проекту площадью 78 000 м2. Терминал вместе с дюжиной близлежащих офисных помещений был построен в чистом поле за 22 месяца российской компанией Acons Pro.
Новый аэропортовый комплекс основан на принципах государственно-частного партнерства. Его стоимость составила 32 миллиарда рублей, из которых 30 процентов составляют средства инвесторов и 70 процентов банковские кредиты в РНКБ и России. Оператором аэропорта является ООО Международный аэропорт Симферополь: Республике Крым принадлежит 49% компании, а 51% принадлежит группе инвесторов. Строительство аэровокзального комплекса стало крупнейшим частным инвестиционным проектом в современной истории Крыма. Здание терминала, выполненное в архитектурной концепции крымской волны, сразу стало одним из самых популярных символов крымского ренессанса.
Архитектурное проектирование «Крымская волна»
Новый пассажирский терминал в аэропорту Симферополя был спроектирован в виде морской волны южнокорейской компанией Samoo Architects & Engineers. Производительность установки составляет 3625 пассажиров в час (6,5 млн человек в год). Чтобы создать уникальный силуэт терминала, строители установили более 5700 тонн металлоконструкций и установили 136 изогнутых колонн высотой до 35 м. Остекление нового терминала также уникально: всего было установлено 130 витражей, состоящих из 9 000 панелей с двойным остеклением.
Высота нового терминала варьируется от 25 до 35 м в разных точках. Оба фасада, наземный и воздушный, являются криволинейными во всех плоскостях. Крыша нового терминала, площадью 30 000 м2, также изогнута. Это делает волнистый силуэт терминала видимым с воздуха. На площади перед терминалом находится ландшафтный парк площадью 11 га, сухой фонтан и зона отдыха. Кусты и степные цветы также посажены в форме волн, которые меняют цвет в зависимости от сезона. Эффект достигается с помощью тщательно отобранных видов, которые отличаются по высоте, цвету, цветению и периодам плодоношения.
Обеспечение комфорта каждому в Симферополе
Пассажирский терминал оборудован 28 лифтами и 16 эскалаторами, а посадка и высадка пассажиров осуществляется с использованием восьми пассажирских мостов. Терминал аэропорта полностью адаптирован к потребностям посетителей, испытывающих трудности с передвижением; Родители с колясками, пассажиры с ограниченными физическими возможностями и пожилые люди. Впервые в истории России весь багаж в Симферополе обслуживается сложной системой, полностью разработанной и изготовленной в России. Система обработки багажа включает 55 стоек регистрации, пять каруселей багажа для выдачи багажа и оборудование для зоны сбора и обработки багажа. Пропускная способность системы составляет 4800 единиц багажа в час, что позволяет одновременно загружать до 25 рейсов и полностью удовлетворяет потребности аэропорта, даже если в будущем комплекс расширится.
Обеспечение экологического оазиса
Международный аэропорт Симферополь один из самых экологических и экологических аэропортов России. На первом этаже, внутри комплекса аэропорта, находится самая большая зеленая стена в Европе. Он состоит из настоящих и искусственных растений общей высотой 15 м и длиной 110 м. «Настоящий» участок высотой пять метров состоит из приблизительно 30 000 декоративных лиственных растений и ампелоз, таких как папоротники, аррорут, филодендроны и эпипремны. Живые декоративные растения находятся в разных уголках терминала и зоны ожидания. В зале прибытия пассажиров встречают специальные стеклянные кубики с тропическими и субтропическими видами зеленых растений. На стене перед зоной выдачи багажа есть карта Крымского полуострова площадью 18 м2, выполненная из разных видов мха.
Крыша терминала оснащена 14 небесными фонарями и двумя панорамными окнами (общей площадью более 3300 м2). Они не только обеспечивают комфорт пассажирам благодаря проникновению солнечного света в здание, но также повышают энергоэффективность и уменьшают воздействие на окружающую среду. Аэропортовый комплекс оборудован автоматизированной системой управления зданием, которая позволяет экономно распределять энергоресурсы. Электромобили, которые активно используются в аэропорту Симферополя, также снижают уровень выбросов углекислого газа в атмосферу. Все тракторы, участвующие в перемещении багажа, оснащены электродвигателями, и оператор аэропорта также изучает возможность использования электромобилей в качестве транспортных средств.
Аэропортовый комплекс Симферопольский Аэропорт предлагает своим посетителям не только высокий уровень современного обслуживания, но и возможность погрузиться в красоту крымской природы, которую демонстрируют пассажиры по всему аэропорту до посадки в самолет. На четвертом этаже охранной зоны аэропорта находится открытая терраса с прекрасным видом не только на взлетно-посадочную полосу и самолет, но и на один из самых известных природных символов Крыма: гору Чатырдаг; соблазнительные люди вернуться на один из самых красивых полуостровов в мире.
Ξ A I R G W A Y S Ξ
SOURCE: Airgways.com
DBk: Internationalairportreview.com / Twitter.com/pmsimferopol
AW-POST: 201911251415AR
A\W   A I R G W A Y S ®