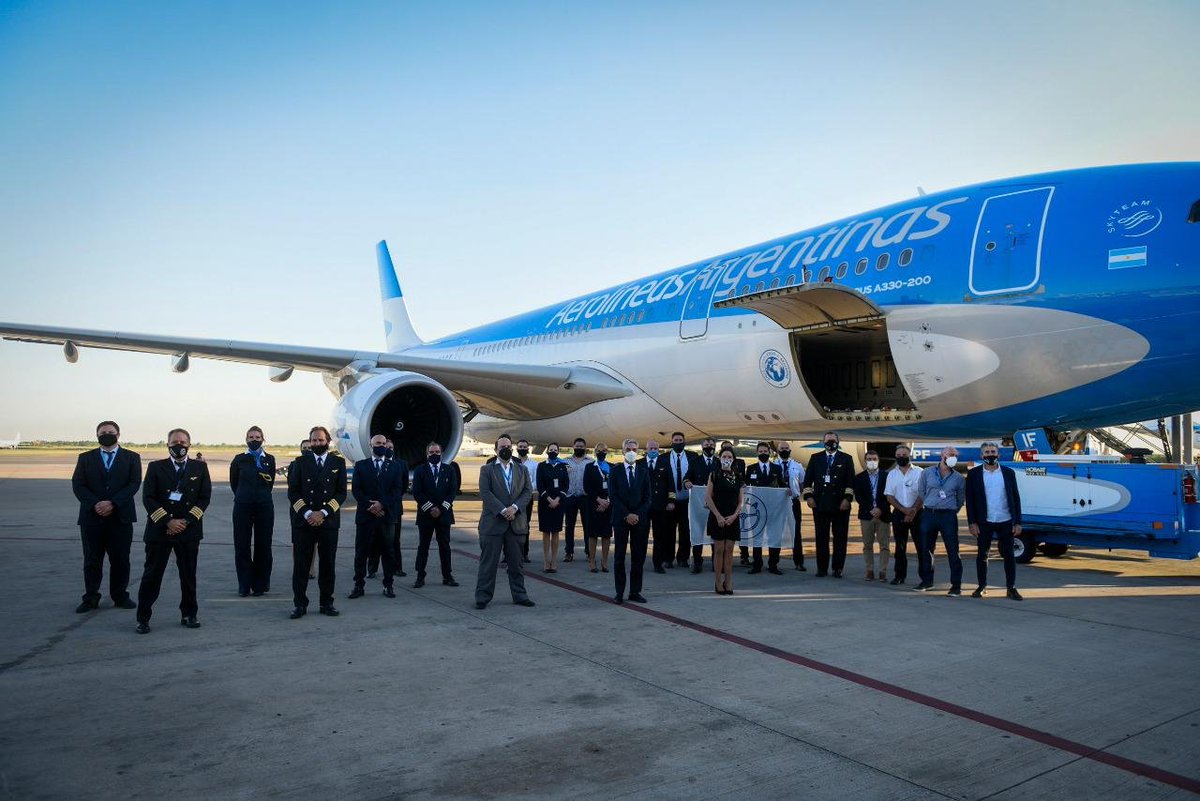 AW | 2020 12 23 10:43 | AIRLINES / GOVERNMENT
Argentina envía delegación para provisiones de vacunas Sputnik-V
Un avión Airbus A330-200 de Aerolíneas Argentinas ha despegado de territorio argentino para efectuar un viaje sanitario ida y vuelta a Moscú, Federación Rusia donde busca recoger 300.000 dosis de la vacuna Sputnik V. El vuelo AR1060 despegó de Argentina a las 19:56 hs [Hora Local Argentona/-3UTC] desde el Aeropuerto Internacional Ezeiza EZE/SAEZ con destino al Aeropuerto Internacional Sheremetyevo SVO/UUEE.
Funcionarios gubernamentales, incluido el Jefe del Gabinete, Santiago Cafiero, celebraron la salida del avión a las 19.56 hora local, saludando a la tripulación del transportista estatal y sus esfuerzos para entregar la vacuna a Argentina. Los involucrados en la misión "Operación Moscú Diciembre 2020" permitirán traer las dosis para la población del país. El vuelo de retorno está programado para el 24/12 conformó el CEO de Aerolíneas Argentinas, Pablo Ceriani, en una conferencia de prensa en el Aeropuerto Internacional de Ezeiza. La misión ha sido desarrollada con una aeronave Airbus 330, con una tripulación de 20, incluyendo 10 pilotos entre otros profesionales del área.
La misión a Moscú implica importantes desafíos logísticos. Las dosis de la vacuna se embalarán en cajas especiales que mantendrán su temperatura en menos 18 grados centígrados, dijo la Secretaria de Acceso a la Salud, Carla Vizzott, a principios del martes. El vuelo directo a Rusia tomará alrededor de 17 horas y se prevé una parada de seis horas en la capital rusa, momento en el que las vacunas deben cargarse a bordo y se deben completar todos los documentos pertinentes.
El gobierno tiene la intención de poner en marcha un programa de vacunación masiva para finales de mes. El gobierno de Alberto Fernández espera inmunizar a 10 millones de personas en enero y febrero, dijo el Ministro de Salud Ginés González García. El regulador argentino de medicamentos ANMAT (Administración Nacional de Medicamentos, Alimentos y Tecnología Médica) todavía debe aprobar el medicamento, aunque el martes la agencia ofreció la aprobación de emergencia a la vacuna desarrollada por la firma estadounidense Pfizer y el laboratorio alemán BioNTech.
La vacuna Sputnik V fue desarrollada por el Centro Nikolai Gamaleya de Epidemiología y Microbiología. El acuerdo de la Argentina con Moscú incluye disposiciones para 25 millones de dosis. Este primer lote servirá para vacunar a 150.000 personas, cada individuo requiriendo dos dosis. Las negociaciones ya están en marcha para envíos más grandes, con Marzo y Junio 2021 las fechas de entrega previstas. Rusia ya ha iniciado un programa de vacunación masiva a nivel nacional para las personas de 18 a 60 años. Las autoridades han puesto la efectividad del tiro en el 91,4 por ciento.
El Gobierno también ha firmado acuerdos para la vacuna desarrollados por la Universidad de Oxford y la compañía farmacéutica AstraZeneca y está suscrito al programa Covax de la Organización Mundial de la Salud (OMS). Está buscando otro acuerdo con el gigante farmacéutico estadounidense Pfizer, cuya vacuna ya está en uso en otras naciones.
En medio de informes de una variante más contagiosa del coronavirus que se extendió en el Reino Unido, Argentina suspendió todos los vuelos hacia y desde el país el Domingo. "Sobre la base de las recomendaciones del Ministerio de Salud, se decidió permitir sólo la llegada del vuelo programado para este Lunes 22/12 a las 09:00 AM (12H00GMT) en el Aeropuerto Internacional de Ezeiza", dijo el Gobierno. Los pasajeros y la tripulación de ese vuelo "deben cumplir con una cuarentena de siete días, una vez que demuestren los requisitos para entrar en el país: una prueba de PCR con un resultado negativo y un seguro COVID", dijo el comunicado.
El Gobierno de Argentina ha pedido a los ciudadanos de Argentina que sean responsables y sean cautelosos durante el período vacaciones. Las restricciones nacionales que ordenan el distanciamiento social obligatorio están en vigor desde el 9 de Noviembre y se prorrogaron hasta el 31 de Enero de la semana pasada.
Aerolíneas travels Moscow for vaccinations
Argentine Government sends delegation to supply Sputnik-V vaccines
An Aerolíneas Argentinas Airbus A330-200 plane has taken off from Argentine territory to make a round-trip medical trip to Moscow, Russian Federation, where it seeks to collect 300,000 doses of the Sputnik V vaccine. Flight AR1060 took off from Argentina at 07:56 p.m. [Argentona Local Time/-3UTC] from Ezeiza EZE/ SAEZ International Airport to Sheremetyevo SVO/UUEE International Airport.
Government officials, including the Chief of Cabinet, Santiago Cafiero, celebrated the departure of the plane at 7:56 p.m. local time, greeting the crew of the state carrier and their efforts to deliver the vaccine to Argentina. Those involved in the mission "Operation Moscow December 2020" will allow to bring the doses for the population of the country. The return flight is scheduled for 12/24, stated the CEO of Aerolineas Argentinas, Pablo Ceriani, at a press conference at the Ezeiza International Airport. The mission has been developed with an Airbus 330 aircraft, with a crew of 20, including 10 pilots among other professionals in the area.
The mission to Moscow involves significant logistical challenges. Doses of the vaccine will be packed in special boxes that will keep its temperature at minus 18 degrees Celsius, Health Access Secretary Carla Vizzott said earlier Tuesday. The direct flight to Russia will take around 17 hours and a six-hour layover is planned in the Russian capital, at which point vaccines must be loaded on board and all relevant documents must be completed.
The government intends to launch a mass vaccination program by the end of the month. The Alberto Fernández government hopes to immunize 10 million people in January and February, said Health Minister Ginés González García. Argentina's drug regulator ANMAT (National Administration of Medicines, Foods and Medical Technology) has yet to approve the drug, although on Tuesday the agency offered emergency approval to the vaccine developed by US firm Pfizer and German laboratory BioNTech.
The Sputnik V vaccine was developed by the Nikolai Gamaleya Center for Epidemiology and Microbiology. Argentina's agreement with Moscow includes provisions for 25 million doses. This first batch will serve to vaccinate 150,000 people, each individual requiring two doses. Negotiations are already underway for larger shipments, with March and June 2021 the expected delivery dates. Russia has already started a nationwide mass vaccination program for people aged 18 to 60. Authorities have put the shooting effectiveness at 91.4 percent.
The Government has also signed agreements for the vaccine developed by the University of Oxford and the pharmaceutical company AstraZeneca and is subscribed to the Covax program of the World Health Organization (WHO). It is seeking another deal with the US pharmaceutical giant Pfizer, whose vaccine is already in use in other nations.
Amid reports of a more contagious variant of the coronavirus spreading in the UK, Argentina suspended all flights to and from the country on Sunday. "Based on the recommendations of the Ministry of Health, it was decided to allow only the arrival of the flight scheduled for this Monday 12/22 at 09:00 AM (12H00GMT) at the Ezeiza International Airport", said the Government. The passengers and crew of that flight "must comply with a seven-day quarantine, once they demonstrate the requirements to enter the country: a PCR test with a negative result and COVID insurance", the statement said.
The Government of Argentina has asked the citizens of Argentina to be responsible and cautious during the holiday period. The national restrictions that mandate mandatory social distancing are in effect from November 9 and were extended until January 31 of last week.

PUBLISHER: Airgways.com
DBk: Aerolineas.com / Argentina.gob.ar / Batimes.com.ar / Airgways.com
AW-POST: 202012231043AR
A\W A I R G W A Y S ®