AW | 2020 12 31 10:18 | AIRLINES / GOVERNMENT
Palestinian Airlines cesa tras 25 años de operaciones
La Autoridad Palestina anunció el Martes 29/12 que cerrará las operaciones de la aerolínea Palestinian Airlines después de veinticinco años de actividad limitada. La decisión de liquidar la compañía fue finalizada y anunciada este Martes por el Ministerio de Transporte y Comunicaciones de Palestina. La compañía ha estado operando en un ámbito muy limitado durante años. Su flota de dos aviones Fokker 50 en funcionamiento ha sido alquilada a otras aerolíneas en los últimos años, con una actualmente ubicada en el Aeropuerto Internacional de El Cairo en Egipto y la otra en Amman, Jordania. Los dos Fokker F50 de 32 años de edad de la compañía ya se pusieron a la venta en 09/2020. El Subsecretario del Ministerio, Ammar Yassin, dijo que el mantenimiento del avión ubicado en Amman es muy alto y que el ministerio no ha recibido ninguna oferta para comprarlo. El otro avión había sido arrendado a una aerolínea de Nigeria, pero el contrato no se renovó debido a la situación creada por la pandemia del Coronavirus, explicó Ammar Yassin. Uno de los problemas para encontrar posibles compradores para los aviones con una antigüedad de más de treinta años, es que las aerolíneas suelen preferir comprar aviones fabricados con una edad de no más de quince año. Una aeronave F50 matrícula SU-YAH se encuentra en Amán, Jordania. El arrendamiento del otro F50 con Niger Airlines, matrícula SU-YAI, no se ha renovado debido a la crisis en curso.
Palestinian Airlines se estableció en 1995 e inició sus operaciones en 1997 dese el Aeropuerto de Port Said, Egipto. Su flota incluía los dos aviones Fokker 50 donados por los Países Bajos y un Boeing 727 donado por el Príncipe saudita Al-Waleed bin Talal Al Saud. Palestinian Airlines fue fundada después del Acuerdo de Oslo II firmado por Israel y Palestina destinado a establecer un aeropuerto en la Franja de Gaza. El transportista fue creado con apoyo financiero de los Países Bajos y Arabia Saudita, donde donaron dos Fokker F50 y un Boeing 727 respectivamente.
El Aeropuerto Internacional Yasser Arafat en Gaza fue financiado por Japón, Egipto, Arabia Saudita, España y Alemania, y diseñado por arquitectos marroquíes, quedando inaugurado en Noviembre de 1998. Tras la inauguración, Palestinian Airlines trasladó todas las operaciones a su nuevo hogar.
La aerolínea alcanzó su máximo desarrollo en el año 2000, pero se vio obligada a interrumpir todos los vuelos ese Octubre 2000, cuando los árabes iniciaron la Segunda Intifada. el entonces renombrado Aeropuerto Internacional de Gaza cerró en Octubre de 2000, durante lo que se conoce como la Segunda Intifada. Su torre de control y estación de radio fueron destruidas por la Fuerza Aérea Israelí en Diciembre de 2001. La base de la aerolínea fue trasladada de nuevo a El Arish en Egipto, desde donde siguió volando a El Cairo y Yeda. Sin embargo, el transporte de palestinos a través de la frontera egipcia para los vuelos resultó ser una desventaja adicional. El transportista ha dado de baja a su Boeing 727, y un Ilyushin Il-62 adquirido transitoriamente y suspendió sus operaciones entre 2005 y 2012.
A medida que el Aeropuerto Gush Katif de Gaza desapareció en 2004, junto con el Aeropuerto Jerusalén/Atarot en Cisjordania en 2000, Palestina seguía sin un aeropuerto operativo. En 2012, la aerolínea comenzó a trabajar en un ámbito limitado, operando dos vuelos semanales al Sinaí y Jordania. En 2017, alquiló sus aeronaves y detuvo la mayor parte de su actividad. Tras la crisis de la pandemia en 2020, Palestinian Airlines es otra de las compañías aéreas que no han podido sobrevivir, dejando de prestar un servicio elemental en la Franja de Gaza.
Palestinian Airlines closes operations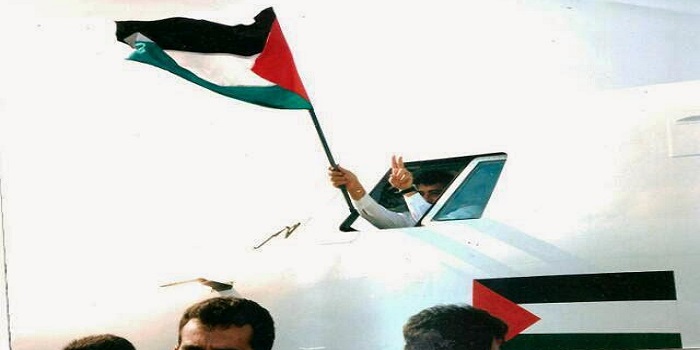 Palestinian Airlines ceases after 25 years of operations
The Palestinian Authority announced on Tuesday 12/29 that it will shut down Palestinian Airlines operations after twenty-five years of limited activity. The decision to liquidate the company was finalized and announced this Tuesday by the Palestinian Ministry of Transport and Communications. The company has been operating in a very limited scope for years. Its fleet of two working Fokker 50 aircraft has been leased to other airlines in recent years, with one currently located at Cairo International Airport in Egypt and the other in Amman, Jordan. The company's two 32-year-old Fokker F50s were already on sale in 09/2020. The Under Secretary of the Ministry, Ammar Yassin, said that the maintenance of the plane located in Amman is very high and that the ministry has not received any offers to buy it. The other plane had been leased from a Nigerian airline, but the contract was not renewed due to the situation created by the Coronavirus pandemic, Ammar Yassin explained. One of the problems in finding potential buyers for aircraft older than 30 years is that airlines tend to prefer to buy aircraft manufactured with an age of no more than 15 years An F50 aircraft registration SU-YAH is located in Amman, Jordan . The lease of the other F50 with Niger Airlines, registration SU-YAI, has not been renewed due to the ongoing crisis.
Palestinian Airlines was established in 1995 and began operations in 1997 from Port Said Airport, Egypt. Its fleet included the two Fokker 50 planes donated by the Netherlands and a Boeing 727 donated by the Saudi Prince Al-Waleed bin Talal Al Saud. Palestinian Airlines was founded after the Oslo II Agreement signed by Israel and Palestine aimed at establishing an airport in the Gaza Strip. The carrier was created with financial support from the Netherlands and Saudi Arabia, where they donated two Fokker F50s and a Boeing 727 respectively.
The Yasser Arafat International Airport in Gaza was financed by Japan, Egypt, Saudi Arabia, Spain and Germany, and designed by Moroccan architects, opening in November 1998. After the opening, Palestinian Airlines moved all operations to its new home.
The airline reached its maximum development in 2000, but was forced to interrupt all flights that October 2000, when the Arabs started the Second Intifada. The then renamed Gaza International Airport closed in October 2000, during what is known as the Second Intifada. Its control tower and radio station were destroyed by the Israeli Air Force in December 2001. The airline's base was moved back to El Arish in Egypt, from where it continued to fly to Cairo and Jeddah. However, transporting Palestinians across the Egyptian border for flights proved to be an additional disadvantage. The carrier has decommissioned its Boeing 727, and an Ilyushin Il-62 acquired temporarily and suspended operations between 2005 and 2012.
As the Gush Katif Airport in Gaza disappeared in 2004, along with the Jerusalem/Atarot Airport in the West Bank in 2000, Palestine remained without an operational airport. In 2012, the airline started working in a limited scope, operating two weekly flights to Sinai and Jordan. In 2017, it leased its aircraft and stopped most of its activity. After the pandemic crisis in 2020, Palestinian Airlines is another of the airlines that have not been able to survive, ceasing to provide an elementary service in the Gaza Strip.
الخطوط الجوية الفلسطينية تغلق عملياتها
توقف الخطوط الجوية الفلسطينية بعد 25 عاما من التشغيل
أعلنت السلطة الفلسطينية ، الثلاثاء ، 12/29 ، أنها ستغلق عمليات الخطوط الجوية الفلسطينية بعد خمسة وعشرين عاما من النشاط المحدود. تم الانتهاء من قرار تصفية الشركة وإعلانه هذا الثلاثاء من قبل وزارة النقل والاتصالات الفلسطينية. تعمل الشركة في نطاق محدود للغاية منذ سنوات. تم تأجير أسطولها المكون من طائرتين عاملة من طراز Fokker 50 لشركات طيران أخرى في السنوات الأخيرة ، واحدة موجودة حاليًا في مطار القاهرة الدولي في مصر والأخرى في عمان ، الأردن. تم طرح طائرتي Fokker F50 البالغتين من العمر 32 عامًا للبيع بالفعل في 09/2020. وقال وكيل الوزارة عمار ياسين ، إن صيانة الطائرة الموجودة في عمان مرتفعة للغاية وأن الوزارة لم تتلق أي عروض لشرائها. وأوضح عمار ياسين ، أن الطائرة الأخرى كانت مستأجرة من شركة طيران نيجيرية ، لكن العقد لم يجدد بسبب الوضع الناجم عن وباء فيروس كورونا. إحدى المشاكل في العثور على مشترين محتملين للطائرات التي يزيد عمرها عن 30 عامًا هي أن شركات الطيران تميل إلى تفضيل شراء الطائرات المصنعة التي لا يزيد عمرها عن 15 عامًا. يقع تسجيل الطائرات F50 SU-YAH في عمان ، الأردن . لم يتم تجديد عقد إيجار الطائرة F50 الأخرى مع شركة النيجر إيرلاينز ، والتسجيل SU-YAI ، بسبب الأزمة المستمرة.
تأسست الخطوط الجوية الفلسطينية عام 1995 وبدأت عملياتها عام 1997 من مطار بورسعيد بمصر. تضمن أسطولها طائرتين من طراز Fokker 50 تبرعت بها هولندا وطائرة بوينج 727 تبرع بها الأمير السعودي الوليد بن طلال آل سعود. تأسست الخطوط الجوية الفلسطينية بعد اتفاقية أوسلو الثانية التي وقعتها إسرائيل وفلسطين بهدف إنشاء مطار في قطاع غزة. تم إنشاء الناقل بدعم مالي من هولندا والمملكة العربية السعودية ، حيث تبرعوا بطائرتين من طراز Fokker F50 و Boeing 727 على التوالي.
تم تمويل مطار ياسر عرفات الدولي في غزة من قبل اليابان ومصر والمملكة العربية السعودية وإسبانيا وألمانيا ، وتم تصميمه من قبل المهندسين المعماريين المغاربة ، وتم افتتاحه في نوفمبر 1998. بعد الافتتاح ، نقلت الخطوط الجوية الفلسطينية جميع العمليات إلى موطنها الجديد.
وصلت شركة الطيران إلى أقصى تطور لها في عام 2000 ، لكنها اضطرت إلى قطع جميع الرحلات الجوية في أكتوبر 2000 ، عندما بدأ العرب الانتفاضة الثانية. تم إغلاق مطار غزة الدولي الذي أعيد تسميته في أكتوبر 2000 ، خلال ما يعرف بالانتفاضة الثانية. دمرت القوات الجوية الإسرائيلية برج المراقبة ومحطة الراديو التابعة لها في ديسمبر / كانون الأول 2001. وأعيدت قاعدة الشركة إلى العريش في مصر ، حيث واصلت رحلاتها إلى القاهرة وجدة. ومع ذلك ، ثبت أن نقل الفلسطينيين عبر الحدود المصرية للرحلات الجوية يمثل عائقًا إضافيًا. أوقفت الشركة تشغيلها من طراز بوينج 727 ، واكتسبت طائرة إليوشن Il-62 مؤقتًا وعلقت العمليات بين عامي 2005 و 2012.
مع اختفاء مطار غوش قطيف في غزة عام 2004 ، إلى جانب مطار القدس / عطروت في الضفة الغربية عام 2000 ، ظلت فلسطين بدون مطار عاملة. في عام 2012 ، بدأت شركة الطيران العمل في نطاق محدود ، حيث قامت بتشغيل رحلتين أسبوعيتين إلى سيناء والأردن. وفي عام 2017 استأجرت طائراتها وأوقفت معظم نشاطها. بعد أزمة الوباء في عام 2020 ، الخطوط الجوية الفلسطينية هي شركة طيران أخرى لم تكن قادرة على البقاء ، وتوقفت عن تقديم خدمة أولية في قطاع غزة.
חברת תעופה פלסטינית סוגר פעולות
חברת התעופה הפלסטינית מפסיקה לאחר 25 שנות פעילות
הרשות הפלסטינית הודיעה ביום שלישי 12/29 כי תשבית את פעילותה של חברת התעופה הפלסטינית לאחר עשרים וחמש שנות פעילות מוגבלת. ההחלטה על פירוק החברה הושלמה סופית והוכרזה ביום שלישי הקרוב על ידי משרד התחבורה והתקשורת הפלסטיני. החברה פועלת בהיקף מוגבל מאוד מזה שנים. צי שני המטוסים הפוקרים 50 העובדים שלה הושכר בשנים האחרונות לחברות תעופה אחרות, כאשר אחת מהן נמצאת כיום בשדה התעופה הבינלאומי בקהיר והשנייה בעמאן, ירדן. שתי מכוניות ה- Fokker F50 בת ה -32, יצאו למכירה כבר ב -2020. מזכיר המשנה של המשרד, עמאר יאסין, אמר כי תחזוקת המטוס הממוקם בעמאן גבוהה מאוד וכי המשרד לא קיבל הצעות לרכוש אותו. המטוס השני הושכר מחברת תעופה ניגרית, אך החוזה לא חודש בשל המצב שיצרה מגיפת קורונאווירוס, הסביר עמר יאסין. אחת הבעיות במציאת קונים פוטנציאליים למטוסים מעל גיל 30 היא שחברות תעופה נוטות להעדיף לקנות מטוסים שיוצרו לא יותר מ- 15 שנים רישום מטוסי F50 SU-YAH ממוקם בעמאן, ירדן. . השכרת ה- F50 האחרת עם חברת התעופה נייגר איירליינס, רישום SU-YAI, לא חודשה בגלל המשבר המתמשך.
חברת התעופה הפלסטינית הוקמה בשנת 1995 והחלה לפעול בשנת 1997 מנמל התעופה פורט סעיד, מצרים. ציו כלל את שני מטוסי ה- Fokker 50 שנתרמו על ידי הולנד ומטוס בואינג 727 שנתרם על ידי הנסיך הסעודי אל-ואלד בן טלאל אל-סעוד. פלסטין איירליינס הוקמה לאחר הסכם אוסלו II שנחתם על ידי ישראל ופלסטין במטרה להקים שדה תעופה ברצועת עזה. המוביל נוצר בתמיכה כספית מהולנד וסעודיה, שם הם תרמו שני מטוסי Fokker F50 ו- Boeing 727 בהתאמה.
שדה התעופה הבינלאומי יאסר ערפאת בעזה מומן על ידי יפן, מצרים, ערב הסעודית, ספרד וגרמניה, ותוכנן על ידי אדריכלים מרוקאים, שנפתח בנובמבר 1998. לאחר הפתיחה העבירה חברת התעופה הפלסטינית את כל הפעילות לבית החדש שלה.
חברת התעופה הגיעה לשיא ההתפתחות שלה בשנת 2000, אך נאלצה לקצץ את כל הטיסות באותה אוקטובר 2000, אז התחילו הערבים את האינתיפאדה השנייה. נמל התעופה הבינלאומי של עזה ששמו אז, נסגר באוקטובר 2000, במהלך מה שמכונה האינתיפאדה השנייה. מגדל הפיקוח ותחנת הרדיו שלו נהרסו על ידי חיל האוויר הישראלי בדצמבר 2001. בסיס חברת התעופה הועבר חזרה לאל עריש שבמצרים, משם המשיך לטוס לקהיר וג'דה. עם זאת, הובלת פלסטינים מעבר לגבול מצרים לטיסות הוכחה כחיסרון נוסף. הספק הוציא את מטוס הבואינג 727 שלה והוצאת איליושין Il-62 רכשה באופן זמני והפסיקה את פעילותה בין השנים 2005-2012.
כשנמל התעופה גוש קטיף בעזה נעלם בשנת 2004, יחד עם נמל התעופה ירושלים / עטרות בגדה המערבית בשנת 2000, נותרה פלסטין ללא שדה תעופה מבצעי. בשנת 2012 חברת התעופה החלה לעבוד בהיקף מוגבל והפעילה שתי טיסות שבועיות לסיני וירדן. בשנת 2017 היא השכירה את מטוסיה והפסיקה את מרבית פעילותה. לאחר משבר המגיפה בשנת 2020, פלסטין איירליינס היא חברת תעופה אחרת שלא הצליחה לשרוד, וחדלה להעניק שירות יסודי ברצועת עזה.

PUBLISHER: Airgways.com
DBk: Pcbs.gov.ps / Ap.com / Gettyimages.com / Airgways.com
AW-POST: 202012311018AR
A\W A I R G W A Y S ®