AW | 2021 09 19 17:43 | AVIATION SAFETY / AIR TRAFFIC
Restricciones aéreas hacia Islas Canarias por erupción volcán
España ha anunciado la recomendación a las aerolíneas que se abstengan de realizar vuelos a tres de las Islas Canarias tras la erupción de un Volcán Cumbre Vieja. Desde principios de semana, la isla ha estado en alerta amarilla por riesgo volcánico en esa zona con Nivel 2 de alerta. El operador aeroportuario español AENA ha recomendado a las aerolíneas que se abstengan durante tres días de realizar vuelos a tres islas del archipiélago canario tras entrar en erupción este Domingo 19/09 el Volcán de Cumbre Vieja en la Isla La Palma, localizada en la parte más occidental del archipiélago. Una jornada histórica para La Palma y para toda Canarias, tras los más de 25.000 terremotos registrados, que llevan más de una semana vigilados, y de hecho, fueron aumentando de intensidad en las últimas horas.
El Domingo 19 de Septiembre de 2021, a las 15:12 p.m. (hora canaria), la primera explosión inició una nueva erupción volcánica. El volcán de La Palma cuenta actualmente con al menos cinco bocas, según ha comentado el presidente del Cabildo de La Palma, Mariano Hernández Zapata, quien comentó durante un receso de la Comisión de Emergencias Volcánicas de Canarias (Pevolca).
Una columna de humo y ceniza se elevó varios metros sobre la zona de Cabeza de Vaca del Municipio de El Paso, y ya hay varias fisuras por las que la lava ha comenzado a derramarse. Piroclastos, rocas y escombros han sido expulsados al aire, causando pequeños incendios, algunos de los que representan un peligro para los hogares. Las evacuaciones ya habían comenzado y ahora se están acelerando en varias áreas. La primera explosión tuvo lugar este domingo en Cabeza de Vaca, en la zona alta del municipio de El Paso. Se trata de una zona no poblada, aunque hay algunas casas en las inmediaciones, ha dicho el alcalde del Municipio de El Paso, Sergio Rodríguez. El Presidente del Gobierno español, Pedro Sánchez, ha aplazado su viaje a Estados Unidos para ir a La Palma. El vuelo estaba previsto para esta tarde y, en cambio, viajará a Canarias para seguir la evolución de los acontecimientos desde La Palma, tras la erupción del volcán Cumbre Vieja, que arrancó este Domingo 19/09. Más de 700 vecinos ya han sido evacuados de las localidades más cercanas a la erupción de La Palma.
Espacio aéreo
El Control Tráfico Aéreo español está recomendando a las aerolíneas no operar vuelos a La Palma, como medida preventiva no se permite la salida de vuelos a la Isla de La Palma, donde ha comenzado la erupción volcánica. David Calvo, científico del Instituto Vulcanológico de Canarias (Involcan) dijo a Televisión Canaria que ahora «tenemos que estimar el volumen de lava. Ya estamos llevando a cabo mapeos y simulaciones para saber dónde fluirán los arroyos». Explicó que se trata de un volcán estromboliano similar al Teneguía, que entró en erupción por última vez en 1971. «Las primeras horas son importantes para saber por dónde fluirá la lava», y es posible que se acerque a zonas residenciales.
El enjambre sísmico en Cumbre Vieja que comenzó el pasado Sábado 11 de Septiembre de 2021, ha liderad, en un proceso rápido y enérgico medio siglo después de Teneguía, hasta ahora el volcán de superficie más joven de España. El sonido de cada explosión, la caída de cenizas y las espectaculares imágenes se están viendo en todo el mundo en este momento.
La Cumbre Vieja de La Palma es uno de los complejos volcánicos más activos de Canarias. Dos de las últimas tres erupciones registradas en las islas han ocurrido aquí, el volcán San Juan (1949) y el Teneguía (1971). Desde el pasado 11/09, el Instituto Geográfico Nacional y el Instituto Vulcanológico de Canarias luego registran una importante acumulación de miles de pequeños terremotos en las inmediaciones de la Cumbre Vieja, con focos que comenzaron a una profundidad de más de 20 kilómetros, pero que progresivamente aumentaron a la superficie.
Esta mañana, las autoridades comenzaron a evacuar a los residentes con problemas de movilidad en las localidades de los municipios de El Paso, Los Llanos de Aridane, Villa de Mazo y Fuencaliente, solo como medida de precaución. En los registros históricos, que se remontan al menos a la conquista de las Islas Canarias en el Siglo 15, La Palma ha sido escenario de siete de las dieciséis erupciones volcánicas que el archipiélago ha experimentado en ese tiempo.
Cumbre Vieja Volcano Activation
Air restrictions to the Canary Islands due to volcano eruption
Spain has announced the recommendation to airlines to refrain from flying to three of the Canary Islands after the eruption of a Cumbre Vieja Volcano. Since the beginning of the week, the island has been on a yellow alert for volcanic risk in that area with a Level 2 alert. The Spanish airport operator AENA has recommended that airlines refrain from flying to three islands of the Canary archipelago for three days after the Cumbre Vieja Volcano on La Palma Island, located in the most part of the Canary Islands, erupted on Sunday 09/19. western archipelago. A historic day for La Palma and for the entire Canary Islands, after the more than 25,000 earthquakes registered, which have been monitored for more than a week, and in fact, they were increasing in intensity in the last hours.
On Sunday, September 19, 2021, at 03:12 p.m. (Canary time), the first explosion started a new volcanic eruption. The La Palma volcano currently has at least five mouths, according to the president of the Cabildo de La Palma, Mariano Hernández Zapata, who commented during a recess of the Canary Islands Volcanic Emergencies Commission (Pevolca).
A column of smoke and ash rose several meters above the Cabeza de Vaca area of ​​the Municipality of El Paso, and there are already several fissures through which the lava has begun to spill. Pyroclasts, rocks, and debris have been blown into the air, causing small fires, some of which pose a hazard to homes. Evacuations had already started and are now accelerating in several areas. The first explosion took place this Sunday in Cabeza de Vaca, in the upper area of ​​the municipality of El Paso. It is an unpopulated area, although there are some houses in the vicinity, said the mayor of the Municipality of El Paso, Sergio Rodríguez. The President of the Spanish Government, Pedro Sánchez, has postponed his trip to the United States to go to La Palma. The flight was scheduled for this afternoon and, instead, he will travel to the Canary Islands to follow the evolution of events from La Palma, after the eruption of the Cumbre Vieja volcano, which started this Sunday 09/19. More than 700 residents have already been evacuated from the towns closest to the La Palma eruption.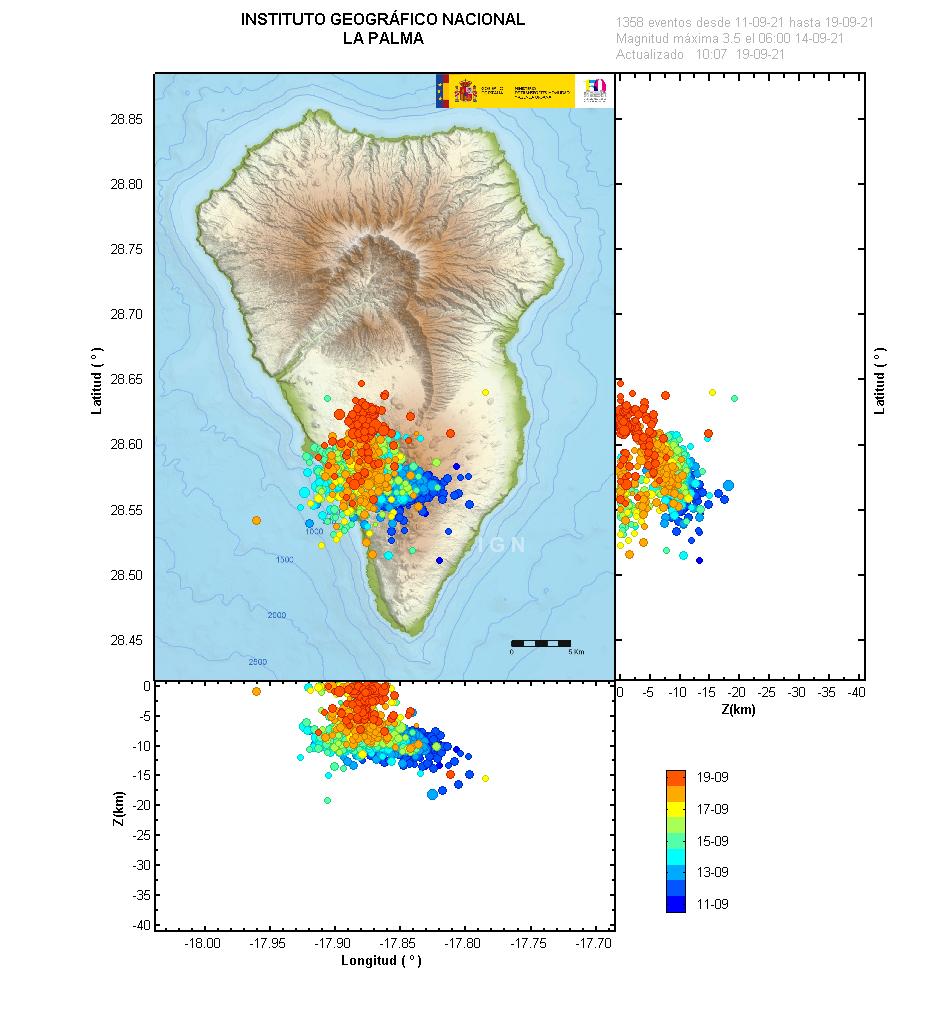 Air space
The Spanish Air Traffic Control is recommending that the airlines not operate flights to La Palma, as a preventive measure the departure of flights to the island of La Palma, where the volcanic eruption has begun, is not allowed. David Calvo, a scientist at the Instituto Vulcanológico de Canarias (Involcan) told Televisión Canaria that now «we have to estimate the volume of lava. We are already carrying out mapping and simulations to find out where the streams will flow». He explained that it is a strombolian volcano similar to Teneguía, which last erupted in 1971. «The first hours are important to know where the lava will flow», and it is possible that it will approach residential areas.
The seismic swarm in Cumbre Vieja that began last Saturday, September 11, 2021, has led, in a rapid and energetic process half a century after Teneguía, so far the youngest surface volcano in Spain. The sound of each explosion, the falling ash and the spectacular images are being seen all over the world right now.
The Cumbre Vieja de La Palma is one of the most active volcanic complexes in the Canary Islands. Two of the last three eruptions recorded on the islands have occurred here, the San Juan volcano (1949) and the Teneguía (1971). Since last 09/11, the National Geographic Institute and the Canary Islands Vulcanological Institute then recorded a significant accumulation of thousands of small earthquakes in the vicinity of the Cumbre Vieja, with outbreaks that began at a depth of more than 20 kilometers, but which progressively they rose to the surface.
This morning, the authorities began to evacuate residents with mobility problems in the towns of the municipalities of El Paso, Los Llanos de Aridane, Villa de Mazo and Fuencaliente, just as a precautionary measure. In historical records, dating back at least to the conquest of the Canary Islands in the 15th century, La Palma has been the scene of seven of the sixteen volcanic eruptions that the archipelago has experienced in that time.
La actividad sísmica en Cumbre Vieja, iniciada el día 11/09/2021 a las 03:18 (UTC), se ha acelerado en las últimas horas, con una intensa sismicidad superficial, entre 0 y 6 km y numerosos sismos sentidos por la población. Hasta este momento y desde el inicio de la serie, se han detectado 6632 terremotos, de los cuales 1317 han sido localizados. En el día de hoy, se han detectado 327 terremotos de los que se han localizado 86 con una magnitud máxima de 3,8 mbLg para el terremoto ocurrido a las 10:16 (UTC), ampliamente sentido en la isla y con profundidad de 2 km.
La deformación vertical máxima acumulada ha aumentado hasta el entorno de los 15 cm en la zona cercana a la sismicidad actual y su distribución sigue siendo compatible con un centro de presión en esta área. Estos desplazamientos se han observado tanto con la red GNSS de la isla como a través de datos InSAR (Sentinel-1).
The seismic activity in Cumbre Vieja, which began on 09/11/2021 at 03:18 (UTC), has accelerated in the last hours, with intense surface seismicity, between 0 and 6 km and numerous earthquakes felt by the population . Up to this moment and since the beginning of the series, 6632 earthquakes have been detected, of which 1317 have been located. Today, 327 earthquakes have been detected, of which 86 have been located with a maximum magnitude of 3.8 mbLg for the earthquake that occurred at 10:16 (UTC), widely felt on the island and with a depth of 2 km.
The maximum accumulated vertical deformation has increased to around 15 cm in the area close to the current seismicity and its distribution is still compatible with a center of pressure in this area. These movements have been observed both with the island's GNSS network and through InSAR data (Sentinel-1).
PUBLISHER: Airgways.com
DBk: Ign.es / Involcan.org / Aena.es / Airgways.com
AW-POST: 202109191743AR
A\W A I R G W A Y S ®