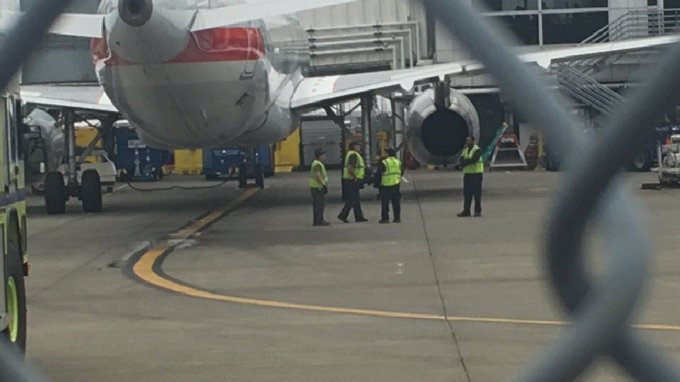 AW | 2016 06 029 23:23 | AIRLINES / SAFETY / SECURITY
AMERICAN AIRLINES AA728
El portavoz aeropuerto de Seattle Brian DeRoy dice el Airbus A320 fue programado para salir a Filadelfia a las 8:10 am, cuando se produjo el incendio
Un incendio estalló el miércoles en un avión de American Airlines cuando se disponía a despegar del Aeropuerto de Seattle, pero las llamas fueron rápidamente extinguidas y nadie resultó lastimado, informaron las autoridades.
El vuelo AA728 había 151 pasajerosen y seis tripulantes a bordo, pero ninguno tuvo que ser evacuado, informó la aerolínea. El avión iba del Aeropuerto Internacional Seattle-Tacoma a Filadelfia.
La nave, un Airbus A320, se había retirado de la puerta de embarque y se dirigía a la pista de despegue cuando empezó a salir humo de la cola, dijo en portavoz del aeropuerto Brian DeRoy. Añadió que el pequeño incendio fue causado por una chispa en la unidad auxiliar justo debajo del extremo posterior del avión.
Los bomberos acudieron al lugar y extinguieron las llamas. El avión rodó por su cuenta de regreso a la puerta de embarque, dijo el portavoz de la aerolínea Ross Feinstein.
El fuego salía de una unidad adicional proveedora de electricidad, usada para funciones como las luces o el aire acondicionado cuando las turbinas están apagadas. En las naves más grandes, esas unidades ayudan a encender las turbinas. Feinstein expresó que la línea aérea American pidió desculpas por el incidente.
Fire erupts at American Airlines plane in Seattle
SeaTac airport spokesman Brian DeRoy says the Airbus 320 was scheduled to depart to Philadelphia at 8:10 a.m. when the fire broke out.
A fire broke out on Wednesday in an American Airlines plane when he was about to take off from the Seattle airport, but the flames were quickly extinguished and no one was hurt, officials said.
The flight AA728 were 151 passengerson and six crew on board, but none had to be evacuated, the airline said. The plane was the Seattle-Tacoma International Airport to Philadelphia.
The ship, an Airbus A320, had withdrawn from the gate and headed for the runway when smoke started coming out of the tail, said airport spokesman Brian DeRoy. He added that the small fire was caused by a spark in the auxiliary unit just below the rear end of the aircraft.
Firefighters rushed to the scene and extinguished the flames. The plane rolled on its way back to the gate, the airline spokesman Ross Feinstein said.
The fire came from an additional unit of electricity provider, used for functions such as lights or air conditioning when the turbines are off. In the larger ships, these units help turn the turbines. Feinstein said the airline American Desculpas asked for the incident. A\W
Ξ A I R G W A Y S Ξ
SOURCE: A I R G W A Y S
DBk: Photographic © Scoopnest.com
AW-POST: 201606292323AR