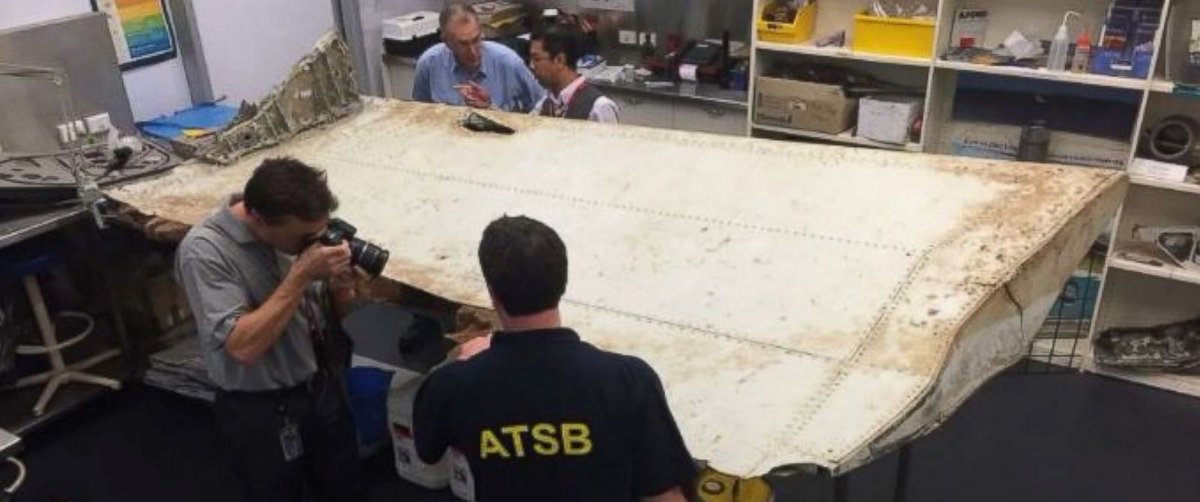 AW | 2016 09 15 13:23 | AIR INVESTIGATION
MALAYSIA AIRLINES MH370
Los investigadores han concluido que la pieza que se encuentre fuera de Tanzania en junio es del avión MH370, que desapareció en 2014
SINGAPURE · Un trozo de ala de avión que se encuentra en una isla de Tanzania en junio del vuelo Malasysia MH-370, dijo que los investigadores australianos.
Los expertos de la Oficina de Seguridad del Transporte de Australia han llegado a la conclusión de que la aleta del ala, que se encuentró en la isla de Pemba el 20 de junio, se originó a partir del avión Boeing 777-200ER registrado como 9M-MRO, dijo el ministro de Transporte de Malasia Liow Tiong Lai en un comunicado el jueves.
Investigadores australianos habían dicho anteriormente la solapa, si se confirma que desde el vuelo 370, que ofrecen la mejor nueva pista para los momentos finales del chorro , incluyendo si estaba bajo control del piloto cuando se hundió.
Aparte de algunos escombros, algunas pistas han surgido sobre el paradero del avión, que desaparecieron en el camino de Pekín a Kuala Lumpur el 8 de marzo de 2014, llevando 239 pasajeros y la tripulación.
los datos vía satélite de comunicación sugiere que los vuelos terminado miles de millas fuera de curso en el Océano Índico meridional, donde se está buscando más de 46.000 millas cuadradas (120.000 kilómetros cuadrados) de fondo del océano. Sin embargo, no hay ninguna explicación aún para las aparentes curvas cerradas hechas por el plano alrededor de una hora en lo que a ese punto que aparentemente era un vuelo de rutina.
La búsqueda del avión perdido puede ser suspendido por el final del año si el área actual no da resultados, Australia, Malasia y China dijeron en un comunicado conjunto el 22 de julio.
El Sr. Liow dijo que varios números de parte, además de la apariencia física, las dimensiones y la construcción confirmaron la pieza encontrada en Tanzania es una sección interior del flap exterior de la falta Boeing 777 de chorro.
«Un examen más detallado de los restos continuará, con la esperanza de que una prueba más posible que se descubran que pueden proporcionar nuevos conocimientos sobre las circunstancias del vuelo 370», dijo.
La aleta principal es significativa porque el análisis de daño puede determinar la forma en que se interrumpió el avión, según Peter Foley, director del programa para la búsqueda operacional para el vuelo 370 en la ATSB. A diferencia de algunas otras partes recuperaron hasta el momento, la aleta principal se despliega manualmente. Anteriormente se recuperaron piezas incluyen otra parte del ala denomina flaperon. Se encuentra en la isla de la Reunión el año pasado y está siendo examinado en Francia .
Los investigadores creen que el avión no estaba bajo control humano en el momento de su accidente, sobre la base de las comunicaciones entre la aeronave y un Inmarsat satélite PLC. Sin embargo, otra teoría: que el avión estaba en un deslizamiento controlado después de una pérdida de potencia del motor-hasn't sido descartada, aunque las autoridades consideran que es menos probable.
Mientras que una u otra teoría llevaría a gran parte de la misma área de búsqueda, los bordes variarían; una simulación muestra la aeronave, a partir de 40.000 pies, podría haber ido un extra de 140 millas si bajo control.
Los expertos dice que el descubrimiento de restos miles de millas de distancia del lugar del accidente probable en el Océano Índico meridional es consistente con el modelado del océano de corriente, lo que demuestra que algunos escombros podría haber desplazado tan lejos de la zona de búsqueda. 
Wing Flap Confirmed as From Malaysia Airlines Flight 370
Investigators have concluded that part found off Tanzania in June is from jet that disappeared in 2014
SINGAPORE · A piece of aircraft wing found on an island off Tanzania in June came from the missing Malaysia Airlines Flight MH-370, Australian investigators said.
Experts from the Australian Transport Safety Bureau have concluded that the wing flap, found on Pemba island on June 20, originated from the Boeing 777-200ER jet registered as 9M-MRO, Malaysian Transport Minister Liow Tiong Lai said in a statement on Thursday.
Australian investigators had earlier said the flap, if confirmed to be from Flight 370, would offer the best new clue to the jet's final moments, including whether it was under pilot control when it went down.
Apart from some debris, few clues have emerged as to the whereabouts of the plane, which disappeared en route from Beijing to Kuala Lumpur on March 8, 2014, carrying 239 passengers and crew.
Satellite-communication data suggests the flight ended thousands of miles off course in the Southern Indian Ocean, where more than 46,000 square miles (120,000 square kilometers) of ocean floor is being searched. However, there is no explanation yet for the apparent sharp turns made by the plane about an hour into what to that point was apparently a routine flight.

The search for the missing jet may be suspended by the end of the year if the current area doesn't yield results, Australia, Malaysia and China said in a joint statement on July 22.
Mr. Liow said several part numbers, along with physical appearance, dimensions, and construction confirmed the piece found in Tanzania is an inboard section of the missing Boeing 777 jet's outboard flap.
"Further examination of the debris will continue, in hopes that further evidence may be uncovered which may provide new insight into the circumstances surrounding Flight 370," he said.
The main flap is significant because damage analysis may determine how it broke off the plane, according to Peter Foley, program director for the Operational Search for Flight 370 at the ATSB. Unlike some other parts recovered so far, the main flap is deployed manually. Previously recovered pieces include another wing part called a flaperon. It was found on Réunion Island last year and is being examined in France.
Investigators believe the plane wasn't under human control at the time of its crash, based on communications between the aircraft and an Inmarsat PLC satellite. However, another theory—that the plane was in a controlled glide following a loss of engine power—hasn't been ruled out, though authorities consider it less likely.
While either theory would lead to largely the same search area, the edges would vary; a simulation shows the aircraft, starting from 40,000 feet, could have gone an extra 140 miles if under control.
Experts says the discovery of debris thousands of miles away from the likely crash site in the Southern Indian Ocean is consistent with ocean-current modeling, which shows that some debris could have drifted that far from the search area. A\W
Ξ A I R G W A Y S Ξ
SOURCE: wsj.com
DBk: Photographic © brunchnews.com / 
raischstudios.com


AW-POST: 201609151323AR
A\W A I R G W A Y S ®