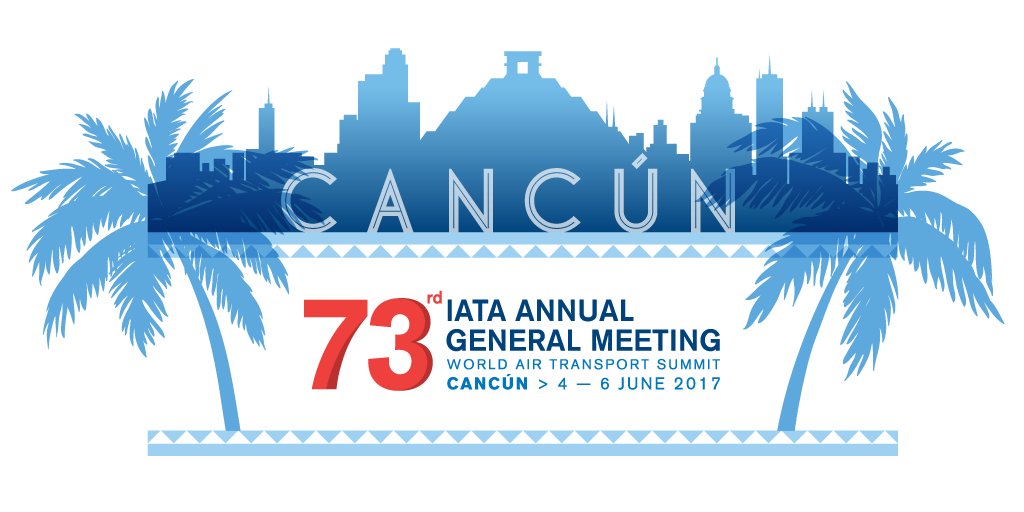 AW | 2017 06 06 12:33 | CONGRESS
73rd IATA ANNUAL GENERAL MEETING 2017
Las aerolíneas globales han defendido con firmeza la globalización en su mayor reunión anual, prometiendo no renunciar a los acuerdos sobre cambio climático y pidiendo una rápida resolución de una grieta diplomática que amenaza los viajes aéreos en Oriente Medio.
Faltando a la reunión general de la Asociación Internacional de Transporte Aéreo (IATA) en México fue Qatar Airways director ejecutivo Akbar Al Baker. Habitualmente una estrella del espectáculo, parecía haber dejado la cumbre en medio de una disputa entre las potencias árabes.
Cuando se le preguntó sobre la decisión de Arabia Saudí y Bahrein de prohibir los aviones de Qatar desde sus aeropuertos y espacio aéreo, el Director General de la IATA, Alexandre de Juniac, pidió apertura. «Nos gustaría que las fronteras fueran reabiertas, cuanto antes mejor», dijo a los periodistas, ampliando sus comentarios anteriores en la sesión de apertura.
«La aviación es la globalización en su mejor momento», había dicho a los ejecutivos de más de 200 aerolíneas de la IATA. «Como líderes de la aviación, debemos dar testimonio de los logros de nuestro mundo conectado». Qatar Airways no pudo ser contactada para hacer comentarios. La brecha árabe fue un recordatorio de los riesgos políticos para las líneas aéreas, que han logrado beneficios saludables, incluso como el consenso mundial en que se basan se encuentra bajo la amenaza de corrientes políticas nacionalistas y proteccionistas.
Previsiones de un tercer año consecutivo de ganancias sólidas, IATA elevó su pronóstico de ganancias de la industria 2017 el lunes a US $ 31.400 millones (US $ 41.900 millones), por encima de un pronóstico anterior de US $ 29.800 millones (US $ 39.800 millones) . La IATA también elevó su perspectiva para los ingresos de la industria de 2017 a US $ 743 mil millones de US $ 736 mil millones en expectativas de que la economía mundial registrará su mayor crecimiento en seis años.
El pronóstico puso de relieve una nueva era de oro para la rentabilidad de las aerolíneas, incluso cuando los transportistas se enfrentan a las rápidas restricciones electrónicas, la presión para limitar las emisiones y un escrutinio sin precedentes en las redes sociales sobre cada error.
Un representante de Naciones Unidas instó a los líderes de las aerolíneas a mantener un acuerdo de emisiones de la industria conocido como CORSIA, incluso cuando el presidente de EE.UU. Donald Trump rompe con un pacto climático golpeado en París el año pasado. «Necesitamos promover la implementación de este histórico acuerdo», dijo Olumuyiwa Benard Aliu, presidente de la Organización de Aviación Civil Internacional de la ONU. IATA de Juniac dijo que las aerolíneas se aferraría a sus compromisos.
«La decisión muy decepcionante de los EE.UU. de retirarse de París no es un revés para CORSIA», dijo a la reunión. «Seguimos unidos detrás de CORSIA y nuestros objetivos de cambio climático».
Airlines hold fast to global consensus
Global airlines have strongly defended globalisation at their largest annual gathering, vowing not to give up on climate change agreements and calling for a swift resolution of a diplomatic rift threatening air travel in the Middle East.
Missing from the general meeting of the International Air Transport Association (IATA) in Mexico was Qatar Airways chief executive Akbar Al Baker. Usually a star of the show, he appeared to have left the summit amid a dispute between Arab powers.
Asked about Saudi Arabia and Bahrain's move to ban Qatari planes from their airports and airspace, IATA Director General Alexandre de Juniac called for openness. «We would like borders to be re-opened, the sooner the better,» he told reporters, expanding on earlier remarks in the opening session.
«Aviation is globalisation at its very best,» he had told executives from IATA's more than 200 airlines. «As aviation's leaders, we must bear witness to the achievements of our connected world.» Qatar Airways could not be reached for comment. The Arab rift was a stark reminder of the political risks to the airlines, which have run up healthy profits even as the global consensus they rely upon comes under the threat of nationalist and protectionist political currents.
Forecasting a third straight year of robust earnings, IATA raised its 2017 industry profit outlook on Monday to $US31.4 billion ($A41.9 billion), up from a previous forecast of $US29.8 billion ($A39.8 billion). The IATA also raised its outlook for 2017 industry revenue to $US743 billion from $US736 billion on expectations that the global economy will post its strongest growth in six years.
The forecast underscored a new golden age for airlines' profitability even as carriers scramble to meet fast-changing electronics restrictions, pressure to limit emissions and unprecedented scrutiny on social media over their every mistake.
A United Nations representative urged airline leaders to stand by an industry emissions accord known as CORSIA even as US president Donald Trump breaks with a climate pact struck in Paris last year. «We need to promote implementation of this historic agreement,» said Olumuyiwa Benard Aliu, president of the UN's International Civil Aviation Organization. IATA's de Juniac said the airlines would hold fast to their commitments.
«The very disappointing decision of the US to withdraw from Paris is not a setback for CORSIA,» he told the meeting. «We remain united behind CORSIA and our climate change goals.» A \ W
Ξ A I R G W A Y S Ξ
SOURCE: News.com.au
DBk: Iata.org
AW-POST: 201706061233AR
A \ W   A I R G W A Y S ®