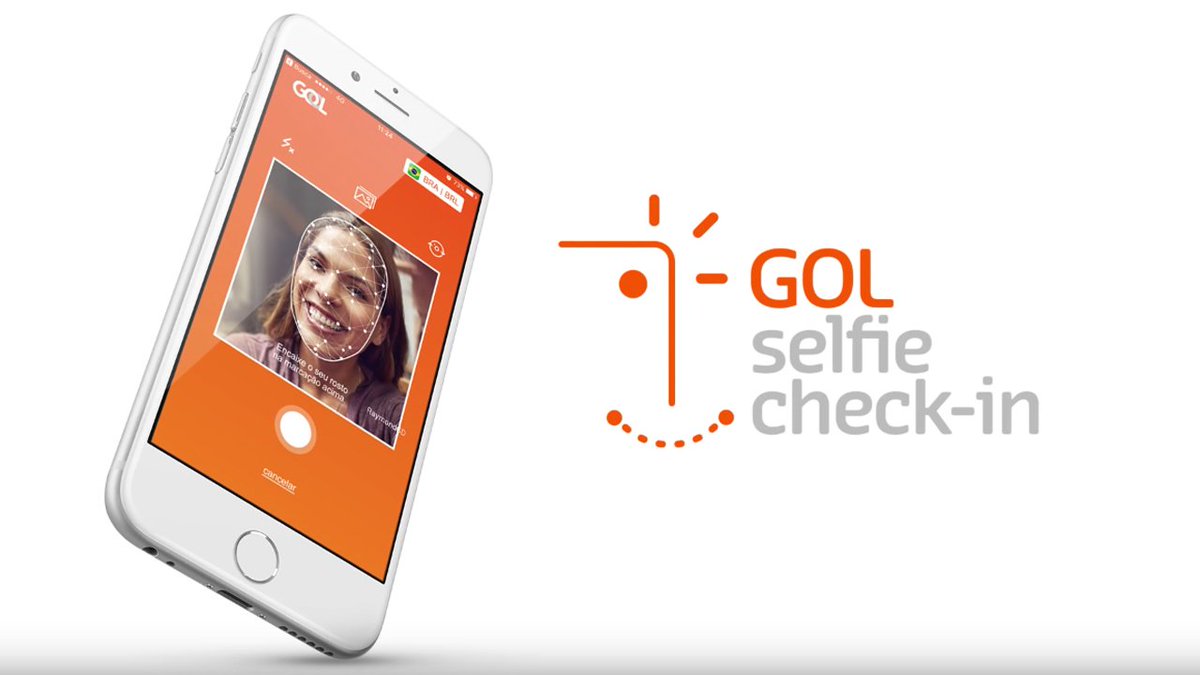 AW | 2017 07 03 10:17 | AIRLINES
Gol Linhas Aéreas ha implementado el uso del «selfie check-in» para la agilización del chequeo de los pasajeros
La aerolínea brasileña ha incorporado tecnología de última generación innovando a los pasajeros en la forma de realizar su check-in a la hora de tomar un vuelo.
El Selfie Check-in es un recurso de reconocimiento facial para hacer el check-in que está siendo incorporado por las líneas aéreas del mundo para la agilización del chequeo antes de un vuelo. La nueva aplicación móvil está disponible para todos los vuelos de la aerolínea brasileña Gol.
El Selfie Check-in
Para usar esta herramienta se tiene que descargar y abrir la aplicación (Apps) en el teléfono inteligente y realizar un registro de la biometría facial, sin necesidad de incluir ningún otro dato adicional. Ni siquiera es necesario el número de localizador de vuelo. De esa manera, para los siguientes viajes, el check-in se podrá hacer en la aplicación solo con el reconocimiento facial del cliente.
La compañía invirtió en nuevos recursos en su aplicación móvil para acercarse al consumidor y proporcionar a los pasajeros un proceso de viaje cada vez más simple y ágil, destacaron los empresarios brasileños.El selfie check-in fue implementado en asociación con FullFace Biometric Solutions, firma que ofreció la tecnología para reconocimiento facial.
Aplicaciones Selfie Check-in en otros lugares
Delta Air Lines está implementando este recurso en el área del Aeropuerto Minneapolis-St Paul, donde los pasajeros pueden facturar su equipaje a sí mismos.  Los aeropuertos de Amsterdam y Brisbane también tratan escaneos faciales el proceso de registro de entrada. 
Gol implements selfie check-in
Gol Linhas Aéreas has implemented the use of «self-check-in» to expedite the check-up of passengers
The Brazilian airline Gol  Linhas Aéreas has incorporated state-of-the-art technology innovating passengers in the form of check-in when taking a flight.
The Selfie Check-in is a facial recognition facility for check-in that is being incorporated by the world's airlines for expediting check-in before a flight. The new mobile application is available for all flights of the Brazilian airline Gol.
Selfie Check-in
To use this tool you have to download and open the application (Apps) in the smartphone and make a registration of facial biometrics, without needing to include any additional data. You do not even need the flight locator number. That way, for the following trips, the check-in can be made in the application only with the facial recognition of the client.
The company invested in new resources in its mobile application to approach the consumer and provide passengers with an increasingly simple and agile travel process, highlighted the Brazilian entrepreneurs. The selfie check-in was implemented in partnership with FullFace Biometric Solutions, a firm Which offered the technology for facial recognition.
Applications Selfie Check-in in other places
Delta Air Lines is implementing this facility in the Minneapolis-St Paul Airport area, where passengers can check in their luggage themselves. The airports of Amsterdam and Brisbane also deal with facial scans at check-in process. A \ W
Gol implementa o check-in selfie
Gol Linhas Aéreas implementou o uso de «selfie check-in» para acelerar o rastreio de passageiros
companhia aérea brasileira incorporou a mais recente tecnologia para inovar passageiros no caminho para fazer o seu check-in quando se toma um vôo.
O selfie Check-in é um reconhecimento facial recurso para check-in que está sendo construído pelas companhias aéreas no mundo para acelerar o cheque antes de um vôo. A nova aplicação móvel está disponível para todos os voos da companhia aérea brasileira Gol.
O selfie Entrada
Para utilizar esta ferramenta, faça o download e abrir o aplicativo (Apps) em seu smartphone e fazer um registro dos dados biométricos faciais, não há necessidade de incluir qualquer informação adicional. Mesmo o número localizador é necessária. Assim, para o seguinte curso, check-in pode ser feito na implementação de reconhecimento facial sozinho com o cliente.
A empresa investiu em novos recursos em seu aplicativo móvel para chegar mais perto do consumidor e dar aos passageiros um processo de viagem cada vez mais simples e rápido, com destaque para os empresários brasileños.El selfie check-in foi implementado em parceria com Fullface soluções biométricas, firma que ofereceu a tecnologia de reconhecimento facial.
Entrada aplicações selfie em outros lugares
Delta Air Lines está a implementar este recurso na área de Minneapolis-St Paul Airport, onde os passageiros podem verificar em sua bagagem se. Aeroportos em Amsterdã e Brisbane também tratar varreduras faciais o processo de verificação. A \ W
Ξ A I R G W A Y S Ξ
SOURCE:  Airgways.com
DBk:  Voegol.com.br
AW-POST: 201707031017AR
A\W   A I R G W A Y S ®