AW | 2017 07 22 14:57 | AIRLINES / GOVERNMENT
El Banco Mundial condenó al Estado Argentino a pagar esa suma al Grupo Marsans, que manejaba la empresa hasta la nacionalización de 2008
El Tribunal Arbitral del Banco Mundial a cargo del CIADI Centro Internacional de Arreglo de Diferencias relativas a Inversiones, una institución del Banco Mundial
con sede en Washington, dictó sentencia a favor del extinto Grupo Marsans en relación a la nacionalización de Aerolíneas Argentinas en 2008 por parte del Gobierno nacional.
Nueve años después de la expropiación de la línea aérea al grupo español, la indemnización que deberá pagar Argentina es de unos 320 millones de dólares más intereses. Consideró que la expropiación, en 2008, causó daños a Marsans ya que no se pagó por el valor que tenía entonces
En el mundo del derecho privado existe el beneficio de inventario, una manera de aceptar una herencia por la cual los herederos no se hacen cargo con su patrimonio de las deudas del fallecido. En el derecho público eso no pasa y los gobiernos heredan al anterior.
El Estado argentino tendrá que pagar por las formas y los actos de los gobiernos de Néstor y Cristina Kirchner. A última hora de anoche, el tribunal arbitral del Banco Mundial (Ciadi, según las siglas en inglés) condenó al Estado argentino a desembolsar más de US$ 320 millones, más intereses, al grupo español Marsans por los daños que le infringió cuando -en 2008- expropió Aerolíneas Argentinas, Austral, Aerohanding, Optar y Jet Paq.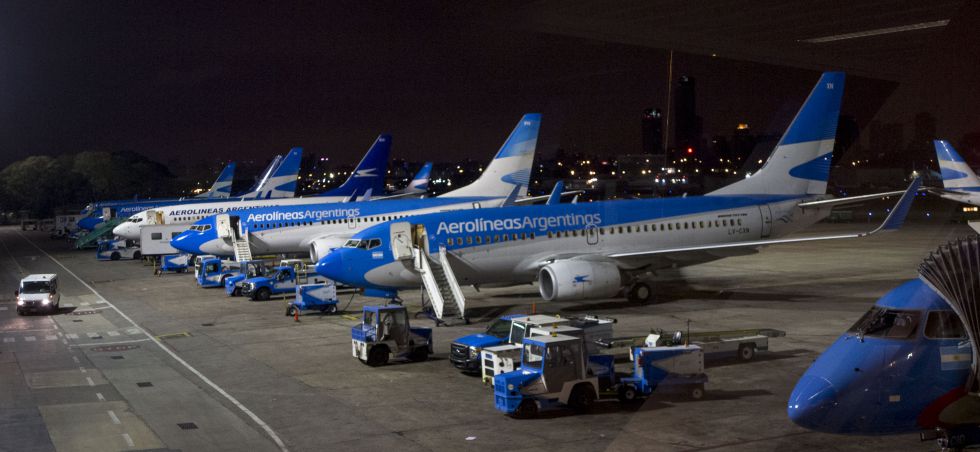 En el Gobierno esperaban novedades ya que el 25 de enero de este año, el tribunal arbitral se dio un plazo de 180 días para dictar el laudo. Cuidadosos de los tiempos, los árbitros decidieron en tiempo y forma. Anoche, la comunicación llegó a los abogados del Estado.
El Ciadi dijo que «el demandado incumplió el artículo IV del Tratado al no haber entregado a las demandantes un trato justo y equitativo de sus inversiones». Además, citó otros artículos referidos a la violación por parte de la Argentina del tratado de protección de inversiones.
En un laudo de más de 500 páginas, el tribunal condenó al país a pagar 23,76 millones de dólares más intereses a los demandantes en conceptos de compensación por los daños causados por la expropiación.
El traspaso de Aerolíneas se realizó en medio de fuertes polémicas. El gobierno kirchnerista tomó la empresa y mandó un proyecto para declararla de interés público. Esa ley le entregó facultades al Ministerio de Planificación para que sea el ejecutor del Congreso. Con amplia mayoría, tanto diputados como senadores aprobaron el proyecto. Luego se pidió al Tribunal de Tasaciones de la Nación que valuara los activos. Ese trabajo entregó un valor negativo de 832 millones de dólares, muy lejos de los 600 millones de dólares que decía Marsans que valía el grupo de compañías.
Como las partes no se pusieron de acuerdo, poco después de la estatización se inició un juicio. Entonces, el Estado depositó un peso como valor simbólico y se hizo de la empresa. Pocos días antes de la primera audiencia en el Ciadi, el juez en lo Contencioso Administrativo Federal Enrique Lavié Pico reconoció el derecho del Estado a la expropiación de acciones de las empresas Aerolíneas Argentinas y Austral Líneas Aéreas, que en 2008 estaban en poder de la firma Interinvest Sociedad Anónima.
En ese expediente se tomó como válido el trabajo que hizo en 2008 el Tribunal de Tasación de la Nación y que estableció que al momento de la estatización las sociedades anónimas Optar, Jet Paq, Aero Handling, Aerolíneas Argentinas y Austral tenían un valor negativo de 3275 millones de pesos, equivalentes a 949,4 millones de dólares.
El Estado tomó el control de la empresa y colocó primero como presidente a Julio Alak y, después, a Mariano Recalde. Finalmente el Ciadi ubicó la vara más cerca de lo que pedía Marsans que de lo que estableció aquel Tribunal de Tasaciones.
El juicio empezó formalmente el 3 de marzo de 2014 cuando arrancaron las audiencias en el Banco Mundial. Fueron 15 días que terminaron con los alegatos de cada una de las partes. Poco después de aquella batería de audiencias en Washington, la defensa de la Argentina, comandada por la procuradora general del Tesoro, Angelina Abbona, y la Procuraduría de Criminalidad Económica y Lavado de Activos (Procelac), denunciaron a Marsans por vender el reclamo en el Ciadi a un fondo llamado Burford Capital. «Marsans reclamó al CIADI alegando perjuicios que habían sufrido por trato injusto y tiene un reclamo por más de 1400 millones de dólares. En realidad, el grupo Marsans es un deudor de la Argentina al haber dejado en una situación tan ruinosa a Aerolíneas Argentinas», dijo Abbona entonces.
La Argentina transitó el proceso de defensa con varios argumentos complicados de probar. El primero es que en varias oportunidades confundió la naturaleza jurídica de la empresa. Por caso, Aerolíneas Argentinas, más allá de la relación directa que tiene con el mundo aeronáutico del país, era un empresa privada, una sociedad anónima, no una concesión de servicio público. Por poner un ejemplo, desde el punto de vista jurídico no tiene diferencia con el status de Lan Argentina. Por lo tanto, la desinversión afectaba en principio a los dueños.
Aergentina deberá pagar no solo la carga deficitaria de unos US$ 678 millones anuales en subsidios que recibió en promedio Aerolínes desde 2009 a 2015, además los US$ 350 millones por multa del CIADI. Es la herencia del kirchnerismo y las decisiones autoritarias de los gobiernos de turno. 
World Bank condemns Argentina for expropriation Aerolíneas Argentinas
The World Bank condemned the Argentine State to pay that amount to the Marsans Group, which operated the company until the nationalization of 2008
The World Bank Arbitration Tribunal in charge of the International Center for
Settlement of Investment Disputes (ICSID), a World Bank institution based in Washington, ruled in favor of the former Marsans Group in connection with the nationalization of Aerolíneas Argentinas in 2008 by the national government. Nine years after the expropriation of the airline to the Spanish group, the compensation to be paid Argentina is about 320 million dollars plus interest. It considered that the expropriation, in 2008, caused damages to Marsans since it was not paid by the value that had then
In the world of private law there is the benefit of inventory, a way of accepting an inheritance by which heirs do not take over their estate from the debts of the deceased. In public law this does not happen and governments inherit the former.
The Argentine State will have to pay for the forms and acts of the governments of Néstor and Cristina Kirchner. Late last night, the World Bank arbitration tribunal (ICSID) condemned the Argentine state to pay more than $ 320 million, plus interest, to the Spanish group Marsans for the damages it inflicted on it when 2008- expropió Aerolíneas Argentinas, Austral, Aerohanding, Optar and Jet Paq.
In the Government expected news since on January 25 of this year, the arbitral tribunal was given a period of 180 days to issue the award. Careful of the times, the referees decided in time and form. Last night, the communication reached the lawyers of the State.
ICSID stated that «the defendant breached Article IV of the Treaty by failing to provide the applicants with fair and equitable treatment of their investments». He also cited other articles referring to the violation by Argentina of the investment protection treaty.
In an award of more than 500 pages, the court condemned the country to pay $ 23.76 million plus interest to the plaintiffs in compensation for damage caused by the expropriation.
The transfer of Aerolíneas took place amidst strong controversy. The Kirchner government took the company and sent a project to declare it of public interest. That law gave authority to the Ministry of Planning to be the executor of the Congress. With a large majority, both deputies and senators approved the project. The Court of Appeals of the Nation was then asked to value the assets. That work gave a negative value of 832 million dollars, far from the 600 million dollars that Marsans said that the group of companies was worth.
As the parties did not agree, soon after the nationalization began a trial. Then, the State deposited a peso as a symbolic value and was made of the company. A few days before the first hearing in the ICSID, Federal Administrative Judge Enrique Lavié Pico acknowledged the right of the State to expropriation of shares of companies Aerolíneas Argentinas and Austral Líneas Aéreas, which in 2008 were held by the firm Interinvest Sociedad Anónima.
In that file was taken as valid the work done in 2008 by the National Appraisal Tribunal and established that at the time of nationalization the companies Optar, Jet Paq, Aero Handling, Aerolíneas Argentinas and Austral had a negative value of 3275 Million pesos, equivalent to 949.4 million dollars.
The state took control of the company and first placed Julio Alak as president and then Mariano Recalde. Finally, the ICSID placed the rod closer to what Marsans demanded than it did at the Valuation Court.
The trial began formally on March 3, 2014 when hearings were started at the World Bank. It was 15 days that ended with the allegations of each of the parties. Shortly after that battery of hearings in Washington, the defense of Argentina, commanded by Attorney General of the Treasury, Angelina Abbona, and the Prosecutor of Economic Crime and Money Laundering (Procelac), denounced Marsans for selling the claim in the Ciadi to a fund called Burford Capital. «Marsans claimed the ICSID alleging damages that had suffered unfair treatment and has a claim for more than $ 1.4 billion. In fact, the Marsans group is a debtor of Argentina having left such a ruinous situation to Aerolíneas Argentinas, Said Abbona then.
Argentina went through the defense process with several complicated arguments to prove. The first is that on several occasions he confused the legal nature of the company. In any case, Aerolíneas Argentinas, beyond its direct relationship with the aeronautical world of the country, was a private company, a corporation, not a public service concession. To give an example, from the legal point of view has no difference with the status of Lan Argentina. Therefore, the divestment affected in principle the owners.
Aergentina will have to pay not only the deficit load of about US $ 678 million per year in subsidies received on average Aerolínes from 2009 to 2015, plus the US $ 350 million per fine of the ICSID. It is the inheritance of kirchnerismo and the authoritarian decisions of the governments of the day. A \ W
Ξ A I R G W A Y S Ξ
SOURCE:  Airgways.com
DBk:  Airgways.com Ricardo Ceppi / Charly Diaz Azcue
AW-POST: 201707221457AR
A\W   A I R G W A Y S ®