AW | 2017 12 02 19:24 | AIRLINES
El primer avión Boeing 737-800 de Flybondi arribó a Argentina
La primer aeronave de la compañía Flybondi ha arribado el viernes a la noche al Aeropuerto Internacional Córdoba (SACO/COR). El Boeing 737-800 con registro aeronáutico LV-HKS llegó en medio de gran expectación entre los entusiastas.
Después de un largo programa de viaje desde Singapore donde la aeronave fue reacondicionada, arribó a Argentina el primer Boeing 737-800 Next Generation. La aeronave será afectada próximamente para los vuelos desde el Aeropuerto Córdoba, su segunda Base de Operaciones. El primer vuelo establecido conectará Córdoba-Mendoza. Flybondi comenzará la venta de tickets en unas semanas.
"La fecha que tenemos para volar desde El Palomar es la última semana de enero. Apenas esté abierto vamos a volar desde Córdoba a El Palomar, y con el segundo avión desde El Palomar a otros destinos. Mientras, desde Córdoba vamos a ir a Mendoza, Bariloche, Iguazú, y también desde Mendoza a Bariloche e Iguazú, que hoy no existen", aclara Cook.
Flybondi cuenta con 140 empleados hasta la fecha. La primer aeronave comenzará sus operaciones en semanas. A principios de Enero 2018 arribará el segundo Boeing 737-800, y entre Enro-Febrero 2018 incorporará dos Boeing 737-800 adicionales.  
Arrive to Argentina 1st B737-800 Flybondi
The first Boeing 737-800 aircraft from Flybondi arrived in Argentina
The first aircraft of the Flybondi company arrived on Friday night at the Cordoba International Airport (SACO / COR). The Boeing 737-800 with aeronautical registration LV-HKS arrived in the midst of great excitement among the enthusiasts.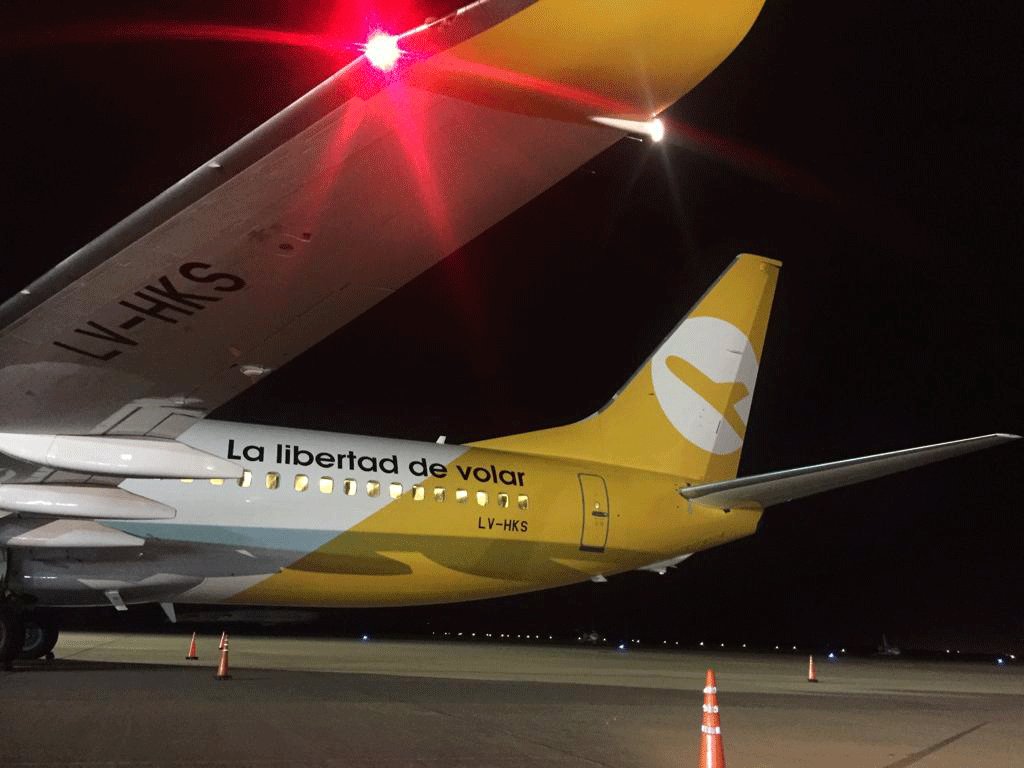 After a long travel program from Singapore where the aircraft was reconditioned, the first boeing 737-800 Next Generation arrived in Argentina. The aircraft will be affected soon for flights from Córdoba Airport, its second Base of Operations. The first established flight will connect Córdoba-Mendoza. Flybondi will start selling tickets in a few weeks.
«The date we have to fly from El Palomar is the last week of January. As soon as it is open we will fly from Córdoba to El Palomar, and with the second plane from El Palomar to other destinations. Meanwhile, from Córdoba we will go to Mendoza, Bariloche, Iguazú, and also from Mendoza to Bariloche and Iguazú, which today do not exist», clarifies Cook.
Flybondi has 140 employees to date. The first aircraft will begin operations in weeks. At the beginning of January 2018 the second Boeing 737-800 will arrive, and between Enro-February 2018 will incorporate two additional Boeing 737-800. A \ W
Ξ A I R G W A Y S Ξ
SOURCE:  Airgways.com
DBk: Flybondi.com
AW-POST: 201712021924AR
A\W   A I R G W A Y S ®