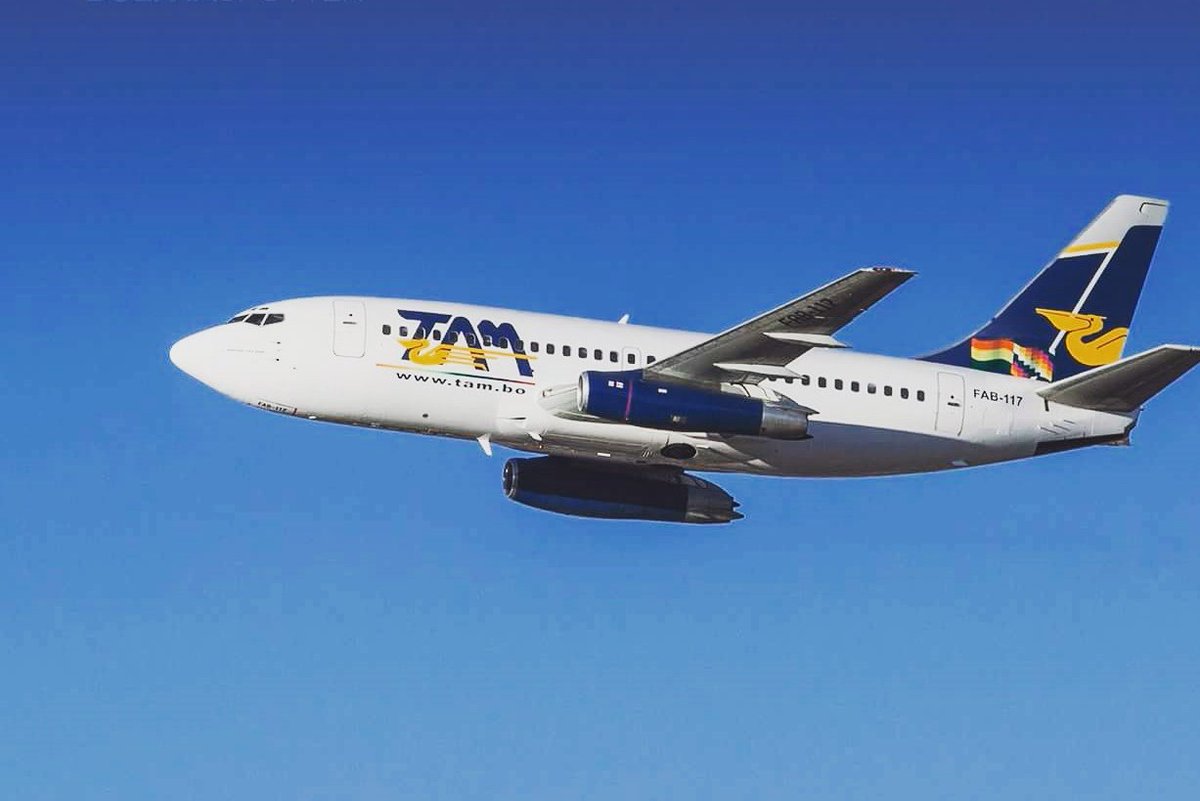 AW | 2017 12 23 17:23 | AIRLINES
Tras 72 años de servicio Transportes Aéreos Militares de Bolivia podría cesar sus operaciones
La Empresa Pública Comercial de Transportes Aéreos Militares, (EPTAM) concluirá sus opercaiones comerciales. El presidente de la comisión de Planificación, Política Económica y Finanzas, Javier Zavaleta, expresó su preocupación por la incapacidad de Transporte Aéreo Militar de gestionar una certificación de operaciones comerciales ante la Dirección General de Aeronáutica Civil (DGAC). El parlamentario oficialista, manifestó sus temores ante las acciones de regulación de la aeronáutica civil en Bolivia, y concretamente refirió a las fallas que ha registrado la empresa BoA, durante la gestión.
"Lo que me preocupa en realidad es toda la aeronáutica en general, las fallas de BoA, en los últimos meses, sumado a la incapacidad del TAM de lograr sus licencias. Nos muestra poca planificación y regulación de la DGAC", sostuvo el legislador.
"Hay algo que está marchando mal en la aeronáutica civil boliviana", advirtió el diputado, sin precisar qué aspectos están fallando y anunció que en la Asamblea Legislativa existen muchas peticiones de informe que en la gestión 2018 se dará prioridad.
Se refirió al tema a propósito del anunció de Transporte Aéreo Militar, para suspender operaciones el 31 de diciembre en el entendido de que no pudo lograr la certificación de la Dirección General de Aeronáutica Civil (DGAC), para que opere como aerolínea en el ámbito civil comercial.
Según un comunicado, la empresa militar especificó que el Decreto Supremo Nº 3074, aprobado el primero de febrero de 2017, le dio 150 días para que cumpla con los requisitos y se adecue a la regulación civil. La aerolínea inició este proceso en 2015, cuando el 21 de enero de ese año tramitó la pre solicitud a la Dirección de Aeronáutica Civil para comenzar los trámites para acceder al Certificado de Operación Aérea (COA), según dijo entonces un matutino cruceño. Vencido ese plazo, el Ministro de Defensa, Reymi Ferreira, convocó a la prensa para informar acerca del tercer plazo concedido de seis meses adicionales a las autoridades del TAM para que concluyan la certificación ante la DGAC, mismo que debió concluir el 31 de Diciembre de 2017.
El Gerente del TAM, Julio César Villarroel anunció, inversiones del orden de B$ 28 millones para la adquisición de dos aeronaves y se fijó este año para concluir las operaciones de alquiler de los aparatos.
Estos recursos fueron presupuestados en el ejercicio fiscal de 2017, y contemplaba una asignación de B$ 16 millones (U$D 2.7 millones) para el alquiler de dos naves, cuyo trámite de acreditación ante la Dirección General de Aeronáutica Civil (DGAC) concluirá en diciembre próximo, informó en la rendición de cuentas parcial el 24 de mayo pasado. Inclusive dijo, es probable que se contrate una tercera nave. "Luego de la respectiva acreditación, la nueva empresa podrá operar en la siguiente gestión, como aerolínea comercial en Bolivia", señaló entonces Villarroel.
El Presupuesto General del Estado 2017 asignó este año al TAM Bs 370 millones, según el informe de rendición de cuentas de mayo. Este dato fue comentado por el ministro Ferreira cuando anunció el último plazo a mediados del año. Villarroel se comprometió ante los medios a subir la presentación al portal web de la compañía, pero lamentablemente incumplió ese compromiso. Al cumplirse la segunda rendición final de cuentas donde informó la suspensión de operaciones, supuestamente en razón al congelamiento de cuentas, tampoco ha transparentado su informe en el portal del TAM.
El alquiler de las aeronaves estaba en curso a mediados de año. Uno de los aparato llegó a Cochabamba en julio. En esa ocasión las autoridades de la aerolínea dieron por hecha la certificación de las naves. El aparato que llegó a Cochabamba es una aeronave de fabricación inglesa, BAe Avro RJ70. Las dos aeronaves serían las primeras en incorporarse a la nueva empresa estatal que debió concluir sus trámites el 31 de diciembre para comenzar a operar como empresa comercial desde el 1 de enero de 2018.  
TAM Bolivia could close operations
After 72 years of service Bolivian Military Air Transport will close
The Commercial Public Company of Military Air Transport (EPTAM) will conclude its commercial operations. The chairman of the Planning, Economic Policy and Finance Committee, Javier Zavaleta, expressed his concern about the inability of the Military Air Transport to manage a certification of commercial operations before the Directorate General of Civil Aeronautics (DGAC). The parliamentary official, expressed his fears about the actions of regulation of civil aeronautics in Bolivia, and specifically referred to the failures that has registered the BoA company, during the management.
«What really worries me is all the aeronautics in general, the failures of BoA, in recent months, added to the inability of TAM to achieve their licenses. It shows little planning and regulation of the DGAC», said the legislator.
«There is something that is going badly in the Bolivian civil aeronautics», warned the deputy, without specifying what aspects are failing and announced that in the Legislative Assembly there are many requests for report that in the 2018 administration will be given priority.
He referred to the issue of the announcement of Military Air Transport, to suspend operations on December 31 on the understanding that he could not achieve the certification of the Directorate General of Civil Aeronautics (DGAC), to operate as an airline in the civil field commercial.
According to a statement, the military company specified that Supreme Decree No. 3074, approved on February 1, 2017, gave 150 days to comply with the requirements and be adapted to civil regulation. The airline started this process in 2015, when on January 21 of that year it processed the pre-application to the Directorate of Civil Aeronautics to begin the procedures to access the Air Operation Certificate (COA), as it was said by a morning Cruceño. After that period, the Minister of Defense, Reymi Ferreira, called the press to inform about the third term granted of six additional months to the TAM authorities to complete the certification before the DGAC, which should have concluded on December 31st. 2017
The Manager of the TAM, Julio César Villarroel announced, investments in the order of B$ 28 million for the acquisition of two aircraft and was set this year to complete the rental operations of the devices.
These resources were budgeted in the fiscal year of 2017, and contemplated an allocation of B$ 16 million (US$ 2.7 million) for the rental of two ships, whose accreditation process before the General Directorate of Civil Aeronautics (DGAC) will conclude in next December, reported on the partial surrender of accounts on May 24 last. Even said, it is likely that a third ship will be hired. «After the respective accreditation, the new company may operate in the following management, as a commercial airline in Bolivia», said Villarroel then.
The General State Budget for 2017 assigned this year to the TAM B$ 370 million, according to the May accountability report. This information was commented by Minister Ferreira when he announced the last deadline in the middle of the year. Villarroel committed himself before the media to upload the presentation to the company's web portal, but unfortunately he failed to fulfill that commitment. At the end of the second final account submission where he reported the suspension of operations, supposedly due to the freezing of accounts, he has not disclosed his report on the TAM portal.
Aircraft rental was in progress mid-year. One of the aircraft arrived in Cochabamba in July. On that occasion the authorities of the airline assumed certification of the ships. The aircraft that arrived in Cochabamba is an English-made aircraft, BAe Avro RJ70. The two aircraft would be the first to join the new state-owned company that had to complete its procedures on December 31 to begin operating as a commercial company from January 1, 2018. A \ W
Ξ A I R G W A Y S Ξ
SOURCE:  Airgways.com
DBk: Tam.bo / Wikimedia.org
AW-POST: 201712231723AR
A\W   A I R G W A Y S ®