AW | 2018 01 27 17:14 | INDUSTRY
Bombardier Inc. ha logrado una victoria sobre las ventas del CSeries a Delta Air Lines

La Comisión de Comercio Internacional de los EEUU (USITC) ha votado unánimemente a favor de Bombardier y en contra de la afirmación de Boeing de que la venta a las líneas aéreas de la próxima generación de la CSeries CS-100 a Delta Air Lines dañó injustamente las ventas de su rival Boeing 737-700.
Boeing y Bombardier han estado en una disputa comercial por la venta de 75 aviones de la CSeries a Delta en 2016. El acuerdo también incluye una opción para 50 aviones adicionales.
Disputa comercial Boeing-Bombardier
Boeing presentó una queja ante el Departamento de Comercio de EEUU en Abril 2017 alegando que su negocio se vio perjudicado cuando Delta recibió precios antinaturalmente bajos en los aviones Bombardier, que solo se hicieron posibles a través de los subsidios del gobierno canadiense.
«La Comisión de Comercio Internacional de los Estados Unidos (USITC) determinó hoy que una industria de los EEUU no está gravemente herida o amenazada con un daño importante debido a las importaciones de aeronaves civiles de gran tamaño de 100 a 150 asientos de Canadá que el Departamento de Comercio de los EEUU ha determinado que están subsidiados y vendidos a un valor inferior al valor justo. Como resultado de las determinaciones negativas de la USITC, no se emitiron órdenes antidumping o compensatorias», informó el comunicado.
Boeing necesitaba solo dos de los cuatro comisionados de ITC para votar, pero Bombardier necesitó tres. Los cuatro votaron a favor de Bombardier. Esta votación anula una tarifa de 299.45% para los aviones de la CSeries del fabricante canadiense Bombardier con destino a Estados Unidos, propuesta por el Departamento de Comercio en Octubre 2017.
Bombardier dijo: «La decisión de hoy es una victoria para la innovación, la competencia y el estado de derecho. También es una victoria para las aerolíneas estadounidenses y el público estadounidense que viaja. La CSeries es la nueva aeronave más innovadora y eficiente en una generación. Su desarrollo y producción representan miles de empleos en los Estados Unidos, Canadá y el Reino Unido. Estamos muy orgullosos de nuestros empleados, inversionistas y proveedores que vienen trabajaron juntos para traer este notable avión al mercado. Con este asunto a nuestras espaldas, avanzamos a toda velocidad con la finalización de nuestra asociación con Airbus. La planificación de la integración va bien, y esperamos ofrecer la CSeries al mercado estadounidense para que las aerolíneas estadounidenses y el público estadounidense puedan disfrutar los muchos beneficios de este notable avión».
Boeing expresó su decepción por el hecho de que el ITC no reconoció el daño que Boeing ha sufrido por los miles de millones de dólares en subsidios gubernamentales ilegales. El gigante de la aviación con sede en Chicago también dijo que estaba en desacuerdo con el fallo y que continuaría documentando casos de daños a su negocio por lo que dijo eran subsidios ilegales y comportamiento de dumping. Boeing aún podría apelar la decisión del ITC en el sistema judicial estadounidense o en la Organización Mundial del Comercio.
Bombardier y Delta han argumentado que el Boeing 737-700 es un avión significativamente más grande que los jets CS100 ordenados por Delta y por lo tanto no compite en el mismo segmento de mercado y no podría dañar a Boeing con sistemas de ventas atractivas.
Luz verde para el CSeries
El CS100 está configurado para transportar a 100 pax. Boeing no ha producido un avión comercial con asientos de 100 a 110 desde que decidió dar de baja la producción del Boeing 717.
Delta Air Lineas opera aproximadamente el 60% de los Boeing 717-200 existentes en el mercado mundial, ha dicho que una parte de los CS100 ordenados se destinará a reemplazar los Boeing 717 más antiguos.
El CEO de Delta, Ed Bastian, expresó recientemente que la contraoferta de Boeing a Bombardier involucraba un lote de 20 aviones regionales brasileños Embraer de segunda mano.
«Delta se complace por el fallo de la Comisión de Comercio Internacional de los Estados Unidos que rechaza el intento anticompetitivo de Boeing de negarle a las aerolíneas estadounidenses y a Estados Unidos el acceso público al moderno avión CS100 de 110 asientos cuando Boeing no ofrece ninguna alternativa viable», dijo Delta. dijo en un comunicado. «La aerolínea espera presentar el innovador CS100 a su flota para el beneficio de los empleados, clientes y accionistas de Delta».
Se espera que Delta reciba sus primeros aviones de la CSeries en 2Q2018. El lote inicial de aviones CS100 de la aerolínea probablemente esté en Nueva York y Los Ángeles.
En Octubre 2018, Airbus adquirió una participación mayoritaria en el programa de la CSeries de Bombardier y anunció planes para trasladar la producción de aviones de a Estados Unidos a su planta en Mobile, Alabama.

Bombardier defiende el plan de producción de Alabama
El fallo reciente afectará el acuerdo Bombardier-Airbus para bien. El Presidente Ejecutivo, Alain Bellemare, dijo que Bombardier aún planea seguir adelante con una línea de ensamblaje de Alabama, Estados Unidos, después de que obtuvo un beredicto favorable sobro los aranceles impuestos arbitrariamente de casi el 300% sobre los productos de la CSeries, ganando una disputa comercial con Boeing leste viernes.
En Octubre 2017, la compañía aeroespacial europea Airbus acordó tomar una participación mayoritaria en los aviones de la CSeries (CS-100/CS-300) y dijo que el avión se fabricaría en Mobile, Alabama, donde Airbus ensamblará algunos de sus aviones de fuselaje estrecho.
«Estamos comprometidos a crear empleos en los EEUU», dijo Alain Bellemare informando que recientemente se reunió con su homólogo de Airbus para discutir el plan de integración de las compañías. «Estamos haciendo un montón de trabajo en los EEUU y haremos más al poner la línea de montaje en Mobile, Alabama».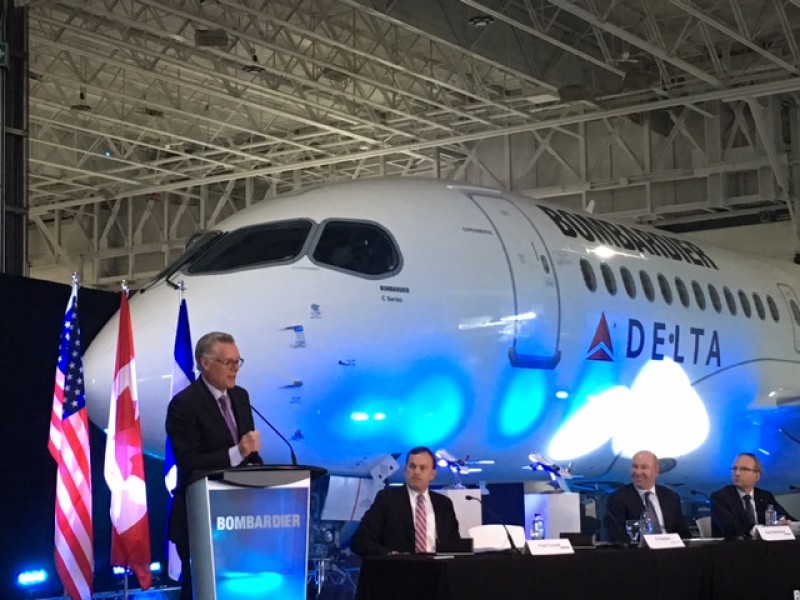 Bombardier gets favorable ruling from CSeries
Bombardier Inc. has achieved a victory over CSeries sales to Delta Air Lines
The US International Trade Commission (USITC) voted unanimously in favor of Bombardier and against Boeing's claim that the sale to airlines of the next generation of the CSeries CS-100 to Delta Air Lines unfairly damaged the sales of its rival Boeing 737-700.
Boeing and Bombardier have been in a commercial dispute over the sale of 75 CSeries aircraft to Delta in 2016. The agreement also includes an option for 50 additional aircraft.
Boeing-Bombardier commercial dispute
Boeing filed a complaint with the US Department of Commerce in April 2017 alleging that its business was damaged when Delta received unnaturally low prices on Bombardier aircraft, which were only made possible through Canadian government subsidies.
«The United States International Trade Commission (USITC) ruled today that a US industry is not seriously injured or threatened with material injury due to imports of large civil aircraft from 100 to 150 seats in Canada that the The US Department of Commerce has determined that they are subsidized and sold at a value below fair value.As a result of the negative determinations of the USITC, no antidumping or countervailing orders were issued», the statement said.
Boeing needed only two of the four ITC commissioners to vote, but Bombardier needed three. The four voted in favor of Bombardier. This vote cancels a rate of 299.45% for the aircraft of the CSeries of the Canadian manufacturer Bombardier bound for the United States, proposed by the Department of Commerce in October 2017.
Bombardier said: «Today's decision is a victory for innovation, competition and the rule of law, it is also a victory for US airlines and the traveling American public.» The CSeries is the most innovative and efficient new aircraft in the world. Its development and production represent thousands of jobs in the United States, Canada and the United Kingdom.We are very proud of our employees, investors and suppliers who have worked together to bring this remarkable aircraft to the market. We are advancing at full speed with the completion of our partnership with Airbus, the integration planning is going well, and we hope to offer the CSeries to the US market so that American airlines and the American public can enjoy the many benefits of this remarkable aircraft».
Boeing expressed disappointment that the ITC did not recognize the damage that Boeing has suffered from the billions of dollars in illegal government subsidies. The Chicago-based aviation giant also said it disagreed with the ruling and would continue to document cases of damage to its business for what it said were illegal subsidies and dumping behavior. Boeing could still appeal ITC's decision in the US judicial system or in the World Trade Organization.
Bombardier and Delta have argued that the Boeing 737-700 is a significantly larger aircraft than the CS100 jets ordered by Delta and therefore does not compete in the same market segment and could not damage Boeing with attractive sales systems.
Green light for the CSeries

The CS100 is configured to carry 100 pax. Boeing has not produced a commercial aircraft with seats of 100 to 110 since it decided to cancel the production of the Boeing 717.
Delta Air Lineas operates approximately 60% of the Boeing 717-200 existing in the world market, has said that part of the CS100 ordered will be used to replace the older Boeing 717.
Delta CEO Ed Bastian recently said Boeing's counteroffer to Bombardier involved a batch of 20 second-hand Brazilian Embraer regional aircraft.
«Delta is pleased by the failure of the US International Trade Commission to reject Boeing's anti-competitive bid to deny US and US airlines public access to the modern 110-seat CS100 aircraft when Boeing offers no viable alternative», said Delta. he said in a statement. «The airline expects to present the innovative CS100 to its fleet for the benefit of Delta employees, customers and shareholders».
Delta is expected to receive its first CSeries aircraft in 2Q2018. The initial batch of aircraft CS100 of the airline is probably in New York and Los Angeles.
In October 2018, Airbus acquired a majority stake in Bombardier's CSeries program and announced plans to move aircraft production from the United States to its plant in Mobile, Alabama.
Bombardier defends the production plan of Alabama
The recent ruling will affect the Bombardier-Airbus agreement for good. Executive President Alain Bellemare said that Bombardier still plans to move forward with an assembly line in Alabama, United States, after it obtained a favorable ruling on tariffs imposed arbitrarily of almost 300% on products of the CSeries, winning A commercial dispute with Boeing leste Friday.
In October 2017, the European aerospace company Airbus agreed to take a majority stake in the CSeries aircraft (CS-100/CS-300) and said the aircraft would be manufactured in Mobile, Alabama, where Airbus will assemble some of its fuselage aircraft narrow.
«We are committed to creating jobs in the US», said Alain Bellemare, who recently met with his Airbus counterpart to discuss the company's integration plan. «We are doing a lot of work in the US and we will do more by putting the assembly line in Mobile, Alabama», A\W
Bombardier obtient une décision favorable de CSeries
Bombardier Inc. a remporté une victoire sur les ventes de CSeries à Delta Air Lines
La Commission du Commerce International des États-Unis (USITC) a unanimement voté en faveur de Bombardier et contre la demande de Boeing que la vente aux compagnies aériennes des CSeries CS-100 de prochaine génération Delta Air Lines blessé injustement les ventes de son rival Boeing 737-700.
Boeing et Bombardier ont eu un différend commercial concernant la vente de 75 avions CSeries à Delta en 2016. L'entente comprend également une option pour 50 avions supplémentaires.
Conflit commercial entre Boeing et Bombardier
Boeing a déposé une plainte auprès du ministère du Commerce en Avril 2017 affirmant que son entreprise a été blessé quand Delta a reçu des prix anormalement bas dans les avions Bombardier, qui ont été rendu possible grâce à des subventions du gouvernement canadien.
«La Commission du commerce international des États-Unis (USITC) a statué aujourd'hui qu'une industrie américaine n'est pas gravement blessée ou menacée de subir un préjudice important en raison des importations de gros avions civils de 100 à 150 sièges au Canada que la Département du commerce des États-Unis a déterminé sont subventionnées et vendues à moins de la juste valeur de la valeur. en conséquence des décisions négatives de l'USITC, pas antidumping ou compensateurs emitiron commandes», selon le communiqué.
Boeing n'avait besoin que de deux des quatre commissaires de l'ITC pour voter, mais Bombardier en avait besoin de trois. Les quatre ont voté en faveur de Bombardier. Ce vote annule un taux de 299,45% pour l'avion de la CSeries du constructeur canadien Bombardier à destination des États-Unis, proposé par le ministère du Commerce en octobre 2017.
Bombardier a déclaré: «La décision d'aujourd'hui est une victoire pour l'innovation, la concurrence et l'Etat de droit est aussi une victoire pour American Airlines et le public américain se déplace est le plus CSeries innovant et efficace de nouveaux appareils à la fois .. Son développement et sa production représentent des milliers d'emplois aux États-Unis, au Canada et au Royaume-Uni. Nous sommes très fiers de nos employés, investisseurs et fournisseurs qui ont travaillé ensemble pour mettre sur le marché cet appareil remarquable. la vitesse ainsi que la réalisation de notre partenariat avec Airbus. la planification de l'intégration va bien, et nous espérons offrir les CSeries le marché américain pour les compagnies aériennes des États-Unis et le public américain pour profiter des nombreux avantages de cet appareil remarquable».
Boeing s'est dit déçu que l'ITC n'ait pas reconnu les dommages subis par Boeing à cause des milliards de dollars de subventions gouvernementales illégales. Le géant de l'aviation basé à Chicago a également dit qu'il était en désaccord avec la décision et continuerait à documenter les cas de dommages à ses affaires pour ce qu'il a dit étaient des subventions illégales et des comportements de dumping. Boeing pourrait encore faire appel de la décision de l'ITC dans le système judiciaire américain ou dans l'Organisation mondiale du commerce.
Bombardier et Delta ont fait valoir que le Boeing 737-700 est un avion beaucoup plus grand que les jets CS100 commandés par Delta et par conséquent ne sont pas en concurrence dans le même segment de marché et ne nuirait pas à Boeing systèmes de vente attractifs.
Feu vert pour les CSeries
Le CS100 est configuré pour transporter 100 personnes. Boeing n'a pas produit d'avion commercial avec des sièges de 100 à 110 puisqu'il a décidé d'annuler la production du Boeing 717.
Delta Air Lineas exploite environ 60% du Boeing 717-200 existant sur le marché mondial, a déclaré qu'une partie du CS100 commandé sera utilisé pour remplacer l'ancien Boeing 717.
Le PDG de Delta Ed Bastian a récemment déclaré que la contre-offre de Boeing à Bombardier concernait un lot de 20 avions régionaux brésiliens Embraer.
«Delta se réjouit de l'échec de l'US International Trade Commission à rejeter l'offre anticoncurrentielle de Boeing visant à empêcher les compagnies américaines et américaines d'accéder publiquement aux avions CS100 modernes de 110 places lorsque Boeing ne propose aucune alternative viable» dit Delta. il a dit dans une déclaration. «La compagnie aérienne s'attend à présenter l'innovante CS100 à sa flotte au profit des employés, des clients et des actionnaires de Delta».
Delta devrait recevoir ses premiers avions CSeries au 2T2018. Le lot initial de l'avion CS100 de la compagnie aérienne est probablement à New York et à Los Angeles.
En octobre 2018, Airbus a acquis une participation majoritaire dans le programme CSeries de Bombardier et annoncé son intention de transférer la production d'avions des États-Unis à son usine de Mobile, en Alabama.
Bombardier défend le plan de production de l'Alabama
La récente décision aura une incidence définitive sur l'entente entre Bombardier et Airbus. Le président exécutif, Alain Bellemare, a déclaré que Bombardier prévoit toujours d'aller de l'avant avec une chaîne de montage à Alabama, aux États-Unis, après avoir obtenu une décision favorable sur les tarifs imposés arbitrairement de près de 300% sur les produits des CSeries. un différend commercial avec Boeing leste vendredi.
En octobre 2017, la compagnie aéronautique européenne Airbus a accepté de prendre une participation majoritaire dans les avions CSeries (CS-100/CS-300) et a déclaré que l'avion serait fabriqué à Mobile, Alabama, où Airbus assemblera certains de ses avions de fuselage étroit.
«Nous nous sommes engagés à créer des emplois aux Etats-Unis», a déclaré Alain Bellemare, qui a récemment rencontré son homologue d'Airbus pour discuter du plan d'intégration de l'entreprise. «Nous faisons beaucoup de travail aux États-Unis et nous ferons plus en mettant la ligne d'assemblage à Mobile, en Alabama». A \ W
Ξ A I R G W A Y S Ξ
SOURCE:  Airgways.com
DBk: Bombardier.com / Airbus.com / Airgways.com / Ainonline.com / Patch.com / News1130.com / Reutersmedia.net 
AW-POST: 201801271714AR
A\W   A I R G W A Y S ®