AW | 2018 01 31 14:58 | INDUSTRY
La versión de largo alcance del mayor y más nuevo avión de pasillo único de Airbus el A321LR realizó su primer vuelo
El A321NEO LR inicial (MSN7877) ha regresado a Hamburg Finkenwerder, para realizar su vuelo inaugural, con una tripulación de seis personas, que llevó al twinjet sobre el Mar del Norte al norte de la costa holandesa. El primer vuelo incluyó controles básicos de manejo y sistemas de hasta 31,000pies y 300kt antes de una escalada adicional a 35,000pies para evaluar el manejo a alta velocidad, el trimado y la presurización en M0.78.
La versión reconfigurada del A321NEO de 185-230 asientos es capaz de transportar hasta 240 personas. Despegó de la fábrica de Airbus en Hamburgo, en el norte de Alemania, poco después de las 11:00 a.m. (1000 GMT) y aterrizó justo antes de las 2 p.m. (1300 GMT), dijeron los testigos.
Airbus dice que el jet es el avión de pasillo único de mayor alcance del mundo, capaz de volar hasta 4.000 millas náuticas cuando está configurado con 206 asientos, incluyendo camas planas.
Eso lo convierte en un candidato para reemplazar a los Boeing 757 de servicio largo que están a punto de retirarse. Pero Boeing está estudiando propuestas para superar el avión con un nuevo avión compacto de doble pasillo, diseñado para atender a un mercado más amplio de 200 a 270 asientos.
Configuración del mercado para el A321NEO
El A321LR combinará una nueva configuración de puerta para el fuselaje del A321 y el diseño 'Airbus Cabin Flex' que permite la instalación de hasta 240 asientos con la opción de tres tanques centrales adicionales, dos de popa y uno de proa, para ampliar el alcance.
ENSAMBLAJE FINAL DEL PRIMER AIRBUS A321NEO LR ACF EN FINKENWERDER, HAMBURGO, ALEMANIA
El tanque extra estira el alcance a unos 4.000nm. Típicamente para las operaciones en este rango, el avión estará equipado con alrededor de 175 asientos en dos clases, dice Roewe. Señala que los clientes que intentan tales operaciones de largo alcance también requieren características tales como tanques de desechos más grandes y sistemas de deshumidificación. Aunque fabricado estructuralmente para la configuración de peso máximo de despegue de 97t, el MSN7877 se ha equipado con solo dos tanques centrales adicionales; el tercero se instalará en los próximos días, según explica Klaus Roewe, Jefe de Programa del A320.
Airbus todavía tiene que identificar al primer cliente que recibirá el A321LR. Pero apunta a la certificación en el 2Q2018. La aeronave inicial, que presenta la nueva configuración de la puerta, se entregará a mediados de año, pero la primera A321LR completa entrará en servicio en el 4Q2018.
Airbus pretende simplificar las designaciones para las variantes bajo el nombre A321NEO, dado que el A321LR se convertirá en el estándar de construcción para el A321. Roewe dice que «reemplazará» al A321 actual alrededor de 2019.
La batalla por el mercado medio
Se espera que este año se decida si se lanzará o no el denominado avión de pasajeros de la mitad del mercado. Airbus ha vendido más que Boeing en el mercado de jets grandes de pasillo único por un margen de cuatro a uno y dice que el nuevo A321LR, con un peso mejorado de despegue de 97 toneladas, satisfará la demanda para reemplazar a los ancianos 757 y algunos 767.
Boeing dice que la oportunidad se extiende más allá del mercado de reemplazo 757 hasta los aviones con 270 asientos y sería mejor atendido por un avión completamente nuevo. Mientras tanto, ha presentado una versión más grande de su 737 MAX, y el año pasado vendió tres veces más a Airbus en aviones de largo alcance de gran capacidad.
Los oficiales de Boeing admiten que el A321LR vuela más lejos, pero dicen que depende de tres tanques de combustible auxiliares que absorben espacio, en lugar de uno para el Boeing 737-10 MAX en su versión de mayor alcance.
En un esfuerzo por anticiparse al posible lanzamiento de un nuevo jet Boeing, Airbus está trabajando en mejoras adicionales para el A321, incluso cuando se lleva a cabo la primera prueba del A321LR, dicen las fuentes de la industria.
Una persona familiarizada con los planes de Airbus expresó la semana pasada que estaba estudiando un nuevo aumento en el peso de despegue del A321NEO a 100 toneladas con la ayuda de ajustes al ala existente y un tren de aterrizaje más fuerte, que requieren más empuje del motor. Una segunda opción incluiría una nueva ala más ligera y más grande: algo que ahorra en el empuje del motor pero cuesta más para desarrollarse. Ambas opciones implicarían estirar el avión ligeramente para acomodar una o dos filas adicionales de asientos. 
Airbus A321LR completes its first flight
The long-range version of the largest and newest Airbus single aisle aircraft the A321LR made its first flight
The initial A321NEO LR (MSN7877) has returned to Hamburg Finkenwerder, to make its maiden flight, with a crew of six people, which took the twinjet over the North Sea to the north of the Dutch coast. The first flight included basic management controls and systems of up to 31,000pies and 300kt before an additional climb to 35,000pies to evaluate high-speed handling, trim and pressurization at M0.78.
The reconfigured version of the A321NEO of 185-230 seats is capable of transporting up to 240 people. It took off from the Airbus factory in Hamburg, in northern Germany, shortly after 11:00 a.m. (1000 GMT) and landed just before 2 p.m. (1300 GMT), witnesses said.
Airbus says the jet is the longest single-aisle aircraft in the world, capable of flying up to 4,000 nautical miles when configured with 206 seats, including flat beds.
That makes him a candidate to replace the long service Boeing 757 that is about to retire. But Boeing is studying proposals to overcome the plane with a new compact double aisle aircraft, designed to serve a larger market of 200 to 270 seats.
Market configuration for the A321NEO
The A321LR will combine a new door configuration for the fuselage of the A321 and the 'Airbus Cabin Flex' design that allows the installation of up to 240 seats with the option of three additional central tanks, two aft and one bow, to expand the range.
The extra tank stretches the range to about 4,000nm. Typically for operations in this range, the aircraft will be equipped with around 175 seats in two classes, says Roewe. He notes that customers attempting such long-range operations also require features such as larger waste tanks and dehumidification systems. Although structurally manufactured for the maximum takeoff weight configuration of 97t, the MSN7877 has been equipped with only two additional center tanks; the third will be installed in the next few days, says Klaus Roewe, Program Manager of the A320.
Airbus has yet to identify the first customer who will receive the A321LR. But it points to certification in 2Q2018. The initial aircraft, which presents the new configuration of the door, will be delivered mid-year, but the first full A321LR will enter service in 4Q2018.
Airbus aims to simplify the designations for variants under the name A321NEO, since the A321LR will become the building standard for the A321. Roewe says he will «replace» the current A321 by 2019.
The battle for the middle market
It is expected that this year it will be decided whether or not the so-called passenger plane of half the market will be launched.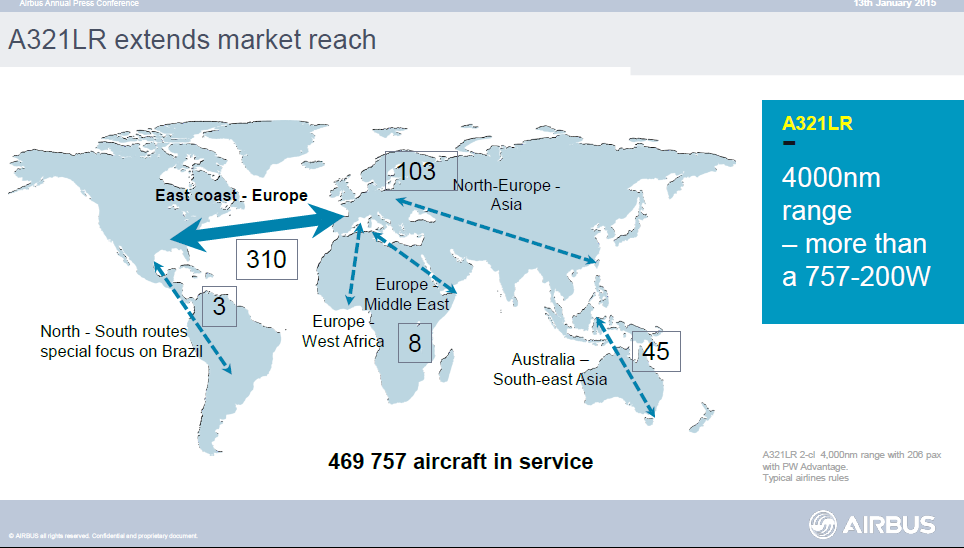 Airbus has sold more than Boeing in the single-aisle large jets market by a four-to-one margin and says the new A321LR, with an improved takeoff weight of 97 tonnes, will satisfy the demand to replace the elderly 757 and some 767
Boeing says the opportunity extends beyond the 757 replacement market to 270 seat aircraft and would be better served by a brand new aircraft. Meanwhile, it has presented a larger version of its 737 MAX, and last year it sold three more times to Airbus on long-range, high-capacity aircraft.
Boeing officials admit that the A321LR flies further, but they say it depends on three auxiliary fuel tanks that absorb space, instead of one for the Boeing 737-10 MAX in its longer-range version.
In an effort to anticipate the possible launch of a new Boeing jet, Airbus is working on additional improvements for the A321, even when the first test of the A321LR is carried out, industry sources say.
A person familiar with the plans of Airbus expressed last week that he was studying a new increase in the takeoff weight of the A321NEO to 100 tons with the help of adjustments to the existing wing and a stronger undercarriage, which require more thrust of the engine . A second option would include a new lighter and larger wing: something that saves on engine thrust but costs more to develop. Both options would involve stretching the aircraft slightly to accommodate one or two additional rows of seats. A \ W
Ξ A I R G W A Y S Ξ
SOURCE:  Airgways.com
DBk: Airbus.com / Aviationtoday.com / Airgways.com
AW-POST: 201801311458AR
A\W   A I R G W A Y S ®