AW | 2018 01 31 14:25 | AIRPORTS
Aeropuerto de Vilna iniciará modernización de su aeroestación
Aeropuerto de Vilna iniciará en Febrero 2018 la modernización de su terminal de € 60 millones de euros. Después de completar la reconstrucción de la pista en 2017, el Aeropuerto de Vilna se está moviendo hacia adentro con la reconstrucción de su terminal de pasajeros.
Para mantenerse al día con el crecimiento que ha excedido la capacidad en el aeropuerto más grande de Lituania, Vilna comenzará su reconstrucción de la terminal de pasajeros el próximo mes. La primera fase de la renovación está a punto de comenzar para Febrero. Según Olaf Martens, Director del Aeropuerto de Vilnius, el edificio actual de la terminal, que se inauguró en 2007, tiene una capacidad de 3,5 millones de pasajeros por año. Sin embargo, en 2016 y 2017, el tráfico de pasajeros creció a casi 3,8 millones por año. «Es por eso que se tomó la decisión de llevar a cabo la reconstrucción terminal. Después de la reconstrucción, se proporcionará a los pasajeros un servicio al cliente más rápido y más conveniente, así como un área comercial ampliada. La terminal reacondicionada también proporcionará mejores condiciones de trabajo para nuestros empleados», expresó el Director del aeropuerto de Vilnius.
La principal pasarela aérea de Lituania puede recibir hasta 20 mil pasajeros por día. Actualmente, el aeropuerto puede atender 9.5 mil pasajeros por día, en el período estival esta cantidad llega a 14-15 mil. La reconstrucción próxima consistirá en varias fases, de las cuales la última está programada para finalizar en 2021.
La modernización de la terminal comenzará con la reconstrucción del área estéril, que se completará hasta fines de 2018. Hasta 2020, la reconstrucción de la plataforma y la calle de rodaje se llevará a cabo junto con la transformación de la infraestructura de tránsito público del aeropuerto. La reconstrucción del área de salida de la terminal se llevará a cabo entre 2019 y 2021.
Martens dijo que la próxima reconstrucción es el segundo gran paso para la modernización de la entrada aérea del país principal. El primer paso fue la reconstrucción de la pista el año pasado, que tomó 35 días y finalizó según lo programado el 18 de agosto de 2017. El costo de la reconstrucción de la aeroestación se estima en € 60 millones de euros. La actualización y compra del equipo necesario costará alrededor de € 20 millones, y la reconstrucción de la plataforma y calle de rodaje € 12 millones.
El tráfico de pasajeros en constante crecimiento y el número de vuelos obligan al aeropuerto de Vilna a aumentar su capacidad una vez más. La primera vez que se amplió la pasarela aérea en 1993, cuando la terminal, construida en 1954, se conectó a la nueva terminal de salidas de pasajeros. Este último pudo servir a 1 millón de pasajeros por año. En 2007 , se abrió la terminal de pasajeros actual, que cumple con los requisitos del Acuerdo de Schengen.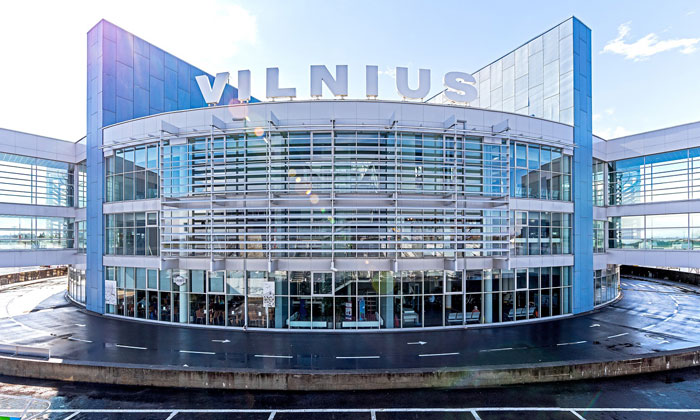 Vilnius Airport Modernization
Vilnius Airport will start modernization of his aerostation
Vilnius Airport will start in February 2018 the modernization of its € 60 million terminal. After completing the reconstruction of the runway in 2017, the Vilnius Airport is moving inwards with the reconstruction of its passenger terminal.
To keep up with the growth that has exceeded capacity at the largest airport in Lithuania, Vilna will begin its reconstruction of the passenger terminal next month. The first phase of the renovation is about to begin for February. According to Olaf Martens, Director of Vilnius Airport, the terminal's current building, which opened in 2007, has a capacity of 3.5 million passengers per year. However, in 2016 and 2017, passenger traffic grew to almost 3.8 million per year. «That is why the decision was made to carry out the terminal reconstruction After the reconstruction, passengers will be provided with faster and more convenient customer service, as well as an enlarged commercial area. The reconditioned terminal will also provide better working conditions for our employees», said Vilnius Airport Director.
The main air corridor in Lithuania can receive up to 20 thousand passengers per day. Currently, the airport can serve 9.5 thousand passengers per day, in the summer period this amount reaches 14-15 thousand. The next reconstruction will consist of several phases, of which the last one is scheduled to finish in 2021.
The modernization of the terminal will begin with the reconstruction of the sterile area, which will be completed until the end of 2018. Until 2020, the reconstruction of the platform and the taxiway will be carried out along with the transformation of the public transit infrastructure of the airport . The reconstruction of the exit area of ​​the terminal will take place between 2019 and 2021.
Martens said the next reconstruction is the second major step for the modernization of the main country's air entrance. The first step was the reconstruction of the runway last year, which took 35 days and ended as scheduled on August 18, 2017. The cost of the reconstruction of the airspace is estimated at € 60 million. The upgrade and purchase of the necessary equipment will cost around € 20 million, and the reconstruction of the platform and taxiway € 12 million.
The constantly growing passenger traffic and the number of flights force the Vilnius airport to increase its capacity once again. The first time the airbridge was extended in 1993, when the terminal, built in 1954, was connected to the new passenger departures terminal. The latter could serve 1 million passengers per year. In 2007, the current passenger terminal was opened, which meets the requirements of the Schengen agreement. A \ W
Ξ A I R G W A Y S Ξ
SOURCE:  Airgways.com
DBk: Aviation-times.aero / Internationalairportreview.com
AW-POST: 201801311425AR
A\W   A I R G W A Y S ®