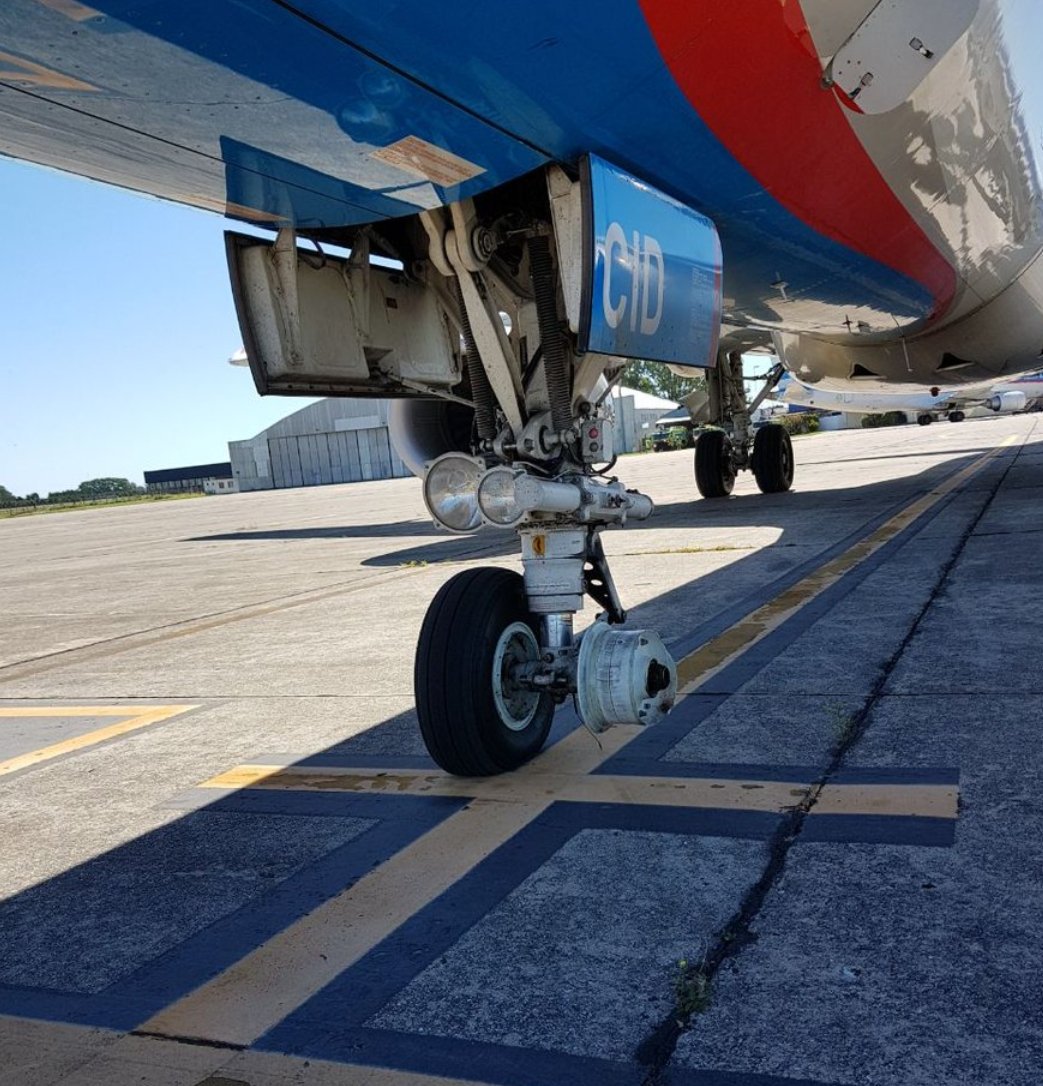 AW | 2018 01 30 20:15 | AVIATION SAFETY
Incidente pérdida rueda Embraer E-190-100AR de Austral en Mar del Plata
Un avión Embraer E-190-100AR de Austral Líneas Aéreas perdió una rueda del tren de naríz en el momento en que se disponía a despegar en el Aeropuerto de Mar del Plata. El incidente ocurrió este lunes, en el vuelo AU2605 que debía despegar a las 15:05 hs (12:05 UTC) de la ciudad de Mar del Plata.
El incidente impidió el despegue y obligó a la empresa Austral Líneas Aéreas a reprogramar el vuelo que se debía dirigir al Aeroparque Jorge Newbery de la Ciudad de Buenos Aires.
El vuelo había salido previamente de Tucumán hacia Mar del Plata. El vuelo AU2605 de Austral sufrió la rotura en una de las cubiertas, avería que afectó el desarrollo normal de las operaciones de despegue. El avión regresó por sus propios medios a plataforma y el vuelo fue cancelado.
El incidente del vuelo AU2605 del E190-100AR tuvo consecuencias afortunadas teniendo presente que el desprendimiento de la rueda había ocurrido en el momento del rodaje sobre pista pudiendo detener la aeronave sin consecuencias y sin que se produjesen heridos. Los pasajeros fueron reubicados casi en su totalidad en el vuelo AR1611, que partió hacia Aeropaque en el mismo día.
La Junta de Investigación de Accidentes de Aviación Civil (JIAAC) inició un expediente sobre el incidente para conocer cuál fue el motivo de la pérdida del neumático del E190-100AR de Austral. 
Incidente MD-81 Austral

El 20 de Febrero de 2004, el MD-81 LV-WPY de Austral Línea Aéreas despegó desde el Aeropuerto Jorge Newbery rumbo a Iguazú con 151 pasajeros a bordo, en ese momento se deprendió una de las ruedas del tren de aterrizaje principal, la que atravesó la reja perimetral del Aeropuerto Jorge Newbery, cruzó la Avenida Costanera y terminó en un campo de golf cercano. Ante este inconveniente, el comandante declaró en emergencia a la aeronave, voló durante una 1:20 hs para quemar combustible y de esta manera alivianar el peso para aterrizar. La aeronave MD-81 aterrizó en el Aeropuerto Internacional de Ezeiza, cuando tocó pista se desprendió la segunda rueda del conjunto del tren de aterrizaje donde se había perdido la primera rueda al despegar, luego de este incidente el LV-WPY permaneció varios meses fuera de servicio. A \ W
E-190 Austral loses wheel train landing
Incident loss Embraer E-190-100AR of Austral in Mar del Plata

An Embraer E-190-100AR plane from Austral Líneas Aéreas lost a nose train at the time it was ready to take off at Mar del Plata Airport. The incident occurred on Monday, on flight AU2605 that was due to take off at 3:05 p.m. (12:05 UTC) from the city of Mar del Plata.
The incident prevented the takeoff and forced the company Austral Líneas Aéreas to reprogram the flight that was to be directed to Aeroparque Jorge Newbery of the City of Buenos Aires.
The flight had previously left Tucumán towards Mar del Plata. Austral flight AU2605 suffered a break in one of the decks, damage that affected the normal development of the takeoff operations. The plane returned by its own means to platform and the flight was canceled.
The incident of the flight AU2605 of the E190-100AR had fortunate consequences bearing in mind that the detachment of the wheel had occurred at the time of taxiing on track and could stop the aircraft without consequences and without causing injuries. The passengers were relocated almost entirely on flight AR1611, which departed for Aeropaque on the same day.
The Civil Aviation Accident Investigation Board (JIAAC) initiated a file on the incident to find out the reason for the loss of the Austral E190-100AR tire. A \ W
Incident MD-81 Austral

On February 20, 2004, the MD-81 LV-WPY of Austral Línea Aéreas took off from Jorge Newbery Airport to Iguazú with 151 passengers on board, at which point one of the wheels of the main landing gear was detonated. He crossed the perimeter fence of the Jorge Newbery Airport, crossed Costanera Avenue and ended up at a nearby golf course. Faced with this inconvenience, the commander declared the aircraft in emergency, flew for a 1:20 hs to burn fuel and thus lighten the weight to land. The MD-81 aircraft landed at the Ezeiza International Airport, when it touched the runway the second wheel of the landing gear assembly where the first wheel had been taken off took off, after this incident the LV-WPY remained for several months outside service. A \ W
Ξ A I R G W A Y S Ξ
SOURCE:  Airgways.com
DBk: Twitter.com/aeropuertotuc / Harro Ranter
AW-POST: 201801302015AR
A\W   A I R G W A Y S ®