AW | 2018 03 02 14:14 | AIR TRAFFIC
Tormenta Emma afecta vuelos en norte de Europa
El frío introducido por la "Bestia del Este" continuará en gran parte del Reino Unido e Irlanda hasta el final de la semana, preparando el escenario para aún más rondas de nieve y viento. Sin embargo, muchas áreas que han escapado a la peor nevada hasta ahora estarán en riesgo de la nieve más pesada de la "Tormenta Emma".
Es un quinto día de caos en los viajes hacia arriba y hacia abajo del Reino Unido, ya que los aeropuertos de Heathrow y Dublín se ven afectados fuertemente por las cancelaciones. La tormenta Emma azota al Reino Unido e Irlanda y cancelan otros 500 vuelos de salida.
Varios vuelos más han sido cancelados en los aeropuertos de Birmingham, London City, Luton, Manchester y Leeds Bradford. Estos números aumentarán a medida que transcurra el día, por lo que vale la pena consultar con su aerolínea si está previsto volar. Estas cancelaciones siguen desde el caos de viajes de ayer con 2000 vuelos cancelados en toda Europa en total. Debido a las temperaturas bajo cero en todo el Reino Unido, algunos vuelos pueden estar sujetos a demoras o cancelaciones.
Las zonas de Irlanda y el sudoeste de Inglaterra serán las más afectadas, ya que Storm Emma pasa justo al sur de las Islas Británicas.
En el Reino Unido, Plymouth, Exeter, Bristol, Cardiff y Swansea se encuentran en esta área de mayor riesgo de Storm Emma. En Irlanda, las ciudades del sur y del este serán las más afectadas, incluidas Cork, Waterford y Dublín.
Se prevé que la combinación de ráfagas de viento y fuertes nevadas pueda provocar condiciones de tormenta de nieve hasta el viernes por la noche, lo que provocó advertencias rojas para partes de Gales del Sur, sudoeste de Inglaterra e Irlanda el jueves.
Tales condiciones podrían detener el viaje y, como tal, deberían evitarse si es posible. Algunas comunidades rurales podrían quedar aisladas por días.
Los vientos del este que rachean a 40 mph serán comunes a medida que pase la tormenta, y es probable que las elevaciones más altas de Escocia, Gales e Irlanda tengan ráfagas de viento que pasaron las 60 mph. Los vientos de esta velocidad provocarán demoras en el transporte aéreo, no solo en Irlanda y el Reino Unido, sino que también podrían causar demoras en toda Europa continental. Las condiciones de Blizzard también son probables hasta que los vientos se apaguen tarde el viernes. El jueves por la tarde fueron reportadas condiciones de la ventisca en las Midlands de Inglaterra.
Aeropuertos en las Islas Británicas

Aeropuerto de Heathrow
Se cancelaron 166 vuelos en Heathrow, con British Airways como mayor parte, mientras que otras aerolíneas afectadas incluyen United y Scandinavian.

Aeropuerto Luton
Un vocero del aeropuerto de Luton dijo: "London Luton Airport está en pleno funcionamiento y abierto como de costumbre".

Aeropuerto Birmingham
Un portavoz del Aeropuerto de Birmingham dijo: "Estamos abiertos y operativos, por lo que las cancelaciones se deben al clima en otras partes del Reino Unido y Europa".

Aeropuerto Dublín
El aeropuerto de Dublín suspendió todos los vuelos hasta el sábado por la mañana, cancelando 211 vuelos en total. La tormenta Emma golpea al Aeropuerto de Dublín, Irlanda. El aeropuerto funciona actualmente, pero ya se habían cancelado una gran cantidad de vuelos.

Aeropuerto Bristol
Se han cancelado 28 vuelos desde el aeropuerto de Bristol, que está cerrado hasta al menos mediodía de hoy, debido al clima nevado y tormentoso. Un portavoz del Aeropuerto de Bristol dijo que estaban cerrados debido a las condiciones climáticas adversas hasta el mediodía.

EasyJet canceló todos los vuelos hacia y desde el Aeropuerto de Bristol por el resto del día. Es una situación que cambia rápidamente y se aconseja a los pasajeros que consulten con su aerolínea antes de dirigirse al aeropuerto.

Aeropuerto Glasgow
El aeropuerto de Glasgow ahora está abierto de nuevo después de que se vio obligado a cerrar por completo ayer, pero se han cancelado 33 vuelos. Un portavoz del aeropuerto de Glasgow dijo: "Las condiciones climáticas extremas de las últimas 72 horas han visto al aeropuerto experimentar niveles récord de nieve. El personal del aeropuerto ha trabajado continuamente durante toda la noche para limpiar la pista, el campo de aterrizaje más amplio y las pasarelas de los pasajeros".

Aeropuerto Edimburgo
El aeropuerto de Edimburgo también está abierto después de cerrar ayer debido al clima, aunque hoy se cancelaron 49 vuelos. A \ W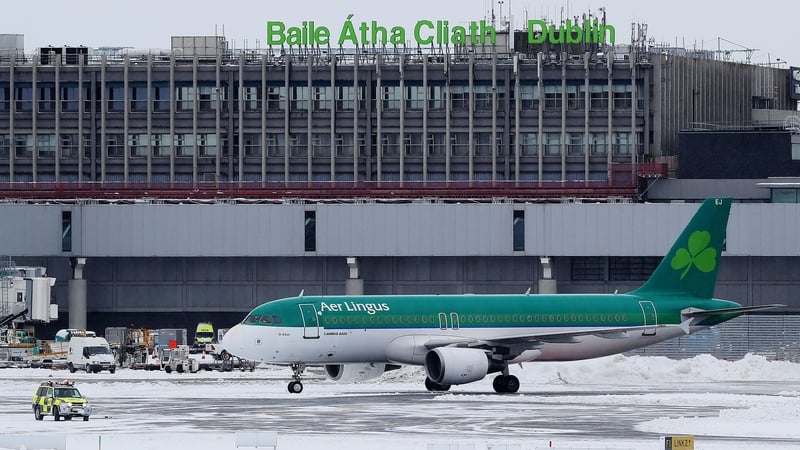 Storm Emma affects British Islands
Storm Emma affects flights in northern Europe
The cold introduced by the "Eastern Beast" will continue in much of the UK and Ireland until the end of the week, setting the stage for even more rounds of snow and wind. However, many areas that have escaped the worst snowfall so far will be at risk from Storm Emma's heavier snow.
It is a fifth day of chaos in the travels up and down the UK, since the airports of Heathrow and Dublin are strongly affected by cancellations. Storm Emma hits the UK and Ireland and cancel another 500 departure flights.
Several more flights have been canceled at the airports of Birmingham, London City, Luton, Manchester and Leeds Bradford. These numbers will increase as the day goes by, so it's worth checking with your airline if you plan to fly. These cancellations continue from yesterday's travel chaos with 2000 flights canceled across Europe in total. Due to subzero temperatures throughout the United Kingdom, some flights may be subject to delays or cancellations.
The areas of Ireland and the south-west of England will be the most affected, as Storm Emma passes just south of the British Isles.
In the United Kingdom, Plymouth, Exeter, Bristol, Cardiff and Swansea are in this higher-risk area of ​​Storm Emma. In Ireland, cities in the south and east will be the most affected, including Cork, Waterford and Dublin.
The combination of wind gusts and heavy snowfall is expected to cause snowstorm conditions until Friday night, prompting red warnings for parts of South Wales, southwest England and Ireland on Thursday.
Such conditions could stop the trip and, as such, should be avoided if possible. Some rural communities could be isolated for days.
The easterly winds that gust at 40 mph will be common as the storm passes, and it is likely that the highest elevations in Scotland, Wales and Ireland have gusts of wind that passed 60 mph. Winds of this speed will cause delays in air transport, not only in Ireland and the United Kingdom, but could also cause delays throughout continental Europe. Blizzard conditions are also likely until the winds turn off late on Friday. On Thursday afternoon conditions of the blizzard were reported in the Midlands of England. A \ W
Airports in the British Islands

Heathrow Airport
166 flights were canceled at Heathrow, with British Airways as the bulk, while other affected airlines include United and Scandinavian.

Luton Airport
A spokesman for Luton airport said: "London Luton Airport is fully operational and open as usual.

Birmingham Airport
A spokesman for Birmingham Airport said: "We are open and operational, so cancellations are due to weather in other parts of the UK and Europe".

Dublin Airport
Dublin airport suspended all flights until Saturday morning, canceling 211 flights in total. Storm Emma hits Dublin Airport, Ireland. The airport is currently operating, but a large number of flights had already been canceled.

CORK AIRPORT IS SUFFERING EMBATES FROM THE EMMA STORM

Bristol Airport
28 flights have been canceled from the Bristol airport, which is closed until at least midday today, due to the snowy and stormy weather. A spokesman for Bristol Airport said they were closed due to adverse weather conditions until noon.

EasyJet canceled all flights to and from Bristol Airport for the rest of the day. It is a rapidly changing situation and passengers are advised to check with their airline before going to the airport.

Glasgow Airport
Glasgow airport is now open again after it was forced to close completely yesterday, but 33 flights have been canceled. A spokesman for Glasgow Airport said: "The extreme weather conditions of the past 72 hours have seen the airport experience record levels of snow, and the airport staff has worked continuously throughout the night to clear the runway, the widest landing field. and the passenger footbridges".

Edinburgh Airport
Edinburgh Airport is also open after closing yesterday due to weather, although today 49 flights were canceled. A \ W
Ξ A I R G W A Y S Ξ
SOURCE:  Airgways.com
DBk: Accuweather.com / Rte.ei / Independent.ei / Dublinairport.com / Thesun.co.uk
AW-POST: 201803021414AR
A\W   A I R G W A Y S ®