AW | 2019 03 22 07:59 | INDUSTRY
Boeing efectúa el rollout del modelo 777-9 en medio de la crisis por el modelo 737 MAX
Boeing realiza el rollout del Boeing 777-9 en medio de la crisis por los problemas de la línea 737 MAX. Boeing Commercial Airplanes había establecido un cronograma para su presentación oficial a principios de Marzo 2019, pero la dirección del fabricante americano ha demorado la presentación pública efectuándola a puerta cerrada en Renton, Washington. La presentación llega en un momento en el que la empresa está en el centro de una crisis, debido a dos accidentes aéreos registrados en las últimas semanas del modelo insignia Boeing 737 MAX.
Estrenos demorados
En 2019 boeing tenía proyectado tres grandes debuts: el rollout de su serie 777-9, el lanzamiento del Programa NMA (Boeing 797) y la primera entrega del miembro más nuevo de su familia 737-7 MAX. las proyecciones del fabricante americano no han sido las esperadas debido a una crisis de reputación, luego de que las preocupaciones de seguridad desencadenaron la puesta a tierra de los aviones Boeing 737 MAX, algo inédito en la línea 737.
El 13 Marzo 2019, se suponía que Boeing lanzaría públicamente el primer 777-9X en sus instalaciones de Everett en Seattle, Washington. Después de que el vuelo ET-302 de Ethiopian Airlines se estrellara tres días antes del evento, la compañía pospuso indefinidamente la ceremonia pública, en lugar de eso, la reveló silenciosamente a los empleados. El Boeing 777-9 es el sucesor de los antiguos modelos Boeing 777-200LR y 777-300ER, el 777X se considera un competidor de la familia Airbus A350XWB y, a veces, incluso del A380. El avión vendrá en dos versiones: el primer modelo introducido será el 777-9, seguido del 777-8. El 777-9 tiene capacidad para 400 a 425 pasajeros en una configuración estándar y ofrece un alcance de 7,600 millas náuticas (14,075 km). En noviembre de 2018, Boeing anunció que completó la unión final del cuerpo del nuevo avión, conectando las secciones de la nariz, la mitad y la popa a un avión de pasajeros gigante de 77 metros de largo, siendo el avión de pasajeros más largo que ha fabricado la Boeing Commercial Airplanes. Boeing reveló que había completado el primer avión de prueba de tierra 777X en Octubre 2018. En ese momento, el primer avión de prueba de vuelo también recibió su nueva ala CFRP (Polímero reforzado con fibra de carbono). Los enormes motores General Electric GE9X se instalaron en el primer avión en Enero 2019. Se espera que la primera prueba de vuelo del Boeing 777-9 tenga lugar a finales de este año, mientras que la primera entrega, en 2020.
El nuevo Boeing 777-9, presentado a puerta cerrada, es considerado la aeronave comercial más larga del mundo. Con una longitud de 76,8 metros, una envergadura de ala de 72 metros y capacidad para hasta 425 pasajeros en su variante 777-9. El primer vuelo de prueba está programada para la primavera y entrarían en operaciones en líneas aéreas comerciales a partir del próximo año 2020, volando rutas de más de 14.000 kilómetros.
La variante 777-8 ofrecerá cubrir más de 16.000 kilómetros, ostentando el mayor record en una aeronave comercial. Esta variante tiene una longitud un poco menor que su similar y con una capacidad para hasta 375 pasajeros. En total han realizado 358 pedidos entre ocho aerolíneas, siendo la aerolínea Emirates la que obtendrá el primer 777-9 el próximo año y el primer 777-8 hasta dos años más tarde.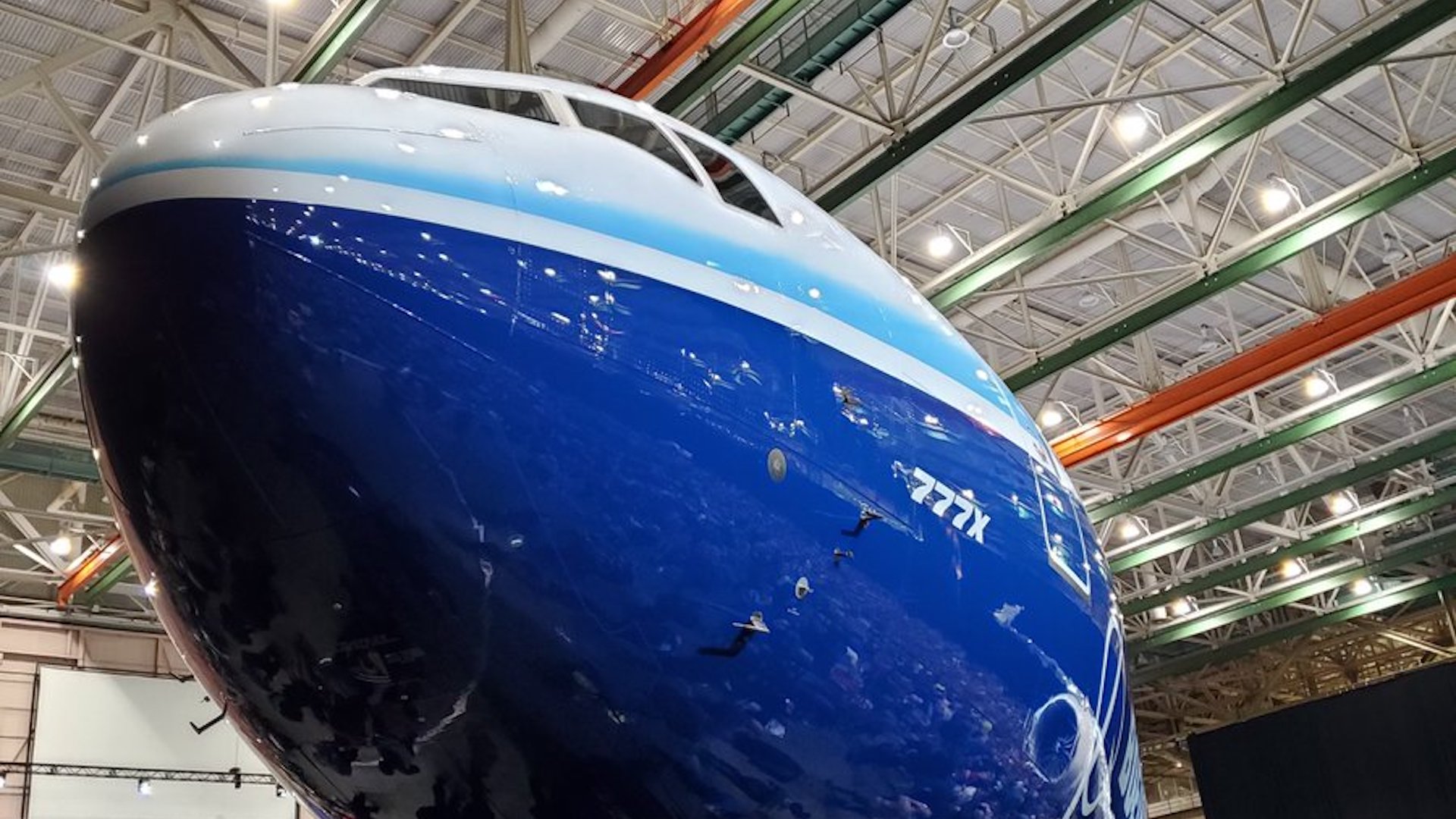 Boeing performs Boeing rollout 777-9
Boeing rollout of the 777X model in the midst of the crisis by the model 737 MAX
Boeing performs the rollout of the Boeing 777-9 in the middle of the crisis due to the problems of the 737 MAX line. Boeing Commercial Airplanes had established a schedule for its official presentation at the beginning of March 2019, but the address of the American manufacturer has delayed the public presentation behind closed doors in Renton, Washington. The presentation comes at a time when the company is at the center of a crisis, due to two air accidents registered in the last weeks of the Boeing 737 MAX flagship model.
Delayed releases
In 2019, Boeing had three big debuts: the rollout of its 777-9 series, the launch of the NMA Program (Boeing 797) and the first installment of the newest member of its 737-7 MAX family. the projections of the American manufacturer have not been expected due to a reputation crisis, after safety concerns triggered the grounding of the Boeing 737 MAX aircraft, something unprecedented in line 737.
On March 13, 2019, it was assumed that Boeing would publicly launch the first 777-9X at its Everett facility in Seattle, Washington. After the ET-302 flight of Ethiopian Airlines crashed three days before the event, the company postponed the public ceremony indefinitely, instead quietly revealing it to the employees. The Boeing 777-9 is the successor of the old models Boeing 777-200LR and 777-300ER, the 777X is considered a competitor of the family Airbus A350XWB and, sometimes, even of the A380. The aircraft will come in two versions: the first introduced model will be 777-9, followed by 777-8. The 777-9 can accommodate 400 to 425 passengers in a standard configuration and offers a range of 7,600 nautical miles (14,075 km). In November 2018, Boeing announced that it completed the final union of the body of the new aircraft, connecting the sections of the nose, the half and the stern to a 77-meter-long giant passenger plane, the longest passenger plane being has manufactured the Boeing Commercial Airplanes. Boeing revealed that it had completed the first 777X ground test aircraft in October 2018. At that time, the first flight test aircraft also received its new wing CFRP (carbon fiber reinforced polymer). The huge General Electric GE9X engines were installed on the first plane in January 2019. The first flight test of the Boeing 777-9 is expected to take place later this year, while the first delivery, in 2020.
The new Boeing 777-9, presented behind closed doors, is considered the longest commercial aircraft in the world. With a length of 76.8 meters, a wing span of 72 meters and capacity for up to 425 passengers in its 777-9 variant. The first test flight is scheduled for spring and would start operations on commercial airlines starting next year 2020, flying routes of more than 14,000 kilometers.
The 777-8 variant will offer covering more than 16,000 kilometers, boasting the highest record in a commercial aircraft. This variant has a length a little less than its similar and with a capacity for up to 375 passengers. In total they have made 358 orders among eight airlines, with the Emirates airline receiving the first 777-9 next year and the first 777-8 up to two years later. A \ W
Ξ A I R G W A Y S Ξ
SOURCE: Airgways.com
DBk: Boeing.com
AW-POST: 201903220759AR
A\W   A I R G W A Y S ®