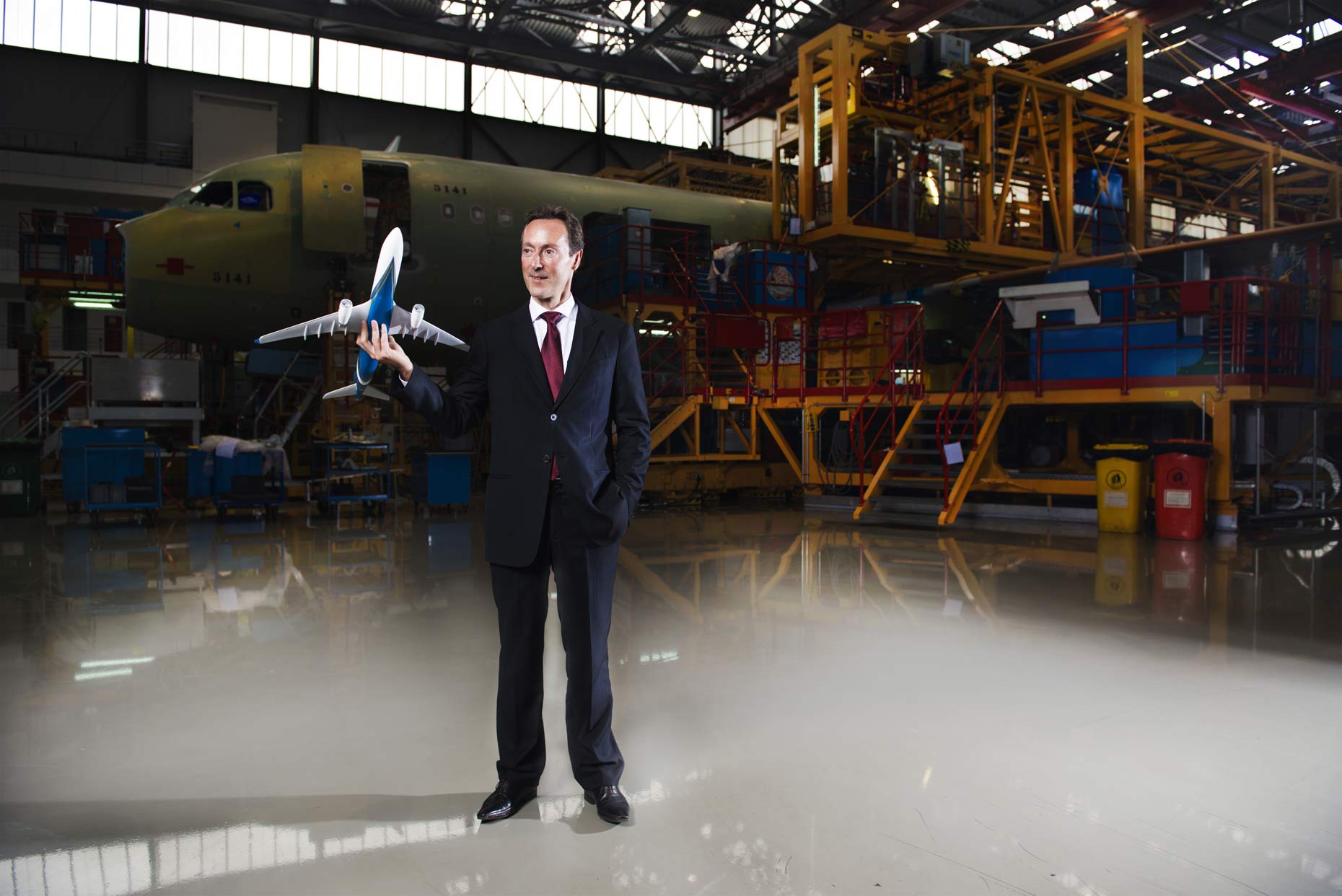 AW | 2019 03 25 16:37 | INDUSTRY
Airbus reconsidera los procesos de ensamblaje en China
Airbus está considerando si modifica los procesos de ensamblaje de su última generación de aviones A330 en la República de China como parte de una oferta para aumentar su participación de mercado en el mercado de aviación civil de más rápido crecimiento en el mundo.
La multinacional europea está siguiendo una tendencia iniciada por Boeing, que recientemente abrió una nueva planta de terminación en China. A primera vista, la decisión de las dos compañías que dominan el mercado de la aviación civil tiene sentido construir donde viva su mayor cliente. Es especialmente porque China aún no tiene una industria de aviación civil totalmente desarrollada y lista para competir globalmente. Los beneficios son muchos, incluida la buena voluntad y la estima del país que compraría estos aviones. A largo plazo, sin embargo, eso podría resultar ser un error de cálculo costoso. Basándose en su historia reciente, China no tardará mucho en ponerse al día y desplazar en gran medida a ambas empresas en el mercado doméstico de la aviación, además de aprovechar una gran parte de la cuota de mercado global del duopolio corporativo. Por lo tanto, Airbus y Boeing podrían tomar decisiones a corto plazo con consecuencias negativas a largo plazo para su rentabilidad futura.
Dado el formidable avance económico de China, nada de esto debería ser una sorpresa ni para Airbus ni para Boeing. Tampoco debería impactar a los gobiernos occidentales. El problema es que todos han sido guiados históricamente por la ingenua suposición de que el simple hecho de admitir a China en organizaciones como la Organización Mundial del Comercio (OMC) induciría a Beijing, según las palabras de Philip Pan, "finalmente se inclinó a lo que se consideraba las reglas establecidas de la modernización: la prosperidad alimentaría las demandas populares de libertad política y llevaría a China al redil de las naciones democráticas. O la economía china flaquearía bajo el peso del gobierno autoritario y la podredumbre burocrática". China tiene muchos objetivos y metas que son antitéticos a la prosperidad a largo plazo de las empresas y economías occidentales.
Boeing y Airbus podrían convertirse simplemente en los últimos corderos de sacrificio occidentales. Beijing ha apuntado explícitamente a los aviones de fuselaje ancho como uno de sus 10 nuevos sectores prioritarios para la sustitución de importaciones en su documento "Hecho en China 2025", por lo que cualquier ganancia a corto plazo que Airbus y Boeing reciban en términos de obtener pedidos adicionales de China podría ser socavado a largo plazo.
Las transferencias de tecnología resultantes y los menores costos laborales le darán a Pekín un gran salto hacia la competencia directa y, finalmente, el desplazamiento de ambas compañías. Dada la fusión con McDonnell Douglas, Boeing continuará su marcha hacia el hecho de convertirse en una sucursal del Departamento de Defensa de los Estados Unidos a medida que se desploma su participación en el mercado civil, pero Airbus no tiene realmente el lujo de una alternativa militar, dada la relativa escasez de los gastos de defensa europeos.
Boeing está afrontando contratiempos con la línea Boeing 737. La puesta a tierra de los Boeing 737 MAX a nivel mundial se produjo poco después de los problemas iniciales de lanzamiento del Boeing 787 Dreamliner hace unos seis años donde la demoduralización de la producción significaba que Boeing no podía explicar por completo la transmisión y carga de estrés a nivel del sistema. Ilustra los peligros de expandir la manufactura en todo el mundo.
Las compañías estadounidenses como Boeing subestiman constantemente el valor de integrar estrechamente la investigación y el desarrollo y la manufactura, al tiempo que minimizan los riesgos de separarlos.
Al decidir ampliar su producción de A330 en China, Airbus parece estar dispuesto a repetir el error de Boeing, un posible error de cálculo que la mayoría de las empresas de la Unión Europea han evitado en gran medida, porque la UE ha priorizado la manufactura doméstica / desalentado la deslocalización más que sus contrapartes de Estados Unidos.
El mismo Beijing históricamente ha equilibrado sus compras de los principales fabricantes de aviación civil para garantizar que no dependa demasiado de un solo proveedor de aeronaves, lo que significa que Airbus probablemente se beneficiará del vacío creado por el retiro del Boeing 737. El retiro del 737 también complica la resolución del conflicto comercial entre Estados Unidos y China, que parecía estar más cerca de la resolución a la luz de la propuesta de Beijing de comprar US$ 1.2 billones adicionales en exportaciones estadounidenses durante seis años. Las compras de aviones de Boeing figuraron en gran medida en la lista de compras de Beijing.
Los desafíos a más largo plazo se relacionan con la trayectoria de desarrollo económico de China y su correspondiente ascenso en la curva de alta tecnología, que se ha caracterizado en gran medida por políticas mercantilistas de protección y un fuerte subsidio gubernamental. Pero los desafíos a más largo plazo se relacionan con la trayectoria de desarrollo económico de China y su correspondiente ascenso en la curva de alta tecnología, que se ha caracterizado en gran medida por las políticas mercantilistas de protección y el fuerte subsidio gubernamental. En este sentido, el estado chino ha seguido una estrategia de desarrollo nacional descrita por primera vez a mediados del siglo XIX por el economista alemán Friedrich List, quien argumentó que el gobierno nacional debería desempeñar un papel crucial en la promoción, guía y regulación del proceso de desarrollo económico nacional.
China sigue siendo principalmente una economía dominada por el estado, que evita las disciplinas de una economía de libre mercado. Esto significa que tiene la capacidad y la predisposición ideológica para usar la política fiscal nacional como líder de pérdidas, absorbiendo pérdidas mucho más allá de lo que se toleraría en una economía dominada por empresas privadas.
China puede reducir las futuras exportaciones de los Estados Unidos mediante la construcción de su propio competidor para el Boeing 737 y Airbus A320 y también las futuras exportaciones de Europa si Airbus decide construir el A330 en China y China por su parte compra los motores Rolls-Royce 'Made in China' para el C929 y el A330.
Tanto los gobiernos occidentales como las corporaciones occidentales han subestimado de manera persistente el poder del modelo de desarrollo económico de China y la correspondiente amenaza económica que representa para la propia afluencia de Occidente. La crítica habitual dirigida contra el modelo de crecimiento chino es que un país que subsidia a sus industrias termina con industrias ineficientes, porque las empresas locales altamente protegidas están protegidas de la competencia global, y finalmente dejan al país que recurre al proteccionismo con productos inferiores. En la práctica, por lo tanto, no hay ninguna razón para que el mismo modelo no funcione con respecto a la aviación civil.
Airbus reconsiders assembly in China
Airbus reconsiders assembly processes in China
Airbus is considering whether to modify the assembly processes of its latest generation of A330 aircraft in the Republic of China as part of an offer to increase its market share in the fastest growing civil aviation market in the world.
The European multinational is following a trend initiated by Boeing, which recently opened a new completion plant in China. At first glance, the decision of the two companies that dominate the civil aviation market makes sense to build where their biggest customer lives. It is especially because China still does not have a fully developed civil aviation industry ready to compete globally. The benefits are many, including the goodwill and esteem of the country that would buy these aircraft. In the long term, however, that could turn out to be a costly miscalculation. Based on its recent history, China will not take long to catch up and largely displace both companies in the domestic aviation market, as well as take advantage of a large part of the global market share of the corporate duopoly. Therefore, Airbus and Boeing could make short-term decisions with long-term negative consequences for future profitability.
Given China's formidable economic progress, none of this should come as a surprise to either Airbus or Boeing. Nor should it impact Western governments. The problem is that all have historically been guided by the naive assumption that simply admitting China into organizations such as the World Trade Organization (WTO) would induce Beijing, in the words of Philip Pan, "finally bowed to what that it was considered the established rules of modernization: prosperity would feed the popular demands of political freedom and would take China to the fold of democratic nations. Or the Chinese economy would falter under the weight of authoritarian government and bureaucratic rot". China has many goals and objectives that are antithetical to the long-term prosperity of Western companies and economies.
Boeing and Airbus could simply become the last Western sacrificial lambs. Beijing has explicitly targeted wide-body aircraft as one of its 10 new priority sectors for import substitution in its "Made in China 2025" document, so any short-term gains that Airbus and Boeing receive in terms of obtaining Additional orders from China could be undermined in the long term.
The resulting technology transfers and lower labor costs will give Beijing a big leap to direct competition and, ultimately, the displacement of both companies. Given the merger with McDonnell Douglas, Boeing will continue its march toward becoming a branch of the United States Department of Defense as its market share plummets, but Airbus does not really have the luxury of a military alternative, given the relative scarcity of European defense spending.
Boeing is facing setbacks with the Boeing 737 line. The grounding of the Boeing 737 MAX worldwide occurred shortly after the initial launch problems of the Boeing 787 Dreamliner about six years ago where the demodulation of the production meant that Boeing did not It could completely explain the transmission and stress load at the system level. It illustrates the dangers of expanding manufacturing throughout the world.
US companies like Boeing constantly underestimate the value of tightly integrating research and development and manufacturing, while minimizing the risks of separating them.
In deciding to expand its A330 production in China, Airbus seems willing to repeat the Boeing error, a possible miscalculation that most European Union companies have largely avoided, because the EU has prioritized domestic manufacturing/discouraged relocation more than its counterparts in the United States.
Beijing itself has historically balanced its purchases from major civil aviation manufacturers to ensure that it does not rely too much on a single aircraft supplier, which means that Airbus will likely benefit from the vacuum created by the withdrawal of the Boeing 737. The withdrawal of the 737 It also complicates the resolution of the trade dispute between the United States and China, which seemed closer to the resolution in light of Beijing's proposal to buy an additional US $ 1.2 billion in US exports for six years. Boeing aircraft purchases figured heavily on the Beijing shopping list.
The longer-term challenges are related to China's economic development trajectory and its corresponding rise in the high-tech curve, which has been characterized to a large extent by mercantilist protection policies and a strong government subsidy. But the longer-term challenges are related to China's economic development trajectory and its corresponding rise in the high-tech curve, which has been characterized to a large extent by mercantilist policies of protection and strong government subsidy. In this regard, the Chinese state has followed a national development strategy first described in the mid-nineteenth century by the German economist Friedrich List, who argued that the national government should play a crucial role in the promotion, guidance and regulation of the process of national economic development.
China is still mainly an economy dominated by the state, which avoids the disciplines of a free market economy. This means that it has the capacity and the ideological predisposition to use national fiscal policy as a loss leader, absorbing losses far beyond what would be tolerated in an economy dominated by private companies.
China can reduce the future exports of the United States by building its own competitor for the Boeing 737 and Airbus A320 and also future European exports if Airbus decides to build the A330 in China and China for its part purchases the Rolls-Royce engines 'Made in China' for the C929 and the A330.
Both Western governments and Western corporations have persistently underestimated the power of China's economic development model and the corresponding economic threat it poses to the very influx of the West. The usual criticism directed against the Chinese growth model is that a country that subsidizes its industries ends up with inefficient industries, because highly protected local companies are protected from global competition, and finally leave the country resorting to protectionism with inferior products. In practice, therefore, there is no reason why the same model does not work with respect to civil aviation. A \ W
Ξ A I R G W A Y S Ξ
SOURCE: Airgways.com
DBk: Asiatimes.com / Welt.de / Stefenchow.com
AW-POST: 201903251637AR
A\W   A I R G W A Y S ®