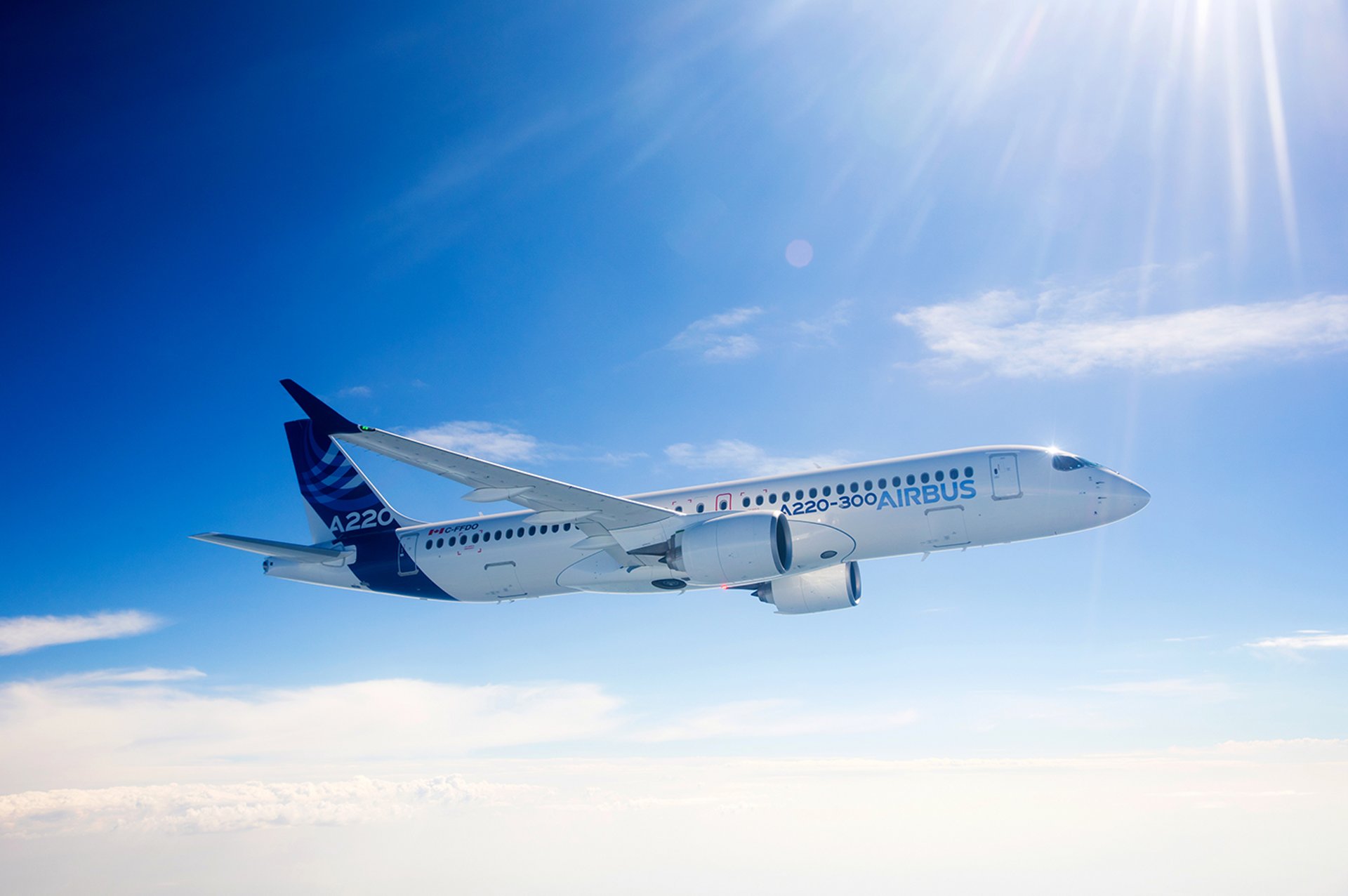 AW | 2019 05 21 16:07 | INDUSTRY
Airbus anuncia importante mejora en el rendimiento en la Familia A220
Airbus anunció hoy que el avión A220 de la familia, la última incorporación a su cartera de pasillo único, ahora estará ofreciendo un mayor alcance a partir de 2Q2020. El máximo aviones A220 peso de despegue (MTOW) se ha confirmado que aumente en 2,268 kg (2,3 toneladas métricas). El nuevo MTOW aumentará las respectivas capacidades de alcance máximo a 3,350nm para el A220-300 y 3,400nm para el A220-100, algunos más de 450 nm anuncian actualmente.
"En la verdadera tradición Airbus mejoramos nuestros productos constantemente. Este nuevo MTOW permitirá a los operadores para llegar a los mercados, que hoy en día no pueden ser atendidas por otros tipos de aviones de pasillo único pequeños", dijo Christian Scherer, director comercial de Airbus.
"Desde su entrada en servicio hace cerca de tres años, el avión A220 ya ha demostrado que está cumpliendo o superando sus objetivos iniciales de rendimiento, con lo que una mayor flexibilidad y potencial de ingresos a los clientes. Hoy en día, Airbus está reforzando su confianza en la plataforma A220 y mejorar aún más su capacidad para cumplir con las exigencias del mercado próximos", dijo Rob Dewar, Jefe de Ingeniería y de Atención al Cliente el apoyo a la A220.
Este aumento de rendimiento se logra mediante la adopción de crédito de los márgenes estructurales y sistemas existentes, así como la capacidad existente volumen de combustible. Esto permitirá a las compañías aéreas para aprovechar las nuevas rutas que antes no eran posibles, que conecta las principales ciudades de Europa Occidental con el Medio Oriente o del sudeste de Asia a Australia.
A220, mercado regional
El A220 ha sido especialmente diseñado para la eficiencia. Reúne a la aerodinámica del estado de la técnica, los materiales avanzados y Pratt & Whitney PW1500G de última generación orientado motores turbofan para ofrecer al menos un 20% menor consumo de combustible por asiento en comparación con aviones de la generación anterior.
Con una cartera de pedidos de más de 530 aviones hasta la fecha, el A220 tiene todas las credenciales para ganar el mercado de aviones de 100 a 150 asientos, que se estima representan 7.000 aviones en los próximos 20 años.
Airbus announces A220 technical improvements
Airbus announces significant improvement in performance in the A220 Family
Airbus announced today that the family's A220 aircraft, the latest addition to its unique corridor portfolio, will now be offering a wider range starting in 2Q2020. The maximum aircraft A220 takeoff weight (MTOW) has been confirmed to increase by 2,268 kg (2.3 metric tons). The new MTOW will increase the respective maximum range capabilities to 3,350nm for the A220-300 and 3,400nm for the A220-100, some more than 450nm now announced.
"In the true Airbus tradition, we constantly improve our products. This new MTOW will allow operators to reach markets, which today can not be served by other types of small single-aisle aircraft", said Christian Scherer, commercial director of Airbus.
"Since its entry into service about three years ago, the A220 aircraft has already shown that it is meeting or exceeding its initial performance objectives, thereby providing greater flexibility and revenue potential to customers. Today, Airbus is strengthening its confidence in the A220 platform and further improve its ability to meet the demands of the upcoming market", said Rob Dewar, Head of Engineering and Customer Service support for the A220.
This increase in performance is achieved by taking credit from structural margins and existing systems, as well as the existing capacity of fuel volume. This will allow airlines to take advantage of new routes that were previously not possible, connecting major cities in Western Europe with the Middle East or from Southeast Asia to Australia.

A220, regional market
The A220 has been specially designed for efficiency. It brings together the state-of-the-art aerodynamics, advanced materials and Pratt & Whitney PW1500G latest generation turbofan engine-oriented engines to offer at least 20% lower fuel consumption per seat compared to previous generation aircraft.
With an order book of more than 530 aircraft to date, the A220 has all the credentials to win the aircraft market from 100 to 150 seats, which is estimated to represent 7,000 aircraft in the next 20 years. A \ W
Ξ A I R G W A Y S Ξ
SOURCE: Airgways.com
DBk: Airbus.com / Airgways.com
AW-POST: 201905211607AR
A\W   A I R G W A Y S ®