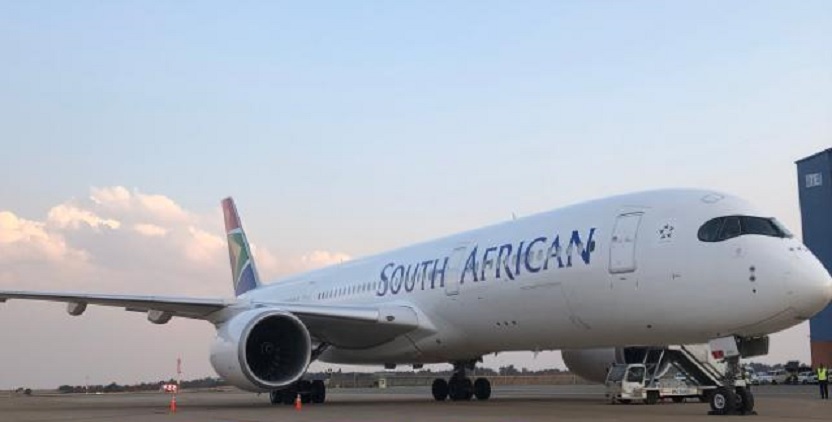 AW | 2019 11 23 13:43 | AIRLINES
Finaliza huelga en South African Airways
South African Airways (SAA) firma un acuerdo salarial con los sindicatos para poner fin a una huelga de ocho días que llevó a la aerolínea estatal con problemas de liquidez al borde del colapso. Ha sido una semana de reuniones sobre reuniones: entre los funcionarios de la aerolínea y los sindicatos, entre los sindicatos y el gobierno, entre el gobierno y la aerolínea.
NUMSA, la Unión Nacional de Trabajadores Metalúrgicos de Sudáfrica y la Asociación Sudafricana de Tripulación de Cabina (SACCA) habían exigido un aumento salarial del 8% y querían detener los planes para recortar más de 900 empleos de la aerolínea. El Viernes 22 Noviembre 2019, los sindicatos aceptaron la oferta de South African Airway (SAA) de un aumento salarial del 5,9% que finaliza el punto muerto de una semana.
La aerolínea había argumentado que no podía cumplir con las demandas de los sindicatos, y que podría no haber podido mantener el status quo si la huelga continuaba. «Es posible que no tengamos suficiente efectivo para pagar los salarios a fin de mes», dijo un miembro de la Junta de la SAA, Martin Kingston. Muchos economistas creen que la aerolínea, que no ha producido estados financieros en los últimos dos años, es prácticamente insolvente.
SAA strike ends
South African Airways strike ends
South African Airways (SAA) signs a salary agreement with the unions to end an eight-day strike that led the state airline with liquidity problems to the brink of collapse. It has been a week of meetings about meetings: between the airline officials and the unions, between the unions and the government, between the government and the airline.
NUMSA, the National Union of Metallurgical Workers of South Africa and the South African Cabin Crew Association (SACCA) had demanded a salary increase of 8% and wanted to stop plans to cut more than 900 airline jobs. On Friday, November 22, 2019, the unions accepted the South African Airway (SAA) offer of a 5.9% wage increase ending the one-week deadlock.
The airline had argued that it could not meet the demands of the unions and that it might not have been able to maintain the status quo if the strike continued. «We may not have enough cash to pay salaries at the end of the month», said an SAA Board member, Martin Kingston. Many economists believe that the airline, which has not produced financial statements in the last two years, is virtually insolvent.
SAL-staking eindig
Die staking van die Suid-Afrikaanse Lugdiens eindig
Die Suid-Afrikaanse Lugdiens (SAL) onderteken 'n salarisooreenkoms met die vakbonde om 'n staking van agt dae te beëindig wat die staatslugdiens met likiditeitsprobleme tot 'n einde gebring het. Dit was 'n week van vergaderings oor vergaderings: tussen die lugdiensamptenare en die vakbonde, tussen die vakbonde en die regering, tussen die regering en die lugdiens.
NUMSA, die National Union of Metallurgical Workers of South Africa en die South African Cabin Crew Association (SACCA) het 'n salarisverhoging van 8% geëis en wou die planne om meer as 900 vliegtuie te besnoei stop. Op Vrydag 22 November 2019 het die vakbonde die South African Airway (SAL) se aanbod van 'n loonverhoging van 5,9% aanvaar wat die einde van een week beëindig het.
Die lugredery het aangevoer dat dit nie aan die vakbonde se eise kan voldoen nie, en dat hy moontlik nie die status quo sou kon handhaaf as die staking voortduur nie. «Ons het moontlik nie genoeg kontant om salarisse aan die einde van die maand te betaal nie», het 'n bestuurslid van die SAL, Martin Kingston, gesê. Baie ekonome glo dat die lugdiens, wat die afgelope twee jaar nie finansiële state opgelewer het nie, feitlik insolvent is.
Ξ A I R G W A Y S Ξ
SOURCE: Airgways.com
DBk: Flysaa.com / Dw.com / Airgways.com / Thesouthafrican.com / Flightglobal.com
AW-POST: 201911231343AR
A\W   A I R G W A Y S ®