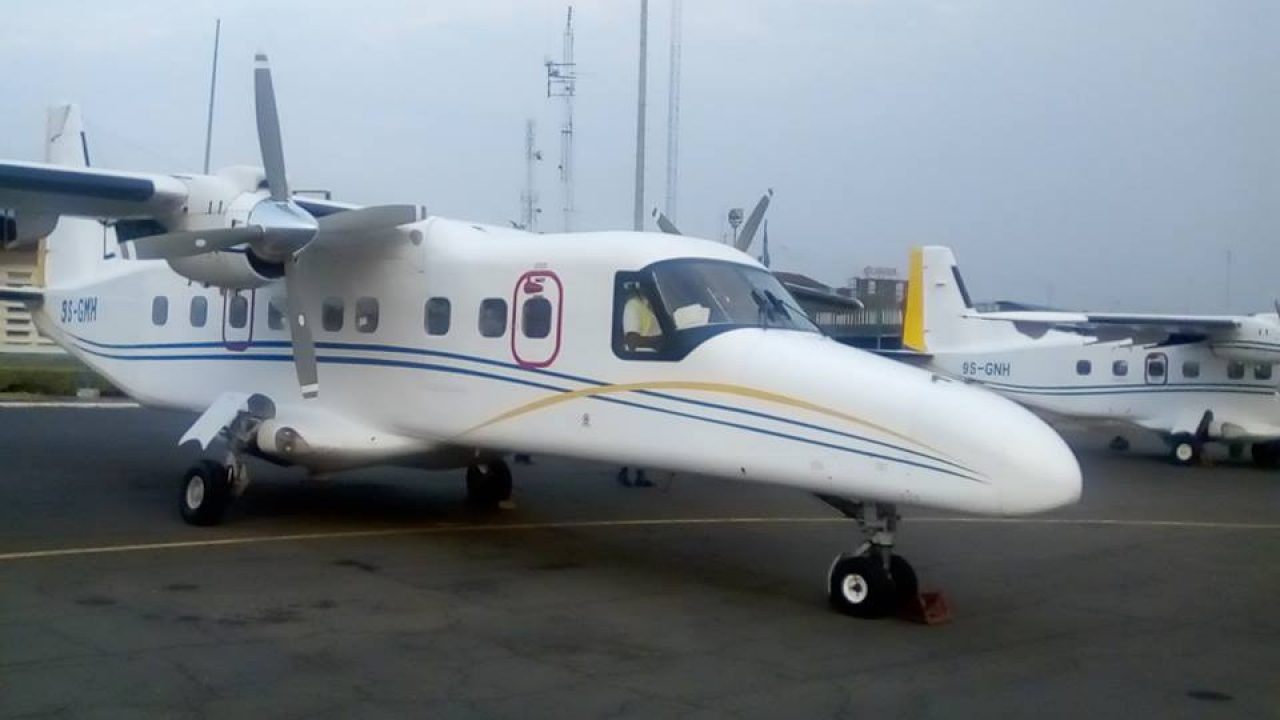 AW | 2019 11 26 14:51 | AIR INVESTIGATION / AVIATION SAFETY
Accidente aéreo aeronave regional en Repúbliuca Democrática del Congo
Un Dornier 228-200, registro 9S-GNH que realizaba el vuelo programado de Goma a Beni en el oeste en la República Democrática del Congo de la aerolínea regional Busy Bee con 17 pasajeros y 2 tripulantes, salía de la Pista 17 de Goma a las 09:10L (07:10Z) pero no pudo subir. Al poco tiempo de despegar la aeronave impactó contra el terreno afectando casas en el área densamente poblada de Birere, justo al sur de la pista. El avión estalló en llamas. Todos los ocupantes perecieron en el accidente, siete muertes ocurrieron en el barrio.
Actualmente se está llevando a cabo una búsqueda de víctimas tanto en el avión como en tierra, se informan varias víctimas mortales y varios sobrevivientes. Una versión de la hoja de carga identifica a 6 pasajeros, otra versión a 11 pasajeros, ambos documentos identifican 9S-GNH como el avión del accidente el 24 Noviembre 2019. Los nombres del primer documento también aparecen en el segundo documento, sin embargo, en un orden diferente.
El aeropuerto informó que el avión partió con 17 pasajeros y 2 tripulantes, todos los ocupantes murieron en el accidente. El gobernador de la Provincia de Kivu del Norte declaró que hasta el momento se han recuperado 25 cuerpos.
El 25 de noviembre de 2019, el Ministerio de Transporte de la República Democrática del Congo dio a conocer los nombres de 26 víctimas mortales, los 19 ocupantes de la aeronave y 7 personas en tierra, e indicó que una persona más en tierra está bajo atención hospitalaria por haber sufrido lesiones graves. Se ha abierto una investigación sobre las circunstancias del accidente, incluidas las posibles causas técnicas. Los observadores en tierra informaron que el avión estaba a una altura muy baja en una actitud inestable rodando a izquierda y derecha, aparentemente incapaz de salir, luego enredado con cables eléctricos y se estrelló contra las casas.
Busy Bee Do-228 accident
Regional aircraft air crash in the Democratic Republic of Congo
A Dornier 228-200, registration 9S-GNH that made the scheduled flight from Goma to Beni in the west in the Democratic Republic of the Congo of the regional airline Busy Bee with 17 passengers and 2 crew, left the Goma Runway 17 at 09: 10L (07: 10Z) but could not climb. Shortly after taking off the aircraft hit the ground affecting houses in the densely populated area of ​​Birere, just south of the runway. The plane burst into flames. All occupants perished in the accident, seven deaths occurred in the neighborhood.
A search for victims is currently being carried out both on the plane and on the ground, several fatalities and several survivors are reported. A version of the cargo sheet identifies 6 passengers, another version 11 passengers, both documents identify 9S-GNH as the plane of the accident on November 24, 2019. The names of the first document also appear in the second document, however, in A different order.
The airport reported that the plane departed with 17 passengers and 2 crew, all occupants died in the accident. The governor of the Province of North Kivu declared that so far 25 bodies have been recovered.
On November 25, 2019, the Ministry of Transportation of the Democratic Republic of the Congo released the names of 26 fatalities, the 19 occupants of the aircraft and 7 people on the ground, and indicated that one more person on the ground is under attention hospital for having suffered serious injuries. An investigation into the circumstances of the accident, including possible technical causes, has been opened. Observers on the ground reported that the plane was at a very low height in an unstable attitude rolling left and right, apparently unable to leave, then entangled with electric wires and crashed into the houses.
Ξ A I R G W A Y S Ξ
SOURCE: Airgways.com
DBk: Avherald.com / Airgways.com / Aviation24.be / Post-gazette.com
AW-POST: 201911261451AR
A\W   A I R G W A Y S ®