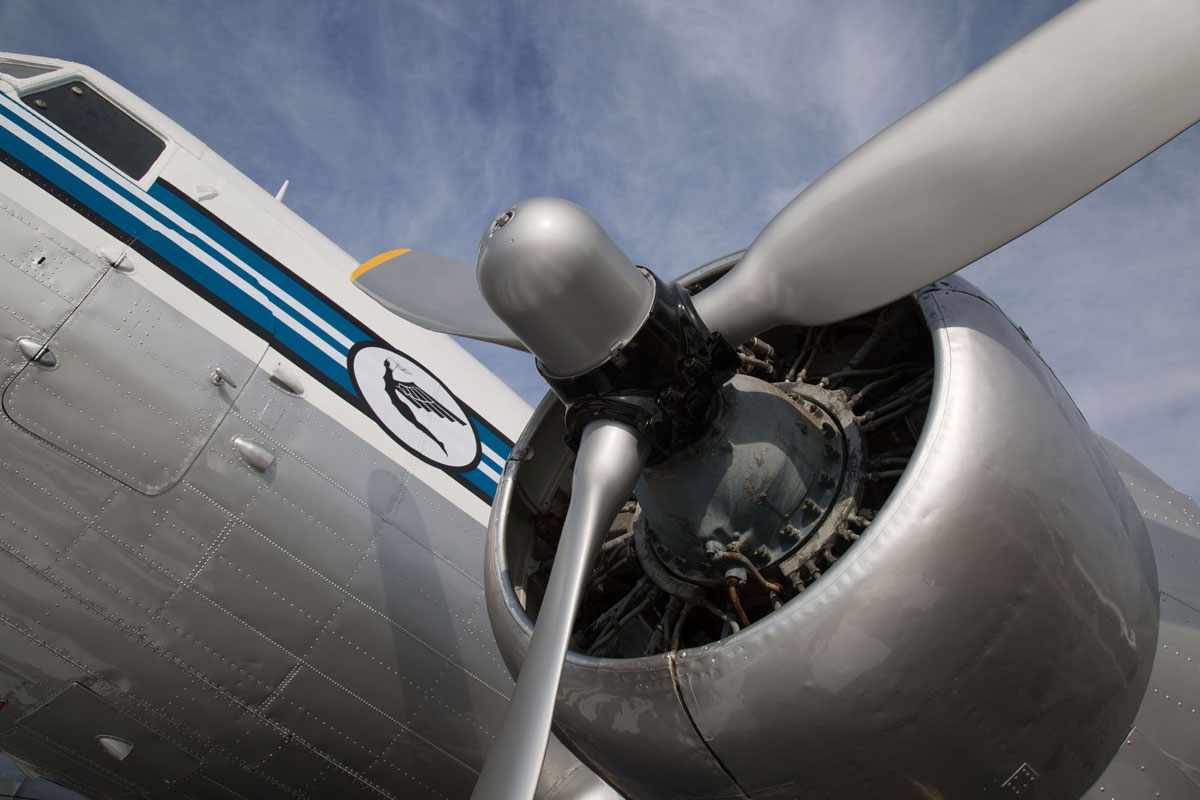 AW | 2020 02 02 13:00 | AIRLINES HISTORY
Un DC-3 de VARIG es desguazado en el Aeropuerto de Rio/Galeão
Un Douglas DC-3 perteneciente de la antigua VARIG Linhas Aéreas, con registrado PP-VBF, ha sido desguazado el Viernes 31 Enero 2020, en un hangar en el Aeropuerto Internacional Rio/Galeão Tom Jobim. El avión estuvo expuesto durante unos 30 años en Aterro do Flamengo, en la Zona Sur de Rio de Janeiro.
El imágenes del avión DC-3 desguazado se volvieron virales en las redes sociales. João Barone, baterista de Paralamas do Sucesso hizo una publicación sobre el caso en su cuenta de Twitter y dijo: «Hoy cometieron un crimen contra la memoria aeronáutica de Brasil: el legendario Douglas DC-3 que estaba en la entrada del antiguo Hangar del Aeropuerto Rio/Galeão VARIG fue destruido, nadie sabía la razón de su tamaño locura». Estos incidentes son una demostración de falta de respeto por la historia de la aviación brasileña. Representan un atentado a la historia y el patrimonio cultural de la aviación comerial mundial.
Douglas DC-3
El modelo de avión se hizo popular en la década de 1930 y 1940 y también se utilizó en la Segunda Guerra Mundial. Las aeronaves Douglas DC-3 se han hecho famosas en todo el mundo constituyendo en aquellos tiempos las flotas principales de las compañías aéreas de muchas aerolíneas. En Brasil el DC-3 se hizo conocido junto a la empresa VARIG que fueron operados en líneas nacionales e internacionales durante aproximadamente 25 años, tanto en transporte de pasajeros como de carga. VARIG poseía una flota de 49 aviones. El último vuelo del DC-3 tuvo lugar en Agosto 1971. En Brasil la aeronave fue apodada cariñosamente como «Douglinhas».
La entrañable VARIG
VARIG (Viação Aérea Rio Grandense) fundada en 1927, fue la primera aerolínea en Brasil que ha tenido reconocimiento internacional, convirtiéndose en una de las aerolíneas más grandes entre los años 1960 y 1980. La crisis financiera de la aerolínea comenzó en la década de 2000, cuando comenzó a vender compañías que pertenecían al grupo. En 2005, el Tribunal Superior de Brasil aceptó la solicitud de reorganización judicial de VARIG, que duró hasta 2009, también el año del último vuelo comercial de la compañía. A pedido de los administradores de bancarrota, el tribunal brasileño decretó la quiebra de la compañía en 2010.
Douglas DC-3 from VARIG is destroyed
A VARIG DC-3 is scrapped at Rio/Galeão Airport
A Douglas DC-3 belonging to the former VARIG Linhas Aéreas, with registered PP-VBF, has been scrapped on Friday, January 31, 2020, in a hangar at the Rio/Galeão Tom Jobim International Airport. The plane was exposed for about 30 years in Aterro do Flamengo, in the South Zone of Rio de Janeiro.
The images of the scrapped DC-3 plane became viral on social media. João Barone, drummer of Paralamas do Sucesso made a publication about the case on his Twitter account and said: «Today they committed a crime against the aeronautical memory of Brazil: the legendary Douglas DC-3 that was at the entrance of the old Airport Hangar Rio/Galeão VARIG was destroyed, nobody knew the reason for its madness size». These incidents are a demonstration of disrespect for the history of Brazilian aviation. They represent an attack on the history and cultural heritage of world commercial aviation.
Douglas DC-3
The airplane model became popular in the 1930s and 1940s and was also used in World War II. Douglas DC-3 aircraft have become famous throughout the world constituting at that time the main fleets of the airlines of many airlines. In Brazil, the DC-3 became
known along with the VARIG company that was operated on national and international lines for approximately 25 years, both in passenger and cargo transport. VARIG owned a fleet of 49 planes. The last flight of DC-3 took place in August 1971. In Brazil, the aircraft was affectionately dubbed «Douglinhas.»
The endearing VARIG
VARIG (Viação Aérea Rio Grandense) founded in 1927, was the first airline in Brazil that has received international recognition, becoming one of the largest airlines between 1960 and 1980. The airline's financial crisis began in the 2000's, when he started selling companies that belonged to the group. In 2005, the Brazilian Superior Court accepted the request for the judicial reorganization of VARIG, which lasted until 2009, also the year of the last commercial flight of the company. At the request of bankruptcy administrators, the Brazilian court decreed the bankruptcy of the company in 2010.
Douglas DC-3 da VARIG é destruído
Um VARIG DC-3 é descartado no aeroporto Rio/Galeão
Um Douglas DC-3 pertencente à antiga VARIG Linhas Aéreas, com PP-VBF registrado, foi descartado na sexta-feira, 31 de janeiro de 2020, em um hangar no Aeroporto Internacional Rio/Galeão Tom Jobim. O avião foi exposto por cerca de 30 anos no Aterro do Flamengo, na Zona Sul do Rio de Janeiro.
As imagens do avião DC-3 descartado se tornaram virais nas mídias sociais. João Barone, baterista do Paralamas do Sucesso, fez uma publicação sobre o caso em sua conta no Twitter e disse: «Hoje eles cometeram um crime contra a memória aeronáutica do Brasil: o lendário Douglas DC-3 que estava na entrada do antigo Hangar do Aeroporto O Rio/Galeão VARIG foi destruído, ninguém sabia o motivo do tamanho da loucura». Esses incidentes são uma demonstração de desrespeito à história da aviação brasileira. Eles representam um ataque à história e ao patrimônio cultural da aviação comercial mundial.
Douglas DC-3
O modelo de avião tornou-se popular nas décadas de 1930 e 1940 e também foi usado na Segunda Guerra Mundial. As aeronaves Douglas DC-3 tornaram-se famosas em todo o mundo, constituindo na época as principais frotas das companhias aéreas de muitas companhias aéreas. No Brasil, o DC-3 ficou conhecido junto à empresa VARIG, que operam em linhas nacionais e internacionais há aproximadamente 25 anos, tanto no transporte de passageiros quanto de carga. A VARIG possuía uma frota de 49 aviões. O último vôo do DC-3 ocorreu em agosto de 1971. No Brasil, a aeronave foi carinhosamente apelidada de «Douglinhas».
A simpática VARIG
A VARIG (Viação Aérea Rio Grandense), fundada em 1927, foi a primeira companhia aérea no Brasil a receber reconhecimento internacional, tornando-se uma das maiores companhias aéreas entre 1960 e 1980. A crise financeira da companhia começou nos anos 2000 , quando ele começou a vender empresas que pertenciam ao grupo. Em 2005, o Superior Tribunal de Justiça aceitou o pedido de recuperação judicial da VARIG, que durou até 2009, também o ano do último voo comercial da empresa. A pedido dos administradores de falências, o tribunal brasileiro decretou a falência da empresa em 2010.
Ξ A I R G W A Y S Ξ
SOURCE: Airgways.com
DBk: Airgways.com / Aeroflap.com.br / Oglobo.com
AW-POST: 202002021300AR
A\W   A I R G W A Y S ®