AW | 2020 02 05 14:10 | AVIATION SAFETY
Boeing 737-800 de Pegasus Airlines sufre accidente aéreo al aterrizar en Estambul
Pegasus Airlines ha sufrido de un accidente aéreo el 5 Febrero 2020 con una aeronave Boeing 737-800 Next Generation, impactando fuertemente en lapista del Aeropuerto internacional de Estambul, Turquía. El Boeing 737-800 de Pegasus, registro TC-IZK que realiza el vuelo PC-2193 de Esmirna a Estambul Sabiha Gokcen (Turquía) con 177 personas a bordo, aterrizó en la Pista 06 a las 18:20L (15:20Z) pero superó el final de la pista, impactando en el muro perimetral del aeropuerto y se ha producido una rotura de la célula en tres partes, separándose un motor de la aeronave.
Los trabajos actuales de rescate y recuperación están en progreso. El Ministerio de Transporte de Turquía informó que había 177 personas a bordo, no hubo pérdida de vidas. El avión aterrizó con fuerza, salió de la pista y quedó atrapado en tierra. De acuerdo con los datos del Modo S transmitidos por la aeronave, la aeronave sobrevoló el extremo de la pista a unos 63 nudos sobre el suelo girando ligeramente a la izquierda, probablemente golpeó la Pista 06 de la antena del localizador, pasó por una carretera del aeropuerto e impactó el muro perimetral del aeropuerto. Se esperan más detalles acerca del accidente aéreo del vuelo PC-2193 de Pegasus Airlines.
A diferencia de la mayoría de las aerolíneas de bajo costo, Pegasus dirige su propio centro de entrenamiento de tripulación de vuelo y organización de mantenimiento, Pegasus Technic. Ambos centros tienen licencia completa y se utilizan para capacitar a nuevos miembros del personal tanto en tierra como en el aire.
NOTAM
El aeropuerto ha permanecido cerrado y ha emitido un NOTAM (Aviso al aviador) que indica que tanto el ILS (sistema de aterrizaje por instrumentos) como los sistemas de localización para la pista 06 no funcionan después del accidente, lo que indica que la aeronave pasó directamente por el equipo terrestre. Las condiciones climáticas en ese momento indican que el viento soplaba desde 290 grados a 22 nudos, con ráfagas a 37 nudos. Esto crearía un viento de cola de 14 nudos (23 nudos) y un viento cruzado de 17 (28 nudos) mientras aterrizaba en la Pista 06. Tormentas eléctricas también se informó en las proximidades del aeródromo.
Actualización PC-2193
Al menos tres pasajeros murieron y 179 resultaron heridos después de que un Boeing 737-800 de Turkish Pegasus Airlines se estrellara al aterrizar durante una tormenta eléctrica.
Increíblemente, el 737 aterrizó efectuó casi dos tercios del camino por una pista de 3 km y sobrepasó la franja a 116 km/h y chocó contra una pared. Parece que los pilotos aceptaron un viento de cola de hasta 25kts (46 km/h) y eso habría sido un factor importante en el accidente.
Incidentes y accidentes

El 10 Marzo 2010, el vuelo PC-361 de Pegasus Airlines, un Airbus A319 operado por IZair en un vuelo en ferry, realizó un aterrizaje de emergencia en el aeropuerto de Frankfurt, Alemania , después de un mal funcionamiento en el tren delantero. El vuelo aterrizó de manera segura, pero sopló los dos neumáticos del tren delantero. El aeropuerto cerró la pista 07R/25L durante 3 horas para permitir la recuperación. El engranaje de nariz sufrió el mismo problema que el vuelo B6-292 de JetBlue Airways.
El 7 Febrero 2014, el vuelo PC-751 de Pegasus Airlines, un Boeing 737, fue víctima de un intento de secuestro por parte de un pasajero ucraniano, Artem Kozlov, quien afirmó que tenía una bomba a bordo. El pasajero exigió ser trasladado en avión a Sochi, la ciudad anfitriona de los Juegos Olímpicos de Invierno 2014, donde se celebraba la Ceremonia de Apertura. El avión aterrizó con seguridad en Estambul.
El 13 Enero 2018, el vuelo PC-8622 de Pegasus Airlines desde el aeropuerto internacional de Esenboğa, Ankara al aeropuerto de Trabzon se desvió de la pista helada de Trabzon, se deslizó en el suelo de un acantilado en ángulo agudo y se atascó en el barro, lo que impidió el fuselaje de 41 toneladas de deslizarse hacia el Mar Negro. Las 168 personas a bordo sobrevivieron y no se reportaron heridos. El avión sufrió daños sustanciales.
El 7 Enero 2020, el vuelo PC-747 de Pegasus Airlines, operado por Boeing 737-800 TC-CCK, invadió la pista al aterrizar en el aeropuerto Sabiha Gökçen de Estambul. Todos a bordo evacuados a través de toboganes. No hubo heridos.
El 5 Febrero 2020, el vuelo PC-2193 de Pegasus Airlines, operado por Boeing 737-800 TC-IZK, invadió la pista al aterrizar en el aeropuerto Sabiha Gökçen de Estambul.

Pegasus PS-2193 accident in Turkey
Pegasus Airlines Boeing 737-800 suffers a plane crash when landing in Istanbul
Pegasus Airlines has suffered from an air accident on February 5, 2020, with a Boeing 737-800 Next-Generation aircraft, impacting heavily on the pencil at the Istanbul International Airport, Turkey. Pegasus Boeing 737-800, a TC-IZK record that takes flight PC-2193 from Izmir to Istanbul Sabiha Gokcen (Turkey) with 177 people on board, landed on Runway 06 at 18: 20L (15:20Z) but it overcame the end of the runway, impacting on the perimeter wall of the airport and there has been a break in the cell in three parts, separating an engine from the aircraft.
Current rescue and recovery work is in progress. The Turkish Ministry of Transport reported that there were 177 people on board, there was no loss of life. The plane landed hard, left the runway and was trapped on the ground. According to the Mode S data transmitted by the aircraft, the aircraft flew over the end of the runway at about 63 knots on the ground turning slightly to the left, probably hitting Runway 06 of the locator's antenna, passed through a highway from the airport and hit the perimeter wall of the airport. More details are expected about the plane crash of Pegasus Airlines flight PC-2193.
Unlike most low-cost airlines, Pegasus runs its own flight crew training and maintenance organization center, Pegasus Technic. Both centers are fully licensed and used to train new staff members both on land and in the air.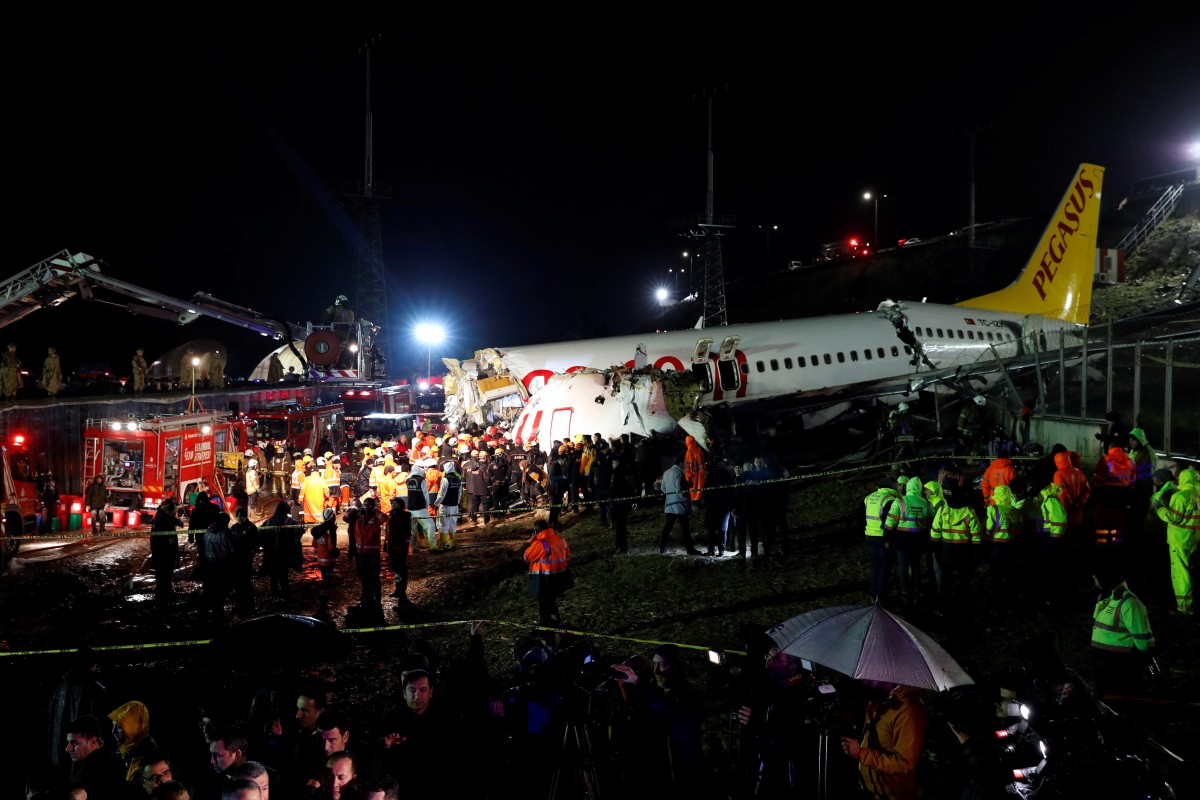 NOTAM
The airport has remained closed and has issued a NOTAM (Notice to the Aviator) that indicates that both the ILS (instrument landing system) and the location systems for runway 06 do not work after the accident, indicating that the aircraft passed directly by the ground team. The weather conditions at that time indicate that the wind was blowing from 290 degrees at 22 knots, with gusts at 37 knots. This would create a tailwind of 14 knots (23 knots) and a crosswind of 17 (28 knots) while landing on Runway 06. Thunderstorms were also reported in the vicinity of the airfield.
Update PC-2193
At least three passengers died and 179 were injured after a Turkish Pegasus Airlines Boeing 737-800 crashed on landing during a thunderstorm.
Incredibly, the 737 landed made almost two-thirds of the way down a 3 km track and surpassed the strip at 116 km / h and hit a wall. It seems that the pilots accepted a tailwind of up to 25kts (46 km / h) and that would have been an important factor in the accident.
Incidents and accidents

On March 10, 2010, Pegasus Airlines flight PC-361, an Airbus A319 operated by IZair on a ferry flight, made an emergency landing at the airport in Frankfurt, Germany, after a malfunction in the front train. The flight landed safely but blew the two tires of the front train. The airport closed runway 07R / 25L for 3 hours to allow recovery. The nose gear suffered the same problem as the JetBlue Airways flight B6-292.
On February 7, 2014, Pegasus Airlines flight PC-751, a Boeing 737, was the victim of an attempted kidnapping by a Ukrainian passenger, Artem Kozlov, who claimed he had a bomb on board. The passenger demanded to be transferred by plane to Sochi, the host city of the 2014 Winter Olympics, where the Opening Ceremony was held. The plane landed safely in Istanbul.
On January 13, 2018, Pegasus Airlines flight PC-8622 from Esenboğa International Airport, Ankara to Trabzon Airport deviated from Trabzon's icy runway, slipped on the floor of a sharp-angle cliff and got stuck in the mud, which prevented the 41-ton fuselage from sliding into the Black Sea. The 168 people on board survived and no injuries were reported. The plane suffered substantial damage.
On January 7, 2020, Pegasus Airlines flight PC-747, operated by Boeing 737-800 TC-CCK, invaded the runway upon landing at Istanbul's Sabiha Gökçen airport. All aboard evacuated through slides. There were no injuries.
On February 5, 2020, Pegasus Airlines flight PC-2193, operated by Boeing 737-800 TC-IZK, invaded the runway when landing at Istanbul's Sabiha Gökçen airport.
DATA: La información procesada puede actualizarse debido al tipo de datos cambiantes, por lo que le sugerimos consultar periódicamente esta información.
DATA: The processed information can be updated due to the type of changing data, so we suggest you consult this information periodically.
Ξ A I R G W A Y S Ξ
SOURCE: Airgways.com
DBk: Avherald.com / Op.udhb.gov.tr / Airgways.com
AW-POST: 202002051410AR
A\W   A I R G W A Y S ®