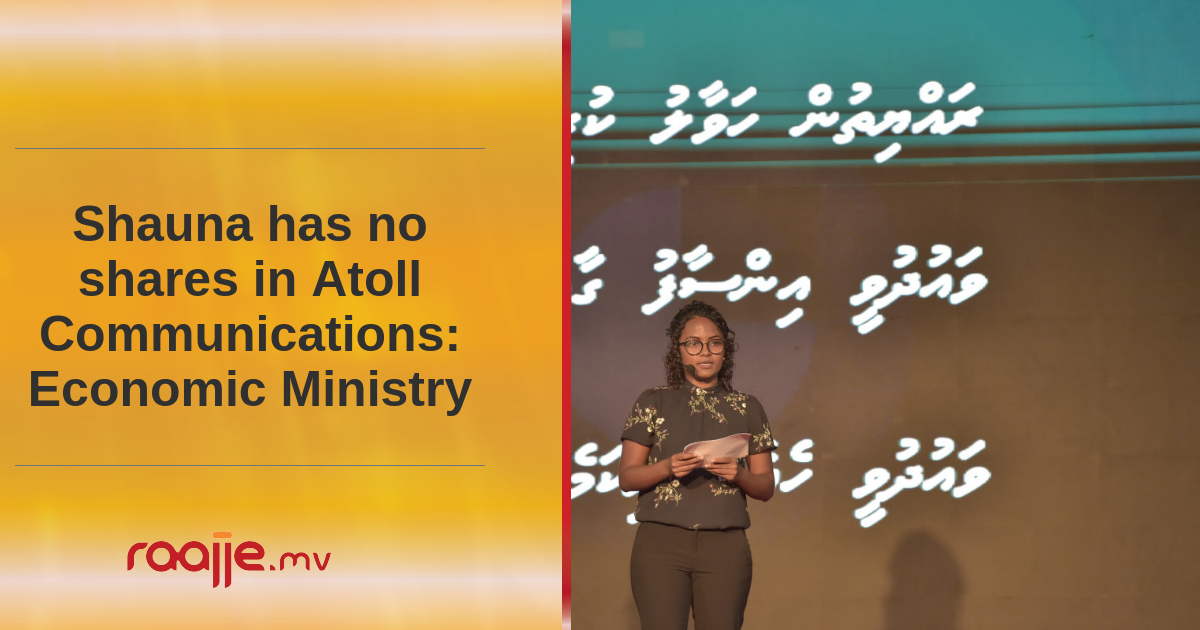 AW | 2020 02 17 08:08 | GOVERNMENT / AIRLINES
Secretario Gobierno no tiene relación con Atoll Comunications

El Ministerio de Desarrollo Económico ha declarado que Aminath Shauna, el Secretario de Política de la Oficina del Presidente, no tiene acciones con Atoll Communications, el consultor de medios de Trans Maldivian Airways (TMA). Si bien se ha revelado que el fundador de Atoll Communications, Paul Roberts, había trabajado anteriormente como estratega comunitario en la Oficina del Presidente durante el régimen del ex presidente Nasheed, la lista de accionistas de la compañía de relaciones públicas incluye al esposo de Shauna, Mohamed Thoriq. Como tal, Shauna se ha enfrentado a críticas con acusaciones de su participación en la compañía que circula en gran medida en las redes sociales debido a que su nombre aparece en la base de datos del ministerio económico como Socio Gerente de Atoll Communications. Shauna negó estas acusaciones a través de Twitter el sábado, afirmando que no tiene acciones ni ningún papel en Atoll Communications. Apeló además al Ministerio de Economía para que emitiera una corrección junto con una aclaración.
El Ministerio de Asuntos Económicos respondió, confirmando que Shauna no ha tenido acciones en la compañía desde el 20 Febrero 2019. Además, declararon que la base de datos ha sido corregida y se disculpó por cualquier inconveniente causado por el error. A pesar de no ser accionista de la empresa, muchos miembros del público han planteado preguntas y expresado críticas contra Shauna debido a la condición de su esposo como accionista de la empresa.
El esposo de Shauna, Thoriq, ha explicado que renunció a sus acciones en la compañía cuando se unió al gobierno y la compañía, originalmente bajo el nombre de Shauna & Roberts, fue renombrada como Atoll Communications. Al enfatizar que Shauna actualmente no tiene ningún papel en la compañía, Thoriq destacó que la confusión surgió debido a un error del ministerio de economía. Cuando se le preguntó si consideraba el asunto como un conflicto de intereses, Thoriq declaró que se esperan tales acusaciones, independientemente de dónde esté empleado, debido a los mandatos de trabajo de Shauna. Además, explicó que Atoll Communication ha trabajado con Trans Maldivian Airways (TMA) durante tres semanas hasta el momento, y agregó que su trabajo incluía proporcionar traducciones de informes de noticias locales relevantes y asistencia para emitir dos comunicados de prensa.
Maldives has no relationship with Atoll Communications
Government Secretary has no relationship with Atoll Communications
The Ministry of Economic Development has stated that Aminath Shauna, the Policy Secretary of the President's Office, has no actions with Atoll Communications, the media consultant for Trans Maldivian Airways (TMA). While it has been revealed that the founder of Atoll Communications, Paul Roberts, had previously worked as a community strategist in the Office of the President during the regime of former President Nasheed, the list of shareholders of the public relations company includes Shauna's husband, Mohamed Thoriq. As such, Shauna has faced criticism with accusations of his participation in the company that circulates largely in social networks because his name appears in the database of the economic ministry as Managing Partner of Atoll Communications. Shauna denied these accusations via Twitter on Saturday, claiming he has no shares or any role in Atoll Communications. He also appealed to the Ministry of Economy to issue a correction along with a clarification.
The Ministry of Economic Affairs responded, confirming that Shauna has not had any shares in the company since February 20, 2019. In addition, they stated that the database has been corrected and apologized for any inconvenience caused by the error. Despite not being a shareholder of the company, many members of the public have raised questions and expressed criticism against Shauna due to her husband's status as a shareholder of the company.
Shauna's husband, Thoriq, has explained that he gave up his actions in the company when he joined the government and the company, originally under the name of Shauna & Roberts, was renamed Atoll Communications. Emphasizing that Shauna currently has no role in the company, Thoriq noted that the confusion arose due to an error from the ministry of economy. When asked if he considered the matter as a conflict of interest, Thoriq stated that such accusations are expected, regardless of where he is employed, due to Shauna's work mandates. In addition, he explained that Atoll Communication has worked with Trans Maldivian Airways (TMA) for three weeks so far, adding that his work included providing translations of relevant local news reports and assistance in issuing two press releases.
Ξ A I R G W A Y S Ξ
SOURCE: Airgways.com
DBk: Raajje.mv / Trade.gov.mv
AW-POST: 202002170808AR
A\W   A I R G W A Y S ®