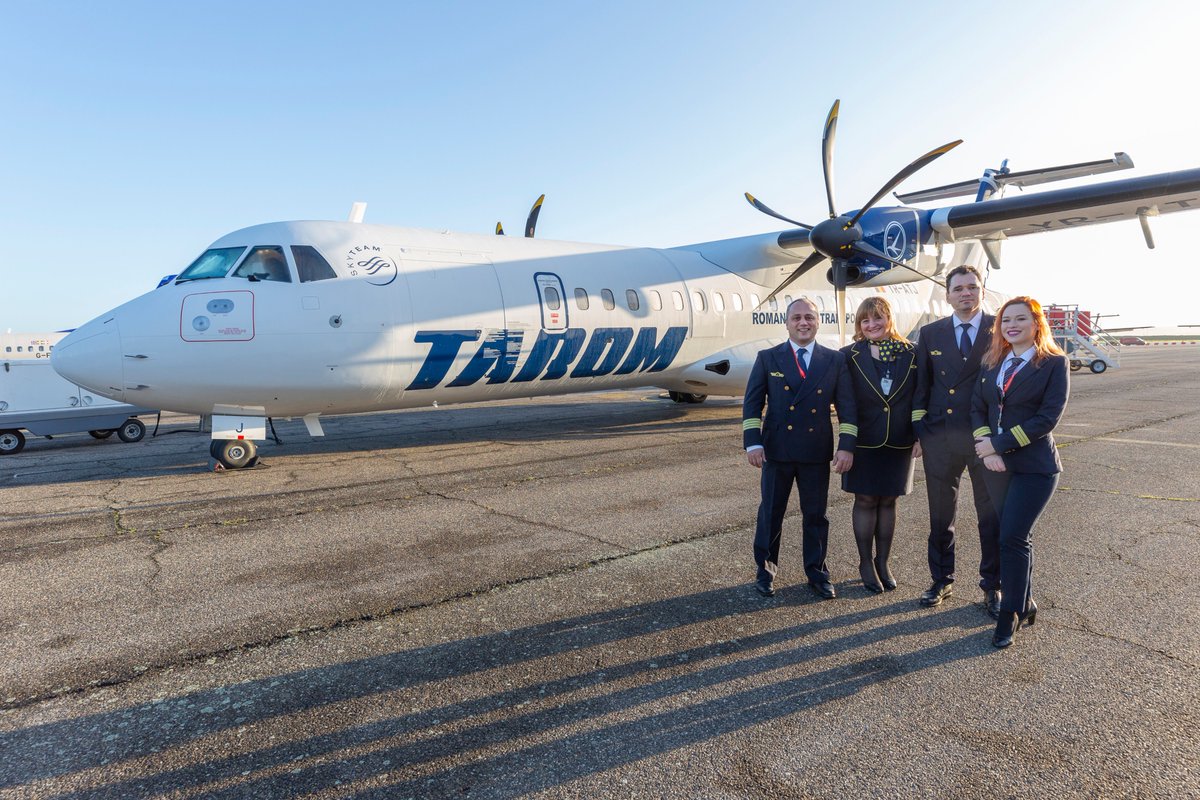 AW | 2020 02 23 00:18 | AIRLINES / INDUSTRY
TAROM Airlines incorpora primer ATR 72 Series 600
TAROM Airlines inicia la actualización del turbopropulsor con el primer ATR 72-600. El operador rumano mejorará aún más la conectividad regional en Rumania, con una mayor capacidad de asientos, costos operativos más bajos y el mejor desempeño ambiental
TAROM, la aerolínea de bandera nacional de Rumanía, recibió su primer avión ATR 72-600, el producto líder del mercado del fabricante de aviones regional número uno del mundo ATR Aircraft. Con una nueva librea, este avión es el primero de un contrato de arrendamiento con el principal arrendador regional de aviones NAC, para nueve ATR 72-600. TAROM ha tenido mucho éxito en sus operaciones en el mercado interno al utilizar aviones ATR, tanto ATR 42‑500 como ATR 72-500, para competir con los transportistas de bajo costo. Cuando se complete esta importante actualización de la flota, para fines de 2020, el transportista rumano ofrecerá 330.000 asientos adicionales cada año, al mismo costo operativo que su nivel de asiento anterior, mejorando la conectividad de corto recorrido en Rumania. Con el ATR 72-600 quemando un 40% menos de combustible y emitiendo un 40% menos de CO2 que los aviones regionales de tamaño similar, TAROM apoyará el desarrollo de comunidades locales y más aisladas de una manera responsable, mientras consolida aún más su posición en el mercado. El oficial ejecutivo George Barbu dijo: «Esperamos comenzar las operaciones con nuestro nuevo ATR 72-600, el único avión en el mercado regional que cumple con nuestros ambiciosos objetivos en términos de eficiencia, tecnología moderna y desempeño ambiental. Vamos a poder desarrollar nuevas rutas y aumentar la frecuencia y la disponibilidad de asientos, al tiempo que ofrecemos los más altos niveles de confort y tecnología».
El Presidente de NAC, Martin Møller, agregó: "La economía del ATR 72-600, su modernidad, comodidad y flexibilidad para el pasajero, junto con credenciales ambientales comprobadas lo convierten en un activo atractivo, tanto para arrendadores como para aerolíneas. Agradecemos a TAROM la confianza que han depositado en NAC y esperamos fortalecer nuestra relación en el futuro".
Stefano Bortoli, Director Ejecutivo de ATR, comentó: "La confianza renovada de un cliente leal es el mejor respaldo posible para un fabricante de aviones. Especialmente cuando la decisión se toma después de una evaluación rigurosa de las soluciones existentes en el mercado, sabemos que nuestro producto está funcionando para nuestros clientes. Todas las regiones merecen la misma oportunidad de ser parte de un mundo conectado y los aviones ATR muestran un rendimiento inigualable en la conexión responsable de personas y empresas».
TAROM y ATR Aircraft han estado trabajando juntos durante 20 años. Esta importante actualización de la flota también permitirá a la aerolínea beneficiarse de la aviónica de última generación, incluidas las capacidades de cabina de cristal, LPV y V-NAV, para operaciones seguras, flexibles y eficientes.
Aprobaciones financieras
Tarom Airlines espera ansiosamente la aprobación por parte de la Unión Europea para la ayuda estatal del Gobierno de Rumania para la inyección de capital que le permitiría oxigenar el desarrollo de las operaciones aerocomerciales.
TAROM receives 1st ATR 72-600
TAROM Airlines incorporates first ATR 72 Series 600
TAROM Airlines starts updating the turboprop with the first ATR 72-600. The Romanian operator will further improve regional connectivity in Romania, with greater seating capacity, lower operating costs, and better environmental performance
TAROM, the national flag airline of Romania, today received its first ATR 72-600 aircraft, the leading market product of the world's number one regional aircraft manufacturer ATR Aircraft. With a new livery, this aircraft is the first of a lease with the main regional landlord of NAC aircraft, for nine ATR 72-600.TAROM has been very successful in its operations in the domestic market when using ATR aircraft, both ATR 42-500 as ATR 72-500, to compete with low-cost carriers. When this important fleet update is completed, by the end of 2020, the Romanian carrier will offer 330,000 additional seats each year, at the same operating cost as its previous seat level, improving short-haul connectivity in Romania. With the ATR 72-600 burning 40% less fuel and emitting 40% less CO2 than regional aircraft of similar size, TAROM will support the development of local and more isolated communities in a responsible manner, while further consolidating its position in the market. Executive Officer George Barbu said: «We hope to begin operations with our new ATR 72-600, the only aircraft in the regional market that meets our ambitious goals in terms of efficiency, modern technology, and environmental performance. We will be able to develop new routes and increase the frequency and availability of seats while offering the highest levels of comfort and technology».
The president of NAC, Martin Møller, added: "The economy of the ATR 72-600, its modernity, comfort, and flexibility for the passenger, together with proven environmental credentials make it an attractive asset, both for landlords and for airlines. We thank TAROM for the trust they have placed in NAC and we hope to strengthen our relationship in the future".
Stefano Bortoli, Executive Director of ATR, commented: "The renewed trust of a loyal customer is the best possible support for an aircraft manufacturer. Especially when the decision is made after a rigorous evaluation of the existing solutions in the market, we know that our product is working for our customers. All regions deserve the same opportunity to be part of a connected world and ATR airplanes show unmatched performance in the responsible connection of people and companies».
TAROM and ATR have been working together for 20 years. This important fleet update will also allow the airline to benefit from the latest generation avionics, including glass cabin, LPV, and V-NAV capabilities, for safe, flexible and efficient operations.
Financial approvals
Tarom Airlines is anxiously awaiting approval by the European Union for state aid from the Government of Romania for the injection of capital that would allow it to oxygenate the development of the commercial operations.
TAROM primește primul ATR 72-600
TAROM Airlines include primul ATR 72 Seria 600
TAROM Airlines începe să actualizeze turbopropultarea cu primul ATR 72-600. Operatorul român va îmbunătăți și mai mult conectivitatea regională în România, cu o capacitate mai mare de locuri, costuri de operare mai mici și performanțe de mediu mai bune
TAROM, compania aeriană de pavilion națională a României, a primit astăzi primul avion ATR 72-600, produsul principal de piață al numărului unu de producători regionali de aeronave din lume ATR Aircraft. Cu o nouă livrare, această aeronavă este prima dintr-un contract de închiriere cu principalul proprietar regional al aeronavelor NAC, pentru nouă ATR 72-600. TAROM a avut un mare succes în operațiunile sale pe piața internă atunci când a utilizat aeronave ATR, ambele ATR 42-500 ca ATR 72-500, pentru a concura cu transportatorii low-cost. Când această actualizare importantă a flotei este finalizată, până la sfârșitul anului 2020, transportatorul român va oferi 330.000 de locuri suplimentare în fiecare an, la același cost de operare ca nivelul anterior al scaunelor, îmbunătățind conectivitatea pe distanțe scurte în România. Cu ATR 72-600 care arde cu 40% mai puțin combustibil și emite cu 40% mai puțin CO2 decât aeronavele regionale de dimensiuni similare, TAROM va sprijini dezvoltarea comunităților locale și mai izolate într-o manieră responsabilă, consolidând în continuare poziția sa în piață Directorul executiv George Barbu a declarat: ,,Sperăm să începem operațiunile cu noul nostru ATR 72-600, singura aeronavă de pe piața regională care îndeplinește obiectivele noastre ambițioase în ceea ce privește eficiența, tehnologia modernă și performanța de mediu. Vom putea dezvolta noi rute și crește frecvența și disponibilitatea locurilor, oferind în același timp cele mai înalte niveluri de confort și tehnologie».
Președintele NAC, Martin Møller, a adăugat: ,,Economia ATR 72-600, modernitatea, confortul și flexibilitatea pentru pasageri, împreună cu acreditările de mediu dovedite îl fac un atu atractiv, atât pentru proprietari, cât și pentru companiile aeriene. Mulțumim TAROM pentru încrederea pe care au depus-o în NAC și sperăm să ne consolidăm relația în viitor".
Stefano Bortoli, directorul executiv al ATR, a comentat: "Încrederea reînnoită a unui client fidel este cel mai bun suport posibil pentru un producător de aeronave. Mai ales când decizia este luată după o evaluare riguroasă a soluțiilor existente pe piață, știm că produsul nostru funcționează pentru clienții noștri. Toate regiunile merită aceeași oportunitate de a face parte dintr-o lume conectată, iar avioanele ATR prezintă performanțe de neegalat în conexiunea responsabilă a oamenilor și companiilor».
TAROM și ATR lucrează împreună de 20 de ani. Această actualizare importantă a flotei va permite, de asemenea, companiei aeriene să beneficieze de avantajele avionice de ultimă generație, inclusiv capacitățile de cabină de sticlă, LPV și V-NAV, pentru operațiuni sigure, flexibile și eficiente.
Aprobări financiare
Tarom Airlines așteaptă cu nerăbdare aprobarea de către Uniunea Europeană a ajutorului de stat din partea Guvernului României pentru injecția de capital care să-i permită oxigenarea operațiunilor comerciale.
Ξ A I R G W A Y S Ξ
SOURCE: Airgways.com
DBk: Atraircraft.com / Tarom.ro / Airgways.com
AW-POST: 202002230018AR
A\W   A I R G W A Y S ®