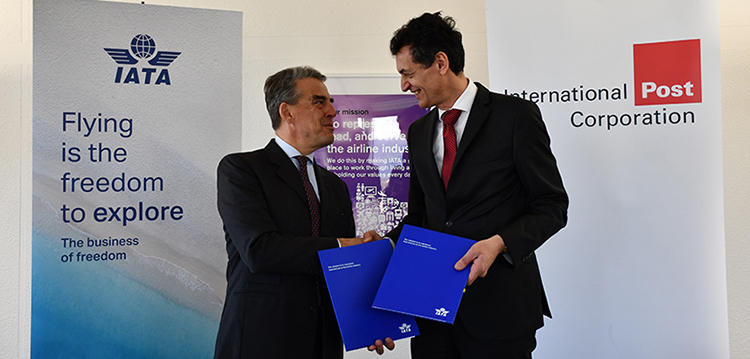 AW | 2020 02 23 12:37 | AVIATION ORGANISMS
IATA firma un memorando de entendimiento para ayudar a mejorar la red de correo aéreo
La Asociación Internacional de Transporte Aéreo (IATA) ha firmado un Memorando de Entendimiento (MoU) con la International Post Corporation (IPC) para garantizar que el servicio de correo aéreo se mantenga en un alto nivel, que buscará abordar la seguridad, los procesos y las normas.
IATA e IPC se han comprometido a abordar siete áreas específicas de la industria, incluida la mejora de la seguridad, el desarrollo y el mantenimiento de estándares, la creación de soluciones tecnológicas y la alineación de los servicios existentes. Mejorar la participación en la asistencia en tierra, abordar los desafíos volumétricos y desarrollar la optimización del proceso también son parte del MoU. En última instancia, este acuerdo beneficiará a los consumidores a través de una entrega de correo aéreo más confiable y rápida. Ambas organizaciones dijeron que esperaban que el acuerdo promoviera el desarrollo y la expansión de servicios de correo aéreo y de carga seguros, accesibles y de alta calidad, y que complacieran a los interesados ​​y consumidores por igual.
«El comercio electrónico internacional está creciendo a un ritmo de alrededor del 20% anual, lo que lleva a condiciones de mercado que cambian rápidamente para las aerolíneas y los puestos. Asegurar que los clientes reciban sus paquetes a tiempo mientras se mantiene la seguridad en el transporte aéreo postal es la principal prioridad para los operadores de correos y transporte aéreo por igual. La cooperación en toda la cadena de suministro es imprescindible y nuestro MoU con IPC es un paso importante para fortalecer nuestra actividad en esta área», dijo el Director General y CEO de IATA, Alexandre de Juniac.
El CEO de IPC, Holger Winklbauer, dijo que el memorando de entendimiento fue un recordatorio de la fuerte cooperación que existe entre las industrias de aviación y correo, y agradeció el deseo de ambas organizaciones de mejorar los procesos y estándares existentes. «Ambos sectores pueden ganar con una cooperación reforzada en términos de competitividad y calidad de servicio. En última instancia, este acuerdo beneficiará a los consumidores a través de una entrega más confiable y rápida de correo transfronterizo y paquetes transportados por vía aérea», dijo Winklbauer.
IATA signature MoU airmail improvement
IATA signs a memorandum of understanding to help improve the airmail network
The International Air Transport Association (IATA) has signed a Memorandum of Understanding (MoU) with the International Post Corporation (IPC) to ensure that the airmail service remains at a high level, which will seek to address security, processes and the rules.
IATA and IPC are committed to addressing seven specific areas of the industry, including improving security, developing and maintaining standards, creating technological solutions and aligning existing services. Improving participation in ground assistance, addressing volumetric challenges and developing process optimization are also part of the MoU. Ultimately, this agreement will benefit consumers through more reliable and faster airmail delivery. Both organizations said they hoped the agreement would promote the development and expansion of safe, accessible and high-quality airmail and cargo services, and that they would please interested parties and consumers alike.
«International e-commerce is growing at a rate of around 20% annually, leading to rapidly changing market conditions for airlines and stations. Ensure that customers receive their packages on time while maintaining security in the Postal air transport is the top priority for postal and air transport operators alike. Cooperation throughout the supply chain is essential and our MoU with IPC is an important step to strengthen our activity in this area», said the Director-General and CEO of IATA, Alexandre de Juniac.
IPC CEO Holger Winklbauer said the memorandum of understanding was a reminder of the strong cooperation that exists between the aviation and mail industries and thanked both organizations for their desire to improve existing processes and standards. «Both sectors can win with enhanced cooperation in terms of competitiveness and quality of service. Ultimately, this agreement will benefit consumers through more reliable and faster delivery of cross-border mail and packages transported by air», said Winklbauer.
Ξ A I R G W A Y S Ξ
SOURCE: Airgways.com
DBk: Iata.org / Airgways.com
AW-POST: 202002231237AR
A\W   A I R G W A Y S ®