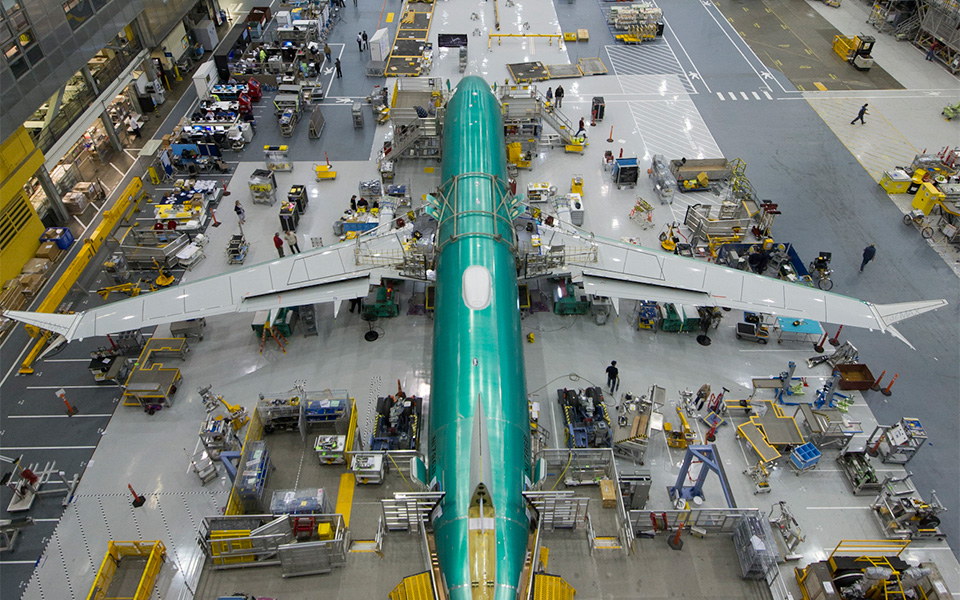 AW | 2020 03 10 17:44 | INDUSTRY / AVIATION SAFETY
El costo detrás de la crisis de la línea Boeing 737 MAX
Los dos accidentes aéreos de los Boeing 737-8 MAX que han cobraron la vida de 346 personas continúa costandoa al fabricante aeronáutico The Boeing Company al menos alrededor de US$ 18.7 mil millones. En el aniversario del 10 Marzo 2020 del segundo accidente fatal del avión del vuelo ET-302 de Ethiopian Airlines, tras las postergaciones de la recertificación de la línea 737 de cuarta generación, está haciendo evidente que el precio del costo podría aumentar significativamente.
Boeing insiste en que está en camino de obtener la aprobación para que el Boeing 737 MAX vuele pasajeros para 3Q2020. El costo estimado de la crisis, que Boeing ha detallado para los inversores en Enero 2020 incluye US$ 8.3 mil millones en compensación para los clientes de la compañía aérea y US$ 6.3 mil millones en mayores costos para construir el avión.
Boeing redujo su tasa de producción cuando la Administración Federal de Aviación (FAA) puso en tierra la flota del 737 MAX, después del segundo de dos accidentes fatales. Se detuvo por completo de la construcción en Enero 2020. La compañía dijo que espera gastar alrededor de US$ 4 mil millones más de lo presupuestado anteriormente para construir los aviones una vez que reciba permiso para hacerlo. Ha establecido un fondo de compensación de US$ 100 millones para las familias de las víctimas de accidentes, aunque enfrentará costos de litigios que podrían ser mucho más altos.
Forzando contratiempos
Numerosos factores podrían aumentar aún más los costos de la compañía. Lo más importante es si la compañía puede obtener la aprobación de la FAA para que los aviones 737 MAX vuelvan a volar a mediados de año. Eso ahora está en duda dadas nuevas preguntas sobre los desechos encontrados en los tanques de combustible de unos 737 MAX, y si la FAA requerirá cambios en el cableado de los aviones.
La FAA solo dijo que aprobará el avión cuando esté seguro de que es seguro. "Nuestra estimación es que serán unos $ 23 mil millones en total, excluyendo la responsabilidad por la pérdida de vidas. Y si se extiende más, ese número aumentará", dijo Ronald Epstein, Analista de Bank of America Merrill Lynch.
Escenarios de ventas
Cuanto más se prolongue la crisis, es más probable que las aerolíneas cancelen o retrasen la entrega de los aviones que ordenaron, especialmente ahora que el coronavirus ha diezmado las reservas y tarifas de las aerolíneas.
La reciente caída en los precios del petróleo, particularmente en los precios del combustible para aviones, reduce el incentivo para que las aerolíneas compren el 737 MAX o el equivalenta a un avión de última generación, que son más eficiente en combustible. Una vez que Boeing pierde sus fechas de entrega por un año, las aerolíneas pueden cancelar o retrasar una compra sin pagar multas. "Se convierte en una forma muy fácil de renegociar y ejerce presión financiera sobre Boeing", dijo Richard Aboulafia, analista aeroespacial del Grupo Teal.
La crisis puede haber costado las ventas de Boeing para un nuevo avión que está planeando construir, uno que podría viajar más lejos y tener más pasajeros que el 737 MAX pero menos que un jet de fuselaje ancho. El rival de Boeing, Airbus, ha estado bloqueando los pedidos de su nuevo avión en ese segmento del mercado, el A321NEO XLR. Boeing debía debutar ese avión el año pasado y continuó trabajando en el nuevo avión durante la crisis de Max, pero dijo que estaba más enfocado en hacer que el 737 MAX volviera a volar.
Perspectivas
El balance de Boeing sigue siendo sólido, en parte porque ha podido pedir prestado dinero de los mercados de capitales. Su deuda básicamente se ha duplicado desde finales de Marzo 2019, aumentando a US$ 25.3 mil millones a fines de 2019 de US$ 12.6 mil millones. En Febrero 2020, reveló que había firmado un acuerdo con los principales bancos del país para pedir prestados hasta US$ 13 mil millones en una nueva línea de crédito. Si bien el acuerdo tiene una buena tasa, Boeing habrá aumentado los gastos por intereses de sus préstamos.
Las estimaciones sobre el costo de la crisis no incluyen el aumento de los gastos por intereses que Boeing tendrá que pagar por los años que llevará recuperarse de la crisis. Las estimaciones tampoco incluyen el costo del litigio, no solo las demandas presentadas por las familias de las víctimas del accidente, sino también de los accionistas e incluso algunos grupos de empleados de la aerolínea, como uno presentado por los pilotos de Southwest Airlines para compensarlos por la pérdida de salarios.
Crisis Boeing 737 MAX US$ 18.7 billion
The cost behind the crisis of the Boeing 737 MAX line
The two aircraft accidents of the Boeing 737-8 MAX that have claimed the lives of 346 people continue to cost The Boeing Company aeronautical manufacturer at least about the US$ 18.7 billion. On the anniversary of March 10, 2020, of the second fatal accident of the Ethiopian Airlines flight ET-302, after the postponement of recertification of the 737 fourth-generation line, it is becoming clear that the cost price could increase significantly.
Boeing insists it is on track to get approval for the Boeing 737 MAX to fly passengers for 3Q2020. The estimated cost of the crisis, which Boeing has detailed for investors in January 2020 includes US$ 8.3 billion in compensation for the airline's customers and US$ 6.3 billion in higher costs to build the plane.
Boeing reduced its production rate when the Federal Aviation Administration (FAA) grounded the 737 MAX fleet, after the second of two fatal accidents. Construction was completely halted in January 2020. The company said it expects to spend around US$ 4 billion more than previously budgeted to build the planes once it receives permission to do so. It has established a compensation fund of US $ 100 million for the families of accident victims, although it will face litigation costs that could be much higher.
Forcing setbacks
Numerous factors could further increase the company's costs. The most important thing is whether the company can obtain FAA approval for the 737 MAX aircraft to fly again in the middle of the year. That is now in doubt given new questions about the debris found in the fuel tanks of about 737 MAX, and if the FAA will require changes in aircraft wiring.
The FAA only said it will approve the plane when it is certain it is safe. "Our estimate is that it will be about $ 23 billion in total, excluding responsibility for loss of life. And if it extends further, that number will increase", said Ronald Epstein, Analyst at Bank of America Merrill Lynch.
Sales Scenarios
The longer the crisis continues, the more likely the airlines will cancel or delay the delivery of the planes they ordered, especially now that the coronavirus has decimated airline reservations and fees.
The recent drop in oil prices, particularly in jet fuel prices, reduces the incentive for airlines to buy 737 MAX or the equivalent of a state-of-the-art aircraft, which are more fuel-efficient. Once Boeing loses its delivery dates for one year, airlines can cancel or delay a purchase without paying fines. "It becomes a very easy way to renegotiate and exert financial pressure on Boeing", said Richard Aboulafia, aerospace analyst at the Teal Group.
The crisis may have cost Boeing sales for a new plane it is planning to build, one that could travel farther and have more passengers than the 737 MAX but less than a wide-body jet. Boeing's rival, Airbus, has been blocking orders for his new aircraft in that market segment, the A321NEO XLR. Boeing was supposed to debut that plane last year and continued to work on the new plane during Max's crisis but said he was more focused on making the 737 MAX fly again.
Perspective
Boeing's balance remains strong, partly because it has been able to borrow money from capital markets. Its debt has basically doubled since the end of March 2019, increasing to US$ 25.3 billion at the end of 2019 from US$ 12.6 billion. In February 2020, he revealed that he had signed an agreement with the main banks in the country to borrow up to US$ 13 billion in a new line of credit. While the agreement has a good rate, Boeing will have increased interest expenses on its loans.
Estimates of the cost of the crisis do not include the increase in interest expenses that Boeing will have to pay for the years it will take to recover from the crisis. The estimates also do not include the cost of litigation, not only the claims presented by the families of the accident victims but also of the shareholders and even some groups of airline employees, such as one filed by the Southwest Airlines pilots to compensate them for The loss of wages.
Ξ A I R G W A Y S Ξ
SOURCE: Airgways.com
DBk: Boeing.com / Airgways.com
AW-POST: 202003101744AR
A\W   A I R G W A Y S ®