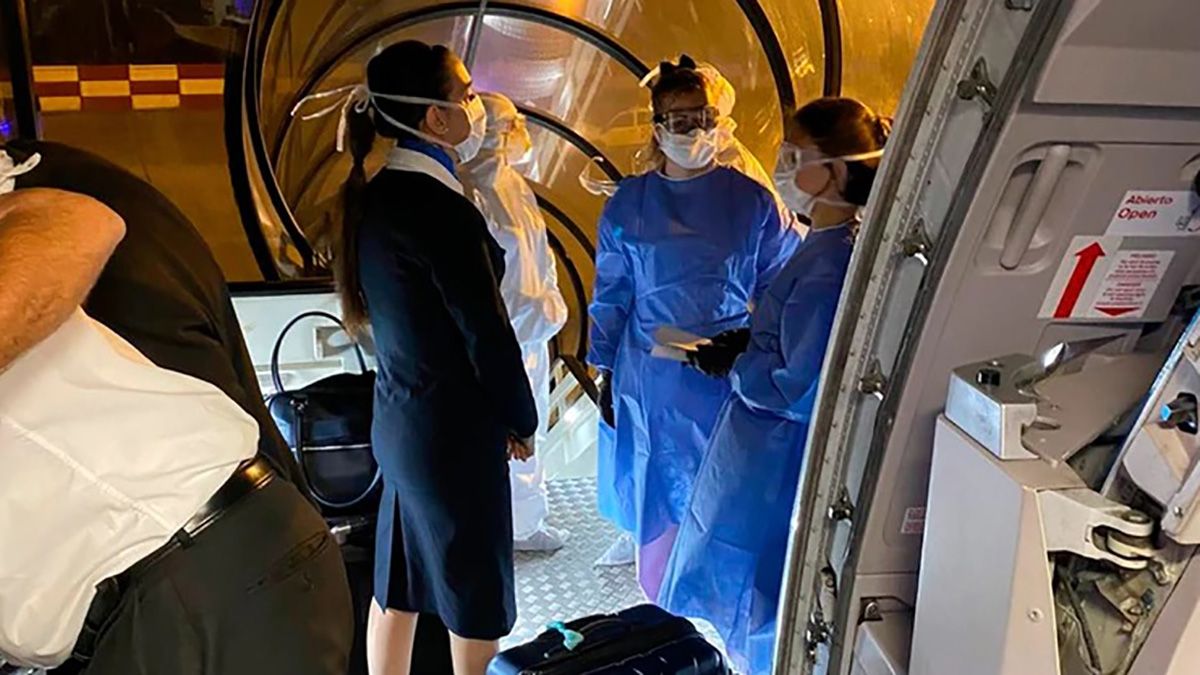 AW | 2020 03 11 14:01 | AIRLINES / AVIATION SAFETY / GOVERNMENT
Ministerio Transporte y aerolíneas se reunen para maximizar controles sanitarios por epidemia
El Ministerio de Transporte de Argentina se reunirá hoy 11/03 con todas las líneas aéreas internacionales que operan en Argentina para analizar los pasos por seguir en relación con la propagación del coronavirus en el país. Desde la cartera de Transporte observan con mucha preocupación la situación de la epidemia. Las medidas activas y en pro de controlar cada uno de los lugares de entrada, se efectivizan coordinando con las distintas empresas aéreas que operan en la Argentina y trabajando también en materia de puertos marítimos, que son entrada de pasajeros de ultramar.
Aeronavegantes
La Asociación de Aeronavegantes de Argentina (AAA) ha recomendado recientemente a los Tripulantes de Cabina Pasajeros (TCP) a realizar el aislamiento de 14 días. Tras las medidas recientes del Gobierno de Argentina de que toda persona que ingrese al país de las zonas de alto riesgo, deberá efectivizar la cuarentena obligatoria en sus respectivos hogares.
La expansión del coronavirus (COVID-19) a nivel global y las nuevas recomendaciones del Ministerio de Salud de la Nación Argentina podrían generar un dolor de cabeza a las aerolíneas con base en la Argentina. El gremio de los Aeronavegantes les indicó a sus afiliados que trabajan en los vuelos a las zonas afectadas que se pueden plegar a la disposición de aislamiento de dos semanas. La Asociación Argentina de Aeronavegantes que conduce Juan Pablo Brey recomendó hoy en un comunicado interno a su base gremial: «Los tripulantes que regresan de la zona de contagio (Madrid y Roma) podrán de manera voluntaria realizar el aislamiento de 14 días sugerido por el Decreto del Poder Ejecutivo Nacional. Cualquier tripulante que por motivos justificables y atribuibles al Coronavirus considere pertinente no realizar vuelos a las zonas identificadas como focos de contagio, se encuentra avalado por este sindicato. Toda medida va variando de manera dinámica, al tiempo que las autoridades nacionales toman decisiones. Los regresos a base serán coordinados por el área operativa de la empresa», sostuvieron desde la agrupación sindical.
Desde el sindicato también pusieron a disposición un formulario para todos aquellos que quieran solicitar los 14 días de licencia para vuelos que regresan al país desde zonas declaradas en riesgo. Los regresos a base serán coordinados por el área operativa de la empresa. El Comité de crisis de la empresa Aerolíneas Argentinas/Austral Líneas Aéreas se está reuniendo en forma continua por la epidemmia y en constante contacto con nuestra Secretaría Gremial de Aeronavegantes. Desde Aerolíneas han comunicado que todavía no habían entrado en contacto con las nuevas medidas de la Asociación de Aeronavegantes.
Protocolo Sanidad
A través de una resolución del Ministerio de Transporte, la Administradora Nacional de Aviación Civil (ANAC) de Argentina dispondrá que todas las aerolíneas nacionales e internacionales que arriben a la Argentina desde el extranjero cumplan el protocolo del Ministerio de Salud para tratar casos sospechosos de coronavirus.
Los requisitos que deberán seguir de manera obligatoria las empresas aéreas que operen en suelo argentino son varios. El primero indica que todos los pasajeros y la tripulación deberán llenar el formulario, que será provisto por la cartera sanitaria, "Declaración de Salud del Viajero". Desde el Ministerio solicitaron que "hasta tanto ese stock esté disponible" las aerolíneas colaboren para "imprimir los formularios cuando así resulte necesario, durante los primeros días de inicio de esta operatoria".
El segundo punto sostiene: "Se reitera la obligación de toda las aerolíneas de informar durante el vuelo la presencia de cualquier posible caso sospechoso a las autoridades aeroportuarias, antes del arribo al aeropuerto. La detección podrá producirse por un aviso del pasajero o un miembro de la tripulación o por la observación del personal de abordo o de otro pasajero".
El tercer punto es que ante la presencia de un caso sospechoso la aerolínea "deberá incluir la novedad en la parte sanitaria de la Declaración General de Aeronave y advertir tal incidencia a los Servicios de Tránsito Aéreo (Torre de Control), con carácter previo a su arribo".
El cuarto punto hace referencia a cuáles son los indicios para considerar a una persona sospechosa de estar contagiada de COVID- 19. Lo primero es si evidencia síntomas de fiebre y tos, fiebre y dolor de garganta o dificultad respiratoria. Y luego incluye a todo sujeto que provenga o haya estado en los últimos 14 días en China, Japón, Corea del Sur, Italia, Irán, Francia, Alemania o España. También a quienes hubieran tenido contacto cercano con un caso de coronavirus o hubiera trabajado o atendido pacientes en algún centro de salud con pacientes sospechosos o confirmados de estar infectados.
El quinto punto: "En el caso de detección de un caso sospechoso se ejecutará el protocolo vigente ubicando la aeronave en el Puesto 18 (o en el que, en su caso, defina la autoridad del Aeropuerto) a efectos de la concurrencia de médicos asistenciales del aeropuerto y del personal de Sanidad de Fronteras para la evaluación del caso denunciado". También hay indicaciones para una denuncia tardía de algún contagiado. Lo que deberá hacer la tripulación, con el avión ya ubicado en la manga, es aplazar el egreso del pasaje de la aeronave y comunicar de inmediato a las autoridades para proceder con el protocolo, el que involucra el llenado de formularios de declaración de salud del viajero de todo el pasaje y tripulación con identificación del caso sospechoso; y el reporte en la Declaración General de la Aeronave por parte de la aerolínea.
El séptimo y último punto: "En el caso de ausencia de auto-reporte de algún pasajero o tripulación y que la tripulación no haya registrado u observado algún caso sospechoso y así se registre en la parte sanitaria de la Declaración General de Aeronave, el personal de la aerolínea deberá recolectar las Declaraciones Juradas y entregarlas al personal de Sanidad de Fronteras luego de la apertura de puertas en manga o bien en el momento de cumplimentar el trámite del certificado de Libre Plática".
Argentine Government meeting with airlines
Ministry of Transportation and airlines meet to maximize health checks by the epidemic
The Ministry of Transportation of Argentina will meet today 11/03 with all international airlines operating in Argentina to analyze the steps to follow in relation to the spread of the coronavirus in the country. From the Transport portfolio, they observe with great concern the situation of the epidemic. The active measures and in order to control each of the places of entry are made by coordinating with the different airlines that operate in Argentina and also working on seaports, which are the entry of overseas passengers.
Aeronavegantes
The Argentine Airnavigators Association (AAA) has recently recommended Passenger Cabin Crew (TCP) to perform the 14-day isolation. Following the recent measures of the Government of Argentina that any person entering the country from high-risk areas must carry out mandatory quarantine in their respective homes.
The expansion of the coronavirus (COVID-19) globally and the new recommendations of the Ministry of Health of Argentina could generate a headache for airlines based in Argentina. The Airnavigators Guild told its affiliates that they work on flights to the affected areas that can be folded to the two-week isolation provision. The Argentine Airnavigators Association led by Juan Pablo Brey recommended today in an internal statement to its union base: «Crew members returning from the contagion zone (Madrid and Rome) may voluntarily perform the 14-day isolation suggested by the Decree of the National Executive Power Any crew that for justifiable reasons attributable to the Coronavirus considers it pertinent not to make flights to the areas identified as sources of contagion, is endorsed by this union. Any measure is changing dynamically, while the national authorities make decisions. The base returns will be coordinated by the operational area of ​​the company».
From the union, they also made available a form for all those who want to apply for a 14-day license for flights returning to the country from areas declared at risk. Base returns will be coordinated by the company's operational area. The Committee of Crisis of the company Aerolíneas Argentinas/Austral Líneas Aéreas is continually meeting due to the epidemic and in constant contact with our Airnavigators Guild Secretariat since Aerolíneas have reported that they had not yet come into contact with the new measures of the Airnavigatirs Association.
Health Protocol
Through a resolution of the Ministry of Transportation, the National Civil Aviation Administrator (ANAC) of Argentina will provide that all national and international airlines arriving in Argentina from abroad comply with the Ministry of Health protocol to treat suspected cases of coronavirus.
The requirements that must be followed by mandatory airlines operating on Argentine soil are several. The first indicates that all passengers and crew must fill out the form, which will be provided by the health portfolio, «Traveler's Health Statement». The Ministry requested that «until such stock is available» airlines collaborate to «print the forms when necessary, during the first days of the start of this operation».
The second point states: "The obligation of all airlines to inform the airport authorities about the presence of any possible suspicious cases is reiterated before arriving at the airport. The detection may be produced by a notice from the passenger or a member of the crew or by the observation of the personnel on board or of another passenger".
The third point is that in the presence of a suspicious case, the airline "must include the novelty in the sanitary part of the General Declaration of Aircraft and warn such incident to the Air Traffic Services (Control Tower), prior to its arrival».
The fourth point refers to what are the indications to consider a person suspected of being infected with COVID-19. The first is if it shows symptoms of fever and cough, fever and sore throat or respiratory distress. And then it includes every subject that comes or has been in the last 14 days in China, Japan, South Korea, Italy, Iran, France, Germany or Spain. Also to those who would have had close contact with a case of coronavirus or had worked or treated patients in a health center with patients suspected or confirmed to be infected.
The fifth point: "In the case of detection of a suspicious case, the current protocol will be executed by placing the aircraft in Post 18 (or in which, where appropriate, define the authority of the Airport) for the purpose of attending medical assistance from the airport and Border Health personnel for the evaluation of the reported case". There are also indications for a late complaint of someone infected. What the crew must do, with the plane already located in the sleeve, is to postpone the departure of the passage of the aircraft and immediately communicate to the authorities to proceed with the protocol, which involves the filling of health declaration forms of the traveler of the entire ticket and crew with identification of the suspect case; and the report in the General Declaration of the Aircraft by the airline.
The seventh and last point: "In the case of absence of self-report of any passenger or crew and that the crew has not registered or observed any suspicious case and thus registers in the sanitary part of the General Declaration of Aircraft, the personnel of the airline must collect the Affidavits and deliver them to Border Health personnel after the opening of doors in the sleeve or at the time of completing the procedure of the Free Talk certificate".
Ξ A I R G W A Y S Ξ
SOURCE: Airgways.com
DBk: Aeronavegantes.org.ar / Airgways.com / Anac.gov.ar / Argentina.gob.ar/transporte
AW-POST: 202003111401AR
A\W   A I R G W A Y S ®