AW | 2020 12 06 12:50 | AIRPORTS / AVIATION ORGANISMS
Infraero completa obras en pista del Aeropuerto de Boa Vista/Brasil
Los trabajos de mantenimiento en la pista del Aeropuerto Internacional Boa/Vista Altas Brasil Cantanhede BVB/SBBV se han completado este Sábado 5 de Diciembre de 2020, dijo la Agencia Infraero (Empresa Brasileira de Infraestrutura Aeroportuária), responsable de la terminal. Según la empresa, los servicios eran necesarios para garantizar la disponibilidad del pavimento para las operaciones aeroportuarias.
El aeropuerto fue inaugurado el 19 de Febrero de 1973, y se sometió a su primera renovación en 1998. La pista de aterrizaje, terminales y otras secciones después fueron ampliadas. El 14 de Septiembre de 2009 se completó una segunda renovación importante que aumento de la capacidad del aeropuerto para manejar 330.000 pasajeros al año, con un área terminal de 7.000 m², lugares de aparcamiento y la instalación de dos pasarelas.
Los últimos trabajos importantes se realizaron en veinticinco días y tuvo lugar fuera del horario de circulación del aeropuerto. En total, se invirtieron R$ 593,6 millones de Reales. Según el Superintendente del aeropuerto, Clayrton dos Santos da Silva, la recuperación de la pista fue fundamental para mantener la seguridad en las operaciones. "Los servicios cumplen con los estándares internacionales de calidad y tienen como objetivo garantizar aún más seguridad para los viajeros que abordan y desembarcan en Boa Vista", dijo Silva.
Infraero también informó que, a partir de este Sábado 05/12, el Aeropuerto de Boa Vista ganará una ruta a Belém, que será operada por Azul Linhas Aéreas, el vuelo tendrá inicialmente dos frecuencias semanales en Diciembre 2020 los Sábados y Lunes, despegando de Boa Vista. A partir de Enero de 2021, la aerolínea ofrecerá una frecuencia de cuatro días los Lunes, Martes, Jueves y Sábados.
Boa Vista Airport works completed
Infraero completes works on the Boa Vista Airport runway/Brazil
Maintenance work on the runway of Boa Vista/Altas Brasil Cantanhede International Airport BVB/SBBV has been completed this Saturday, December 5, 2020, said the Infraero Agency (Empresa Brasileira de Infraestrutura Aeroportuária), responsible for the terminal. According to the company, the services were necessary to guarantee the availability of the pavement for airport operations.
The airport was inaugurated on February 19, 1973, and underwent its first renovation in 1998. The runway, terminals and other sections were later expanded. On September 14, 2009, a second major renovation was completed that increased the airport's capacity to handle 330,000 passengers per year, with a terminal area of ​​7,000 m², parking spaces and the installation of two walkways.
The last major work was completed in 25 days and took place outside of the airport's traffic hours. In total, R $ 593.6 million Reais were invested. According to the Superintendent of the airport, Clayrton dos Santos da Silva, the recovery of the runway was essential to maintain safety in operations. "The services meet international quality standards and aim to ensure even more safety for travelers boarding and disembarking at Boa Vista", Silva said.
Infraero also reported that, starting this Saturday 05/12, the Boa Vista Airport will gain a route to Belém, which will be operated by Azul Linhas Aéreas, the flight will initially have two weekly frequencies in December 2020 on Saturdays and Mondays, taking off from Boa Vista. Starting in January 2021, the airline will offer a four-day frequency on Monday, Tuesday, Thursday and Saturday.
Obras do Aeroporto de Boa Vista concluídas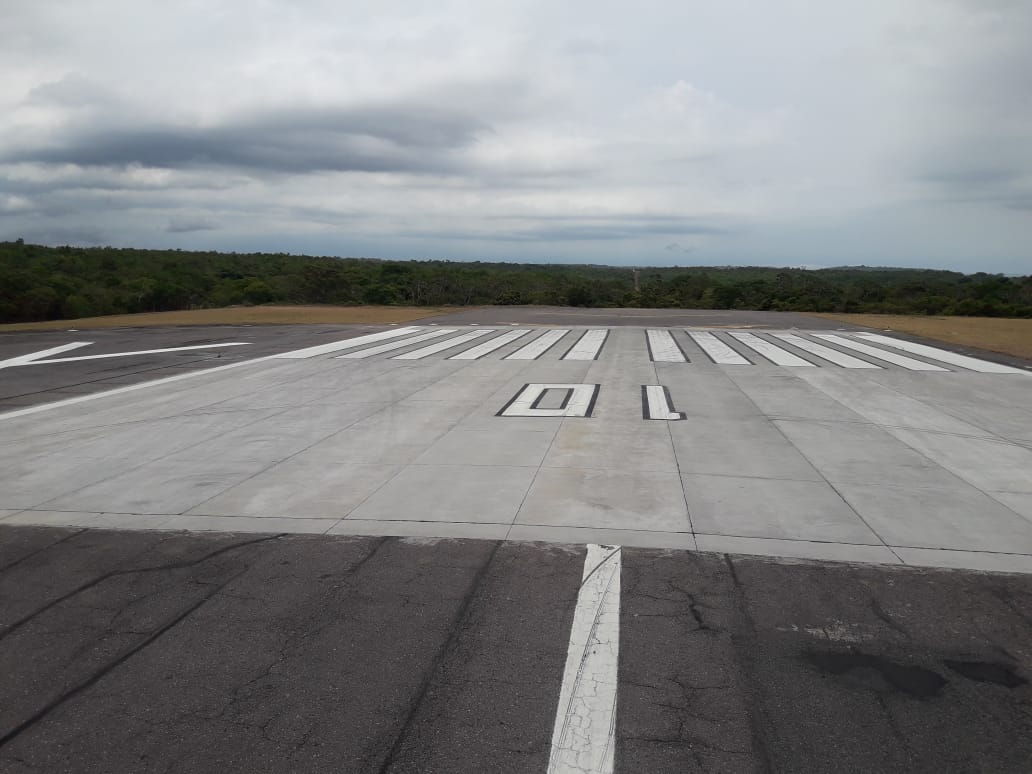 Infraero conclui obras na pista do Aeroporto Boa Vista/Brasil
As obras de manutenção da pista do Aeroporto Internacional Boa Vista/Altas Brasil Cantanhede BVB/SBBV foram concluídas neste Sábado, 5 de dezembro de 2020, informou a Infraero (Empresa Brasileira de Infraestrutura Aeroportuária), responsável pelo terminal. Segundo a empresa, os serviços foram necessários para garantir a disponibilidade do pavimento para as operações aeroportuárias.
O aeroporto foi inaugurado em 19 de fevereiro de 1973 e passou por sua primeira reforma em 1998. Posteriormente, a pista, os terminais e demais trechos foram ampliados. Em 14 de setembro de 2009, foi concluída uma segunda grande reforma que aumentou a capacidade do aeroporto para atender 330.000 passageiros por ano, com uma área terminal de 7.000 m², vagas de estacionamento e instalação de duas passarelas.
A última grande obra foi concluída em 25 dias e ocorreu fora do horário de tráfego do aeroporto. No total, foram investidos R $ 593,6 milhões de reais. Segundo o superintendente do aeroporto, Clayrton dos Santos da Silva, a recuperação da pista foi fundamental para manter a segurança nas operações. "Os serviços atendem a padrões internacionais de qualidade e visam garantir ainda mais segurança aos viajantes que embarcam e desembarcam na Boa Vista", disse Silva.
A Infraero informou ainda que, a partir deste sábado 05/12, o Aeroporto da Boa Vista ganhará rota para Belém, que será operada pela Azul Linhas Aéreas, o voo terá inicialmente duas frequências semanais em dezembro de 2020 aos sábados e segundas-feiras, decolando de Boa Vista. A partir de janeiro de 2021, a companhia aérea oferecerá uma frequência de quatro dias às segundas, terças, quintas e sábados.

PUBLISHER: Airgways.com
DBk: Infraero.gov.br / Correiodolavrado.com.br/Vanessa Vieira / Airgways.com
AW-POST: 202012061250AR
A\W A I R G W A Y S ®