AW | 2021 04 06 09:17 | AVIATION TECHNOLOGY / INDUSTRY
Boeing desarrolla una solución ligera a un problema difícil
The Boeing Company continúa promoviendo la ablación láser que es un método viable para eliminar la pintura de grandes componentes aeroespaciales y aviones completos, eliminando residuos peligrosos, aliviando los desafíos ergonómicos y ahorrando mucho tiempo. La eliminación de pintura láser para aviones es segura, rápida y respetuosa con el medio ambiente.
Un avión puede sufrir muchos cambios a lo largo de su vida útil. Los aviones necesitan que sus recubrimientos se retiren aproximadamente cada cinco años debido al desvanecimiento de la pintura, los cambios de marca y las inspecciones para determinar la integridad de la estructura subyacente. Es estándar que un avión sea despojado de sus recubrimientos y repintado cuatro o cinco veces en su vida útil.
Un método cada vez más eficaz para eliminar la pintura del avión implica láseres, específicamente un proceso llamado ablación láser. La eliminación por ablación láser se produce cuando un material absorbe la luz láser y las moléculas se excitan en el estado plasmático. Este material se vaporiza, convirtiendo la capa que se va a eliminar en volátiles mientras que también convierte una pequeña cantidad de sólidos de una manera limpia y eficiente. La ablación con láser puede reemplazar los métodos actuales para la eliminación de pinturas, selladores y productos de corrosión.
La ablación láser tiene varias ventajas sobre otros métodos de eliminación, incluyendo menos residuos peligrosos y menos lesiones ergonómicas. En comparación con el desmontaje químico y la explosión de medios, la ablación láser puede disminuir los residuos peligrosos en más de un 90%, ahorrando mucho dinero a los trabajos. Los productos químicos utilizados en métodos convencionales contribuyen al flujo de residuos, mientras que la luz láser sigue siendo energía y no se suma a los residuos físicos. Producir residuos menos peligrosos y reducir los costes recurrentes se suma a ahorros significativos, al tiempo que ayuda a proteger el medio ambiente. El proceso de ablación láser se puede utilizar tanto en la fabricación de piezas nuevas como en el mantenimiento de productos existentes. Dado que la energía láser se controla con precisión, el proceso es seguro y eficaz tanto para sustratos compuestos metálicos como poliméricos.
La seguridad en el lugar de trabajo es una alta prioridad en Boeing, e invertir en herramientas con un impacto ergonómico reducido es una estrategia clave para proteger a los empleados. La ablación láser ofrece mejoras significativas en la ergonomía cuando reemplaza el lijado a mano. Otro factor es la velocidad. Antes de buscar láseres para la eliminación de pintura, Boeing utilizó la ablación láser para la limpieza de herramientas. Ese proceso, ahora plenamente implementado en varios lugares, ha llevado a una disminución del 50% del tiempo de ciclo y una reducción del 80% de la mano de obra. Retirar la pintura de un avión completo puede tardar una semana o más, dependiendo del tamaño; un proceso basado en láser podría reducirlo a tres o cuatro días. Los avances recientes están haciendo que la ablación láser sea aún más atractiva. Los láseres más eficientes y de mayor potencia son cada vez más asequibles, y los láseres más grandes están permitiendo velocidades de procesamiento más rápidas.
Como fabricante de aviones y proveedor de servicios, Boeing está promoviendo innovaciones clave para integrar mejor esta tecnología de maneras seguras y rentables. Al adaptar y combinar estas tecnologías con productos comerciales listos para usar, la ablación láser se puede insertar fácilmente como un sistema totalmente automatizado o portátil. Armonizar la ablación láser con los procesos de producción establecidos podría requerir ingeniería industrial e incluso rediseño del espacio de suelo para instalaciones ya a su capacidad. Todo esto se suma a la innovación que puede reducir el costo y la huella del sistema de producción.
Laser ablation in aircraft paint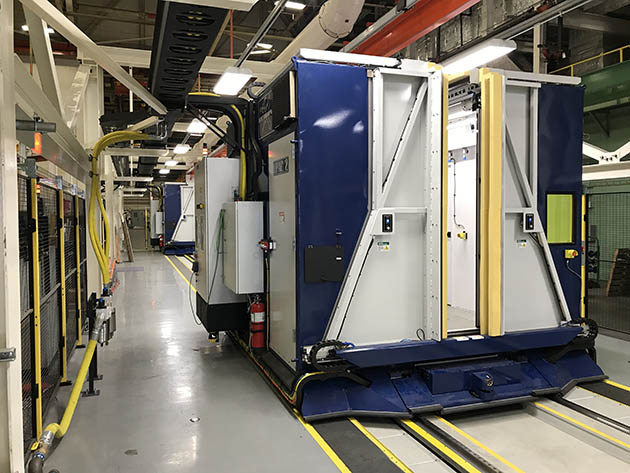 Boeing develops a lightweight solution to a difficult problem
The Boeing Company continues to promote laser ablation which is a viable method of removing paint from large aerospace components and entire aircraft, eliminating hazardous waste, alleviating ergonomic challenges, and saving a lot of time. Aircraft laser paint removal is safe, fast, and environmentally friendly.
An airplane can undergo many changes throughout its useful life. Airplanes require their coatings to be removed approximately every five years due to paint fading, rebranding, and inspections to determine the integrity of the underlying structure. It is standard for an aircraft to be stripped of its coatings and repainted four or five times in its useful life.
An increasingly effective method of removing paint from aircraft involves lasers, specifically a process called laser ablation. Laser ablational removal occurs when a material absorbs laser light and the molecules are excited in the plasma state. This material vaporizes, converting the layer to be removed to volatile while also converting a small amount of solids in a clean and efficient manner. Laser ablation can replace current methods for the removal of paints, sealants, and corrosion products.

Laser ablation has several advantages over other removal methods, including less hazardous waste and fewer ergonomic injuries. Compared with chemical disassembly and media blasting, laser ablation can decrease hazardous waste by more than 90%, saving jobs a lot of money. Chemicals used in conventional methods contribute to the waste stream, while laser light is still energy and does not add to physical waste. Producing less hazardous waste and reducing recurring costs adds up to significant savings, while helping to protect the environment. The laser ablation process can be used both in the manufacture of new parts and in the maintenance of existing products. Since laser energy is precisely controlled, the process is safe and efficient for both metallic and polymer composite substrates.
Workplace safety is a high priority at Boeing, and investing in tools with reduced ergonomic impact is a key strategy for protecting employees. Laser ablation offers significant ergonomic improvements when it replaces hand sanding. Another factor is speed. Before looking for lasers for paint removal, Boeing used laser ablation for cleaning tools. That process, now fully implemented in multiple locations, has led to a 50% decrease in cycle time and an 80% reduction in workforce. Removing paint from an entire aircraft can take a week or more, depending on the size; a laser-based process could cut it down to three or four days. Recent advances are making laser ablation even more attractive. Higher power and more efficient lasers are becoming more affordable, and larger lasers are enabling faster processing speeds.
As an aircraft manufacturer and service provider, Boeing is promoting key innovations to better integrate this technology in safe and cost-effective ways. By adapting and combining these technologies with commercial off-the-shelf products, laser ablation can be easily inserted as a fully automated or portable system. Harmonizing laser ablation with established production processes could require industrial engineering and even redesign of the floor space for facilities already at capacity. All of this adds up to innovation that can reduce the cost and footprint of the production system.

PUBLISHER: Airgways.com
DBk: Boeing.com / Kady Gregersen / Airgways.com
AW-POST: 2021060917AR
A\W A I R G W A Y S ®