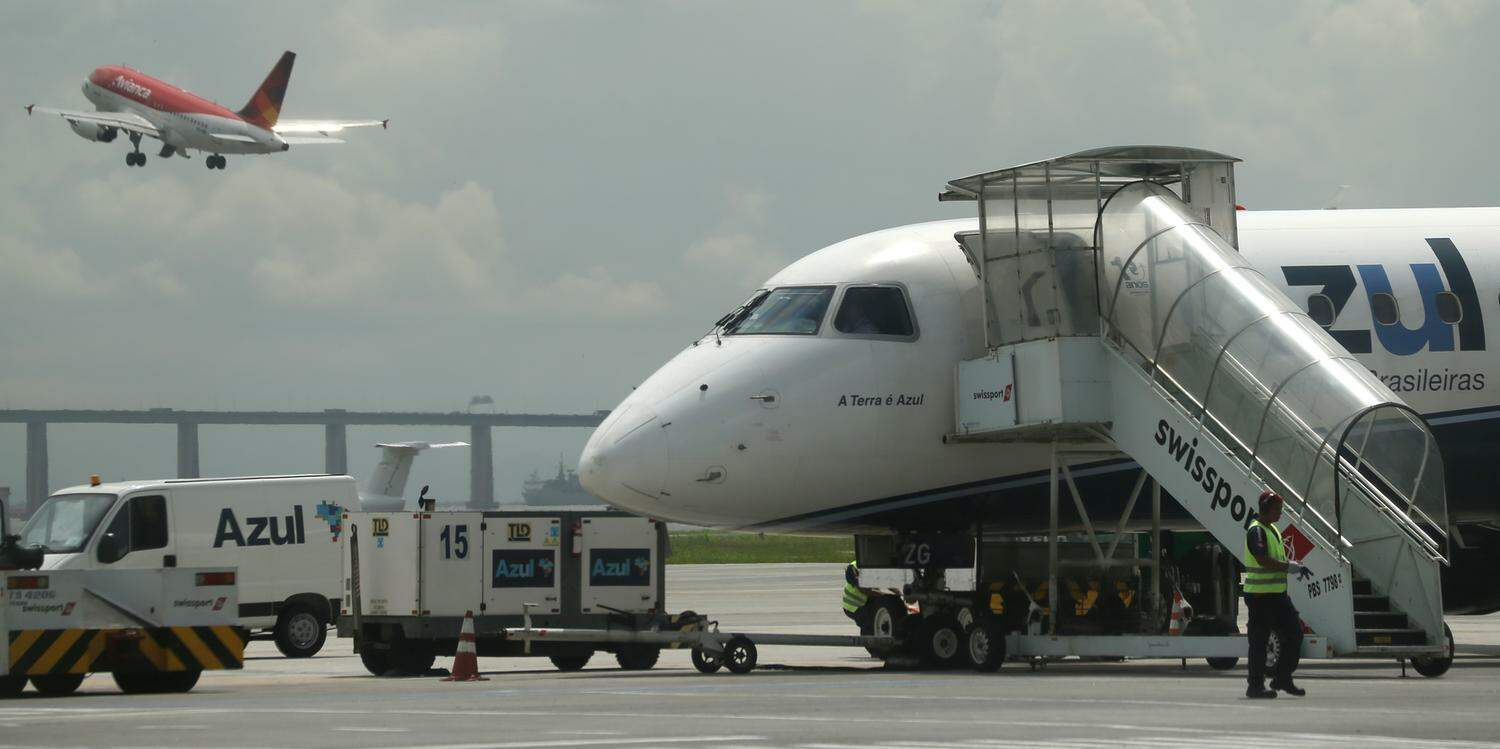 AW | 2019 05 02 13:45 | AIRLINES
Azul Linhas Aéreas abandona la Asociación ABEAR
Azul Linhas Aéreas anunció hoy su salida de ABEAR (Asociación Brasileña de las Empresas Aéreas), de la que fue una de las fundadoras, en 2012. ABEAR es la entidad que representa los intereses de las compañías aéreas, especialmente junto al gobierno. Gol Linhas Aéreas, Latam Airlines y Avianca Brasil también integran la asociación. La decisión fue tomada en medio de la disputa por Avianca Brasil.
Azul afirmó que "reconoce las importantes contribuciones de ABEAR al sector en ese período, pero entiende que a partir de ese momento prefiere representar sus intereses de forma directa. Ya somos un grupo con más de 12 mil personas, tenemos el mayor número de destinos y vuelos diarios en el país y tenemos un camino de mucho crecimiento por delante. Por eso, entendemos que nuestro diálogo con la sociedad civil, autoridades, órganos competentes y otros stakeholders deben ser hechos directamente por la compañía", declaró John Rodgerson, Presidente de Azul Linhas Aéreas.
La Asociación emite nota de agradecimiento "ABEAR sólo agradeció a Azul por ayudar en el crecimiento y consolidación de la entidad en el período en que la aviación comercial brasileña avanzó como medio de transporte de masa, conectando el país y promoviendo su desarrollo social y económico. Abear permanece firme en su misión de promover un ambiente de cooperación empresarial, respetando la competición y estimulando cada vez más el hábito de volar. Proseguiremos actuando en la defensa de los intereses del sector, en beneficio de los pasajeros y del país", declaró la entidad en una nota.
Disputa por Avianca
Azul fue la primera en hacer una oferta por Avianca, en recuperación judicial. Luego, vio a las competidoras entrar en la disputa, lo que causó malestar y ha generado desentendimiento entre las empresas. El Presidente de Azul dijo que no pretende accionar a Gol y Latam en la Justicia, pero lamentó la actitud de los competidores, que estarían, según él, tratando de evitar la competencia en el puente aéreo que parte de Congonhas.
La salida se produce después de la Azul han acusado Gol y Latam del proteccionismo, entonces la empresa ha renunciado a la oferta de compra de las operaciones de Avianca, que está en quiebra.
En el anuncio de la retirada de la oferta para la compra de parte de las operaciones de Avianca Brasil el 18 Abril 2019, el presidente de Azul Linhas Aéreas acusó Gol Linhas Aéreas y Latam Airlines que actúan para evitar la competencia del transporte aéreo en el puente aéreo Sao Paulo-Río de Janeiro.
En Marzo 2019, Azul firmó un acuerdo no vinculante de US$ 105 millones de dólares para la compra de activos de Avianca Brasil, incluyendo slots (derecho de aterrizaje y despegue en los aeropuertos) en Congonhas y contratos de leasing de aviones de la rival. La compra permitiría a Azul ampliar su presencia en Congonhas, pero la propuesta acabó siendo escalada tras uno de sus mayores acreedores de Avianca, Elliott Associates LP, cerrar un acuerdo con Gol y Latam Brasil, que acordaron hacer ofertas de al menos US$ 70 millones, cada una de ellas, para al menos una de las siete rebanadas de la empresa que serán vendidas en subasta marcada para el 7 Mayo 2019, conforme al plan de recuperación judicial homologado por la Justicia. Además de la oferta por la UPI, las dos compañías se comprometieron a conceder préstamos a Avianca Brasil. Las dos empresas ya prestaron R$ 188,7 millones para Avianca Brasil. En la práctica, el movimiento de ambas barrió el intento de Azul de obtener el activo más codiciado de Avianca Brasil, 20 pares de slots.
Movimiento mercado
Sin Avianca, sector de aviación va a estar más concentrado y el precio de los pasajes puede subir. El presidente de Azul Linhas Aéreas expresó: "Lo que yo diría es el siguiente: estamos tratando de entrar en Congonhas (en la operación del puente de la zona) desde hace muchos años. Esa oferta es lo que hacen para tratar de evitar que Azul entre en Congonhas. No sé de qué tienen miedo, si es de nuestro producto, de nuestro personal, de nuestra puntualidad, pero es parte del juego, la gente quería tener esa fuerza, pero ahora tenemos que parar y mirar. Ha sido muy clara que no puede vender los slots, la gente está con un pie atrás ahora", dijo el ejecutivo.
Azul leaves association ABEAR
Azul Linhas Aéreas leaves the ABEAR Association
Azul Linhas Aéras today announced its departure from ABEAR (Brazilian Association of Air Companies), of which it was one of the founders, in 2012. AbEAR is the entity that represents the interests of airlines, especially with the government. Gol Linhas Aéreas, Latam Airlines and Avianca Brasil are also members of the association. The decision was made amid the dispute over Avianca Brasil.
Azul stated that "it recognizes the important contributions of ABEAR to the sector in that period, but understands that from that moment it prefers to represent its interests directly. We are already a group with more than 12 thousand people, we have the largest number of destinations and daily flights in the country and we have a path of much growth ahead, which is why we understand that our dialogue with civil society, authorities, competent bodies and other stakeholders must be made directly by the company", said John Rodgerson, President of Azul Linhas Aéreas.
The Association issues a thank-you note "ABEAR only thanked Azul for helping in the growth and consolidation of the entity in the period in which Brazilian commercial aviation advanced as a means of mass transport, connecting the country and promoting its social and economic development. Abear remains firm in its mission to promote an environment of business cooperation, respecting competition and encouraging more and more the habit of flying.We will continue acting in defense of the interests of the sector, for the benefit of passengers and the country", said the entity in a note.
Dispute for Avianca
Azul was the first to make an offer for Avianca, in judicial recovery. Then, he saw the competitors enter the dispute, which caused discomfort and generated misunderstanding among companies. The President of Azul said that he does not intend to sue Gol and Latam in the Justice, but regretted the attitude of the competitors, who would be, according to him, trying to avoid competition in the airlift departing from Congonhas.
The exit occurs after the Blue have accused Gol and Latam of protectionism, then the company has waived the offer to buy Avianca's operations, which is bankrupt.
In the announcement of the withdrawal of the bid for the purchase of part of the operations of Avianca Brasil on April 18, 2019, the president of Azul Linhas Aéreas accused Gol Linhas Aéreas and Latam Airlines that act to avoid the competition of air transport on the bridge Air Sao Paulo-Rio de Janeiro.
In March 2019, Azul signed a non-binding agreement of US$ 105 million for the purchase of assets of Avianca Brasil, including slots (right of landing and take-off at airports) in Congonhas and aircraft leasing contracts of the rival. The purchase would allow Azul to expand its presence in Congonhas, but the proposal ended up being escalated after one of its biggest creditors of Avianca, Elliott Associates LP, to close an agreement with Gol and Latam Brasil, which agreed to make offers of at least US$ 70 million, each one of them, for at least one of the seven slices of the company that will be sold in auction marked for May 7, 2019, according to the judicial recovery plan approved by the Justice. In addition to the UPI offer, the two companies pledged to grant loans to Avianca Brasil. The two companies have already lent R$ 188.7 million to Avianca Brasil. In practice, the movement of both swept Azul's attempt to obtain the most coveted asset of Avianca Brasil, 20 pairs of slots.
Market movement
Without Avianca, aviation sector will be more concentrated and the price of tickets can go up. The president of Azul Linhas Aéreas said: "What I would say is this: we are trying to enter Congonhas (in the operation of the bridge in the area) for many years. That offer is what they do to try to prevent Azul I do not know what they're afraid of, if it's our product, our staff, our punctuality, but it's part of the game, people wanted to have that strength, but now we have to stop and look. that can not sell the slots, people are with one foot back now", said the executive. A \ W
 Azul sai da asociação ABEAR
Azul Linhas Aéreas sai da Associação ABEAR
A Azul Linhas Aéreas anunciou hoje sua saída da ABEAR (Associação Brasileira de Empresas Aéreas), da qual foi uma das fundadoras, em 2012. ABEAR é a entidade que representa os interesses das companhias aéreas, especialmente com o governo. A Gol Linhas Aéreas, a Latam Airlines e a Avianca Brasil também são membros da associação. A decisão foi tomada em meio à disputa pela Avianca Brasil.
Azul disse que "reconhece as importantes contribuições de ABear o setor nesse período, mas entende que a partir daquele momento prefere representar seus interesses diretamente. Nós já somos um grupo com mais de 12 mil pessoas, temos o maior número de destinos e dia no país e nós temos uma forma de muito crescimento à frente vôos. por isso, entendemos que o nosso diálogo com a sociedade civil, autoridades, órgãos competentes e outras partes interessadas devem ser feitas diretamente pela empresa", disse John Rodgerson, Presidente da Azul Linhas Aéreas.
As questões Associação nota de agradecimento "ABEAR única agradeceu Azul para ajudar no crescimento e consolidação da entidade no período em que a aviação comercial brasileira avançou como um meio de transporte de massa, ligando o país e promover o seu desenvolvimento económico e social. abear s continua firme em sua missão de promover um ambiente de cooperação empresarial, respeitando a concorrência e estimular crescente hábito de voar. Vamos continuar atuando na defesa dos interesses do setor em benefício dos passageiros e do país", disse ele entidade em uma nota.
Disputa pela Avianca
A Azul foi a primeira a fazer uma oferta pela Avianca, em recuperação judicial. Então, ele viu os concorrentes entrarem na disputa, o que causou desconforto e gerou desentendimento entre as empresas. Presidente da Azul disse que a ação não se destina a Gol e Latam no tribunal, mas lamentou a atitude dos concorrentes, o que, segundo ele, tentando evitar a concorrência no transporte aéreo de Congonhas.
A saída ocorre depois que a Blue acusou a Gol e a Latam de protecionismo, e a empresa desistiu da oferta de compra das operações da Avianca, que está falida.
Ao anunciar a retirada da oferta para comprar parte das operações da Avianca Brasil em 18 de abril de 2019 Presidente Airphil acusado Gol Linhas Aéreas y Latam Airlines opera para evitar a concorrência para o transporte aéreo na ponte Air São Paulo-Rio de Janeiro.
Em março 2019 azul assinou um acordo não vinculante de US$ 105 milhões para a compra de ativos da Avianca Brasil, incluindo ranhuras (pouso direito e decolagem em aeroportos) em Congonhas e arrendamentos de rival aeronaves. A aquisição permitiria Azul para expandir sua presença em Congonhas, mas a proposta foi finalmente subir depois de um dos seus maiores credores da Avianca, Elliott Associates LP, um acordo com a Gol e Latam do Brasil, que concordou em oferecer pelo menos US$ 70 milhões , cada um, pelo menos, uma das sete fatias da empresa ser vendida em leilão marcado para 07 de maio de 2019, no âmbito do plano de recuperação judicial aprovado pelos tribunais. Além da oferta para UPI, as duas empresas se comprometeram a emprestar para Avianca Brasil. As duas empresas já emprestou R$ 188,7 milhões para Avianca Brasil. Na prática, o movimento de ambos varreu a tentativa Azul para obter o mais cobiçado Avianca Brasil, 20 pares de slots de ativos.
Movimento do mercado
Sem Avianca setor, aviação será mais concentrada e os preços dos bilhetes pode subir. Presidente Airphil disse: "O que eu diria é:. Re tentando entrar em Congonhas (na operação da ponte na área) por muitos anos que oferta é o que eles fazem para tentar impedir Azul em Congonhas. Eu não sei o que eles estão com medo, se o nosso produto, o nosso pessoal, nossa pontualidade, mas é parte do jogo, as pessoas queriam ter essa força, mas agora temos que parar e olhar. foi muito claro você não pode vender as ranhuras, as pessoas estão com um pé de volta agora", disse o executivo. A \ W
Ξ A I R G W A Y S Ξ
SOURCE: Airgways.com
DBk: Voeazul.com.br / Veja.com
AW-POST: 201905021345AR
A\W   A I R G W A Y S ®