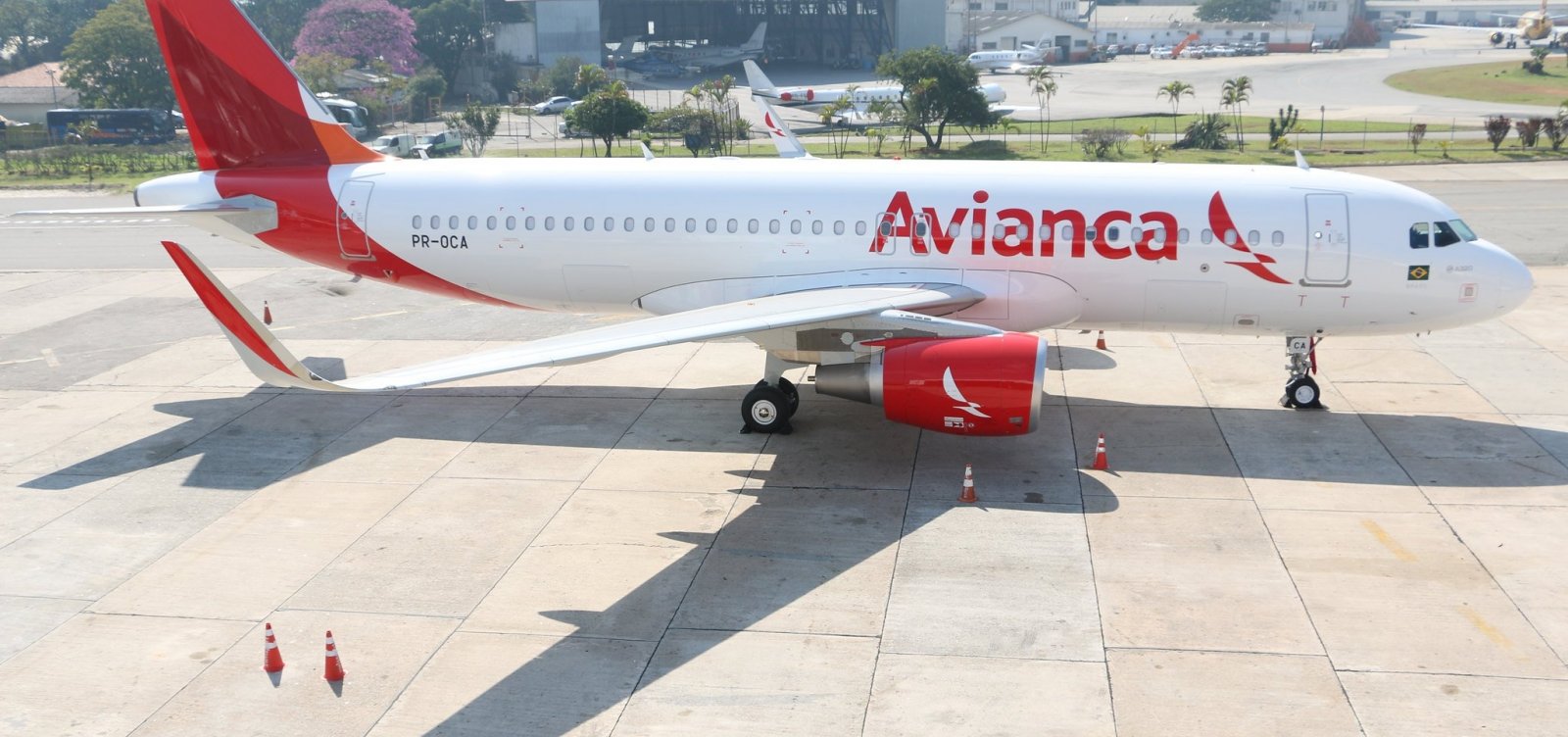 AW | 2019 05 02 14:27 | AIRLINES MARKET
El Efecto Avianca hace que el precio de pasaje aéreo ascender hasta el 140%
El mercado aéreo de Brasil evalúa que el alza de los precios va a continuar hasta que la venta de los activos de la empresa sea concluida. Con la reducción de la oferta de vuelos en el país resultante de la crisis de Avianca Brasil, los precios de los pasajes aéreos en las principales rutas de la compañía ya registran altas de hasta 140%. La estimación es que las tarifas continúen presionadas al menos en los próximos cuatro meses, hasta que la venta de los activos de Avianca sea concluida, según fuentes del mercado.
Voopter, una plataforma que hace comparación de precio de pasajes, muestra que el tramo entre los aeropuertos de Santos Dumont, en Río de Janeiro, y de Salvador fue el que tuvo la tarifa más elevada entre las rutas analizadas. El valor medio del pasaje pasó de R$ 574,14, en abril de 2018, a R$ 1.377,32, en el mismo mes de este año, un aumento del 139,89%. «Avianca influenció mucho el alza de los precios, porque la demanda no cambió y el número de asientos ofertados cayó, esa demanda migró a las otras compañías aéreas, que tienen algoritmos que perciben eso», dice la Directora General de Voopter, Juliana Vital. La plataforma contabiliza los precios de los pasajes para los próximos 120 días y el levantamiento no incluyó el puente aéreo, ruta más importante del país. Avianca ha evitado cancelar vuelos en ese tramo, no alterando la oferta de asientos.
En recuperación judicial desde Diciembre 2018, la aerolínea Avianca Brasil tiene cerca de US$ 700 millones de dólares a los arrendatarios de aviones y, tras una disputa en la justicia, se vio obligada a devolver casi toda su flota. De las 57 aeronaves que tenía en Noviembre 2018, quedaron cinco unidades. Ese fue el mayor movimiento de retirada de aviones del mercado brasileños de los últimos 15 años, lo que resultó en la reducción de oferta de vuelos más brusca del período. Según datos de la Agencia Nacional de Aviación Civil de Brasil (ANAC), la compañía tiene hoy un promedio de 39 vuelos diarios; un años atrás eran 280 frecuencias.
Los datos de inflación del IBGE, que incluyen no sólo los precios de los pasajes de las rutas operadas por Avianca, sino de vuelos ofrecidos por otras empresas, muestran que las tarifas comenzaron a responder a ese corte de oferta en Marzo 2019, cuando avanzaron el 7,29%. En el mismo mes pero de 2018, habían retrocedido el 15,42%. La variación de los precios en el acumulado del año hasta Marzo 2019, es negativa en un -25,5% en el 1Q2018, el retroceso había sido del -19,3%.
Temporada baja
El especialista en industria aérea André Castellini, un socio de Bain & Company, señala que el período entre el Carnaval y finales de Junio es temporada baja y por lo tanto por lo general tienen tasas más baratas. La tendencia, sin embargo, es que, en 2019, el efecto de la reducción de la oferta prevalezca, elevando los pasajes. «Es natural que a corto plazo la reducción de la capacidad eleve los precios, pero a medio plazo las rutas (que Avianca suspendió) deben volver a ser operadas, reduciendo la presión (sobre los precios)», dice André Castellini. Para Juliana Vital, de Voopter, «la entrada de una nueva compañía en el sector, ocupando el espacio de Avianca, es determinante para una nueva reducción de las tarifas».
Avianca effect increases value tickets
The Avianca Effect makes the price of air tickets go up to 140%
The Brazilian air market evaluates that the price increase will continue until the sale of the assets of the company is concluded. With the reduction of the supply of flights in the country resulting from the crisis of Avianca Brasil, the prices of airline tickets on the main routes of the company already register registrations of up to 140%. The estimate is that the rates will continue to be pressured at least in the next four months, until the sale of Avianca's assets is completed, according to market sources.
Voopter, a platform that compares ticket prices, shows that the section between the airports of Santos Dumont, in Rio de Janeiro, and Salvador was the one that had the highest rate among the routes analyzed. The average value of the passage went from R$ 574.14, in April 2018, to R$ 1.377,32, in the same month of this year, an increase of 139.89%. «Avianca greatly influenced the rise in prices, because the demand did not change and the number of seats offered fell, that demand migrated to the other airlines, which have algorithms that perceive that», says Voopter's General Director, Juliana Vital. The platform counts the prices of the tickets for the next 120 days and the survey did not include the airlift, the country's most important route. Avianca has avoided canceling flights in that section, not altering the offer of seats.
In judicial recovery since December 2018, the airline Avianca Brasil has about US$ 700 million dollars to aircraft leaseholders and, after a dispute in the courts, was forced to return almost all of its fleet. Of the 57 aircraft it had in November 2018, five units remained. That was the largest withdrawal movement of Brazilian market aircraft of the last 15 years, which resulted in the sharpest reduction in flight offer in the period. According to data from the National Agency of Civil Aviation of Brazil (ANAC), the company today has an average of 39 daily flights; a year ago there were 280 frequencies.
IBGE's inflation data, which include not only the prices of the tickets on the routes operated by Avianca, but also of flights offered by other companies, show that the rates began to respond to that supply cut in March 2019, when the 7.29%. In the same month but in 2018, they had retreated 15.42%. The variation of the prices in the accumulated of the year until March 2019, is negative in -25.5% in 1Q2018, the decline had been -19.3%.
Low season
The specialist in aerial industry André Castellini, a partner of Bain & Company, points out that the period between Carnival and the end of June is low season and therefore they usually have cheaper rates. The tendency, however, is that, in 2019, the effect of the supply reduction will prevail, elevating the tickets. «It is natural that in the short term the reduction in capacity will raise prices, but in the medium term the routes (which Avianca suspended) should be re-operated, reducing the pressure (on prices)», says André Castellini. For Juliana Vital, of Voopter, «the entrance of a new company in the sector, occupying the space of Avianca, is decisive for a new reduction of the tariffs». A \ W
Efeito Avianca aumenta tickets de valor
O Efeito Avianca faz com que o preço dos bilhetes aéreos suba para 140%
O mercado aéreo brasileiro avalia que o aumento de preços continuará até que a venda dos ativos da empresa seja concluída. Com a redução da oferta de voos no país resultante da crise da Avianca Brasil, os preços das passagens aéreas nas principais rotas da empresa já registram cadastros de até 140%. A estimativa é de que as taxas continuem sendo pressionadas pelo menos nos próximos quatro meses, até que a venda dos ativos da Avianca seja concluída, segundo fontes do mercado.
Voopter, uma plataforma que compara os preços dos ingressos, mostra que o trecho entre os aeroportos de Santos Dumont, no Rio de Janeiro, e Salvador foi o que teve a maior taxa entre as rotas analisadas. O valor médio da passagem passou de R$ 574,14, em abril de 2018, para R$ 1.377,32, no mesmo mês deste ano, um aumento de 139,89%. «Avianca influenciado preços muito mais elevados porque a demanda não se alterou eo número de lugares oferecidos caiu, que a demanda migraram para outras companhias aéreas, que têm algoritmos que percebem isso», diz o Diretor Geral da Voopter, Juliana Vital. A plataforma conta os preços dos ingressos para os próximos 120 dias e a pesquisa não incluiu o transporte aéreo, a rota mais importante do país. A Avianca evitou o cancelamento de voos nessa seção, não alterando a oferta de assentos.
Na recuperação judicial desde dezembro de 2018, a companhia aérea Avianca Brasil possui cerca de US$ 700 milhões de dólares para arrendatários de aeronaves e, após uma disputa nos tribunais, foi forçada a devolver quase toda a sua frota. Das 57 aeronaves que possuía em novembro de 2018, restavam cinco unidades. Esse foi o maior movimento de retirada de aeronaves do mercado brasileiro nos últimos 15 anos, o que resultou na maior redução na oferta de vôos no período. Segundo dados da Agência Nacional de Aviação Civil do Brasil (ANAC), a empresa hoje tem uma média de 39 vôos diários; há um ano havia 280 freqüências.
Os dados da inflação do IBGE, que incluem não apenas as tarifas de rotas operadas pela Avianca, mas de vôos oferecidos por outras empresas, mostram que as taxas começaram a responder a essa oferta corte março 2019 quando avançou a 7,29%. No mesmo mês, mas em 2018, eles recuaram 15,42%. A variação dos preços no acumulado do ano até março de 2019 é negativa em -25,5% no 1T2018, a queda foi de -19,3%.
Temporada baixa
O especialista em indústria aérea André Castellini, sócio da Bain & Company, destaca que o período entre o Carnaval e o final de junho é de baixa temporada e, portanto, costumam ter taxas mais baratas. A tendência, no entanto, é que, em 2019, o efeito da redução da oferta prevaleça, elevando os ingressos. «É natural curto prazo reduzida capacidade de aumentar os preços, mas nas rotas de médio prazo (Avianca suspensa) deve ser operado novamente, reduzindo a pressão (nos preços)», diz André Castellini. Para Juliana Vital, da Voopter, «a entrada de uma nova empresa no setor, ocupando o espaço da Avianca, é decisiva para uma nova redução das tarifas». A\W
Ξ A I R G W A Y S Ξ
SOURCE: Airgways.com
DBk: Anac.gov.br / Ibge.gov.br / Panrotas.com.br / Avianca.com.br / Voopter.com.br
AW-POST: 201905021427AR
A\W   A I R G W A Y S ®