AW | 2020 04 24 12:12 | AIRLINES / INDUSTRY
Delta Air Lines negocia con Boeing cambio de aeronaves
Los problemas de la crisis santaria producida porla pandemia mundial del Coronavirus está llevando a muchas aerolíneas a una homogeneización de sus flotas para reducir sus costos hacia el futuro. Los efectos del 11-S del 2001 se han vuelto a repetir, aunque en aquel tiempo se daban de baja aeronaves más antiguas por los altos costos por mantenimiento en combustible; en las presentes condiciones el problema radica en la sobreoferta de aeronaves para un mercado a corto plazo muy debil.
El caso de Delta Air Lines con sede en Atlanta, Estado de Georgia estriba en la sobreoferta de aeronaves que posee, muchas de ellas bajo arriendo en leasing. El Boeing 717 es la aeronaves más pequeña de su flota, se ha convertido en el mayor problema para Delta Air Lines. En esta recesión es vital ahorrar efectivo, por lo que están examinando altos gastos como los pagos de arrendamiento de aeronaves.
Delta Air Lines posee el 79% de sus aviones bajo su propiedad, incluidos casi todos sus cuerpos anchos más costosos. Pero para los 193 aviones que arrienda, el Boeing 717 domina la nómina, representando el 40% de la flota arrendada de la compañía. Si Delta puede reducir la exposición a los 717, sus obligaciones de arrendamiento disminuirán significativamente. Delta podría tener un plan, proponerle a la compañía aeroespacial Boeing intercambiarlos en una negociación por aeronaves Boeing 737 MAX. En concreto, Delta quiere ofrecerle sus 717-200 a Boeing, a cambio Delta ordenaría 100 Boeing 737 MAX. La familia de aeronaves 737 MAX, oscila en el sector de los 153-230 asientos, no sería un reemplazo directo para el 717 de 110 pasajeros. En cambio, el avión MAX sería parte de una más grande y homogeneizada. La mayoría de los Boeing 717-200 de Delta se alquilan del brazo directo de arrendamiento de Boeing, por lo que la idea de Delta sería ver que devuelva los 717 a Boeing antes de lo planeado contractualmente.
La perspectiva de Delta es a corto plazo. A largo plazo, debe comprar los 100 Boeing 737 MAX, pero la mayor parte de los pagos se realizan más cerca de la entrega. Eso no agotará el efectivo en el frágil año próximo. Por ahora, Delta recibiría un respiro importante en los costos de arrendamiento 717. El 737 MAX presenta una oportunidad. Es un mercado de compradores ya que las aerolíneas y los arrendadores cancelan los pedidos de 737 MAX. Boeing estaría ansioso por vender 100 aviones 737 MAX en este entorno, especialmente a un cliente de primer orden como Delta que no ha pedido el MAX pero ha comprado 100 Airbus A321NEO. Delta también tiene pedidos pendientes para el avión regional A220.
De los 91 Boeing 717 de Delta, 78 están arrendados y los 13 restantes son de propiedad. Los costos de arrendamiento para una flota tan grande se suman, pero los costos individuales son bajos ya que la aeronave es vieja: promedian 18 años, menos que la edad promedio de 29 años del MD-88. Los 717 podrían haber alcanzado una edad similar a los MD-88 desde que Delta planeó tentativamente el año pasado mantener los 717 hasta 2030. El plan habría visto los interiores actualizados, dando el beneficio amigable para el cliente de los televisores en el asiento. Pero eso puede haber sido provocado por un mandato de la FAA. La FAA emitió en junio de 2017 una Directiva de Aeronavegabilidad (AD) que requiere que ciertos asientos en los 717 y otros aviones sean reemplazados ya que pueden causar lesiones en el cuello durante un choque. La FAA otorgó cinco años para reemplazar los asientos, por lo que Delta necesitaría reemplazar cualquier asiento 717 afectado a mediados de 2022. Comprar nuevos asientos, sacar el avión del servicio e instalar los asientos incurriría en costos. El retorno de la inversión cambia si Delta no quiere mantener el avión mucho más allá de 2022. Delta rechazó la Directiva de Aeronavegabilidad, cuestionando la validez y la escala. Delta dijo que reemplazar los asientos puede ser prematuro sin más pruebas. Si se necesitaba una solución, Delta y SkyWest Airlines querían la opción de modificar las partes afectadas en lugar de reemplazar todo el asiento. El fallo fue el conjunto del respaldo del asiento, la mesa de la bandeja, el bloqueo del asiento y el sistema de absorción de energía. Delta también dijo que el costo subestimado de la FAA, que el regulador considera en las Directivas de Aeronavegabilidad. La FAA rechazó las preocupaciones y procedió con el mandato. Todavía hay 91 Boeing 717 en la flota de Delta, no se ha retirado ninguno. Los Boeing 717 han representado una herramienta muy estimada para las flotas de las compañías aéreas con un muy bajo índice de incidentes/accidentes. Delta ha estado retirando gradualmente los MD-88 y MD-90 más antiguos.
BOEING 717-200 DE DELTA AIR LINES
Los aviones Boeing 717 representan con las mismas edades que los Airbus A319CEO y Boeing 737-800. Retener esos aviones es más barato desde una perspectiva de propiedad, ya que Delta posee casi todos ellos: 73 de los 77 Boeing 737-800 y 55 de los 57 Airbus A319-100. Como Delta posee esos aviones y no está comprometido con los costos fijos del arrendamiento, tiene la libertad de retirar el avión cuando lo desee, a diferencia de los Boeing 717.
Delta utiliza el A319 y el 737-800 de manera diferente al 717. El Boeing 717 es más pequeño con 110 asientos en comparación con los 132 del A319 y 160 B737-800. El 717 vuela sectores más cortos con una longitud de etapa promedio de 570 millas, la mitad del promedio de 737-800 de 1.081 millas, según el análisis de decisiones de AirInsight. El único avión de Delta que vuela en sectores más cortos en promedio es el MD-88 (449 millas), que está siendo retirado.
Boeing que toma aviones viejos a cambio de vender nuevos aviones, similar a un intercambio, no es común, pero ha ocurrido, a veces con aviones que Boeing no alquila ni fabrica. En 2012, Boeing acordó comprar cinco de los Airbus A340-600 de China Eastern a cambio de que China Eastern comprara 20 Boeing 777-300ER. En el caso de la compañía Boeing, podría atender la propuesta permitiendo así ganar más confianza con su producto estrella el Boeing 737 MAX que por estos tiempos sufre de desprestigio global.
Delta negotiates aircraft exchange
Delta Air Lines negotiates with Boeing to change aircraft
The problems of the health crisis caused by the world pandemic of the Coronavirus is leading many airlines to homogenize their fleets to reduce their costs in the future. The effects of September 11, 2001, have been repeated, although at that time older aircraft were decommissioned due to high costs for fuel maintenance; Under these conditions, the problem lies in the oversupply of aircraft for a very weak short-term market.
The case of Delta Air Lines based in Atlanta, State of Georgia lies in the oversupply of aircraft it owns, many of them under leasing. The Boeing 717 is the smallest aircraft in its fleet, it has become the biggest problem for Delta Air Lines. In this recession, it is vital to save cash, which is why they are examining high expenses such as aircraft lease payments.
Delta Air Lines owns 79% of its aircraft under its ownership, including almost all of its more expensive widebodies. But for the 193 planes it leases, the Boeing 717 dominates the payroll, representing 40% of the company's leased fleet. If Delta can reduce exposure to 717, its lease obligations will decrease significantly. Delta may have a plan, proposing to the aerospace company Boeing to trade them in negotiation for Boeing 737 MAX aircraft. Specifically, Delta wants to offer its 717-200 to Boeing, in exchange Delta would order 100 Boeing 737 MAX. The 737 MAX family of aircraft, ranging in the 153-230 seat sector, would not be a direct replacement for the 110-passenger 717. Instead, the MAX aircraft would be part of a larger, more homogenized one.  Most Delta Boeing 717-200s are leased from Boeing's direct leasing arm, so Delta's idea would be to see it return the 717s to Boeing earlier than contractually planned.
Delta's perspective is short term. In the long term, you must buy the 100 Boeing 737 MAXs, but most payments are made closer to delivery. That won't drain cash in the fragile next year. For now, Delta would receive a major break in 717 leasing costs. The 737 MAX presents an opportunity. It is a buyer's market as airlines and lessors cancel 737 MAX orders. Boeing would be eager to sell 100 737 MAX aircraft in this environment, especially to a premium customer like Delta who has not ordered the MAX but has purchased 100 Airbus A321NEO. Delta also has pending orders for the A220 regional aircraft.
Of Delta's 91 Boeing 717s, 78 are leased and the remaining 13 are owned. Leasing costs for such a large fleet add up, but individual costs are low since the aircraft is old: they average 18 years, less than the average age of 29 for the MD-88. The 717s could have reached a similar age to the MD-88s since Delta tentatively planned last year to keep the 717s until 2030. The plan would have seen the interiors updated, giving the customer-friendly benefit of in-seat TVs. But that may have been triggered by an FAA mandate. The FAA issued an Airworthiness Directive (AD) in June 2017 that requires certain seats in 717s and other aircraft to be replaced as they can cause neck injuries during a crash. The FAA gave five years to replace the seats, so Delta would need to replace any affected 717 seats in mid-2022. Buying new seats, taking the plane out of service, and installing the seats would incur costs. The return on investment changes if Delta does not want to keep the plane well beyond 2022. Delta rejected the Airworthiness Directive, questioning validity and scale. Delta said replacing the seats may be premature without further testing. If a solution was needed, Delta and SkyWest Airlines wanted the option to modify the affected parts instead of replacing the entire seat. The failure was the seat back assembly, tray table, seat lock, and energy absorbing system. Delta also said the FAA's understated cost, which the regulator considers in the Airworthiness Directives. The FAA dismissed the concerns and proceeded with the mandate. There are still 91 Boeing 717s in Delta's fleet, none have been retired. Boeing 717s have been a highly regarded tool for airline fleets with a very low incident/accident rate. Delta has been gradually retiring older MD-88s and MD-90s.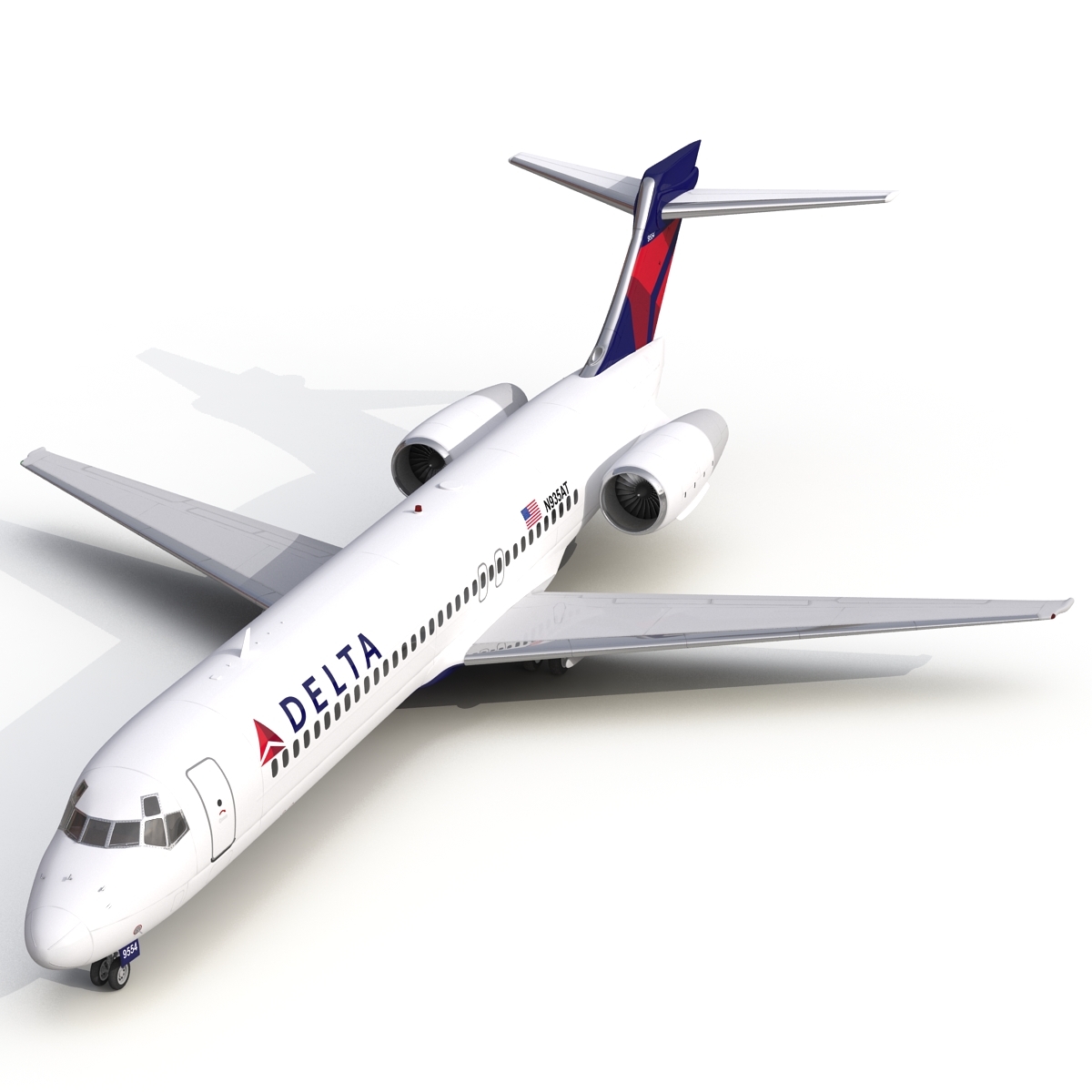 Boeing 717 aircraft represent the same ages as the Airbus A319CEO and Boeing 737-800. Holding those planes is cheaper from an ownership perspective since Delta owns almost all of them: 73 out of 77 Boeing 737-800 and 55 out of 57 Airbus A319-100. Since Delta owns those planes and is not committed to the fixed costs of the lease, you are free to pick up the plane whenever you want, unlike Boeing 717s.
Delta uses the A319 and 737-800 differently than the 717. The Boeing 717 is smaller with 110 seats compared to 132 on the A319 and 160 B737-800. The 717 flies shorter sectors with an average stage length of 570 miles, half the 737-800 average of 1,081 miles, according to AirInsight's decision analysis. The only Delta aircraft flying in shorter sectors on average is the MD-88 (449 miles), which is being retired.
Boeing that takes old planes in exchange for selling new planes, similar to a trade, is not common, but has happened, sometimes with planes that Boeing does not rent or manufacture. In 2012, Boeing agreed to purchase five of the China Eastern Airbus A340-600s in exchange for China Eastern purchasing 20 Boeing 777-300ERs. In the case of the Boeing company, it could attend to the proposal, thus allowing it to gain more confidence with its flagship product, the Boeing 737 MAX, which currently suffers from global disrepute.
Ξ A I R G W A Y S Ξ
SOURCE: Airgways.com
DBk: Delta.com / Forbes.com / Airgways.com / Thepointsguy.co.uk / Wikimedia.org
AW-POST: 202004241212AR
A\W   A I R G W A Y S ®